We're incredibly happy to have Alison Désir joining our team and family at Oiselle. If you haven't seen it, please read the announcement here. Below, I got a chance to delve deeper into Alison's incredible story, about running and life - and also to share some of the specifics of what we plan to do together. Above all, we're honored to support her work, and for her to be a part of ours.
---
SB: What's always been clear to me is that you are a movement maker. Were you like that from childhood? Do you think you were born an activist?
AMD: I do think that I was born an activist and that my father noticed this in me from a very young age, hence my nickname: powdered feet (pye poudre in Haitian Kreyol). Powdered feet describes someone so active that you never see them, just the footprints of where they've been in powder. I was the type of kid who was the first to volunteer in the classroom and at events if audience participation was needed and also had a terrible, terrible temper. I like to think that I just knew the power of my voice!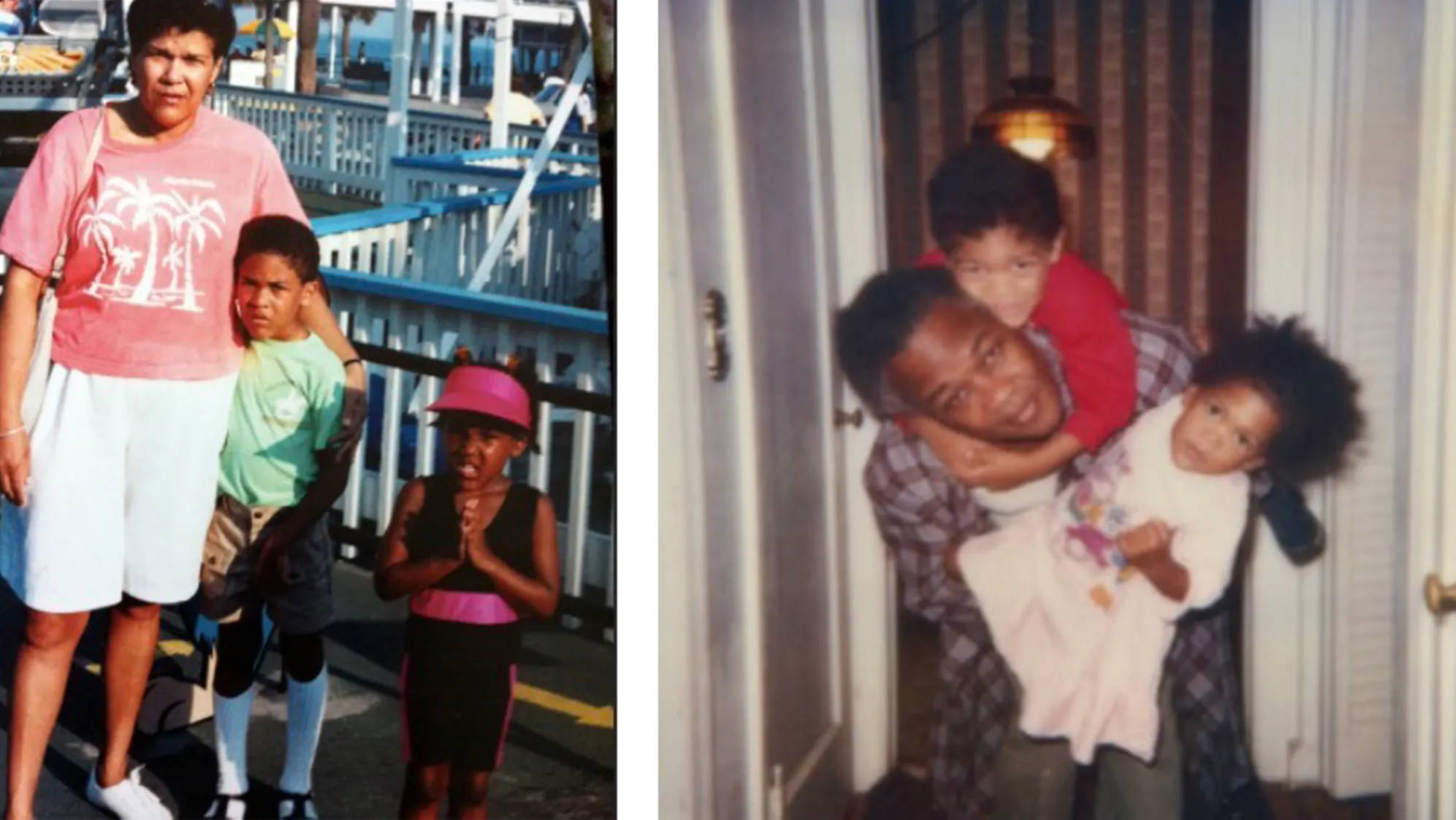 SB: Tell us a little about your childhood. What's something you learned from your parents early on, that shaped you?
AMD: My parents really deeply instilled in me the importance of education. Every Saturday morning, I would find the two of them in our living room reading the newspaper and discussing current events; we attended museums on weekends; I went to musical school, art school, karate, gymnastics, I mean, you name it! My brother and I were doing it! As immigrants, my parents really did all that they could to give us everything they did not have. Two things stick out to me in particular, one from each parent. My father: he was always talking about the Haitian Revolution and how critical it was that I know that I come from a lineage of revolutionaries - the first people to make a true declaration of universal human rights. My mother: she never wanted me to feel as if I needed to rely on anyone or dim my light to make others comfortable, particularly boys. I would later come to find out the ways in which sexism and misogyny really limited her freedom of movement and autonomy growing up. I'm really grateful to have learned both messages from a very young age.
SB: Undergrad and graduate school... where did you go, what were you into, and how did it change over time?
AMD: I went to Columbia University for college and for graduate school, twice! I was really obsessed with NYC, as someone born in Harlem but who grew up in the suburbs, and felt like if I went anywhere else I would be missing out. I have to be honest - in college I was pretty reckless. It was the first time that I was around that many people who looked like me (I went to a very white private school) and having access to that much freedom was not something I was not ready for. Many people probably wouldn't believe the wild partier that I was; I almost can't believe it. But I was also kind of nerdy because I was in an a cappella group and took it very seriously. After graduating, I was pretty lost in terms of next steps. I became a paralegal for a little while with the hopes of going to law school but somehow found myself back at Columbia getting a masters in Caribbean and Latin American Studies. This degree was really fulfilling to me as it was a sort of homecoming, finally having the opportunity to really learn more about my own history. After graduating, I could not find a job (surprise) which led me to a really dark period of depression. My return to grad school the second time, to get my masters in counseling psychology, came after my discovery of running and the powerful connection it had to my mental health and really wanting to dig in to learn more about it.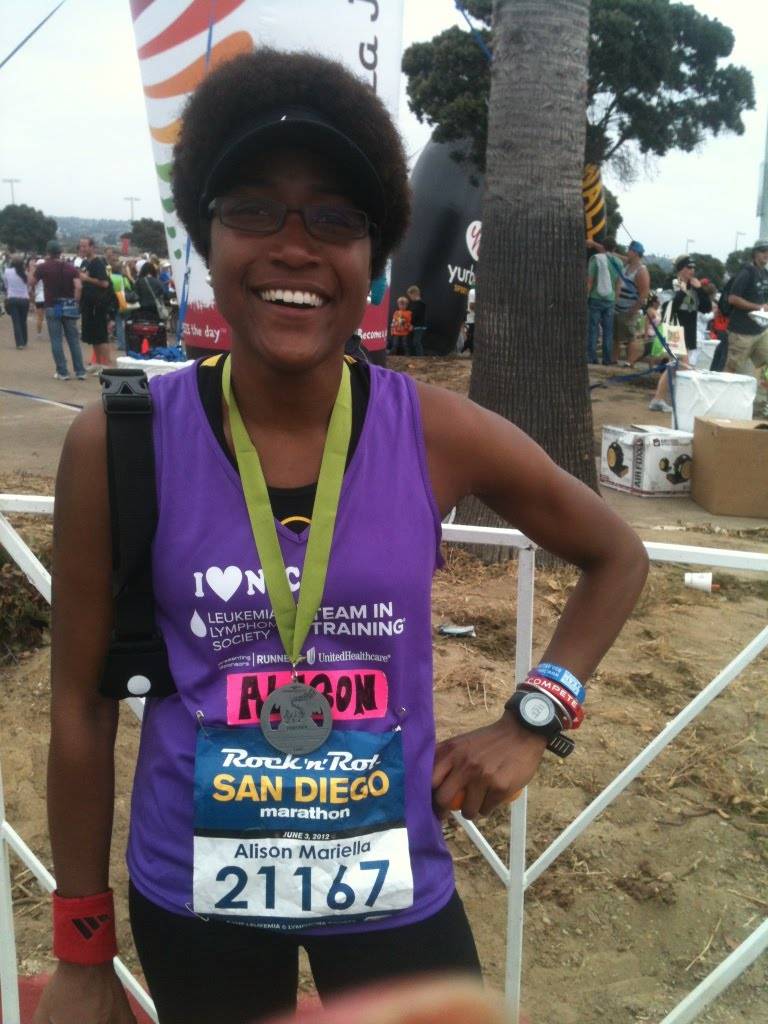 SB: Running saved me at the end of college, and I know you had a similar story of the sport reaching into your mind and soul - and creating an entirely new trajectory for your life. Can you tell us about that?
AMD: As I mentioned, I was very depressed after my first masters. I could not find a job, the person I was dating at the time was cheating on me, my father was very sick with Lewy Body Dementia. I found myself often wondering if anyone would miss me if I were gone. Thankfully, I discovered marathon running through a friend's social media account of his own transformation and I gave it a try. I told myself that it would be "one and done" but I discovered so much about myself through distance running and i just felt so good to finally be in control of my life again, that I couldn't stop. In hindsight, all of these steps I took seem to naturally and organically lead me to where I am today but in actuality it was the result of a lot of risks I took with no expectations and discovering that I was much more powerful than I thought.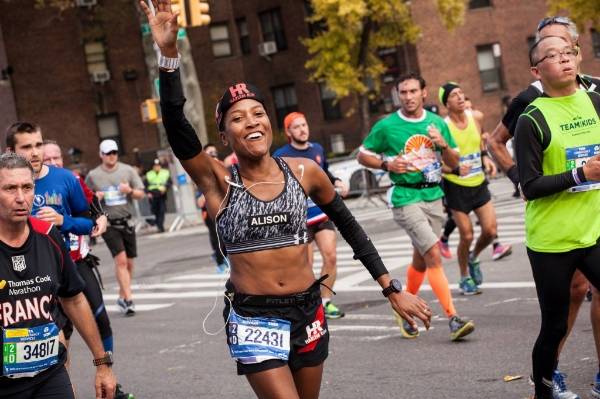 SB: What is the top thing you appreciate about running that you wish you could share with the entire world?
AMD: You won't always enjoy it but you keep showing up! I appreciate that because it has taught me resilience; more specifically, I've learned that doing things that are difficult and sometimes boring is important and the only way to get to the good stuff. Many of us like to take the path of least resistance, but that's not where you see growth.
SB: You and your husband Amir have a baby boy who's almost one! I get to see him on zoom calls sometimes. What has Kouri taught you about the world?
AMD: This question makes me smile because Kouri might be my greatest little teacher. He has taught me patience, he has taught me unconditional love, but most of all, he has taught me to allow myself to feel what I feel without apology. Babies have the most honest reactions—they are flustered by bright lights, and noise, and mean faces, and when things happen too fast—all things that we learn to ignore but no doubt are still negatively impacting us. He allows me to have grace with myself when something "small" bothers me because it actually might not be small at all -I've just been socialized to ignore my feelings about it.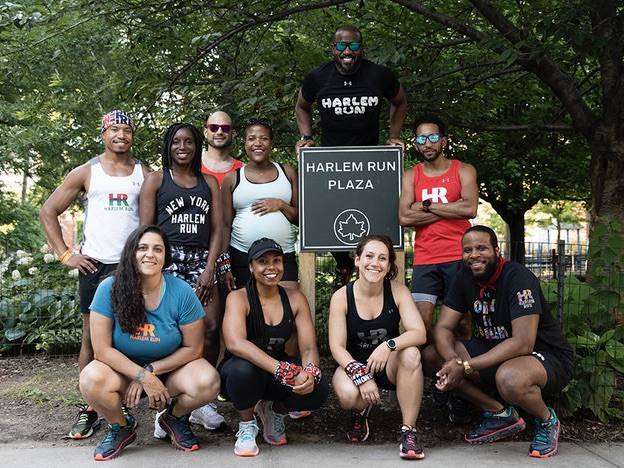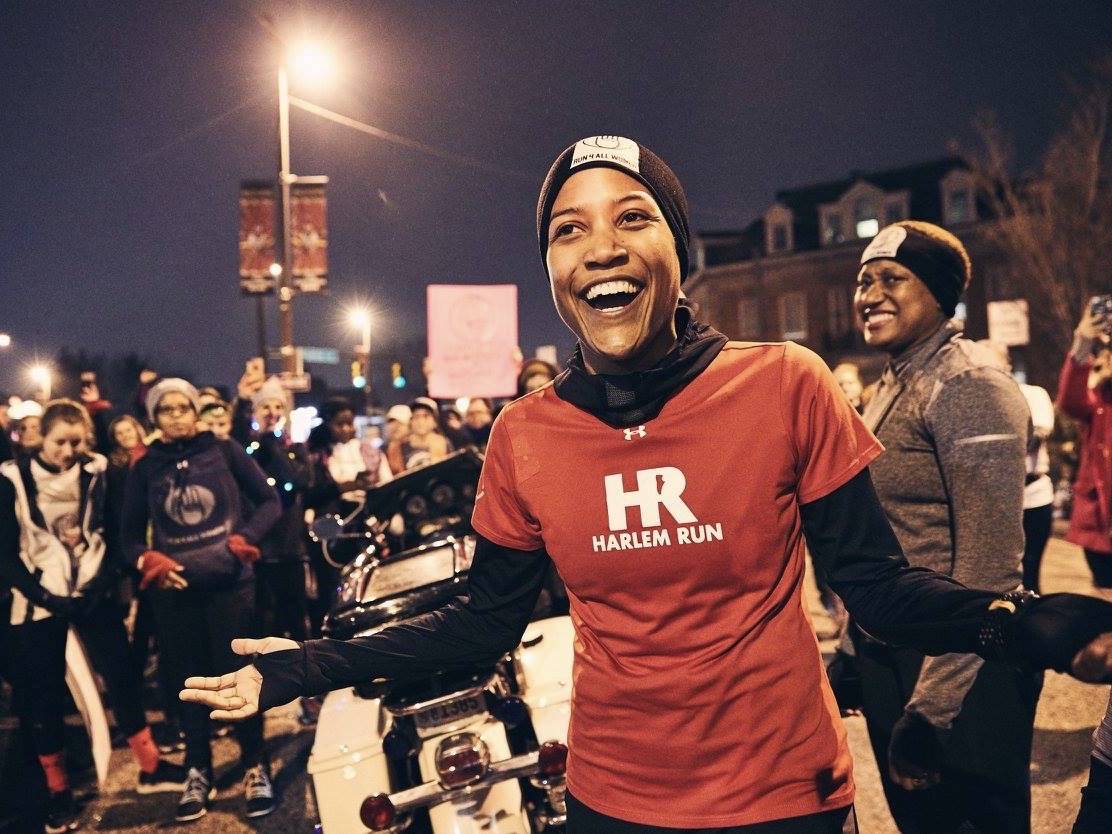 SB: Harlem Run is one of your babies. A movement by and for the people, in a very specific community. Can you describe what drove you to start it? Was there a moment when you were worried it wouldn't take? If so, what made you push through?
AMD: I started Harlem Run after completing my first marathon and feeling like I had discovered such an amazing gift and I needed to share it with other people. Particularly because I did not see too many people that looked like me during my training and marathon and I thought there might be an opportunity to share the transformative power of running with people in my neighborhood, Harlem. It took about 4 months for anyone (other than my few best friends from time to time) to show up. That means, several Monday nights all by myself feeling like a fool for trying! I was constantly worrying that it would not take. I was very embarrassed and I internalized it as a personal failure. If it weren't for my mother convincing me to keep showing up, none of this might ever have happened! And then even when people did start showing up—5, then 10, then 20—I never imagined Harlem Run would become the movement that it is today. Harlem Run far exceeded any expectations I had and, honestly, it continues to.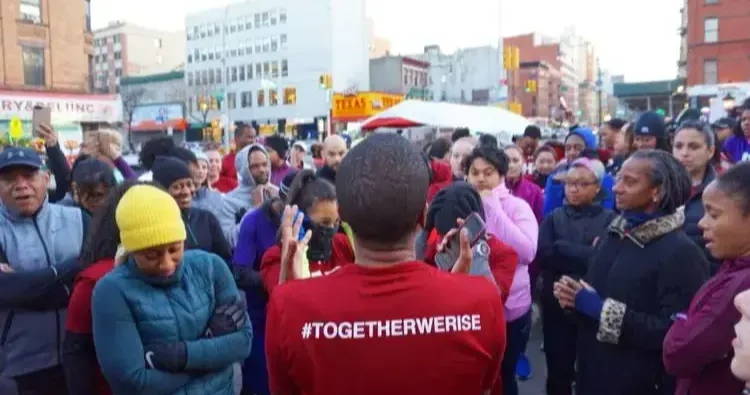 SB: And Run4All Women! My sense is that R4AW was an immediate response, following the 2016 election. Was that the case? And was it as wild and organic as I think it was? Describe the who and why of running from NYC to DC?
AMD: Yes, that's exactly it. It was conceived in response to the 2016 election and really came to life in just a few short weeks (2, if I remember correctly). The run was organized from Harlem to DC in order to be present for the Women's March on January 21st. As the plan very quickly went viral, it expanded from a week-long event for just a few women to an overnight relay that ended up having over 1,000 participants. The whole experience felt very dreamlike and powerful. I've grown a lot in my activism since then, and there are things that I might've changed or done differently in hindsight, but raising over $100,000 in 3 weeks and the outpouring of global support is something that I will cherish always.
SB: Finally, last year you started Global Womxn's Run Collective which, if I'm articulating this right, is a kind of directory for womxn-led running clubs and groups, from around the world, so that we can connect and do "super meet-ups" wherever we go. But I believe it's also about lifting WOC, trans/queer, and other traditionally marginalized group to make sure they hear loud and clear "running is for everyone." Is that right?
AMD: Yes, that's it. And you know, GWRC is still very new and Covid-19 has not made organizing easy, nor has it allowed us to really give it all the attention that it deserves. But GWRC came out of a realization that womxn leaders of the running industry around the globe were grappling with the same issues as it relates to limited opportunities for advancement, limited leadership roles, womxn were regularly being left out of conversations and decision-making opportunities, and I thought to myself: what if we just create our own network of communication and support? Our goals (my steering committee members and mine) are to: amplify the voices of womxn within the running community, empower womxn to create their own movements/communities, amass support for womxn-produced running initiatives and events and inspire global womxn-led collaboration.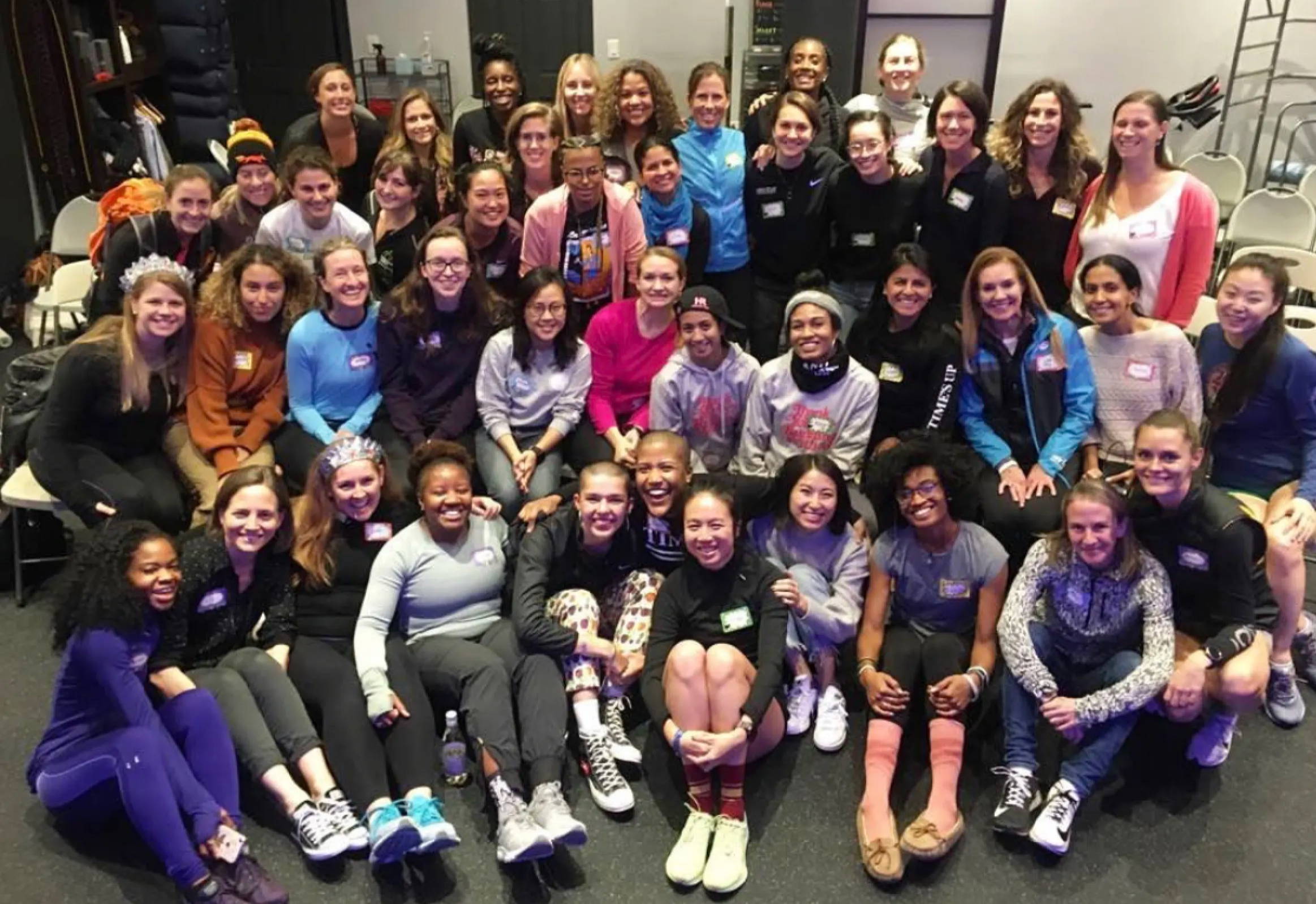 SB: Last November, during NYCM weekend, the Volée and your Global Womxn group came together and it was a beautiful moment. At the time, you were still with Under Armour. In January of this year, when I saw that you ended that relationship, I felt like someone who learns their crush just got a divorce and is available again, lol. Can you tell us about the beginning of this year, and that transition?
AMD: Lol!! Well, let's continue with that analogy. Ending relationships is extremely difficult! Especially when you were with the person for a long time and had really amazing moments together. I am so thankful for my relationship with Under Armour because they started with me in 2015 close to the beginning of this crazy journey and helped me develop my confidence as a leader. That being said, I also knew that I needed a different kind of support to move forward in my career as an athlete and activist. The transition taught me a lot about not being afraid to speak my mind, even when it's uncomfortable, and really being sure that my future partnerships would allow me room to spread my wings; you see what I did there?!
SB: When did Oiselle come onto your radar? What were your first impressions, and then did those evolve over time?
AMD: I can't remember exactly when, but I believe it was as early as 2017 in the earlier days of Run 4 All Women. I remember being SUPER impressed that you made time to get on the phone with little ol' me haha. I also always found you to be so authentic on social media - maybe even at times honest to a fault! And then of course, the way that you have taken other brands to task is something that I really admire. I think it was 2019 though when things seemed to shift and suddenly Oiselle and you, Sally, were everywhere! After our conversation in November with the Global Womxn Run Collective and listening to Lauren Fleshman in conversation with Alysia Montano at the NYTimes, I knew that I wanted to really be part of what you were building. You are just so fearless and have built a brand that is down to keep moving and learning.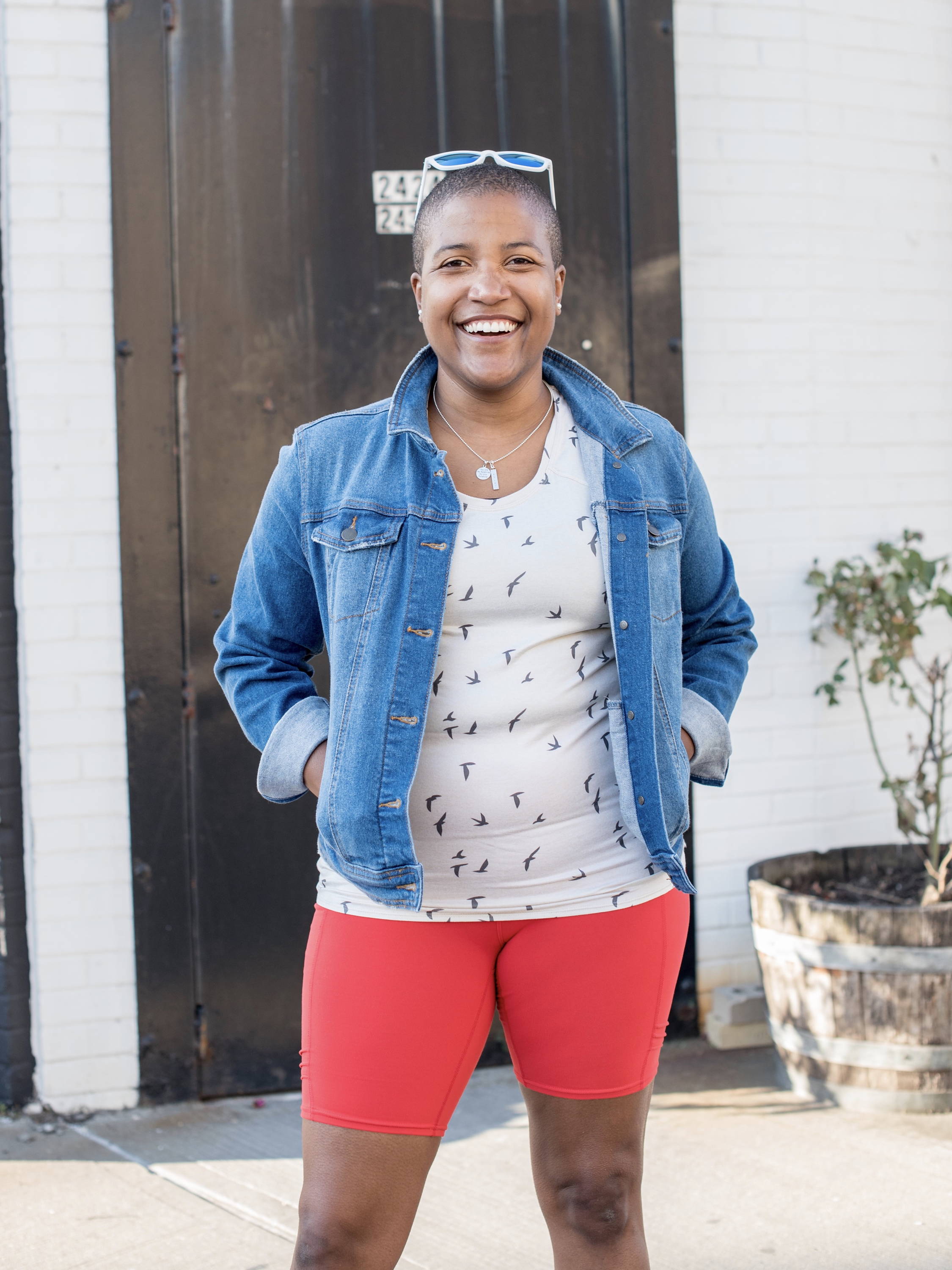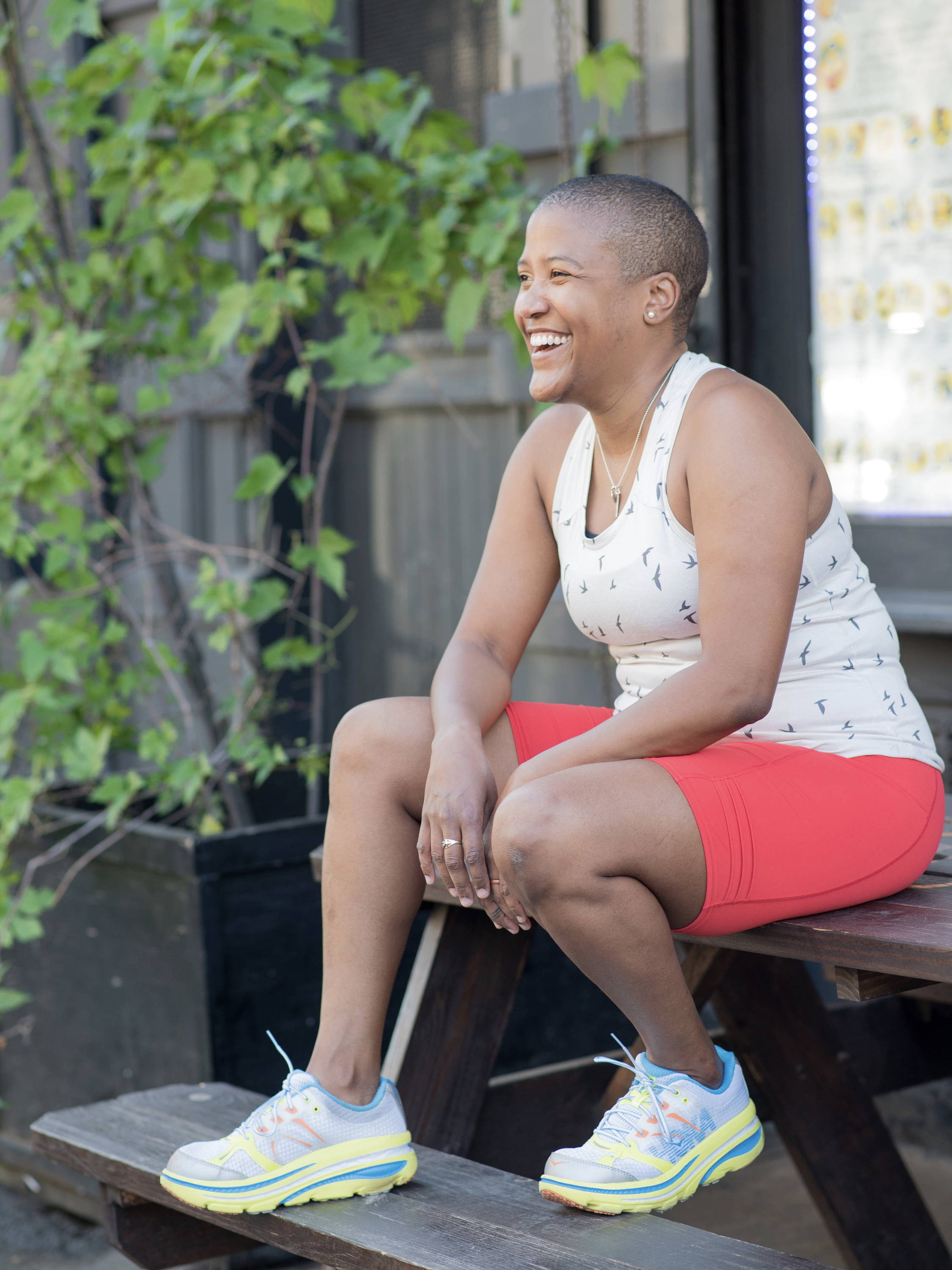 SB: Can you tell us about Meaning Through Movement?
AMD: The Meaning Thru Movement Tour is something that I've wanted to do for such a long time. In fact, in 2012 when running was transforming my life and I was discovering all of the ways it was connected to my improved mental health I would imagine a day when I could create a curriculum for an academy focused on the relationship between mental and physical health. I named it Powdered Feet Academy and it appears on so many of my vision boards over the past several years. So the MTM Tour is really the coming together of my expertise in mental health, running, activism, and social justice. The goal is to normalize conversations around mental health and connect people to movement in an accessible way. I'm thankful to Hoka One One for believing in it and helping bring it to life.
SB: Of course, no matter the spiritual synergy one might have, any sponsorship relationship has to be driven by a genuine love of the product as well. I foisted a whole bunch of Oiselle apparel on you back in Jan/Feb, what were some of your first observations? Do you have a favorite fabric or style?
AMD: Your timing couldn't have been more perfect. I was newly postpartum and struggling to get comfortable in my new body. So I was doing the thing where you punish yourself by wearing your old, ill-fitting clothing in hopes that it will shame you into losing weight. I was immediately struck by how well the clothing fit me and how good it felt! I honestly believe receiving the apparel started me on the journey I'm currently on by radically accepting my body as it is and letting go of what it was. In terms of favorite style, I just love the Flyte short sleeve/long sleeve. They are so flattering and perform so well. I also love that so many of the items (esp. in the Lux collection) will allow me to get dressed up and still be in comfortable running clothes. I can go straight from a run to a speaking engagement!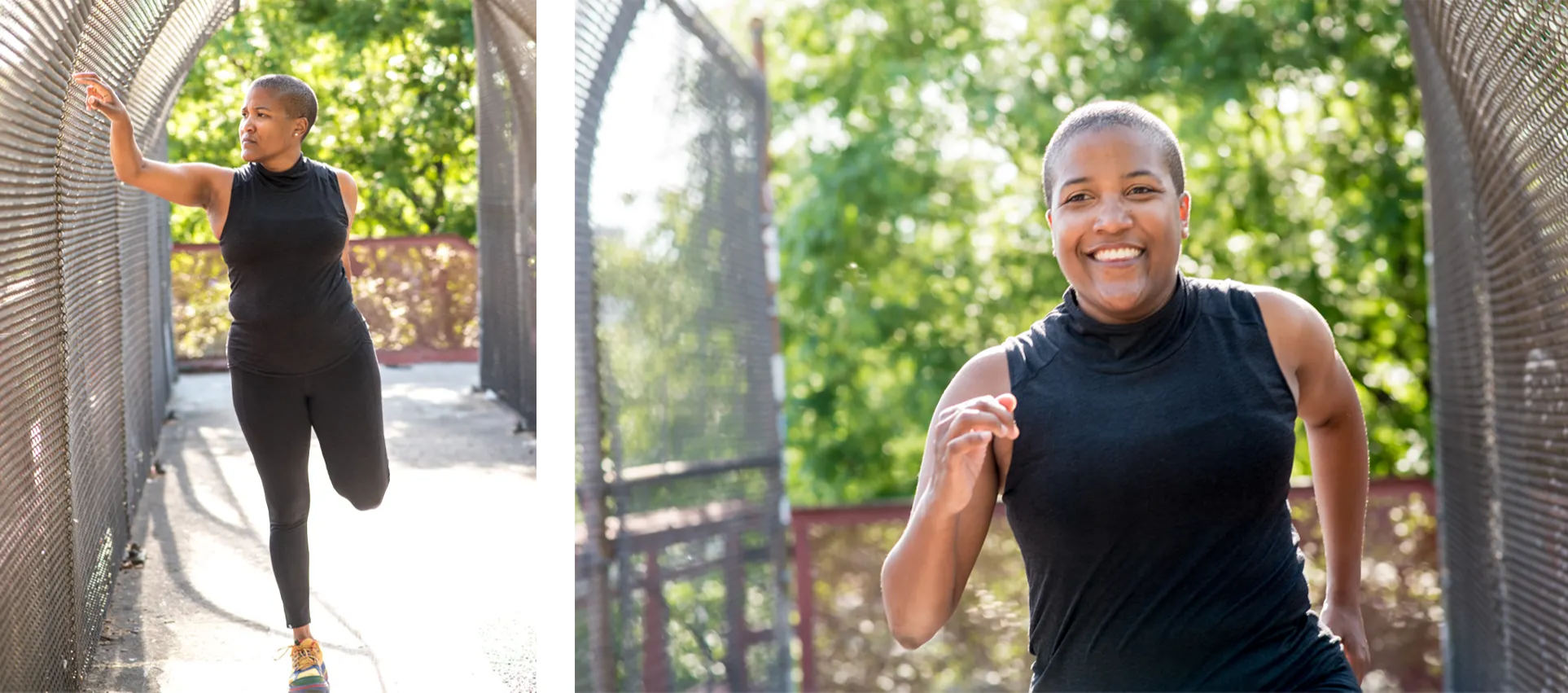 SB: I think one of the things you and I are both most excited about in this partnership is the sock collaboration. In addition to other apparel styles, Oiselle will produce a "Powdered Feet" sock collection. Can you tell us the meaning of that name?
AMD: I cannot even believe it's happening!!! Powdered Feet, as I mentioned, is a nickname my father gave me at a young age to describe just how active and fearless I was. The nickname has served me well and I think is a really important message for the girls and womxn Oiselle speaks to - don't shrink yourself and go hard for what you want. This sock collection is important to me for so many reasons. It pays homage to my father who passed in 2016, it is a connection to my Haitian ancestry, and it's a legacy move.  
SB: "We're building our own table" is a refrain I've used a lot over the past few years, especially since the power centers in our sport (brand leadership, coaches, race directors, store owners, media coverage, etc) remain mostly white and male. What I proposed to you (and Kara and Lauren and Courtney, as well as a handful of other key folks) is that we need and want a lot of different voices and perspectives at our table: backgrounds, ages, races, gender expressions, and skill sets. And thus, the Oiselle Advisory Group was formed. And you were kind enough to say yes, that this would be part of your paid role at O. Do you have any thoughts on that part of your job, and what you hope to contribute or shape?
AMD: Wow, I mean just the opportunity to be part of a group of womxn who will be reimagining what the future of our industry will look like - how could I say no? Oiselle is a brand that makes amazing, beautiful, high performing products, that empowers womxn and girls, that connects womxn across the country in sisterhood, but why stop there? What is stopping Oiselle from having a global reach? What is stopping Oiselle from lobbying Congress for womxn's rights? There are just so many possibilities and I can't wait to collaborate and make them a reality.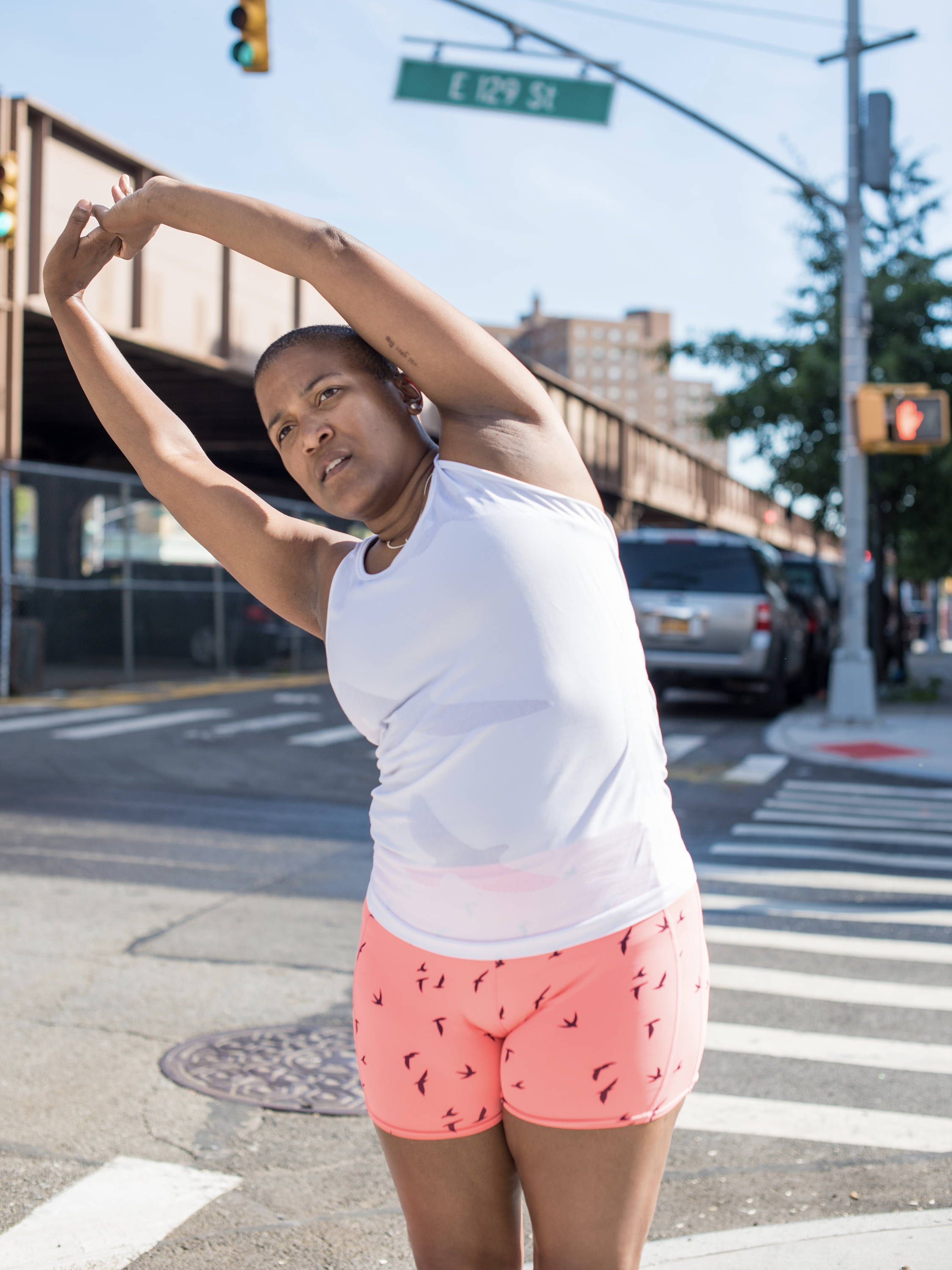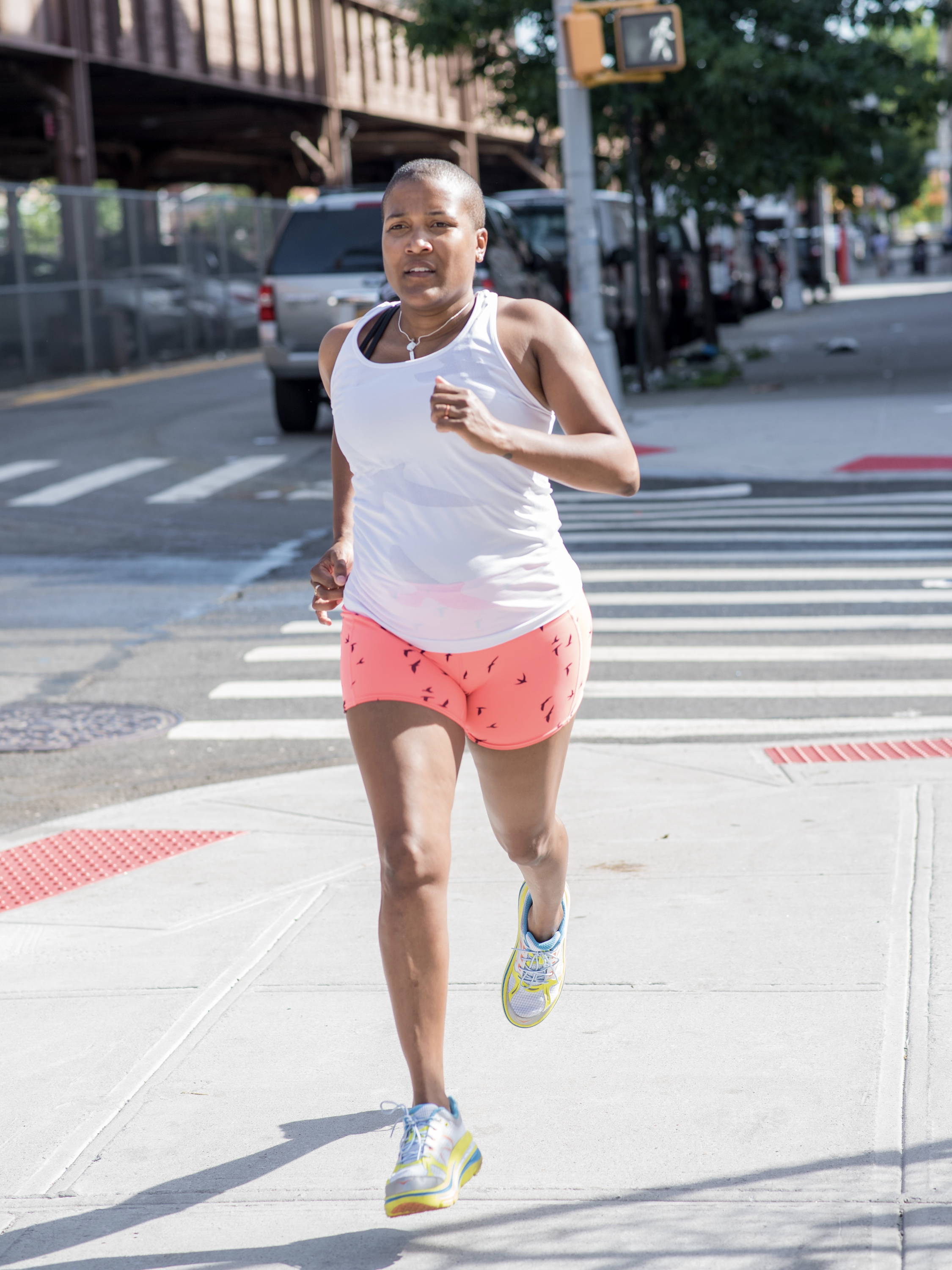 SB: In your Outside Magazine article that came out shortly after Ahmaud Arbery's death, you made a statement that I think about every day. You told the running community in no uncertain terms: "You need to cultivate an identity that's separate from white supremacy." Do you believe the running community, in particular, has the ability to do this? To make anti-racism a visibly popular stance?
AMD: I do think it's possible—we opt in to participate in very long and painful runs/races—but I don't think we are there yet. From where I sit, I have seen a lot of white people forming book clubs, strategizing, and intellectualizing, but I don't yet see the really difficult emotional work being done of confronting their own personal complicity and the ways in which they enjoy the benefits of being white in a culture of white supremacy. It's far easier to see Black people being murdered at the hands of vigilantes and police and know that it is wrong (although many still don't!) then to confront the everyday ways that you as an individual are benefitting from systemic racism.  
SB: We're in a major movement right now. Black Lives Matter is front and center in the US consciousness. And along with it, powerful Black voices/leaders are bringing millions of people along. Who are some of the leaders/voices you follow and admire?
AMD: There are so many. I'd like to focus my response on one person in particular, Resma Menakem, whose work on racialized trauma and healing is so so powerful. I encourage everyone to take his free 5 day racialized trauma course - and prepare for your mind to be blown. Link: https://culturalsomaticsuniversity.thinkific.com/courses/cultural-somatics-free-5-session-ecourse
SB: Along with so many other people, I've been livid about Breonna Taylor. Do you think there's something the running community, especially the womxn's running community, could do to bring more awareness, or even funds, to getting justice for her killing?
AMD: I absolutely do. But I also recognize the fatigue many of us Black womxn have right now in fighting all the fights but not getting the support and justice we are due. Black womxn are an afterthought in life and in death. Breonna and her family deserve so much better.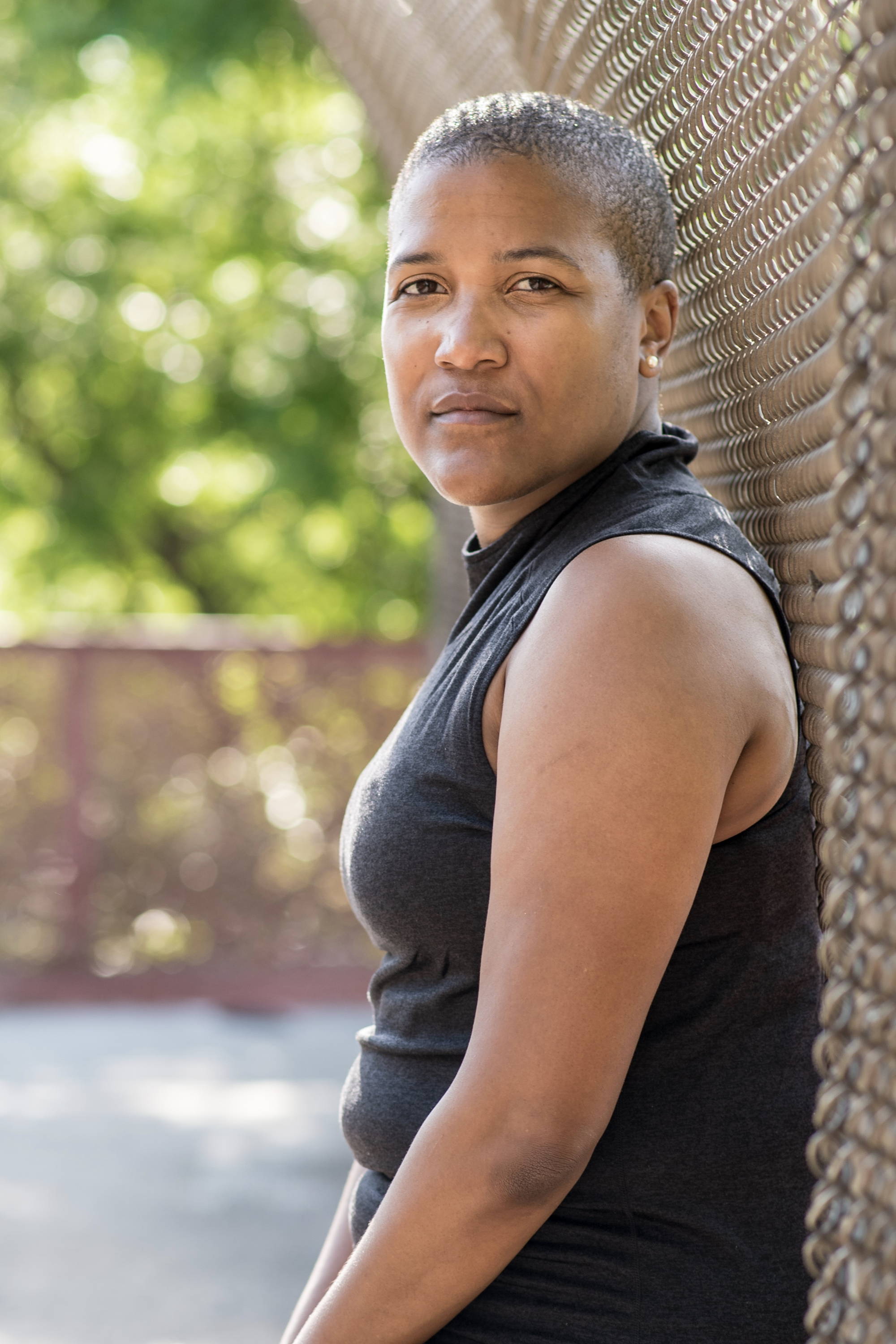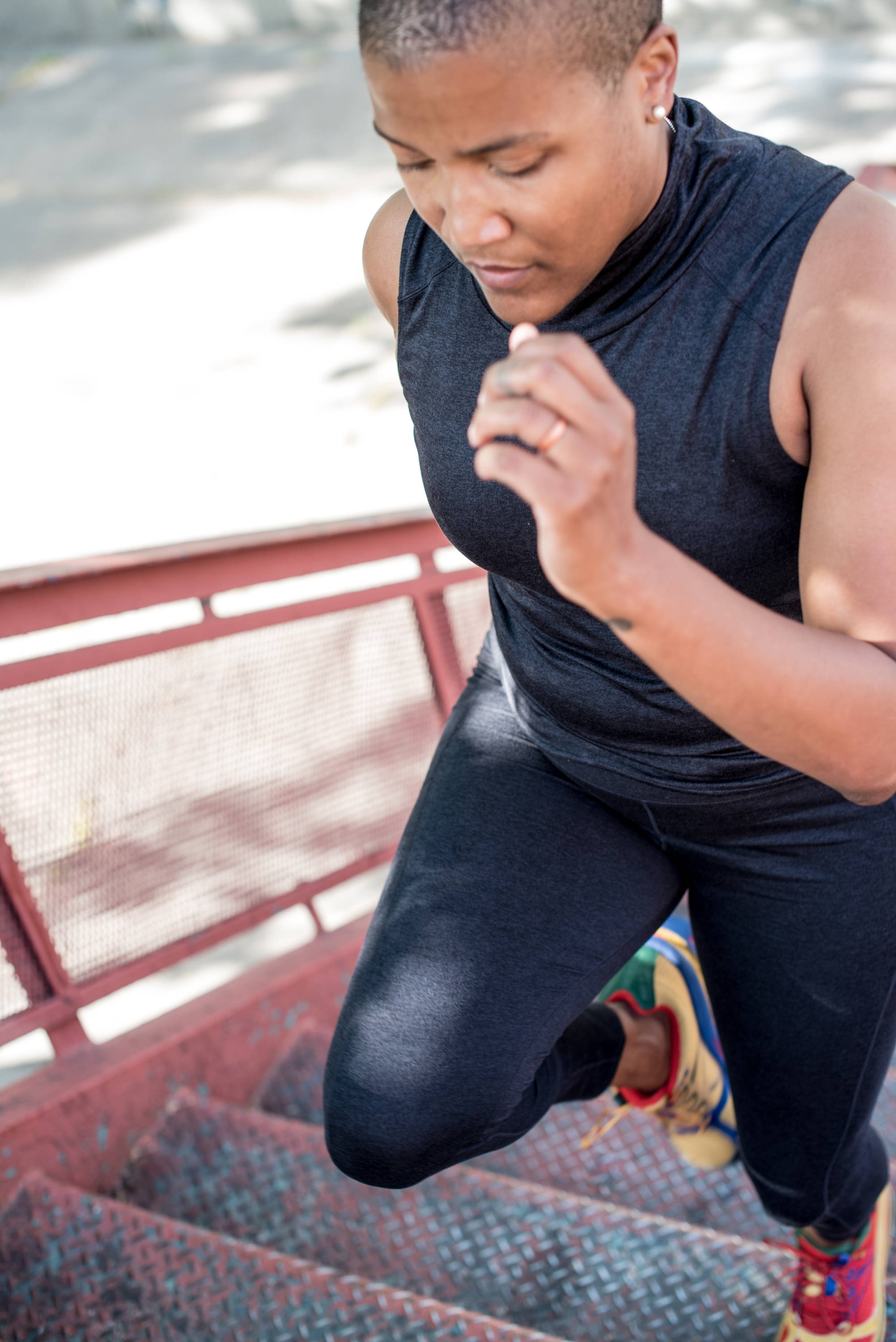 SB: You and the family will come to Seattle in July! Have you been here before? What are the things you're most looking forward to about the visit?
AMD: I visited Seattle when I was in college and remember the waterfront and, of course, the Space Needle. I'm actually most excited to visit the CHAZ/CHOP. I participated in the 2011 Occupy Wall Street Protests and remember a similar sort of autonomous zone that sprung up in Zucotti Park. I love spaces that dare to imagine what a different, more equitable future could look like. Of course, these spaces end up being temporary because they are not supported in the ways in which they would need to be to truly exist long term but the audacity to reimagine society is really brave and exciting to me.
SB: What is one of your favorite quotes, that really speaks to you?

"You cannot, you cannot use someone else's fire. You can only use your own. And in order to do that, you must first be willing to believe that you have it." —Audre Lorde