Recently one of our designers pulled me aside and suggested that a competitor had knocked us off. I've always taken that type of comment with a grain of salt. Apparel industry trends tend to get played out by a lot of different designers and brands.

But, when I looked into it further, it did seem blatant; same silhouette, same fabric, and the exact same design details. I was pretty shocked. So, I decided to reach out, not publicly, but directly via email. They replied that they had never seen our design before. Hmmm. This, despite the fact that we work in a small industry and our design, had been on the market for three years.

Who knows? But ultimately, I had to let it go. Not because I didn't feel wronged (I'm capable of cultivating a slight). Rather because since day one in my design practice, I've wanted to spend more time exploring the future than trying to build a moat around the past, or even the present, which in apparel design IS the past.
The key to success as a designer is to never stop innovating. Always be trying new things. Don't worry about others, or on looking back.
Just move and move fast.


– Karl Lagerfeld
What I appreciate most about this approach is parallel to running and training. "Run your own race" is one of those foundational lessons. Honestly, it's liberating. It reduces the noise in favor of finding the signal.

Our most powerful design inspirations come from daily participation in the sport (so the detail could be functional, such as the Watch Window). Sometimes our inspiration is from the nature we see in the outdoors (as expressed in Moody Florals, Clouds, and Birds). And sometimes it's one of my favorites: the unlikely combo of two traditionally different ideas (see the Runaway Bride Dress).

When we do look to what exists today, we most often seek out a combo of street style (I miss people watching at airports) and high design, looking well outside performance sports and the lack of creativity amongst shoe companies.

Our design team philosophy is "always be developing" as in always have new ideas in the hopper. Thanks to the good relationships we have with our factory partners, they know we're always searching.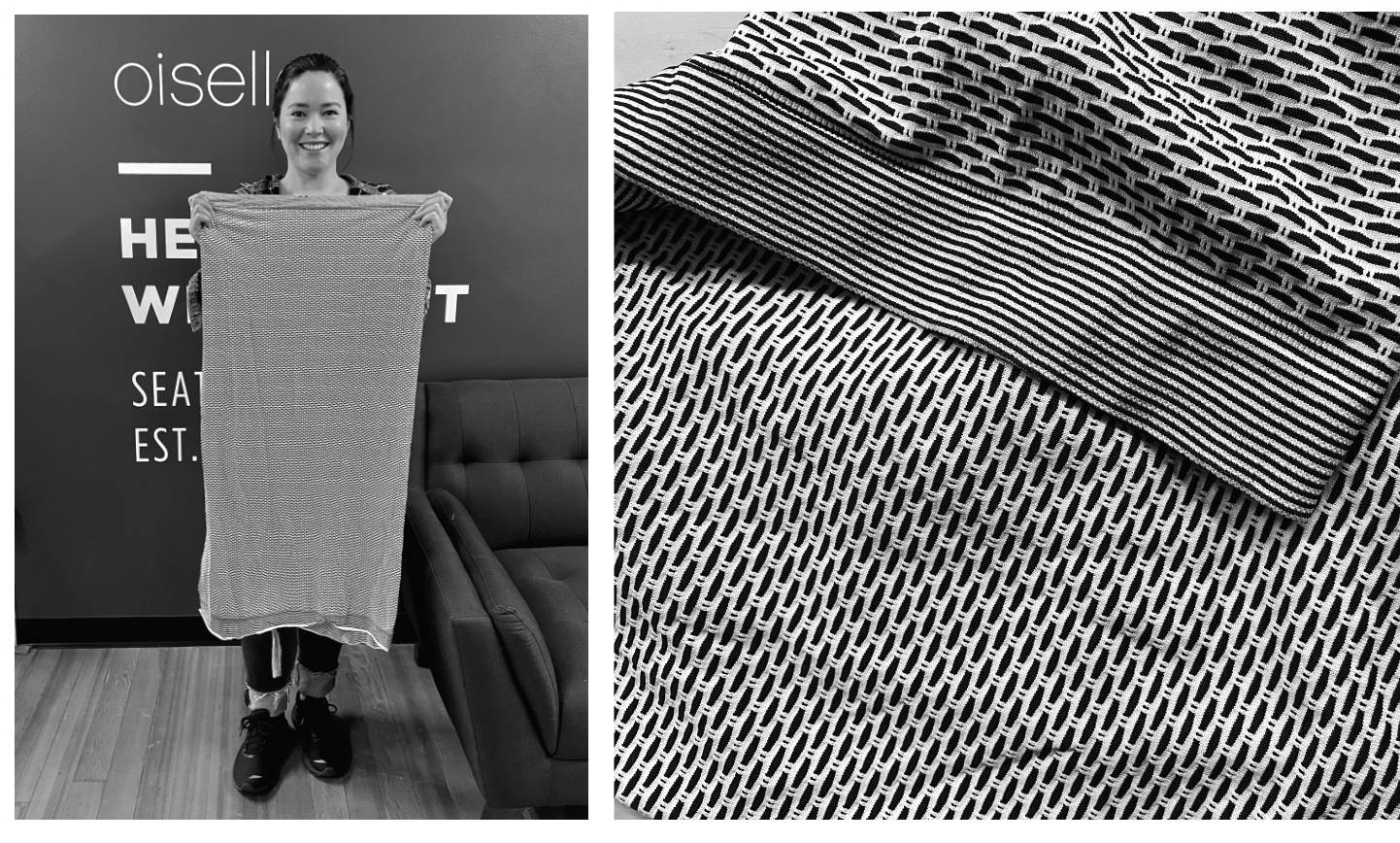 Kami holds up a 'seamless tube' which was our first look at the new fabric.
One of the most exciting areas for us recently has been innovating seamless garments and applying the art form of freedom and possibility. And so, about a year ago, we had the insights that would lead us to the Flow Fabric.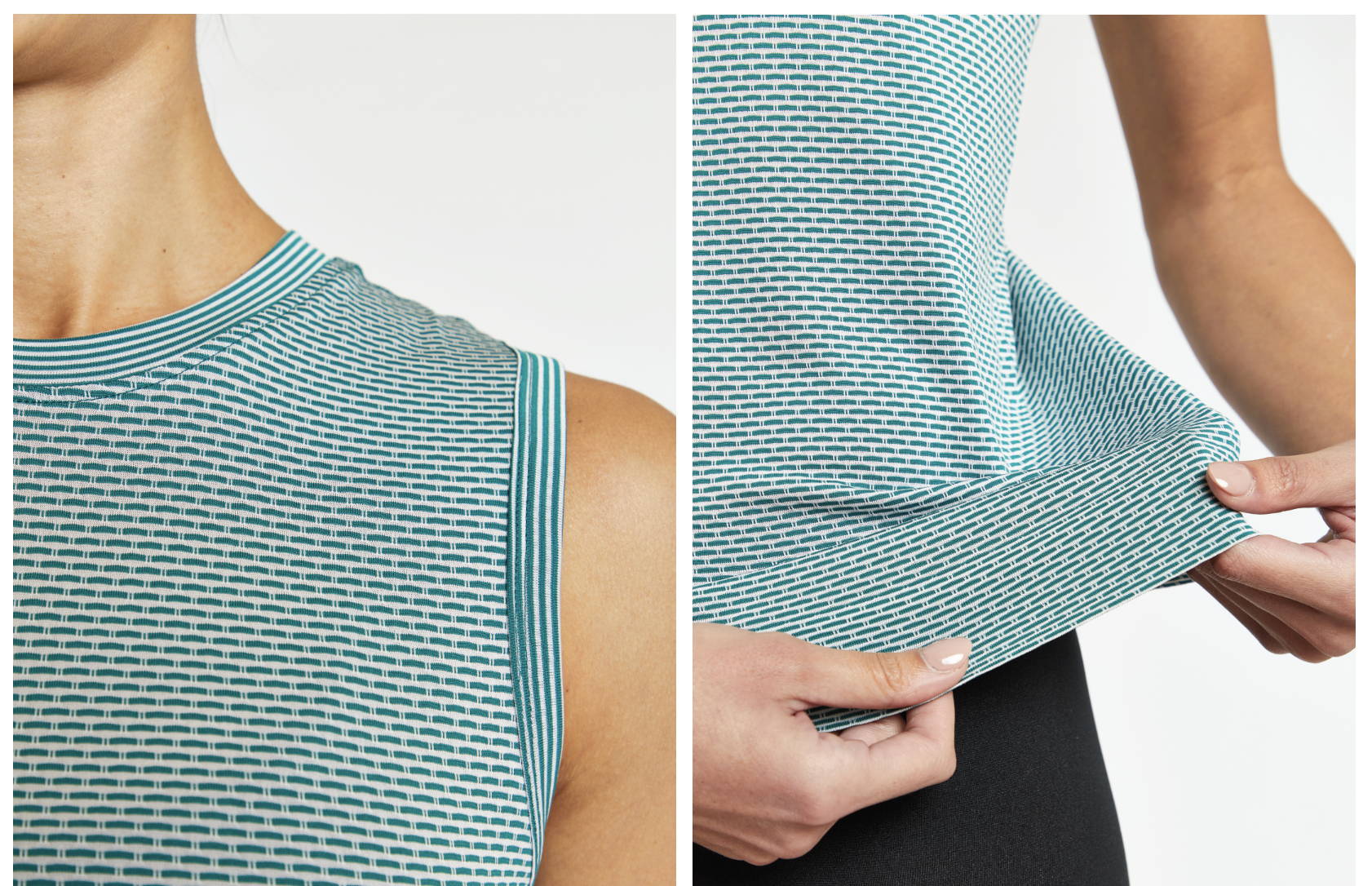 It was love at first feel. The texture and lightness, but also the stretch and recovery. It checked a lot of boxes. Next was the run test. Bingo. It felt amazing: incredibly light, floaty, and fantastic at handling heat and sweat. Washer/dryer friendly with color integrity? Check. Next, onto the fun part of exploring color combinations, and how to bring them together in the finished designs.

The Flow Long Sleeve. The Flow Tank. We think you'll love them as much as we do. As always, you wear it best. We can't wait to hear about where you take these designs. Here's to the future, moving fast, and running our own race.