Oiselle Turns 16: A Timeline
OUR FIRST YEAR ON THE MARKET
Oiselle's first year on the market may have been 2007, but the idea for the Roga shorts was conceived back in 2004–almost two decades ago. This dream, to create the world's first-ever "non-poofy, smooth waisted, well-constructed women's running short", set the stage for our company's mission. A mission that has become more nuanced and multifaceted over the years. Rogas (so-called for their yoga-style waistband and running-short liner and legs) housed the first-ever Oiselle pocket. Now most of our styles feature a pocket or two… or seven. They also come in a number of inseam lengths and two different waistband rises. You can read the full history of the Roga Shorts here: The Roga Evolution - A Shorts Story. Shop Rogas.
SALLY DESIGNED A OISELLE SINGLET THAT USATF WOULD APPROVE
First worn by Kate Grace at the 2012 Track & Field Olympic Trials, Oiselle's Elite Kit underwent 6 iterations to become USATF approved. Some of the alterations included reducing the size of the "Oiselle" typeface; adding, removing, and relocating bird graphics; and adjusting the opacity of the bird graphics such that they became hardly visible. But success is success! Perseverance paid off and the Oiselle USATF-approved singlet was born. You can watch a recreation of the singlet redesign process over here: How to Create a USATF/USOC Compliant Singlet.
Lauren Fleshman left Nike after a 9.5-year stint to join the Oiselle flock at the beginning of 2013. At the time, she was already an accomplished runner, an expectant mother, a business owner, and had amassed a readership that spanned the globe for her blog, Ask Lauren Fleshman. Now a decade later–she is a mother of two, head coach of Littlewing Athletics, and a published author. You can buy her book now: Good for a Girl.
NY FASHION WEEK + WE SIGN KARA GOUCHER
When you think about New York Fashion Week, it's likely that the only type of "running" you'll think of is the rushing to-and-fro by models and fashion girlies alike. That is unless you know that back in 2013 Oiselle, too, graced the Fashion Week catwalks. Dubbed #birdmachine, we brought muscle, tenacity, racing bibs, and swimwear to the runway. You can read more about our initial showing here: NYFW Recap: Beauty, Truth, and Muscles. And you can read about our return to the runway in 2014 here: Behind The Scenes at Nolcha Fashion Week.
After 12 years with Nike, Kara Goucher signed with Oiselle. An accomplished US distance runner, two-time Olympian, whistleblower, mother, and now a published author, Kara has truly done her part to improve the sport and leave circumstances better than she found them. We are honored to have her as an advisor on our team. You can buy her book now: The Longest Race.  
START OF THE VOLÉE + GRAND OPENING OF THE FLAGSHIP STORE
In the summer of 2015, Oiselle opened 1,000 spots for a new program called the Volée. All 1,000 sold out in less than three hours and crashed the website. Since then, we've been working to grow the sisterhood and improve the sport. Today, the Volée has become a global community of diverse women, each with her own running histories and unique goals for the future. Despite the changes the program has seen, what lies at its heart remains constant. The Volée is a group founded on and rooted in a shared love for the run - all the ups and the downs, the grit and pain, the sheer joy of the PRs you achieve, and the triumphs you help your fellow run-pal accomplish. You can read more about how the Volée program started here: The Evolution of our Team.
Designed by local award-winning architecture and design studio GO'C, Oiselle's Flagship store is as innovatively designed as our Roga Shorts. Friends from near and far continue to take trips to see the modern space and the beautiful product it displays. The flexibility of the space allows the Flagship to represent our brand all day, every day, and to transition seamlessly from store to gathering place for Thursday Night Flight Club (TNFC) and other events. You can learn more about TNFC and upcoming events here: The Gathering Place.
OISELLE LAUNCHES BRAS FOR GIRLS - NOW ITS OWN 501(C)(3)
Bras for Girls started with a mistake that turned into an opportunity for us to reinforce our mission and values. We had a production run of sports bras that didn't meet our standards to sell them, but still met every technical and functional requirement of the design. They needed a home. Our resident doctor and team manager shared research noting that over 50% of teenage girls quit sports at the age of 14 - and an even higher rate in areas that faced economic challenges. One of the reasons given to explain this phenomenon is the lack of access to education, information and product as girls experience puberty, and breast development. All of the social and personal stigmas and discomfort of not knowing what to do, feeling the emotional burden of puberty's effect on one's breasts - it was easier to stop sport than to push through. So, we found that there was also a great need for sports bras. Bras for Girls was born, and now it extends beyond Oiselle. The need to outfit, educate, and support young girls in sports during a vulnerable time goes beyond Oiselle's capacity alone. This is a need that all athletic brands can be involved in to support the future of girls and women in sport. As such, Bras for Girls was launched as an independent 501(c)(3) charity in 2022. To date, Oiselle has donated over 17,000 bras and will continue our support through donations and using our platform to give voice to this important and inspiring work. To learn more about Bras for Girls, click here: Bras for Girls Gears Up to Equip and Empower More Girls Than Ever.
THE WATCH WINDOW IS RELEASED
The Oiselle Watch Window, like many design ideas, sprung to life on a run. Prior to the watch window, checking your running watch on a cold-dreary day was a hassle. Now, it's a breeze. Released in fall of 2019, the watch window was first featured on the Lux and Flyout Long Sleeves - on both arms, for righties and lefties alike. We've since extended this feature to other tops and gloves (you can see a full list of products here), and we are never looking back.
Women Run the Vote (WRTV) is an annual nationwide virtual relay, first founded in 2020 by Oiselle and Run for All Women. In its first year, WRTV teamed up with 10,000 relay participants that contributed $272,000 to Black Voters Matter. This incredible event was made possible by our fearless visionaries - Alison Mariella Désir and Lauren Fleshman - and by the effort of so many awesome women. The idea for WRTV started with a hunger for activism and engagement, so we rallied our community around a cause we care about. Taking inspiration from the Torch Relay of 1977, our team reimagined a relay into something that would allow distant communities to connect and people to come together to learn the rich history of the places along the route, share stories, move their bodies, and fight for change. In its inaugural year, WRTV focused on voter registration and anti-racism work by donating funds to BVM. The last two years, we've continued to fundraise, advocate, and donate to incredible organizations (2020: Black Voters Matter / 2021: Runners for Public Lands, the National Indigenous Women's Resource Center, and the Duwamish Tribe of Seattle / 2022: Black Voters Matter) that are rooted in the same values, with missions that drive us to our core. You can read more about how it all started here: Women Run the Vote: The Origin Story.
ALISON MARIELLA DÉSIR JOINS OISELLE - RIDC
The murder of George Floyd in 2020 garnered national attention and recentered the reality that racism is alive and well. In the running community, Floyd's murder started conversations about how running is yet another space that is neither inclusive nor welcoming - and in some cases not even safe - for BIPOC people. As mentioned above, in 2020, we partnered with Run 4 All Women to create a virtual relay that pulled together the running community in support of Black Voters Matter in their important work to ensure Black people have access to the information and places to act on their citizen right: to vote. In this work, what began as a partnership with Alison Mariella Désir (one of the founding members of Run 4 All Women) turned into something more: Alison joined Oiselle as Director of Sports Advocacy. Alison was also one of the founding members of the Running Industry Diversity Coalition (RIDC), a non-profit that began in 2021, and one that Oiselle remains actively involved with to make running a more inclusive and diverse sport. With the launch of her book, Running While Black, and the importance of Alison's leadership needing to reach beyond any one product or brand, we continue to support her in the critical work she is doing and look forward to more opportunities to collaborate in the future.
RETURN OF BIRDCAMP POST-PANDEMIC
2022 marked our ability to "gather, run, swim, [and] dance" in-real-life and in community. Depending on how long you've been with us, you may have experienced various locations for Birdcamp. Camp IHC in 2019 made for a memorable experience leaving our community wanting "more of this!" Emerging post-pandemic, Birdcamp 2022 was beyond everyone's expectations. There was running (of course), cheering, charcuterie, inner tubing, ice sculptures, and even a bear sighting! We gathered together, connected with cabinmates, and made some new friends along the way. Our evenings were filled with conversation in a relaxed outdoor setting by the lake, complete with porch swings, campfires, and even a dance party. If this sounds fun to you, you can learn more and register here: Birdcamp 2023.
OISELLE UNITES FORCES WITH JANJI + A LOOK INTO THE FUTURE
At the beginning of 2023, Oiselle and Janji joined forces as two small brands with a shared passion for running and making a positive difference in our community. We like to think that this is one of those cases in which the sum of the whole is greater than the parts. The mutual admiration and respect between our brands informed the style in which our partnership was formed - all the way from the idea to signing on the dotted line. Oiselle remains a by-women, for-women brand, now with more fuel to live fully into our mission to be the go-to brand where women worldwide can find great product, as well as friends and fans to experience the transformative power of running together.
In life, turning 16 marks a sense of "freedom" and with that freedom comes responsibility. You may have your license to drive, but now there are rules to follow, people to watch out for, and social graces to abide by so that the roads are efficient and safe. As we look toward our 17th revolution around the sun, we run towards it with the same level of mission-minded curiosity, creativity, and enthusiasm to design great product, build the sisterhood, and improve the sport. And with 16 years under our belt, now more than ever we are ready to meet the challenge. Thank you to our friends and fans who have run and trained with us for the first 16, and here's to "more" - because in this case, more is just more, and it's gonna be good! Let's keep soaring.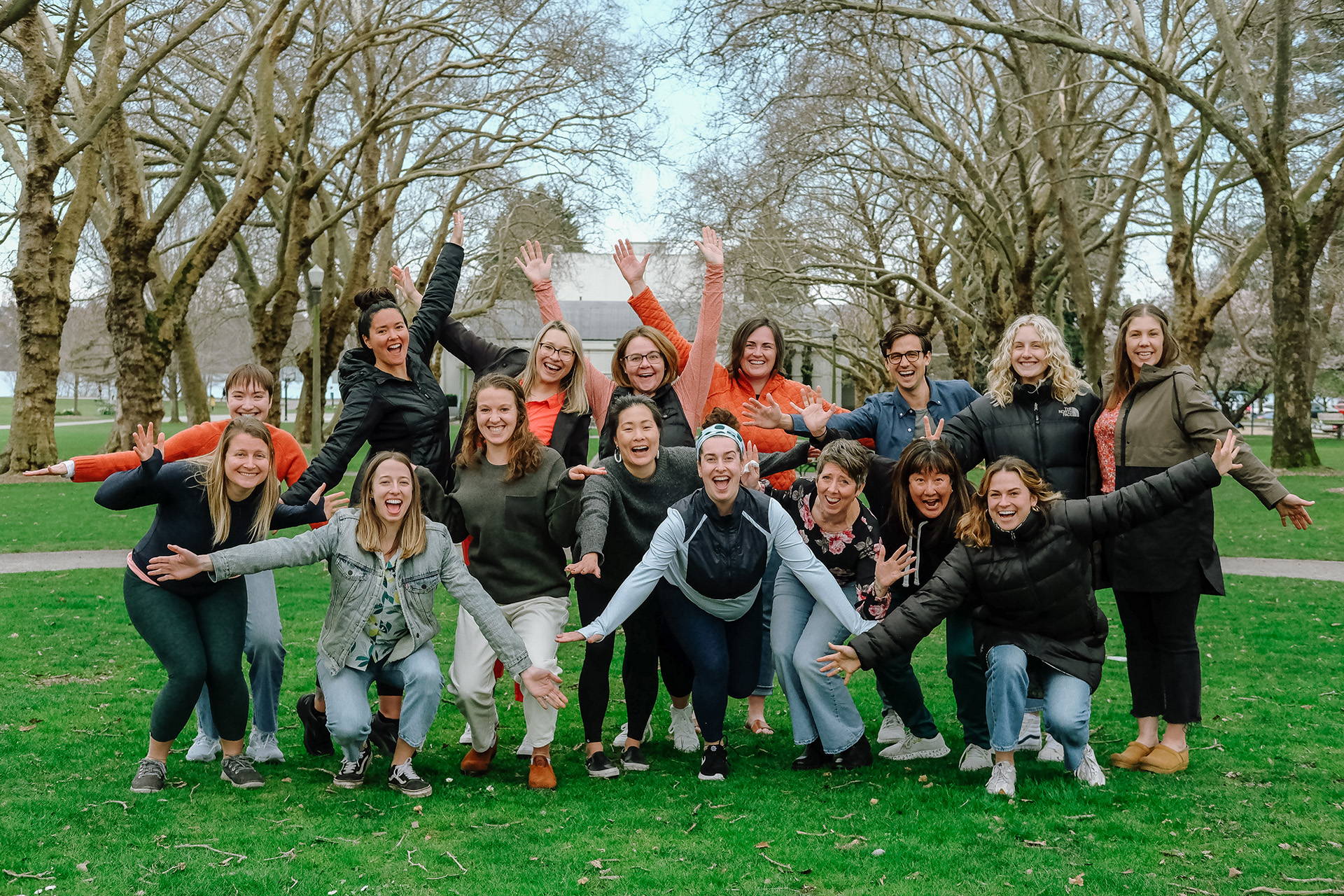 I've always been an early riser... But my mornings look drastically different now and I have to chuckle at my nonchalant mention of kids altering your routine as if they don't come into the world giving the cutest middle finger to your schedule, saying "You're on my time now"…
Paralympian Jenna Fesemeyer shares background on the Paralympics and her sport, wheelchair racing. Learn more about how she found the sport, who can compete at the Paralympics, selection criteria for Paris 2024 and more.
Read Jenna Fesemyer's story of facing Overtraining Syndrome (OTS) and RED-S in pursuit of her Paralympic dreams and the Berlin Marathon. Follow her triumphant journey from adversity, shedding light on the often-overlooked challenges of female athletes.