Oiselle believes in team and the power of team to elevate individuals. We celebrate our Volée and Haute Volée teammates – constant sources of motivation. And those of us who are "aging with spirit" (as we like to call it) have been so encouraged by the vim and vigor of our older teammates! Today we are delighted to announce Oiselle's newest featured team, the Elite Grannies. These women are all 70+ (!!), and are out there competing and testing their mettle on the roads and trails. They're decked out in special Elite Grannies gear, so you won't miss them at their next race. Learn more about Peggy, Marjorie, and Donna below!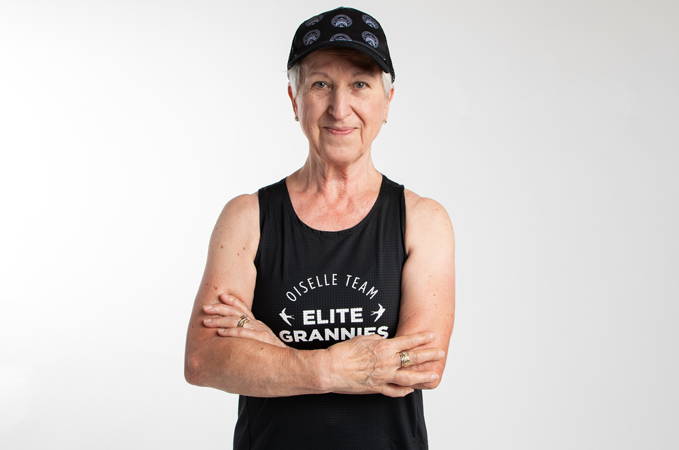 DONNA KETO
I did my first 5K, May 5, 2007, age 60. I had not participated in sports during my school years or even after I finished school and started working and got married. In 2006 we were living in Jakarta, Indonesia and our daughter was living in San Antonio,Texas. She wanted to register to run the Walt Disney World Minnie Marathon Weekend, and I was recovering from bunion surgery, first on the left foot then a few weeks later on the right foot. My daughter was able to get me some running shorts and tops as my aerobics gear was not suitable. Once we both arrived in WDW I still needed running footwear. I couldn't get my feet into proper running shoes (as my toes and all the bones in my feet were still hurting) I opted for running sandals instead. I was so happy and relieved that I made it to the finish line. This was the first race of many more to come.
My daughter inspires me so much. I find that my daughter's hard work, dedication and training for Ironman is very inspirational. So far she has been an Ironman [woman] six times! If I could leave you with one piece of advice, it would be this;
Not only to enjoy, but to feel happy with what you have chosen to do. Don't wait till you get old, but it's never too late to start.
Upcoming Races:
Dopey Challenge (Walt Disney World), January 2020
Santa Barbara Wine Country Half Marathon, May 2020
Napa to Sonoma Half Marathon, July 2020
---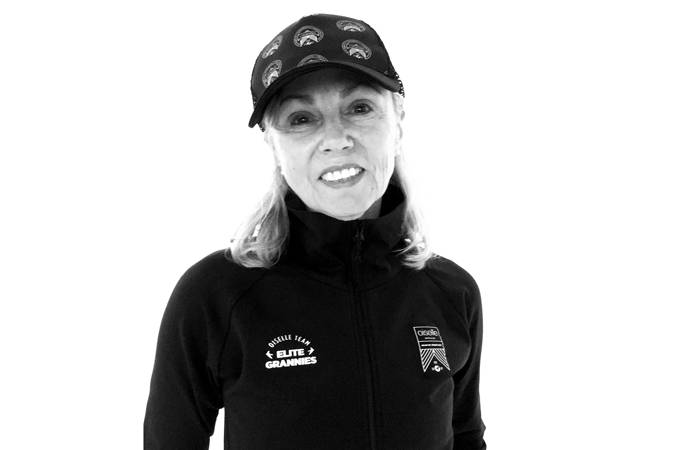 PEGGY RICHKO
I started running in high school with the boys track team before cheer leading practice. There were no sports for girls in the 60s, no high school or college sports and no town recreational sports. If you wanted an athletic endeavor you were a cheerleader, a twirler, or a flag waver. I was a cheerleader. Actress Susan Sarandon was on my squad (my only celebrity connection). I ran for fitness and health through my 20s, 30s, and 40s, sometimes competing in local races. It was not until my 50s that I became a competitive runner. There are not many 70 year old female runners. The reason for this is not that my generation is too old to run. It is because most women of my generation never started to run.
In the early seventies there began a movement for an Equal Rights Amendment to the Constitution, so women could have the same opportunities as men. The ERA amendment never made it through the states for ratification, but we did get Title IX in 1972 which provided parity in sports if there was federal money given to an institution. I always thought it was a political compromise, but it has helped women. The law was initially not well received by men and some women. The rallying cry was women don't want to participate in sports and some men's sports wouldn't be funded. Tell that to Katherine Switzer who in 1967 was almost dragged out of the Boston Marathon or Bobbi Gibb who had to run Boston secretly in 1966, 1967, and 1968.  
I ran a 5 mile race- the Belmar 5 miler - in the late 70's, a race that is still going strong at the Jersey shore. This was during the Jim Fixx running revolution. I ran in the middle of the summer wearing a white cotton tee shirt, cut off sweat pants, men's track shoes and a regular bra. I was miserable. It didn't feel like a revolution to me, but I was running. It took until 1984 for Joan Benoit Samuelson to be allowed to run the marathon in the LA Olympics. Great strides have been made in women's sports, but even the Boston marathon waited until 2008 to offer female sizing for their SWAG shirts.
I have two granddaughters who are athletes, one in gymnastics and one in dance. I have done Girls on the Run (a six week self-esteem program that ends with a victory 5K race) with both of them. They take girl's sports for granted and that's how it should be. But I can't. I sobbed tears of joy when Shalane Flanagan won the New York Marathon in 2017 and again when Desi Linden won the Boston Marathon in 2018.
My advice to young female runners is to start running and keep running. Don't let life, and work, and family, or lack of motivation get in the way. Surround yourself with other runners. Find a coach (my biggest regret is that I never used a coach) find a running club or a running buddy, use social media to discuss goals, challenges and achievements. Running is a solitary sport that needs people.
Upcoming races:
Giralda Farms 10K, November 2020
Ashenfelter 8K, November 2020
Hangover 5K, January 2020
Garden State 10 Miler, March 2020
Cheer for Alison, Lesko, Sally, all the Oiselle runners, and my NJ teammates at the Boston Marathon, April 2020 (and maybe run the Boston 5K on Saturday, my 72nd b-day, wearing my Elite Grannies kit!)  
---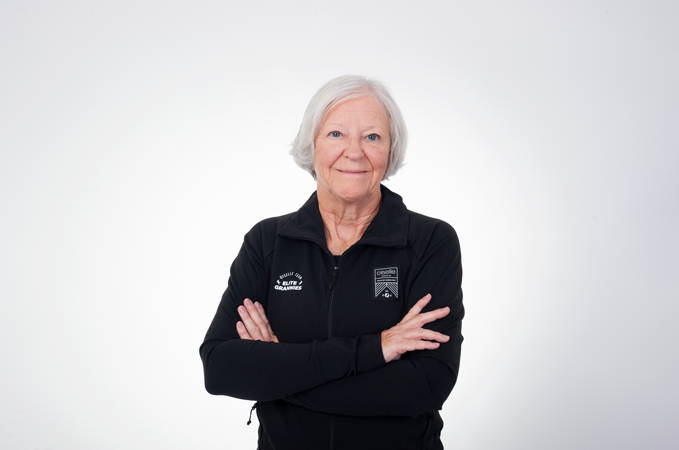 MARJORIE CONRY
I am 72 years old and started entering races in 2011 at the age of 64. I started using the Jeff Galloway run/walk method with my daughter and in 2013 we crossed the Disney Wine and Dine Half Marathon finish line together. We do around 11 to 12 half marathons a year and about 30 or so total races a year.
Every time my daughter chooses to run a race with me it makes it so special. My daughter has always been an inspiration for me. As I watched her grow up in the very competitive Irish Dancing community, she continued to keep her self-confidence and her compassion. She was always ready to congratulate the winners and console those who did not win. Even when she was down, she always managed to get up and push herself to be better, and even now with her running, she will push through the pain to finish. She has taught me to commit to my running and to push through the exhaustion to get to the finish line. She has pushed me to do better than I ever thought I could. Because of her, I am now healthier than ever and hope to keep running for a long time.
My advice for youngsters:
Find something you have a passion for and do it. It is never too late to start.
Upcoming Races:
Wine and Dine WDW Fall Fest 5k, 10, and Half marathon, November 2019
Indy Santa Hustle Half marathon, December 2019
Chicago Lakefront Half marathon, January 2020
Shamrock Shuffle 8k, March 2020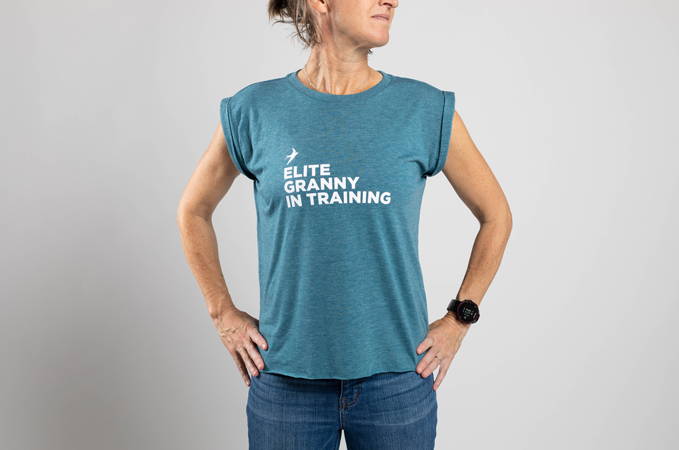 *Special Oiselle Shenanigans Alert: We also had a limited run of "Elite Granny in Training" t-shirts to give to a few fantastic people! But now they are all given out - thank you all for your nominations of such amazing women! (Note: actual grandchildren not required, we use the term "granny" loosely and affectionately!) You never know what's in our future (possible Elite Grannies line?!), so make sure you subscribe to Oiselle to hear all the news and offers first!