Briana Noelle Boehmer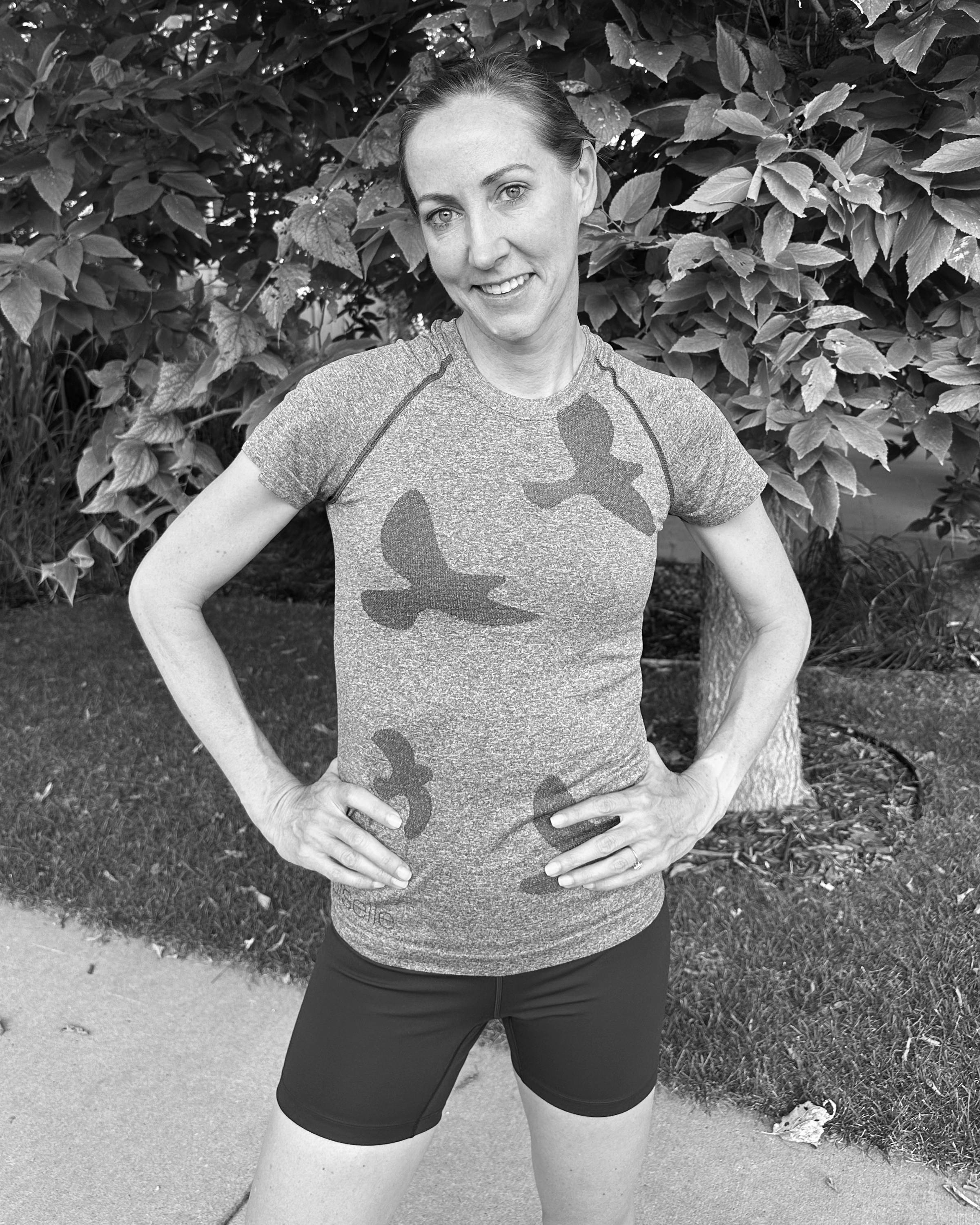 Hometown: Fort Collins, CO
Track 3K
Track 5K
Marathon
Half Ironman
Full Ironman
9:22
16:21
2:33:20
4:21
9:22
Where did you grow up? Is there anything about your girlhood you'd like to share with us?
I was born and raised in Colorado and grew up mainly in Fort Collins!
At 19 months, I lost my mother, which would end up forcing me to be self-reliant. I grew up "solo" with just my dad, who was often gone for work. His schedule and resulting absence meant I had to navigate many of life's challenges in creative ways. This solitary upbringing made me feel like the odd one out quite often. The familiar adolescent struggles, from fitting in to confronting self-image, took on a distinctive intensity for me. I grappled with the pursuit of 'normalcy', the weight of looking 'pretty' in hopes of gaining acceptance, and many other concerns I now wish I could assure my younger self were unimportant. In a beautiful way, that's where sport provided a very real confidence boost and family for me. I honestly cannot fully detail why, but I felt a drive always to excel and beat the odds dealt to me.
Racing Highlights:
Winning a state title in high school that got me thinking… hey maybe I'm good at this running thing!... qualifying for the national championships in the 3K & 5K in college, crossing the finish line of my first Iron(wo)man :), and in 2021, at the age of 42, racing my first open marathon at CIM and setting a masters course record of 2:33… and then being invited into the Elite Field of the Boston Marathon (truly never too late for dreams to come true) toot toot!
Passions/joys outside of running:
I'm passionate about mentoring and coaching, whether in the business realm or the running track (I've actually coached athletes for over 20 years now… one of the first users of a coaching platform, TrainingPeaks… I'm forever a coach). Seeing someone achieve their potential is incredibly rewarding. I find immense joy in very simple things, the highest among them is time spent with my husband of nearly 19 years, Michael. He is an angel I believe my mom sent me to remind me everything will be ok. Oh and I also might be passionate about chocolate eating… does that count? Don't ask about the variety of chocolate choices in my pantry… or do… it's impressive.

Job(s) outside of running:
Though I initially envisioned a career in medicine, entrepreneurship beckoned, drawing me first into the world of corporate wellness and then into fitness technology. I'm deeply involved in the entrepreneurial space. My work spans executive roles in startups and corporations and mentoring budding entrepreneurs. Today, I serve as the CEO of a forward-thinking local company, teach entrepreneurship at the University of Colorado-Boulder, and serve on the board of directors for Startup Colorado. I have contributed to major publications and volunteer my time in the startup community as much as I can (recently helping in a leadership role in a pre-accelerator program called Founders Boost).
Do you have a quote that guides, inspires, or embodies your training/racing/life?
"Alice: Would you tell me, please, which way I ought to go from here?
The Cheshire Cat: That depends a good deal on where you want to get to.
Alice: I don't much care where.
The Cheshire Cat: Then it doesn't much matter which way you go.
Alice: ...So long as I get somewhere.
The Cheshire Cat: Oh, you're sure to do that, if only you walk long enough."
― Lewis Carroll, Alice in Wonderland
"Naivety and optimism are the artist and entrepreneur's indispensable allies. She must be clueless enough to have no idea how difficult her enterprise is going to be – and optimistic enough to believe she can pull it off anyway."
- Steven Pressfield
What was your favorite sport in middle school?
I loved volleyball. As a talllll girl it was a sport where I felt at home and in my element.

Can you share your first sports bra experience?
This is going to date me… I started needing a sports bra in the late 80's/early 90's and options were limited. As a result, I relied on a 'regular' bra for several years while playing tennis and volleyball. My first real sports bra was made entirely of cotton, and its prominent stitching always left red chafe marks. I can't recall the brand, but I distinctly remember its perpetual dampness and how it felt burdensomely heavy and stinky post-practice. Times have certainly changed since then!
If you could give one piece of advice to a 12 year old girl, what would it be?
Sometimes, the scripts society hands us aren't the ones meant for our stage. It's okay to feel different; in fact, it's your differences that will one day be your strength. (AND don't forget to twirl… :) )
Tell us about your favorite place you have ever traveled to:
I'm obsessed with the French Alps. I once competed in an off-the-beaten-path triathlon in Chamonix, France, where I swam in frigid waters, biked over seven mountain passes, and ran on the trails of Mont Blanc. I loved every minute and wished I could stay forever.

What alternative career do you fantasize about?
Being a fiction writer whose stories strikingly reflect real-life non-fiction.

What is your superpower?  
I've got this uncanny knack for believing in the impossible (some might say I'm gullible). Tell me there's a unicorn in your backyard? I'll be right there! But I prefer to think of it as just being incredibly trusting... with a sprinkle of magic ;)
What led you to the marathon?
Ever since my college days, the Olympic trials have been a secret dream of mine. Running alongside amazing athletes always had me wondering, "Why not me?" But between injuries and diving into the business world, that dream got sidelined. I've naturally gravitated towards "the longer stuff" and found myself diving into long-course triathlons, tackling a bunch of Ironmans, even the big one – the world championships. But here's the thing: running has always, ALWAYS been my first love. So, despite everything, there was this nagging feeling about the "what ifs" of pure running. When the pandemic shut pools down, I returned to my true love - running. No agendas, no timings, just running for the sheer love of it. Before I knew it, I was seeing fitness levels I hadn't touched in decades. This newfound joy and energy took me to my first open marathon at CIM, and at the age of 42, I clocked in at 2:33, even setting a masters course record. The thing about 26.2 miles is they have their own magic. If you've run those miles, you know what I mean. For me, it's not just about those miles; it's about the trials and that dream I've always held onto.
Please share any thoughts/feelings you have about your Olympic Marathon Trials buildup and the Underbird team:
As a naturally quiet individual, I've often flown under the radar. But I've come to realize that stories don't need to be loud to inspire; they need to be genuine. Being part of the Underbird team and my build to the marathon trials allows me to share my story and receive support for the dreams I penned decades ago. Underbird is more than just a partnership; it's a testament to shared values and goals among 5 women and a company cheering them on. After crossing the finish line and seeing my 2:33 time, a fleeting wish crossed my mind: "If only I were 30 again." But that sentiment was swiftly overshadowed by triumph—I achieved my goal, regardless of the time it took. With this marathon trials build, I want others to see my story and think, "If she can do it, so can I." Age doesn't define us, and it's never too late to chase a dream. Twists and turns can lead to the most beautiful destinations; they really can. The marathon is my way of saying, "You got this, no matter where you're starting from."
Random fact about you:
I have a photographic memory! (I suppose this too could be a superpower :) )
Why do you run?
To be honest, sometimes the answer is because it is this deep piece of who I am. Running is part of what makes me… ME. But I also run because it is the one thing in my life where I know I get out of it what I put in. In the business world and social world, you can do "all the right things," and yet, well… it's not like running. One of the hardest things for me to understand was when I applied to colleges and didn't get into some of the schools I had dreamed of. I did "all the things" I was told I should. Get straight A's, take hard courses, fill my schedule with extracurricular activities (student council, volunteering), excel in athletics, and the list goes on. The same has happened in the business world. Particularly as a woman in tech, my hard work doesn't always get me to that finish line in the same way. I am not saying I don't gain so much from the work I put into these other endeavors. But with running, I get to control the narrative. I get to achieve without the barriers society places on me. You could say that while the realms of academia and business can sometimes be unpredictable or unjust, running rewards me based on my efforts, free from societal barriers.
How were you introduced to running?
It wasn't until my sophomore year of high school that I started running. Making varsity for any sport seemed impossible, and with my perfectionist tendencies, if I wasn't on the varsity team, I felt like I just wasn't cut out for it. In my home, it was all about tennis with my dad being the college tennis coach. But spoiler alert: I wasn't good at tennis. Heading into my sophomore year, my dad suggested, "Why not try cross country?" I recall replying, "Running? Why on earth would I want to run?" Nevertheless, he proposed a plan: "How about we go on some runs this summer? You can participate in a local 5K road race, see if you enjoy it." And so, our summer run sessions began. When the 5K race day arrived, and he suggested a warm-up, I was adamant, "I'm about to run three whole miles, Dad! I'll start when the gun goes off." I laugh to this day when I think about it. The thrill was unexpected; I ended up being one of the fastest kids. It was a revelation—I'd found something I was naturally good at. It felt like that scene in Good Will Hunting, finding something I could truly "play."

Sweet or savory?
Sweet... ALL - THE - WAY. My pantry has a dedicated section that's practically a shrine for chocolates and all things sugary. Whatever you're picturing as "a lot" right now, quadruple it. Seriously. It is a fact that I have chocolate for breakfast, second breakfast, lunch, snacks, dessert... and maybe even a midnight treat :)

Some favorite jams at the moment:
I must confess, I'm not much of a jams girl, but I am utterly addicted to podcasts. Especially over the last two years, I haven't let a day pass without tuning into at least one podcast episode. Admittedly, I lean on the nerdy side and have my deck filled with tech podcasts as well as those with a newsy edge. Some favorites include 'The Daily' (they distill a big "in the news" topic into around 30 minutes – so efficient!), 'Hard Fork' (hosts Kevin Roose and Casey Newton are not only hilarious but also incredibly sharp; the podcast revolves around tech), and 'How I Built This' (for anyone seeking inspiration from entrepreneurs, this is the go-to). I could rattle on, but I'll spare you the lengthy monologue! Haha :)

If you were a type of bird, what kind would you be and why (you can invent one)?
Underwing Sparrow. (Totally made up but felt thematic in my brain!) On the surface, it appears as a modest, unassuming bird that blends into its surroundings, but when it takes flight, the undersides of its wings reveal vibrant patterns. The Underwing Sparrow doesn't sing the loudest, but its song is one of the most heartfelt and genuine.

On a day you're not feeling your best, what (sights/sounds/tastes/books/art/practices/people/things) helps you find your joy?
On days when I'm not at my best, I rediscover joy in the embrace of 'my people.' As the years go by, I've come to recognize the quintessential elements that truly define life. 'My people' isn't just about individuals—it's an amalgamation: my cats (I am unapologetically a cat person), my new puppers, a select circle of friends (who are more like family) that envelop me with unconditional love, cherished notes and letters that remind me of my worth, strength, and beauty, and my husband (of 19 years and counting… he truly is my best friend). Life can be a whirlwind of emotions—confusing, messy, and capable of breaking your heart. But it also brings 'my people.' In the midst of it all, a simple cat snuggle or a heartfelt text from a dear friend grounds me, reminding me of the ever-present joy in my life.