Hi friends,
We're back with another fun chapter of "Who Is...," our fun new series on the amazing people who make up our community. (If you missed our first story, you can catch up here.) This week we're featuring Jen Morgan, a local Seattle Volée member. In fact, Jen *just* joined our Volée team this past summer. Here's her story on all things running, sports, cats and how at 43 she finally feels like she's found a place of belonging. Jen's story made me laugh, swoon and quite frankly I'd love an opportunity to run with Jen.
---
What's the best thing you've got going on in your life at the moment?
I am getting really excited for 2020 at the moment. I am planning to run my very first marathon in 2020. For lots of Oiselle fans, this may be old hat, but it's a really big deal to me!
I started running in 2007 to impress a guy I was dating. (Not my most Gloria Steinem moment). I fell in love with the sport even if I never fell in love with the guy. I had no clue how to train. My motto: run often, run long, run hard. I ran 6 miles a day just because I liked the route. I ran a half marathon and started to understand the appeal of distance running. The folks I was running with were seasoned marathoners, several of whom had run Boston. So when I said I wanted to run a marathon, they each made their ploy for which should be my first. I settled on the Victoria Marathon in B.C. About a month before the big day, on my 16-mile-long run, I had sudden onset severe knee pain. If you've seen "Brittany Runs a Marathon" you may know where this is going...I didn't get to run the marathon. Instead I had two knee surgeries and two different orthopedic surgeons tell me that I probably "just shouldn't run." This was in 2009. I gave away all my running gear. I threw away my medals and bibs. I had to stop driving past Green Lake because seeing the runners broke my heart. I think I was truly grieving.
Fast forward to November 2018. I hired a coach, started going to PT, found a new sports medicine doctor who believes "every body can run," and gave it a second try. I have successfully run 20 races this year and feel ready to finally take on that 26.2 distance in October 2020 in Victoria, B.C.
Who in your life brings you the most joy?
My partner, Aaron. I know it sounds corny, but it's true. We laugh, and I mean belly laugh, every single day. He's taught me to let go of my need to control all aspects of my life and lean on my loved ones. I am very stubborn and very much a "do it yourself if you want it done right" kind of gal. It's been so liberating to have a loving partner to help me relax those rules. I feel a deep sense of gratitude every day we're together. On the nights where I work late, he does chores around the house or prepares dinner so I can run when I get home. If I am nervous about running in the dark, he comes with me (even if he didn't have a workout planned that day). He always leaves me the last piece of dessert. We fall asleep holding hands every night and he makes me coffee every morning. He's my wing man and definitely an honorary BOO!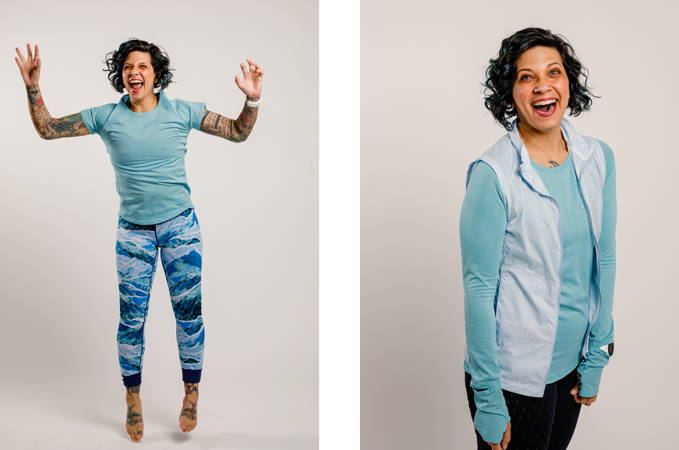 Where are you from (where did you grow up, family heritage)?
I grew up in Wilkes-Barre, Pennsylvania, which is a small city in Northeast PA. Most West Coast folks have no clue where it is. [Ed. Note: Unless you flew into AVP airport for Big Birdcamp!] That said, I remember playing Trivial Pursuit in the late '80s and Wilkes-Barre was an answer for one of the questions -- it turns out that my tiny hometown is the only hyphenated city in the U.S.! I come from a small nuclear family but a rather large and close extended family. My mom's family is from Italy and my dad's family is from Syria, which means that every emotion is big and the solution to every problem is food.
When did you first come into contact with sports?
I tried playing soccer in grade school, but when I scored a goal for the other team by accident, it was clear soccer wasn't going to be my thing. By 9th grade, I fell in love with track and field. I loved watching the power behind the athletes and I wanted to be just like them. Hurdlers, in particular. One of my uncles helped me learn to hurdle. He borrowed a hurdle from a local high school so I could practice in our backyard until I finally got it. I practiced for hours and hours, but I was determined to learn. Eventually my opportunity to toe the line at my first track and field race arrived. I leaned in confidently and was ready to show everyone what I practiced. About 100m from the finish, my toe caught the hurdle and I tripped and fell onto the dirt track. Stunned, I sat for a moment before trying to get up and finish the meet. But I never finished. My mother, stunned, ran directly onto the field yelling "My baby! My baby!" and tried picking me up. She thought I was really injured. But in reality, I was absolutely mortified. That was the end of my track career.
What is your superpower?
My TENACITY!
I'm tenacious and once I put my mind to something, it's like a freight train moving full steam ahead. It doesn't matter how big or small the task is, I will employ laser focus to complete my goal. I planned our wedding in about 4 months on a limited budget. I've gone to graduate school three times and changed careers with each new degree. I came back from a 10-year running hiatus to running 20 races in 12 months at the age of 43. I saw a gap in services and helped create a more gender inclusive environment in my workplace. I went to the shelter to "look at cats" and came home with two kittens. (That counts, right?). Currently I am determined to find the perfect vegan ankle boot. I keep coming up short (for now), but I'm confident in my superpower.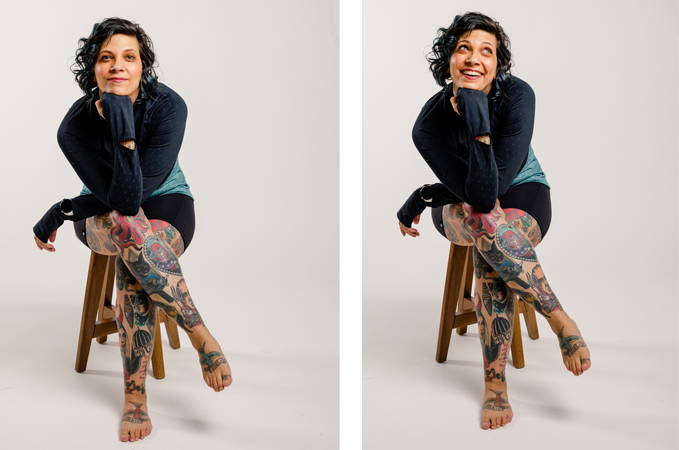 This is my favorite part of the series. I call them the lightning round questions. How people live their daily lives and interact with the world on a daily basis tells us a lot about their personality and what brings them joy.
If peanut butter wasn't called peanut butter, what would it be called?
Honestly, I don't care what it's called. I just don't want to live without it.
Dog or cat?
I have a soft spot for small dogs, especially chihuahuas. If you have one, be prepared for the high pitch of my squeal which is likely to break glass. But I live with two tuxedo cats named Malcolm and Tidbit who will tell you that I am definitely a cat person. You know how Harry Potter can speak Parseltongue? I can do that with cats.
Netflix or YouTube?
Netflix - for the other kind of marathoning.
Text or phone call?
Texting forever. There is only one person I call on the phone, and that's my 70-year-old aunt.
Honesty or other people's feelings?
Why can't it be both? I think we can be honest with others, while still respecting and honoring their feelings.
Any other unique fact about yourself or something you feel everyone should know about you?
I am a true-blue introvert. If I pass on an invite to a social gathering, it is almost always because I have spent my social capital for the day.
Lastly how did Oiselle come into your life?
I was looking for the perfect pair of sweatpants and my cousin recommended that I look at Oiselle. I bought the Kara Pants and loved the design and fit. I lingered on their website and was intrigued by the community, mission and values. I started following Oiselle on Instagram and was so overwhelmed by the camaraderie and connection between team members, from beginners to professional athletes. I signed up for my first Tenacious Ten in 2019 and for the first time I saw the Volée in action. Strangers cheering on strangers, women supporting women. I got a high five from Dr. Lesko and nearly cried. I knew at that moment that I wanted to join the team. I joined the team in August and I'm so grateful. I feel empowered and supported and, for the first time in a long time, I feel a sense of belonging. Plus when I put on my Volée singlet I swear I run faster. (It's probably no coincidence that I PR every time I wear it.)