One of my favorite job perks is to listen and learn from the women on our Oiselle Volée team. Recently I chatted with teammate Dinée Dorame, from the Navajo Nation in Albuquerque, NM and knew I had to share her message and mission. With a family history rooted deep in running, she isn't taking that heritage lightly. Dinée has a lot planned for 2021 as she elevates the voices of Indigenous runners while spreading her message of the need for runners to acknowledge the land they occupy. Grab your notebook, because there is a lot to learn and take away from this wonderful conversation.
---
Hi Dinée, I'm excited to connect with you today, can you share a brief introduction?
Shí éí Dinée Dorame yinishyé. Tábąąhá nishłį́, Naakai dine'é bashishchiin, Tótsohníí dashicheii, Naakai dine'é dashinalí. Ákót'éego diné asdzáán nishłį́. Tséhootsooí déé' naashá. Be'eldííl Dah Sinil kééhasht'į́.

My name is Dinée Dorame, I'm a citizen of the Navajo Nation, and an avid runner! I was born and raised in Albuquerque, NM (on Tiwa ancestral lands), although my mother's side of the family is originally from Ft. Defiance, AZ on the Navajo Reservation. I am also of Indigenous Mexican and Yaqui descent on my father's side. I am Tábąąhá (Edge of Water Clan) born for Naakai Dine'é (Mexican People Clan). My maternal grandfather's clan is Tótsohníí (Big Water Clan) and my paternal grandfather's clan is Naakai Dine'é. I was taught that it is important for me to introduce myself, especially through my four clans, in order to identify relations when meeting new people. I am currently the Associate Director of College Horizons, a national college access program providing workshops in college admission and financial aid Native American, Alaska Native, and Native Hawaiian high school students. In my free time, I love spending time with my family, partner, and two Schnoodle pups, as well as running on New Mexico's many trails!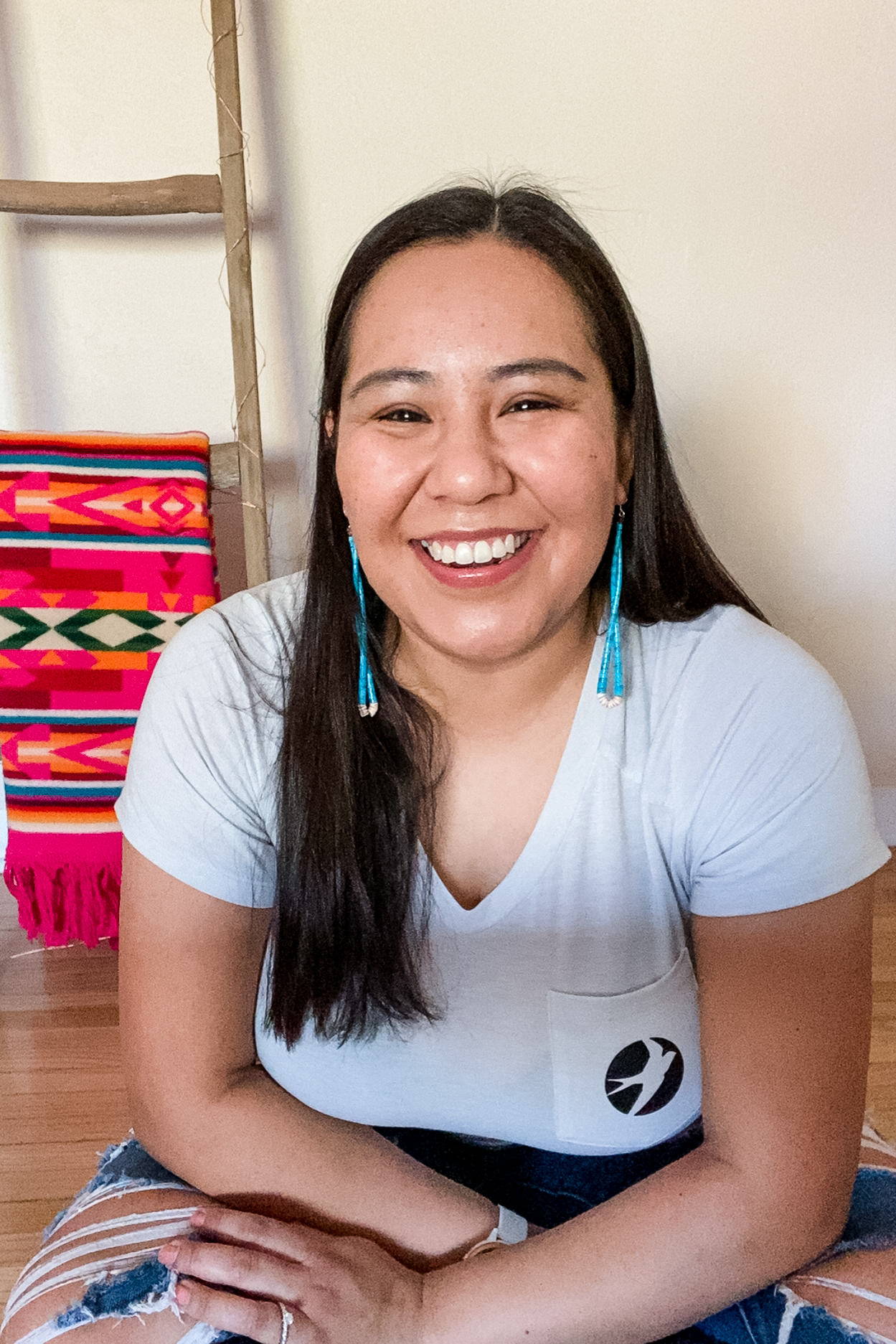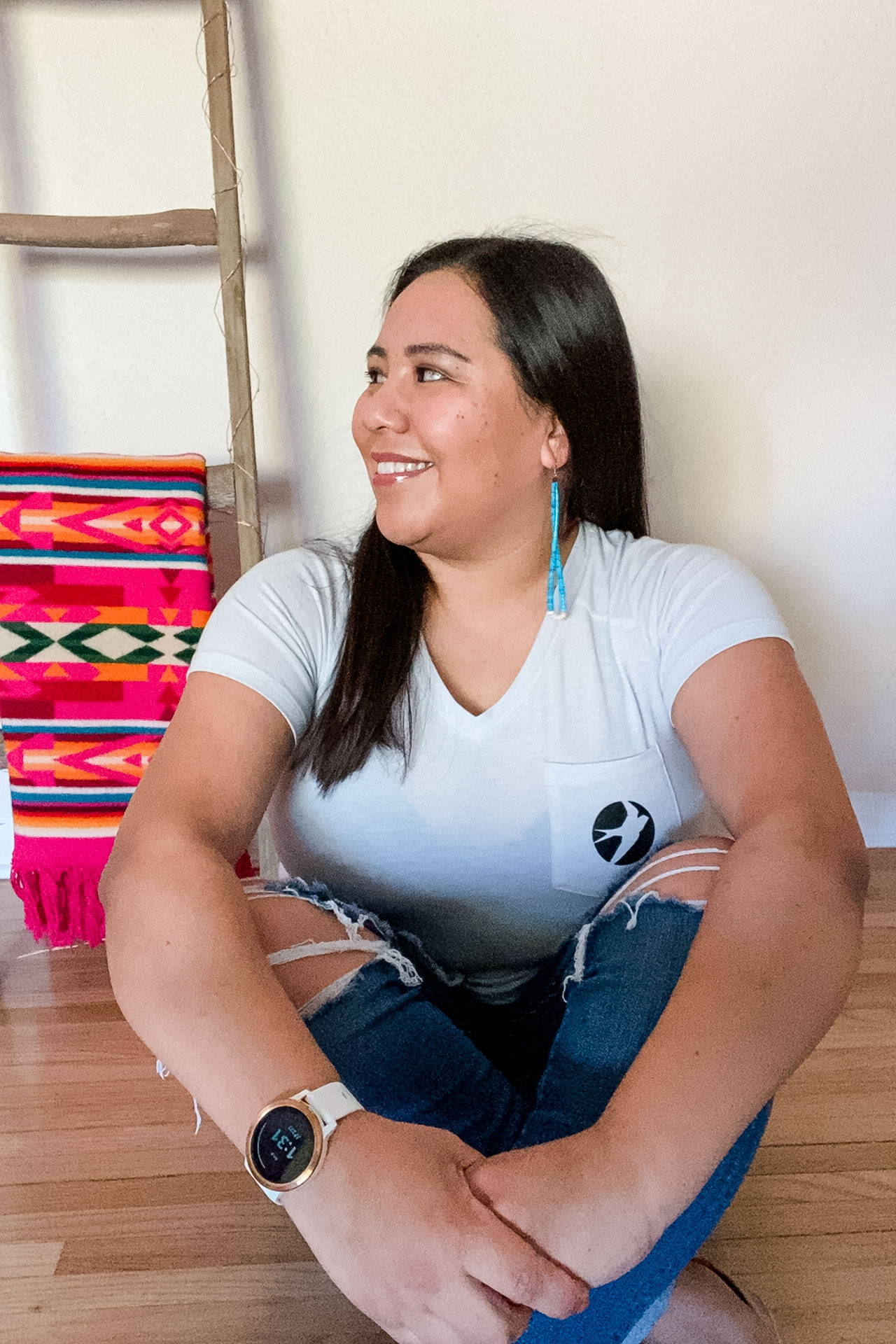 When did you first hear about Oiselle?
Well, I'm a huge Kara Goucher fan (I mean…who isn't!?) since my dad was also a CU Buff runner! I was listening to a 2017 episode of the Ali on the Run podcast where Kara spoke about her decision to sign with Oiselle. I hadn't heard much about the brand prior to that moment, but she spoke passionately about Oiselle's commitment to inclusivity and supporting her goals as a professional athlete. I loved hearing her story and after doing my own research, I quickly found some of my all-time favorite running outfits and joined the Volée!
Rumor has it, running...runs in your family (yes that pun was intended). Tell us a bit about your history as a runner.
I grew up in one of those crazy families that runs 5k's on every holiday and loved it! Even though I primarily played basketball in high school and focused on that sport for the majority of my young adult life, my love for running started long before that and has always been innate. My dad is a high school Track & Field coach who also ran in college. My mom is also a lifelong runner who grew up running cross country and spent much of my childhood training for road races. I did run high school cross country, which was often painful, and I was regularly close to last place…but I stuck with it all four years and I'm so glad I did! It taught me so much about myself and also showed me how many other Native runners were here in New Mexico. I always felt truly myself in that setting. As a Navajo person, I learned at a young age that running is so important– it is how I make myself known to Diyin Dine'é (the holy people), connect to the land, pray, think, and grow stronger.
Where is your favorite place in New Mexico to take friends for a run?There are so many places that come to mind, but if I were taking a visiting friend for a run, I would definitely hit the Paseo del Bosque trail! It's a path that rolls alongside the Rio Grande river in Albuquerque. The trees are gorgeous in the fall and I love occasionally spotting wildlife, like cranes and porcupines!
I was really excited to see you represented in a recent Runners World article. How did it feel both as a runner and a Navajo woman to see your story come to life?
It was pretty surreal! Like I mentioned before, I wasn't exactly setting records or breaking the finish line tape in high school cross country! Haha. I have always thought of myself as a runner, but I have certainly struggled with owning my pace and feeling like I belonged in the broader running community. My dad has been reading Runner's World since as long as I can remember, so as a kid, I would sometimes read his old issues and wonder if I could ever be run fast enough to be in a magazine like that. Turns out– the key wasn't being fast, it was being myself! Once I got a little older, I realized that sharing my story was something I could do to help others. I never got to see Native people in those publications growing up, even though running is extremely important to who I am as a Navajo person and is one of the primary ways I express myself. I've now had the opportunity to work with Runner's World a few times to talk about land acknowledgements, holiday road racing as a Native person, and safety on the run. I am grateful that over the years, there have been many other Native runners and leaders who have laid the groundwork and advocated for these issues!
I was really moved by your explanation of the importance for runners to acknowledge the land they occupy. Why is this so important to you and what do you hope runners gain from doing so?
I was always taught that we must start by acknowledging the land. As a Navajo person, I am a five-fingered being on this earth and I am able to express my gratitude for my land when I am running. The land is what provides us life and sustenance, and my ancestors have been stewarding this land for generations. I will continue to care for it in the ways I know how, including recognizing when I am a guest on another's homelands or by respecting my own living space. My goal is not to have companies give hollow recognition to a local tribal community that they've never reached out to, my goal is to create an avenue for relationship building that centers Native people– to have Native people lead and be seen, heard, and respected. A formal land acknowledgment doesn't do much if you are not including and actively working to build relationships with local Indigenous communities. I think for individual people looking to learn more, it can be good to make a practice of educating yourself about where you live and reflect on how you occupy that space, but again, I urge you to go past the Instagram post and join advocacy efforts alongside Indigenous people. I think land acknowledgements can often be misunderstood, but when done with care, time, collaboration, and research, they can move us in a more positive direction.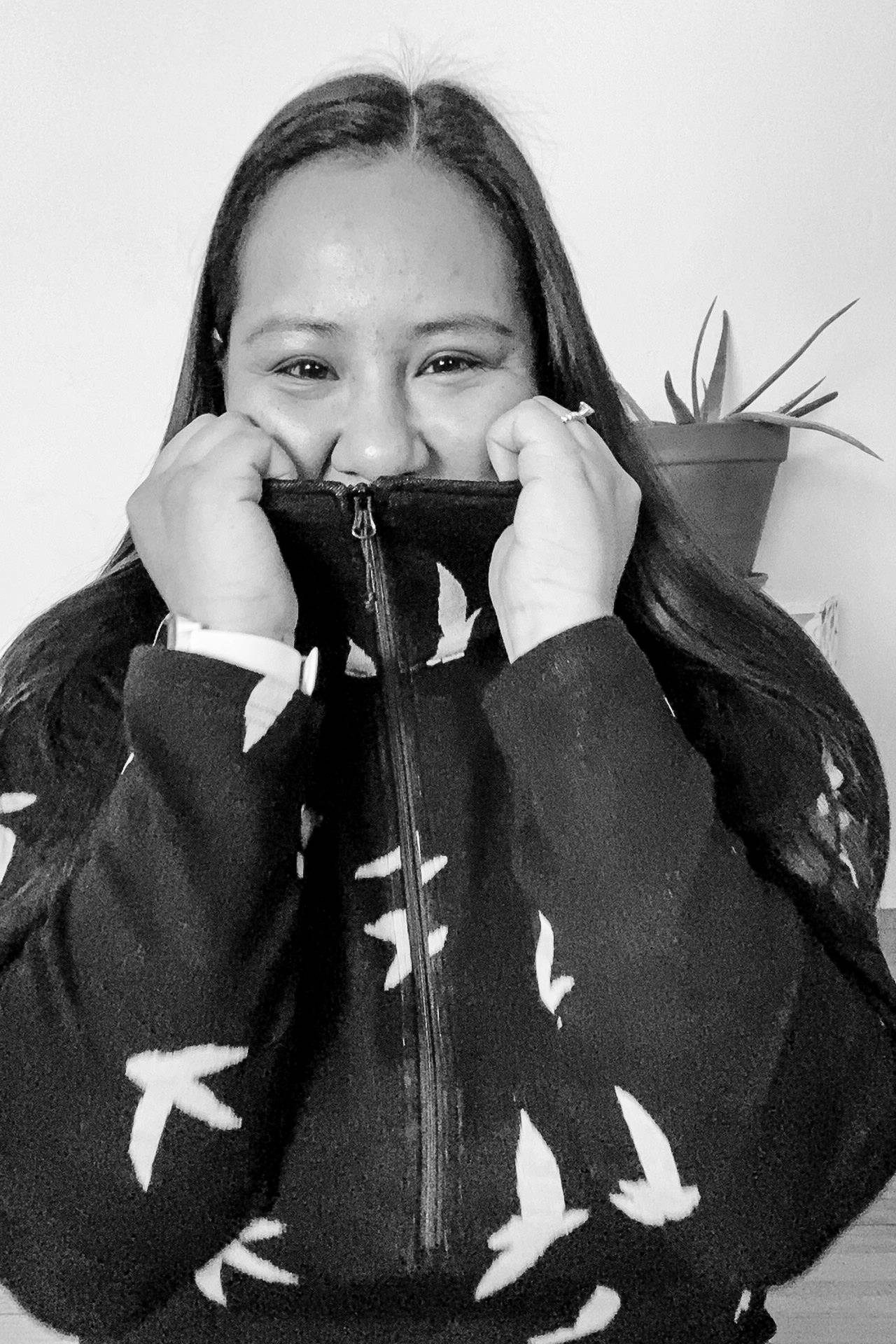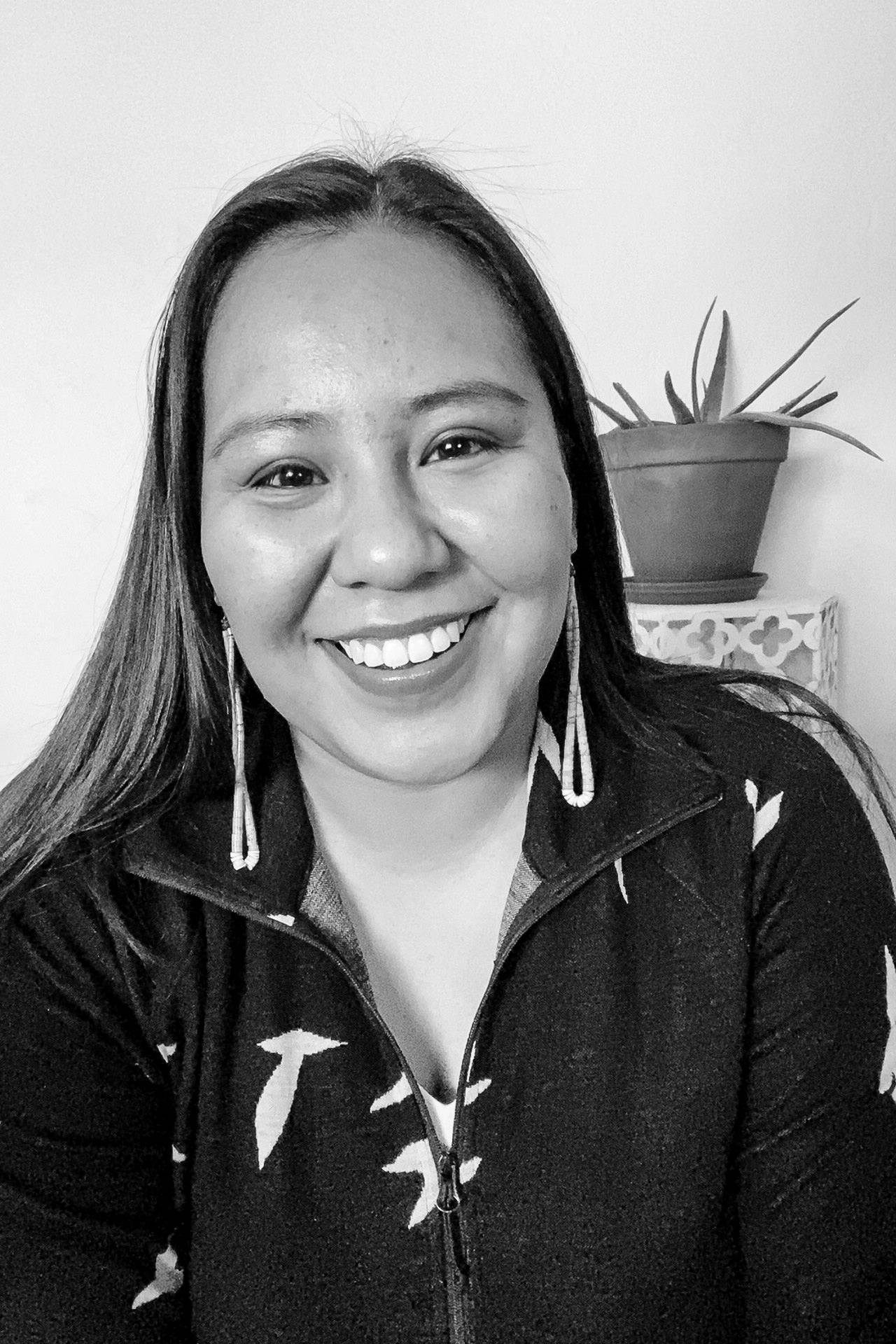 You recently announced you are starting a podcast (insert squeals of joy). Can you share the scoop with us? What is the format and when can we start listening in?
Yes! I am incredibly excited about this project and opportunity because I've been dreaming it up for over a year now. I was recently named a 2020 recipient of the inaugural Tracksmith Fellowship, which will support me in bringing the Grounded Podcast with Dinée Dorame to life very soon! It will be a weekly podcast exploring the unique relationship between athletes and the land, diving into long-form, weekly conversations around community, culture, and running. For as long as I can remember, I've been a huge running nerd (thanks to my Dad) so I've been writing and speaking on my own experiences as an Indigenous runner for quite some time now. But I know my experience is only one experience– there are so many stories and perspectives out there! I plan to host conversations with runners of all levels and backgrounds, but one of my main goals is to uplift the voices of Indigenous runners. I've been working hard over the past few months to get content ready and move fairly quickly on the launch, so the podcast should be available to all major streaming platforms by early 2021 (launch date TBA) so stay tuned! In the meantime, you can follow me on Instagram @dinee_pink22 for updates, sneak peeks, and more!
What are you reading right now?
Educated by Tara Westover.
Who had the most influence on you growing up?
Definitely my family, but I will say my dad, specifically– he was my coach in two sports and went to school with me every day of high school since he was also an administrator!
What phobia if any, would you like to overcome?
Would love to overcome my fear of heights! Maybe then I could go hiking more, haha.
If you could pick up a new skill in an instant, what would it be?
To speak Diné Bizaad (Navajo language) fluently. I am always learning and have many speakers in my family, but it's still a difficult process!
What's your superpower?
I can binge-watch tv shows like it's an Olympic sport…
Would you rather have a sweet treat or a savory snack?
Hmm, sweet treat! I'm a sucker for raspberry cheesecake.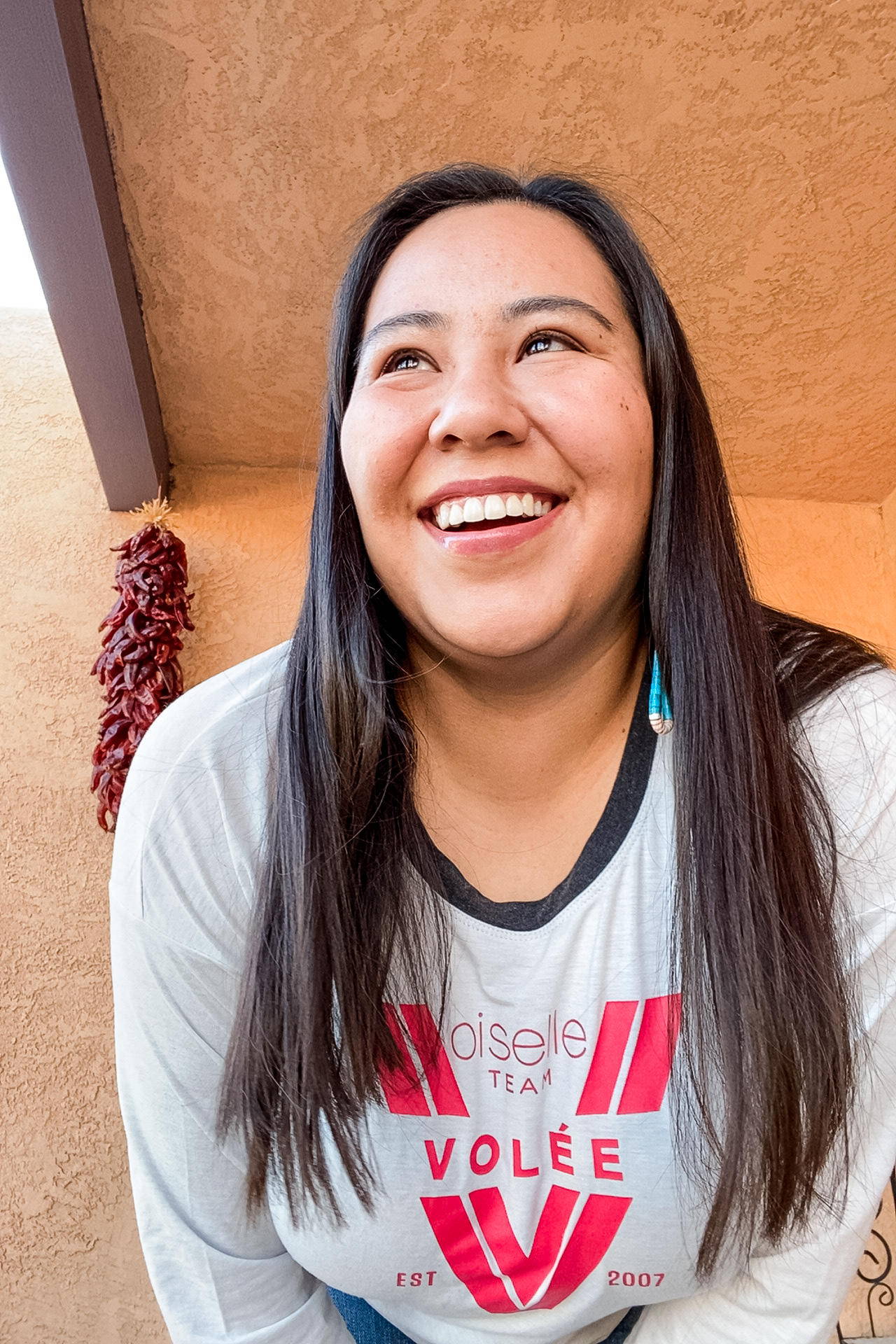 When travel restrictions are finally lifted, what is the first place you would like to travel to?
Normally, my family and I would take an annual trip to Boulder, Colorado to visit my dad's alma mater for a football game and go on some scenic runs together! I can't wait to spend time with my family safely again.
What three words best describe you?
Inquisitive, Creative, Driven
Anything else you'd like people to know about you?
Anytime I speak about my own identity, I like to add that I represent only one experience! Indigenous communities are diverse and complex, and we all come from different cultures, tribes, ways of life. For instance, Diné cultural practices have always been taught to me as fluid and may vary based on region/family, so some of my own traditions or teachings may even differ from another Navajo person. It's always important to follow and listen to many voices.