Hi friends! Welcome back to another fun blog in our "Who Is" series. In honor of Pride month, this week we sat down with Volée members Allie Pendelton (@trainracepace) and Shayla Dvorak (@ashiashay) to hear how their team connection turned into a love connection.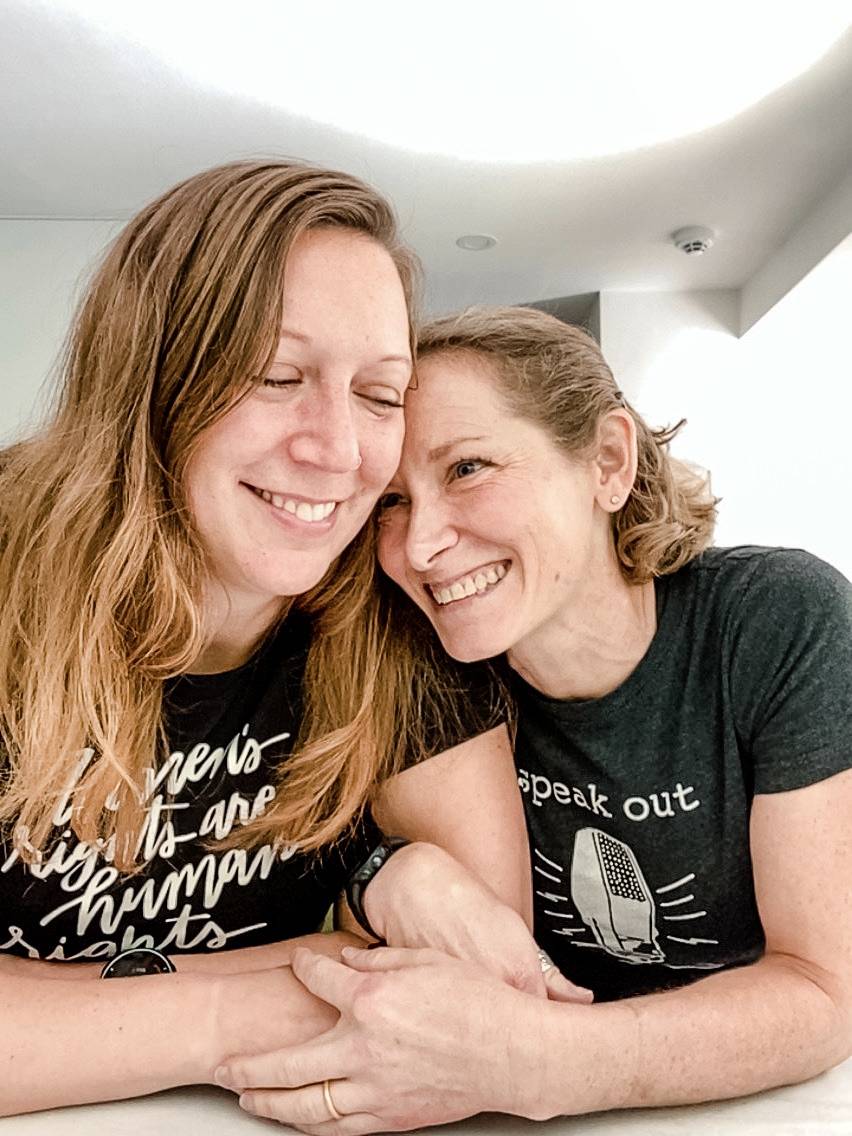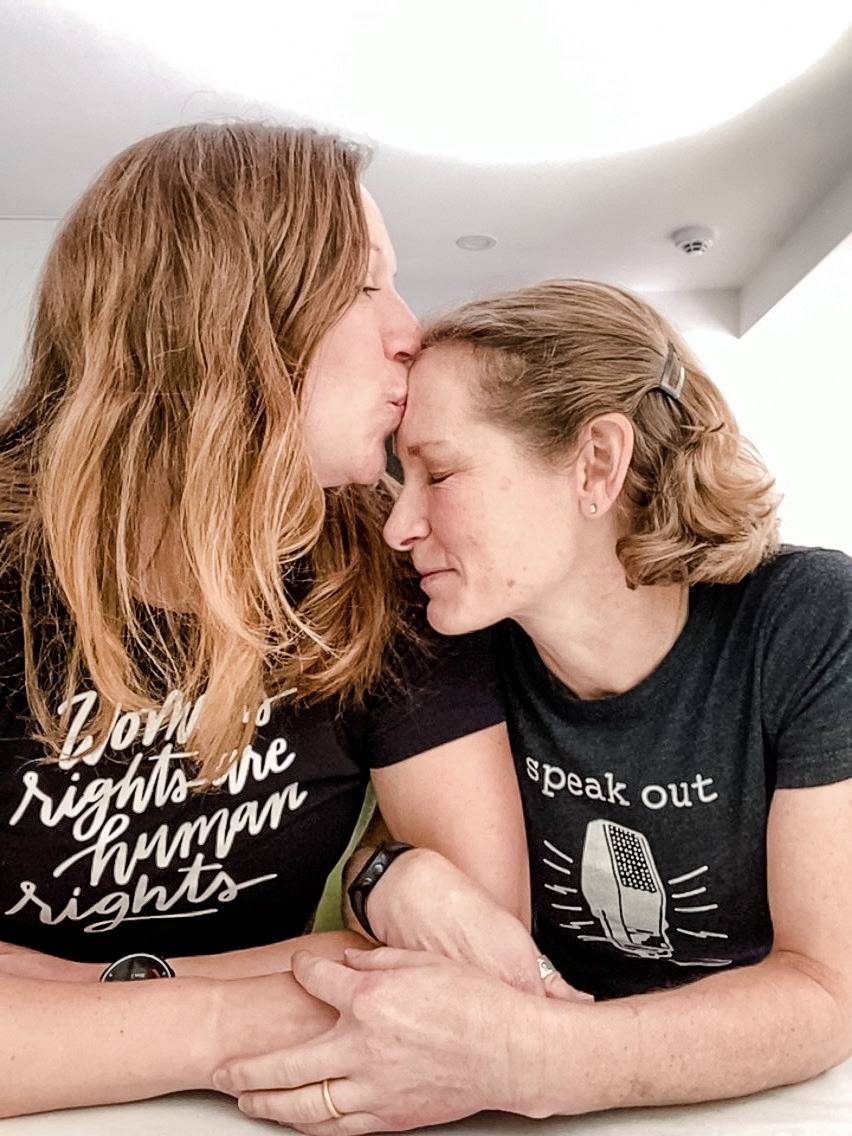 When did you first hear about Oiselle? How long have you been with the Volée team?
Allie: I first heard about Oiselle on the start line of the 2012 Napa Valley Marathon, and I joined the team in the fall of 2012 back when applications were a thing. I actually didn't even get chosen the first time I applied, but thankfully one month later I was able to join the team.
Shayla: I first noticed Oiselle while chasing my former co-leader (Sheila) at a few Wisconsin races. I thought I knew her and I also liked what she was wearing. I also knew Haute Volée, Caitlin (Comfort) Kowalke in college! I tried to sign up once or twice when the team was smaller, but didn't get in - so I think I finally officially joined in 2015 or 2016.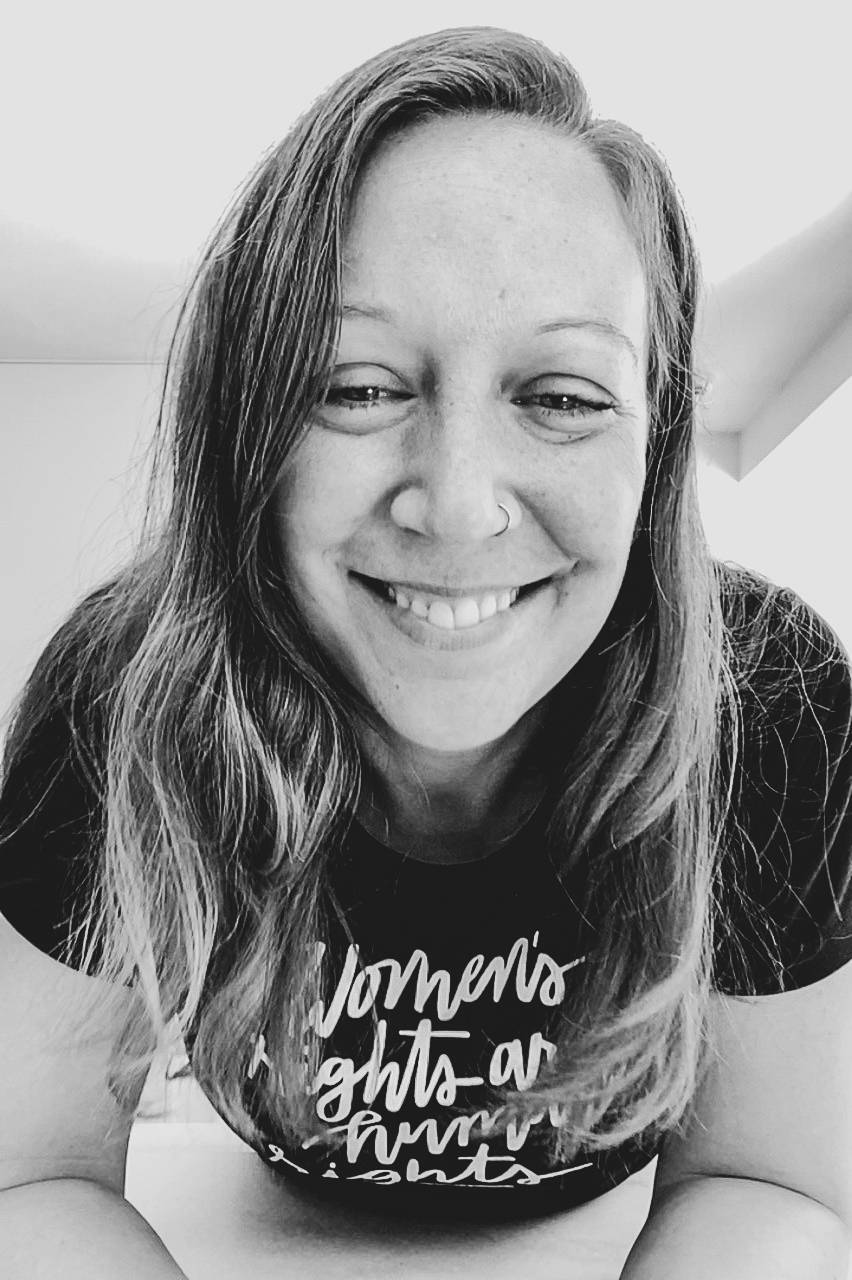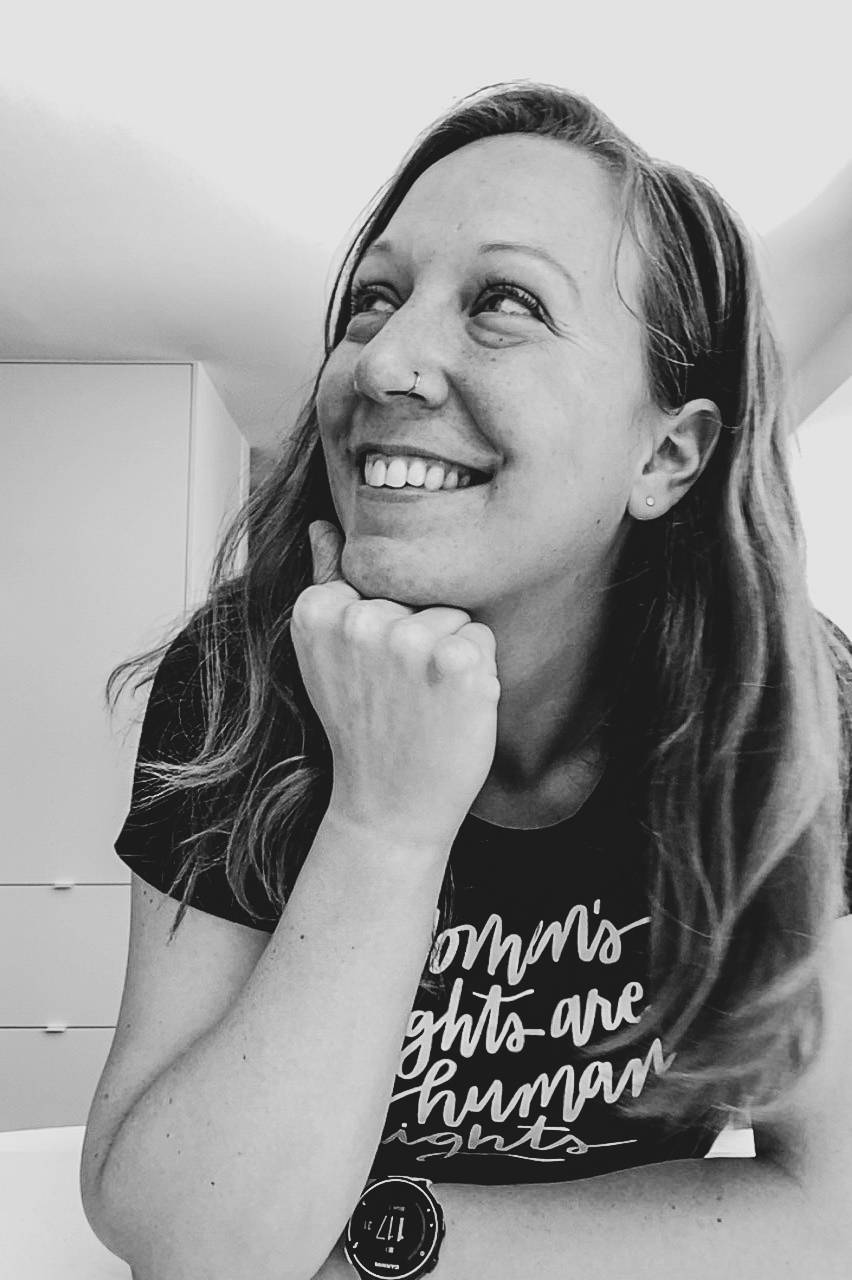 You both have pretty amazing athletic backgrounds. Can you tell us about your former lives in the sport of Rowing? 
Shayla: I had grown up doing sports (softball in the summers as a young kid and track & field, basketball and volleyball as a teenager) and knew that I wanted to do something athletic in college, but I was headed to the University of Wisconsin - Madison, a DI school, so I knew that doing one of the sports I was familiar with wasn't likely. I got a recruiting flier in the mail and met an active team member at freshman orientation.
I knew nothing about the sport - except that I saw it during the Olympics that year on TV. It looked "fun and not too hard" to the naked eye - and of course, like something I thought I could probably figure out. The trick is that good rowing does look beautiful and kind of elegant. A couple days later, I showed up at the boathouse for the open house where the head coach assured us, "this will be the hardest thing you'll ever do - and the most valuable," and I thought, "Ok, yeah right! I'm trying it." (Bebe Bryans, the Wisco head coach was right, by the way!) That first year was tough but fun. Rowing is a sport where when you're learning, the curve is steep so when you put in the effort, you get big rewards. Once I told my novice coach my goals and executed the work she told me I needed to do to achieve them, success was within reach. That spring, I earned a seat in a Varsity boat as a freshman, raced and took 5th place at NCAAs that year and never looked back.
Rowing is such an amazing team sport and I'm still really good friends with so many of my teammates who are all over the world. I've found that rowing has given me so much outside the sport, too - I've made connections, friends that are like family, and of course, it connected me to Allie!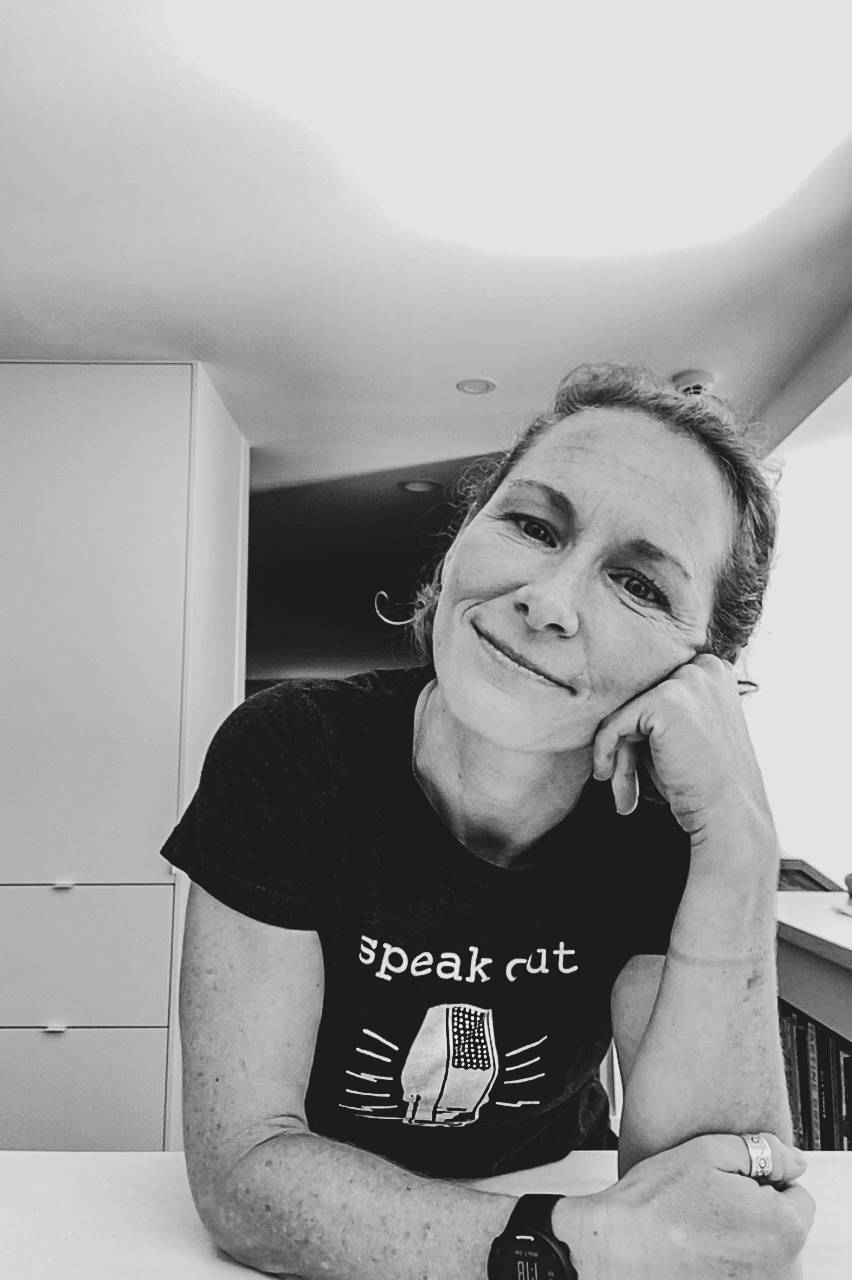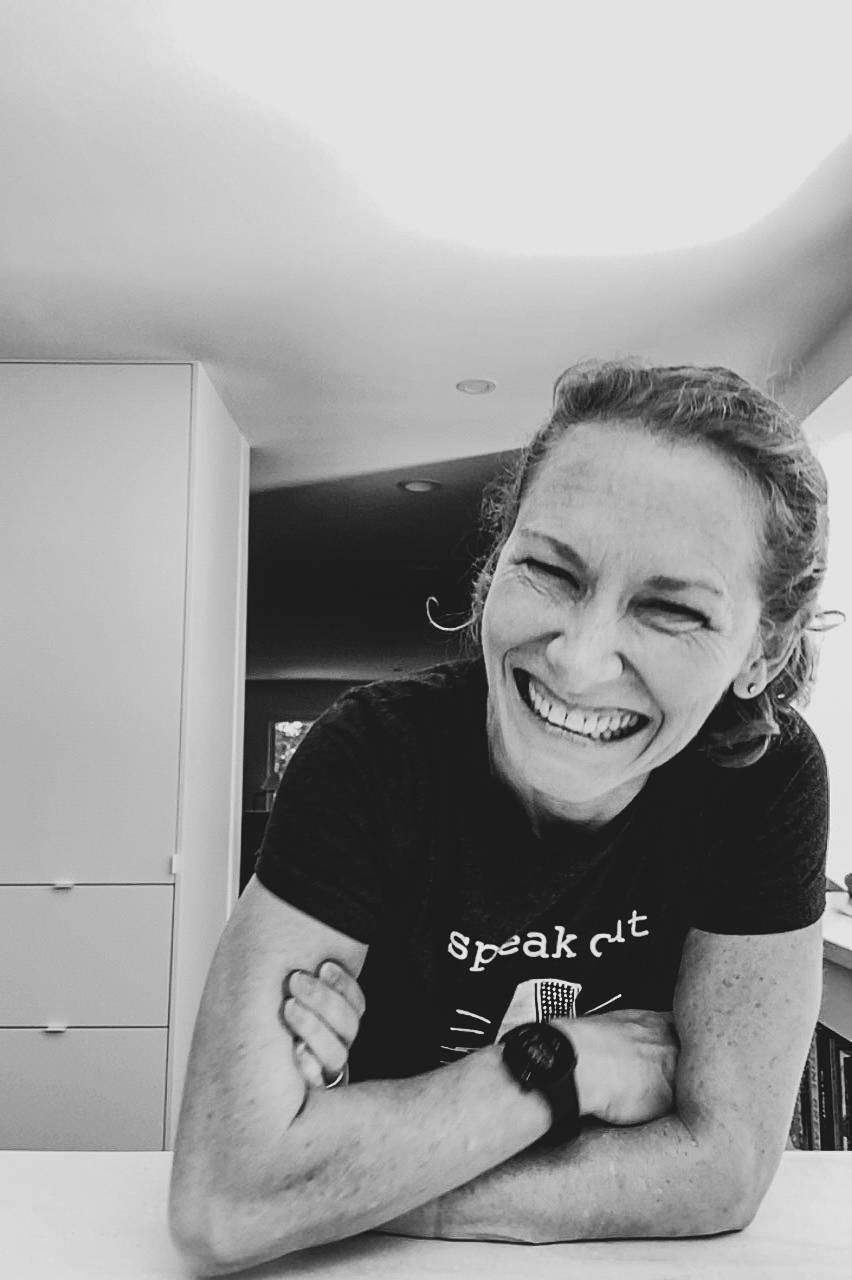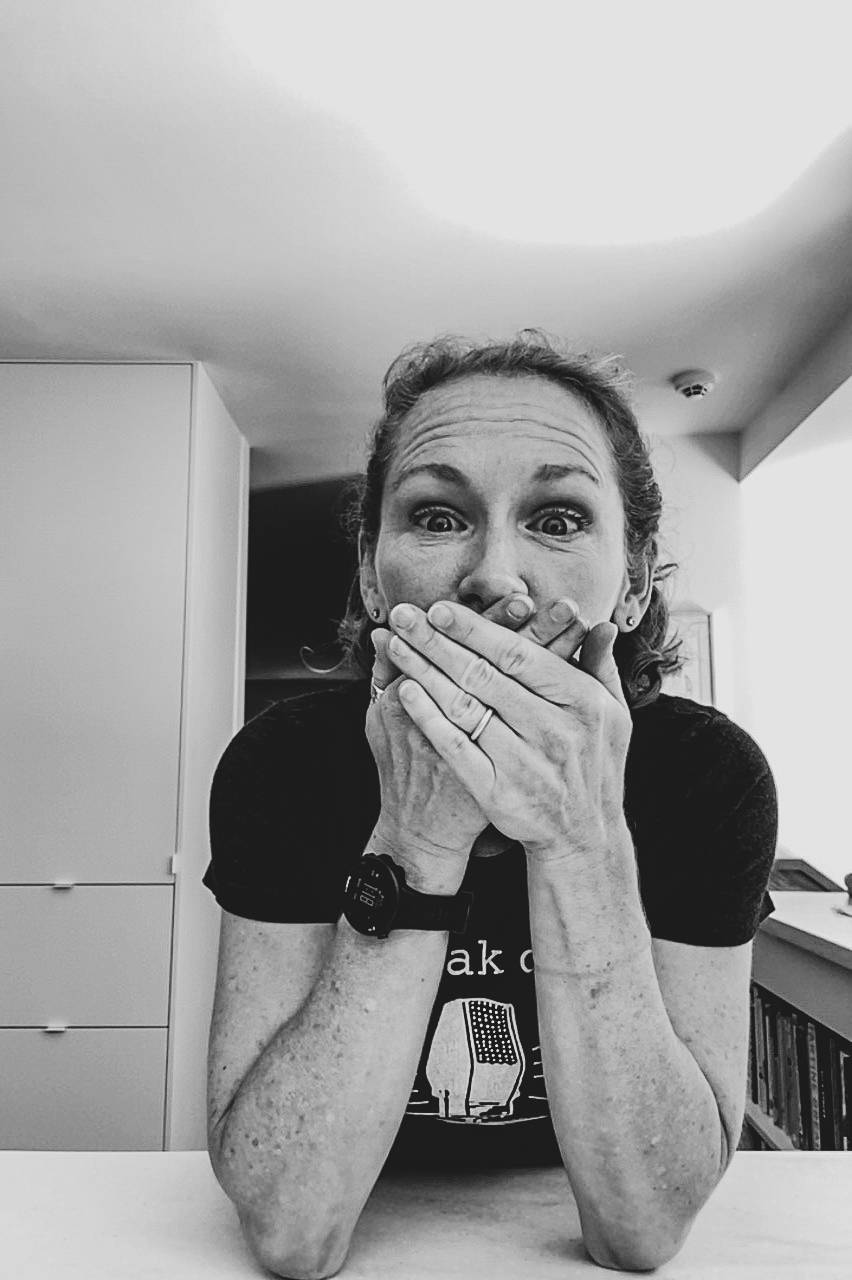 Allie: On my first day of eighth grade my advisor said to me "when you go to high school you should be a coxswain. The best coxswains are 100 pounds of mouth!" Fortunately I took that as both a compliment and a calling, chose a high school with a crew program, and when spring of my sophomore year rolled around I joined the team. From my very first day in the boat I knew I had found my athletic home; I cannot even put into words how natural it felt to me to step into the role of coxswain.
The job of a coxswain is incredibly complex: you are the coach on the water, watching the movement of the boat and each of the rowers' oars, determining what this says about what each individual is doing with their body, and making corrections that will help the boat run better. You are the race strategist, calling the moves, flexing the plan on the fly and encouraging the rowers (who are already giving 100%) to push just a little bit harder to get the boat across the finish line first. You are a mother to peers who are a foot taller than you, making sure they each have everything they need every day to have their best practice and race. And while you're doing all of this you are also steering an 80+ foot long, $40,000 piece of equipment down a course, making sure to not drift into another lane or hit an obstacle (many of which are partly or fully submerged). I LOVED it.
Almost 25 years later I am still in love with the sport, and the friendships I built with my college rowers and coach remain some of the most significant in my life. Rowing gave me some of the most important relationships of my life, was the catalyst for diagnosing my learning disability (which completely changed my academic life), and gave me confidence and calm that I may well have not developed otherwise. Shayla and I recently found a local masters rowing program that we can join once social distancing is a thing of the past and I cannot wait to get back into the coxswain's seat again!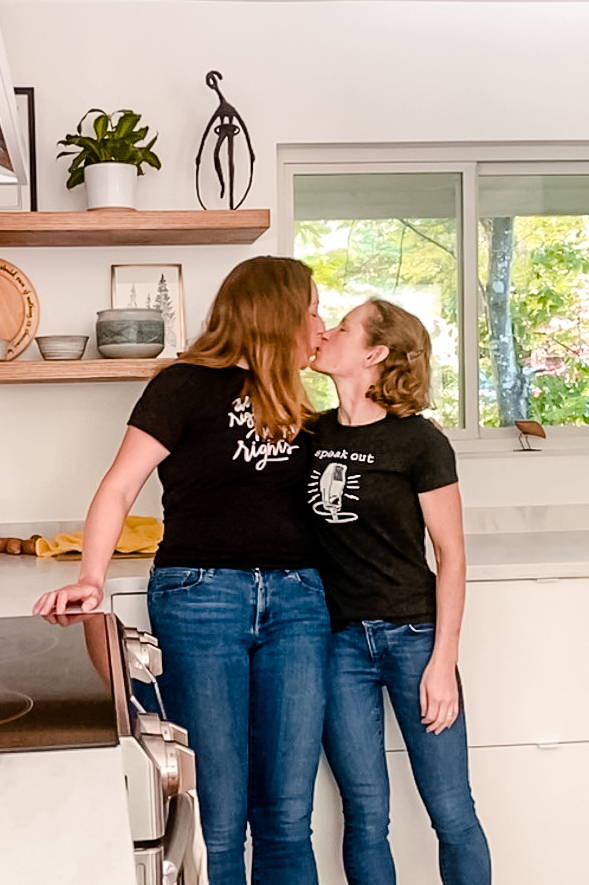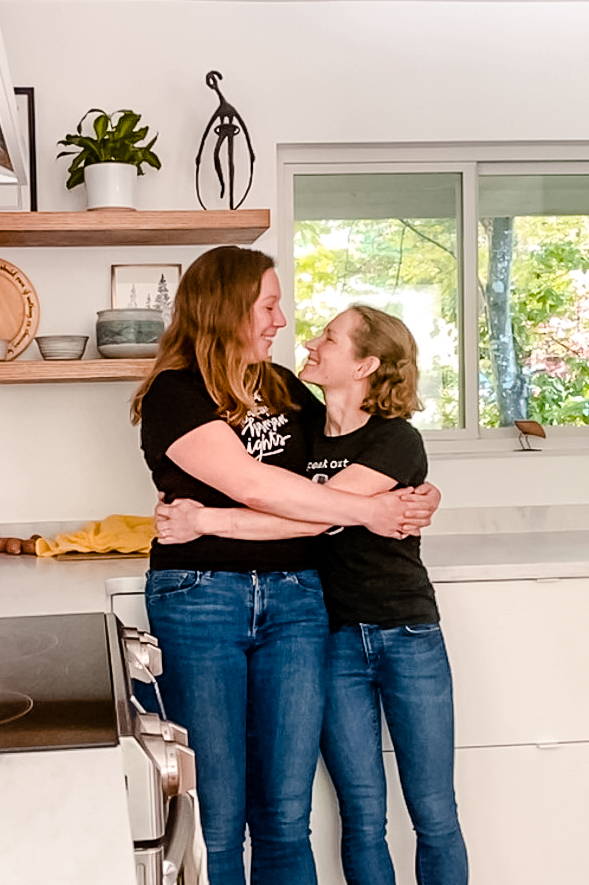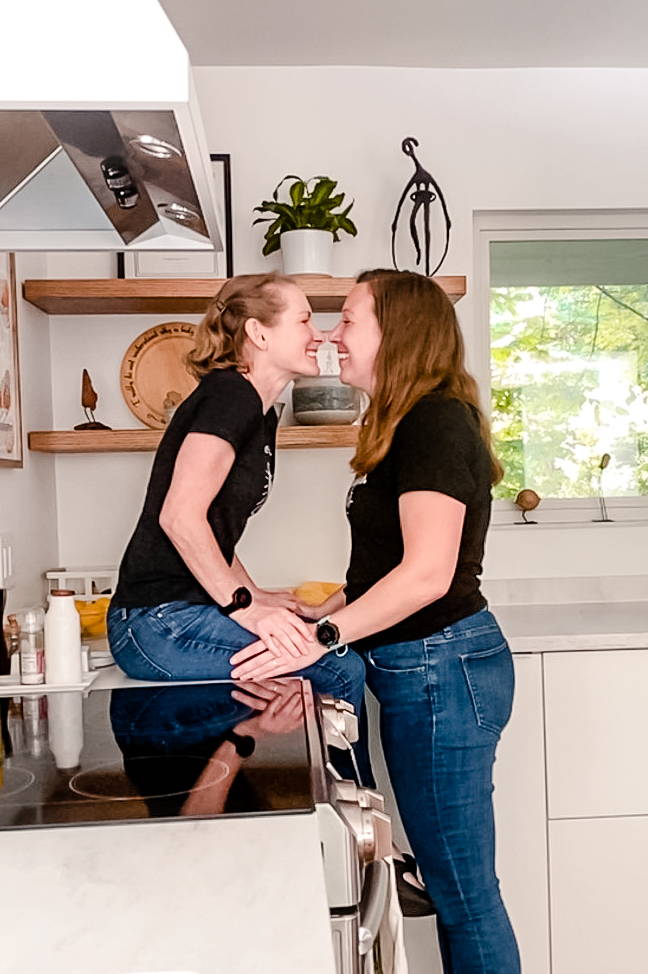 As far as we know, you are the first Volée love story. Tell us how you met. Was it love at first sight?
Shayla: Well, shortly after joining the Volée I became a leader for my home state (Wisconsin) and I decided to fly to Seattle for the Tenacious10. This was 2018. We also had a big leader meeting over the weekend.
Allie: I had gone to Ten10 in 2017 and had such a great time that I decided to go back in 2018. (Okay, who am I kidding; I have gone to basically every Birdcamp and team meetup offered since 2012…) Anyway, at the start of the leader meeting Lesko was having a hard time getting everyone's attention, so she asked me to use my coxswain's voice to call the meeting to order.
Shayla: As soon as Allie spoke she had my undivided attention. I mean, I noticed her earlier in the weekend because she was infamously on Lesko's shoulders putting up a banner on race morning and also she and Ali S. from Chicago took a very funny "tall Ali, small Allie" photo at the dance party. Anyway, Allie got everyone's attention, but probably mine the most. I was like, "Oh, you really are a coxswain?!" and then we got the meeting started. I didn't get a chance to talk to Allie again that day because I had to run off after the meeting to meet one of my college coaches for lunch.
Allie: Let me pause to say that Shayla's college coach was a high school teammate of mine. Anyway, the next morning we ran into each other at the Starbucks by Green Lake and we chatted for a few minutes. That time I had to run off, but I was definitely really drawn to Shayla, both because she was a rower and because she is just pretty magnificent.
Shayla: To keep this short, we ended up staying in touch after Ten10 a bit, but even more in the summer because we were headed to Big Bird Camp. Allie was assigned the role of "Transportation Captain" and I volunteered to help. Fast forward to camp: I brought my hammock along and one afternoon, Allie hopped in next to me. I knew right then that I really, really liked her.
Allie: At the end of camp I told Shayla that she should come visit North Carolina soon, and followed that with the ridiculous (but true) statement that I was really only free two weekends later or at Thanksgiving. She came two weekends later, and by the end of that visit I was a goner.
Shayla: The rest, as they say, is history!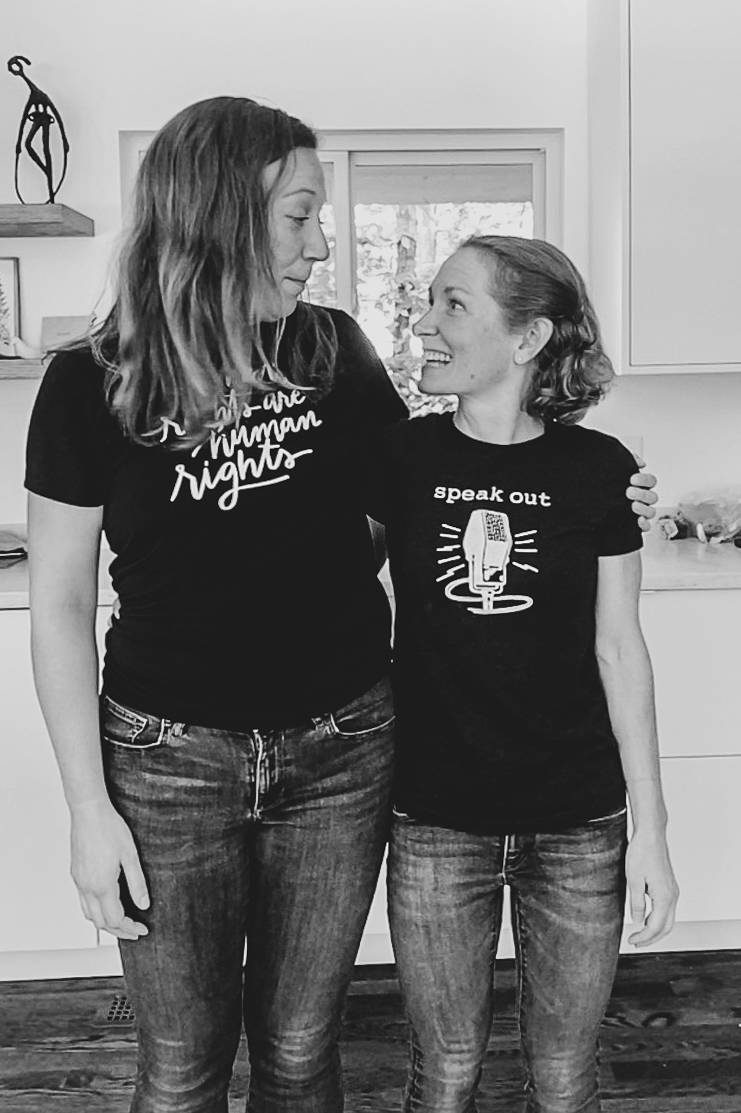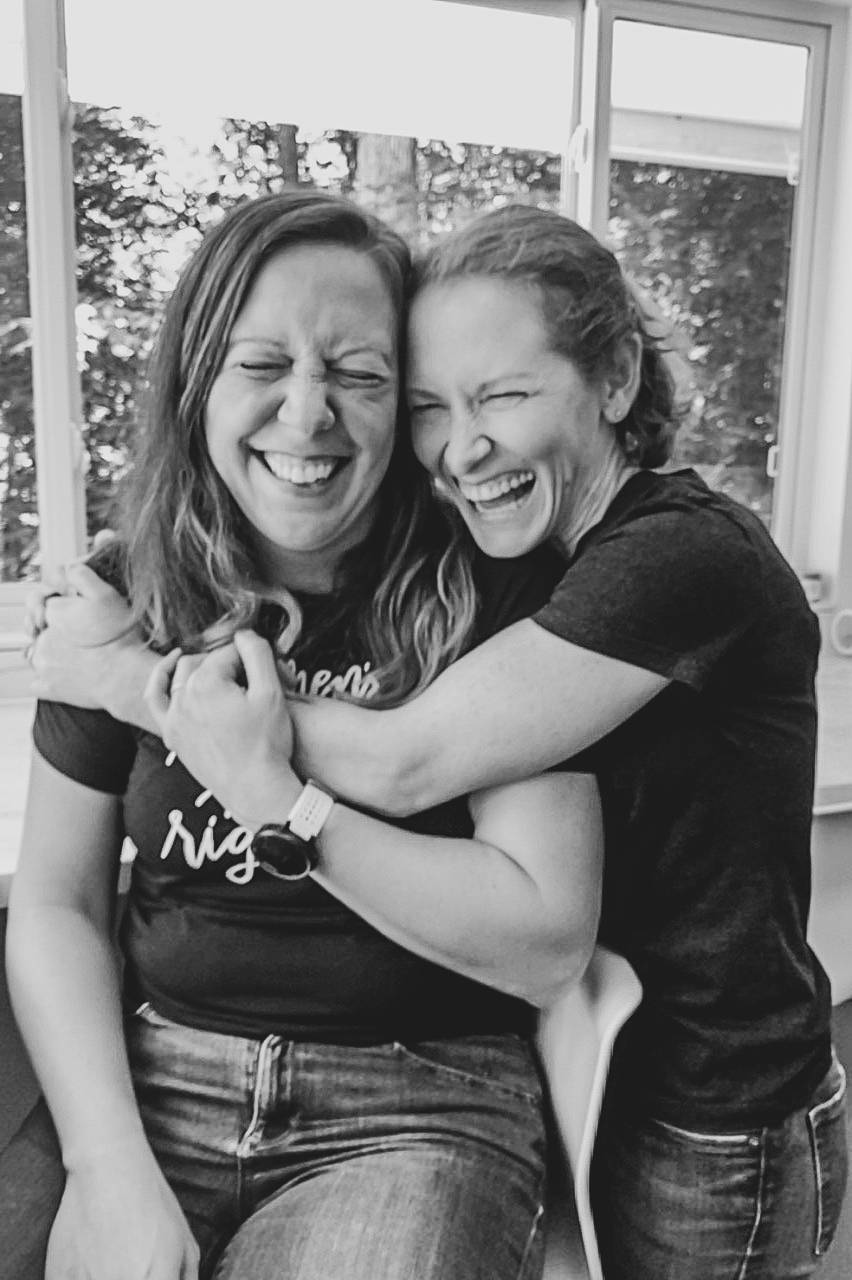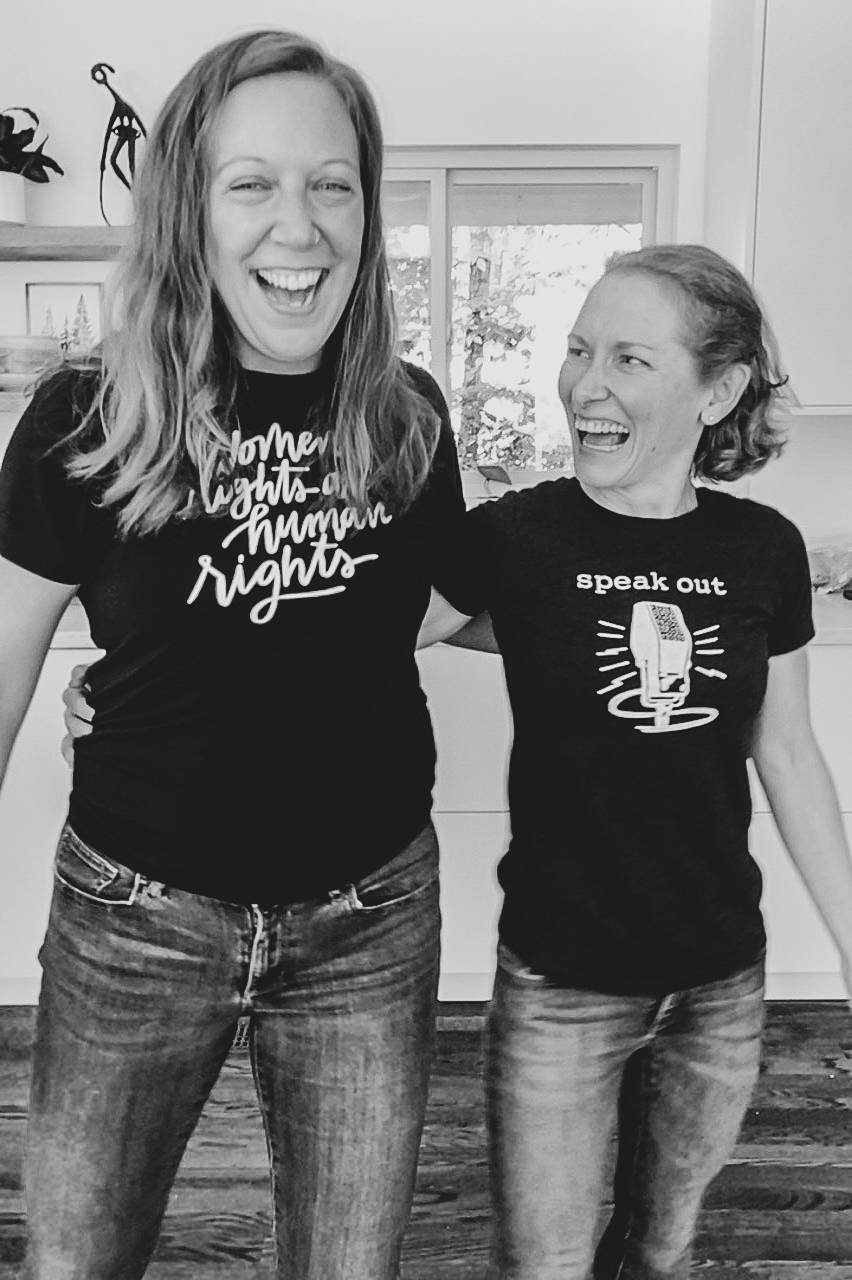 The Volée team is known to love amazing tunes. What is the best concert you've ever been to?
Both: EASY! Brandi Carlile. Ryman Auditorium. January 16, 2020. We went with Rose Asrican and got to see Dara Steele-Belkin there too. It was perfect.
There seems to be a lot of recipe testing in your household these days. What are you cooking right now?
RIGHT now? Shayla is making sourdough bread from Rosanne Cash, our sourdough starter (daughter of Rose's starter Johnny Cash). Allie is making shortcakes. And we are brewing up a new batch of kombucha to sustain our habit. (When we come out of quarantine Shayla should probably have a craft kombucha business; it is SO good!) But mostly we are working our way through Milk Street Tuesday Nights, which is an amazing cookbook chock full of quick recipes that are unrelentingly delicious. At least ⅓ of the dinners we have cooked over the past 2 months have been from Milk Street!
Zoom hangouts are the new group meet-up. What has been your favorite type? Book club? Happy hour? Coffee Talk?
We have had a couple of happy hour Zoom calls lately that have been really great! For example, right before social distancing was put into place across the country we traveled to Atlanta for the Olympic Marathon Trials. We stayed in a house (hi, Dara!) with 6 of our teammates and we have had two awesome, long calls with that group!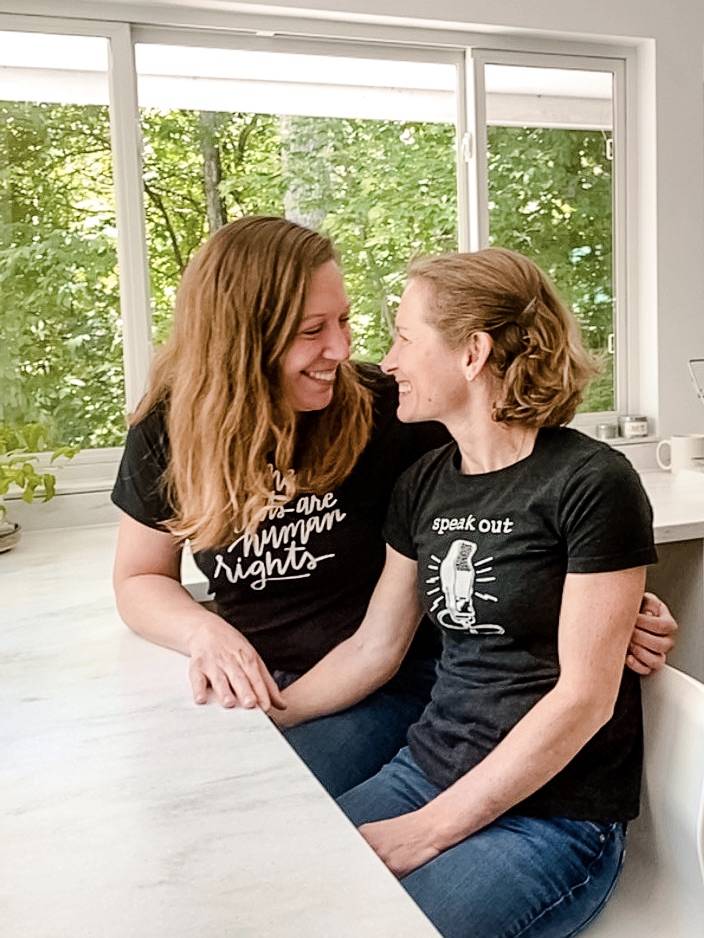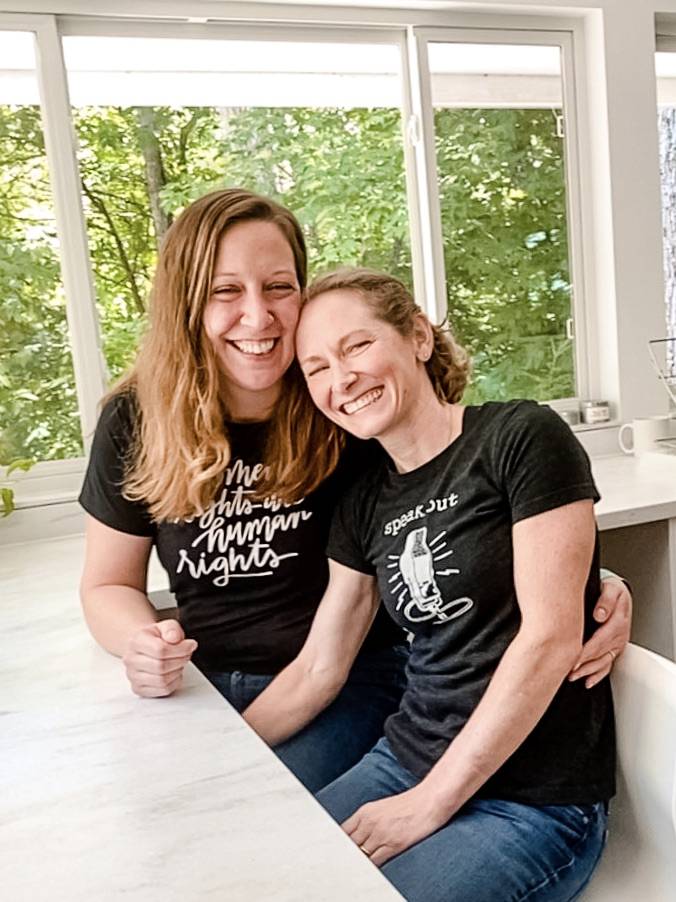 Roga or Pocket jogger?
Both: Roga!
What's the most embarrassing fashion trend you used to rock?
Let's be honest, the 80's wasn't a great era for fashion. Allie also loves to wear clogs with shorts and Shayla rocked a mullet when she was a little girl.
What's your superpower? 
Shayla: When I was coaching, I could almost always make even lineups (meaning, two boats full of 4 to 8 rowers that went exactly the same speed). This is not a helpful skill in the real world, however.
Allie: I have two! First, when I was coxing I could steer a straight course without even thinking about it. And second, I can calculate splits (in running or rowing) appallingly easily. This allows me to remain entertained during races and comes in handy when I coach and is comical because I wasn't particularly good at math in school.
Anything else you'd like people to know about you?
Shayla: After almost a year of long-distance dating (and so many frequent flyer miles) I decided to relocate to Chapel Hill, North Carolina. I didn't like the idea of being so far apart. I loaded up many suitcases, boxes, and a car and said goodbye to Wisconsin (as my home) for the first time in my life. I did not miss Wisconsin winter this year and I'm hoping I'll survive my first whole summer in North Carolina. Covid-19 has made being a newbie here a little hard, but I'm glad I'm with the one I love.
Allie: I was a single parent for a very long time, and the last few years were pretty challenging for my son and me. So when Shayla came into my life, undaunted by the stuff we were dealing with and full of love and compassion, I was surprised in the most wonderful way imaginable. I cannot put into words how much it means to me that she moved halfway across the country to be with us, but I am grateful every day.