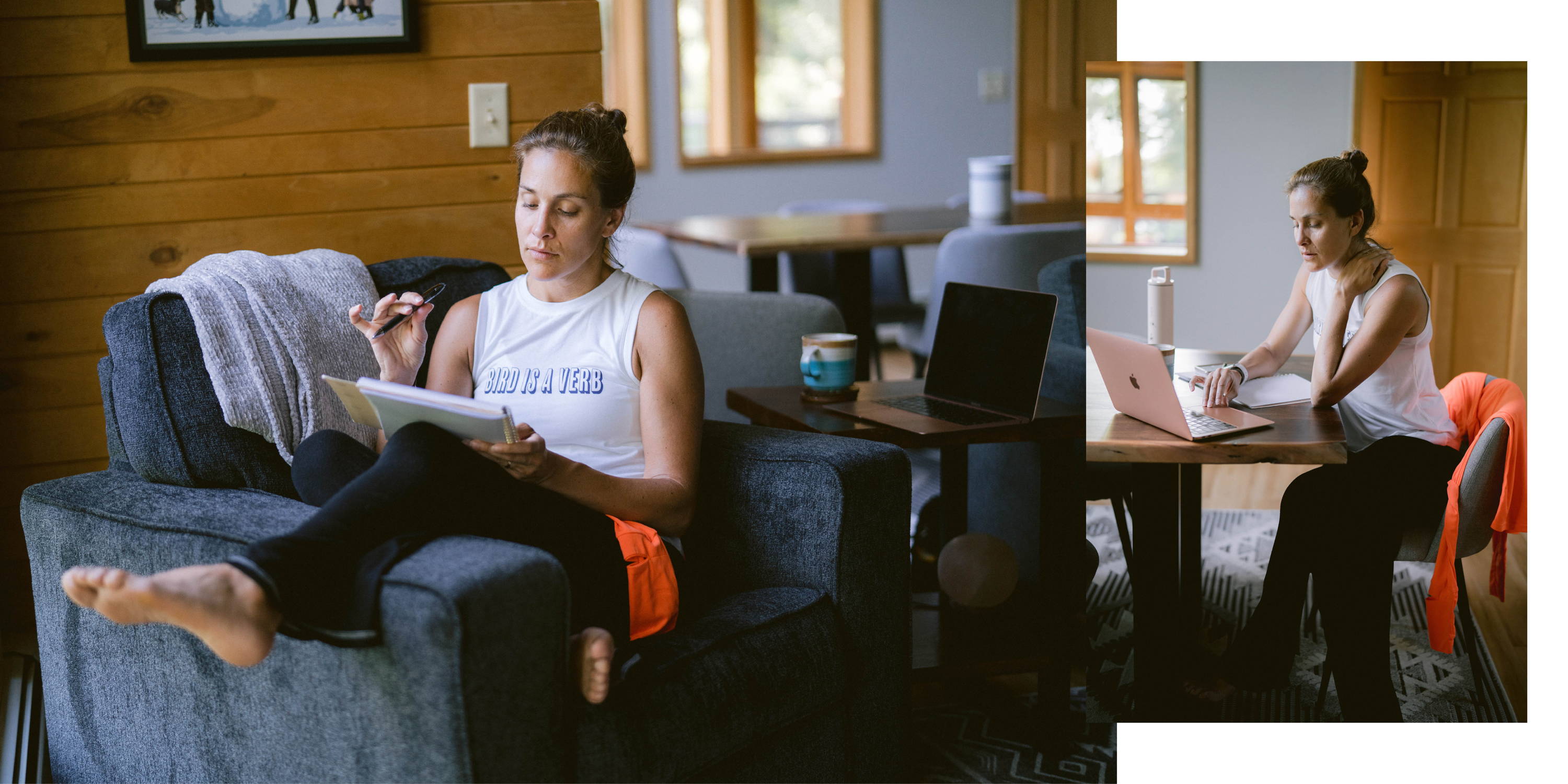 Kara's back in the thick of competition, but in a new role as race commentator. We caught up with Kara at her family's new cabin in Minnesota and asked her about how race prep looks from the booth, advice for new Olympians, and her favorite flystyle (of course).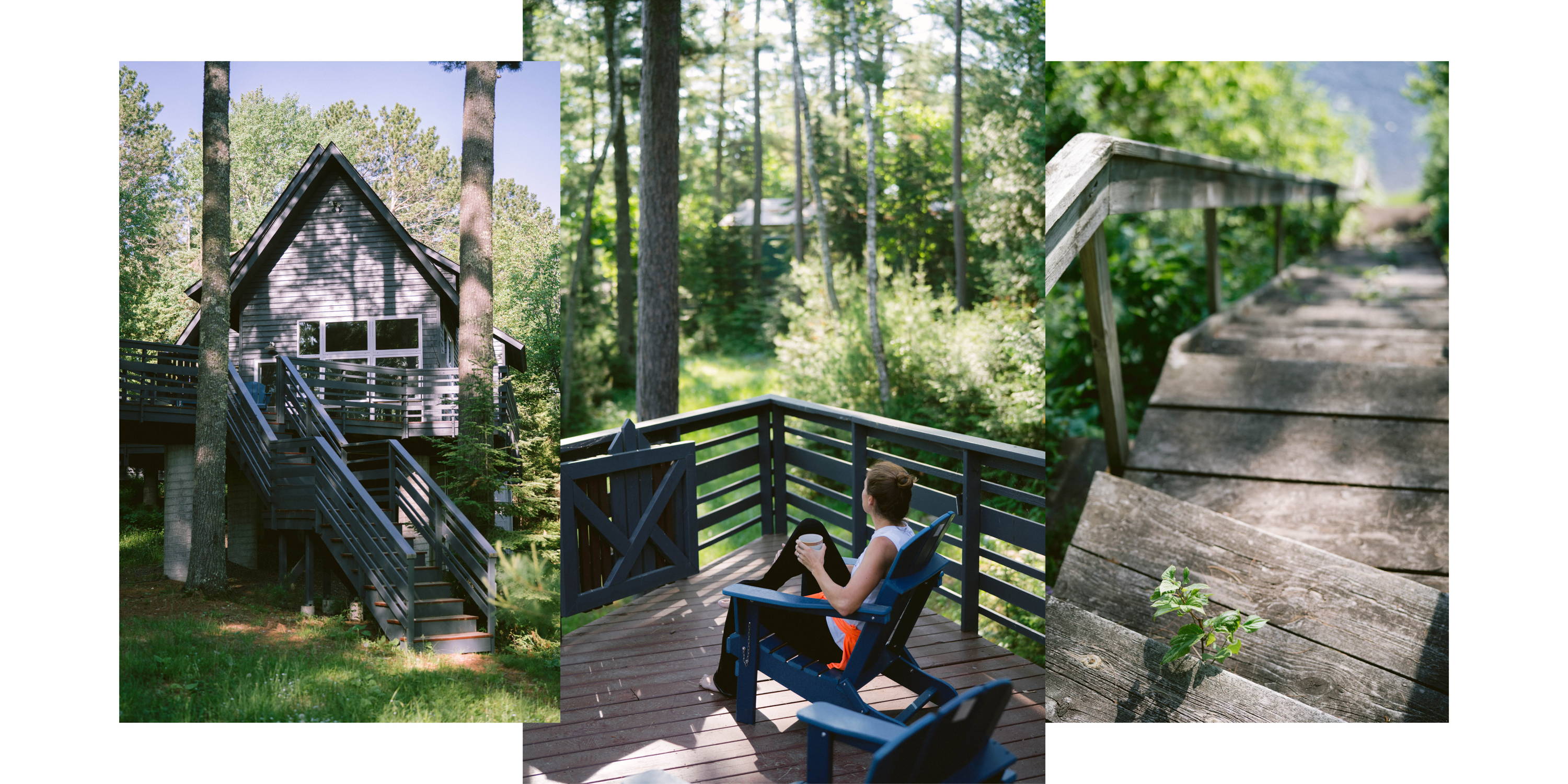 What are three words you'd use to describe MN summer vibes?
Relaxed, outdoors, heaven.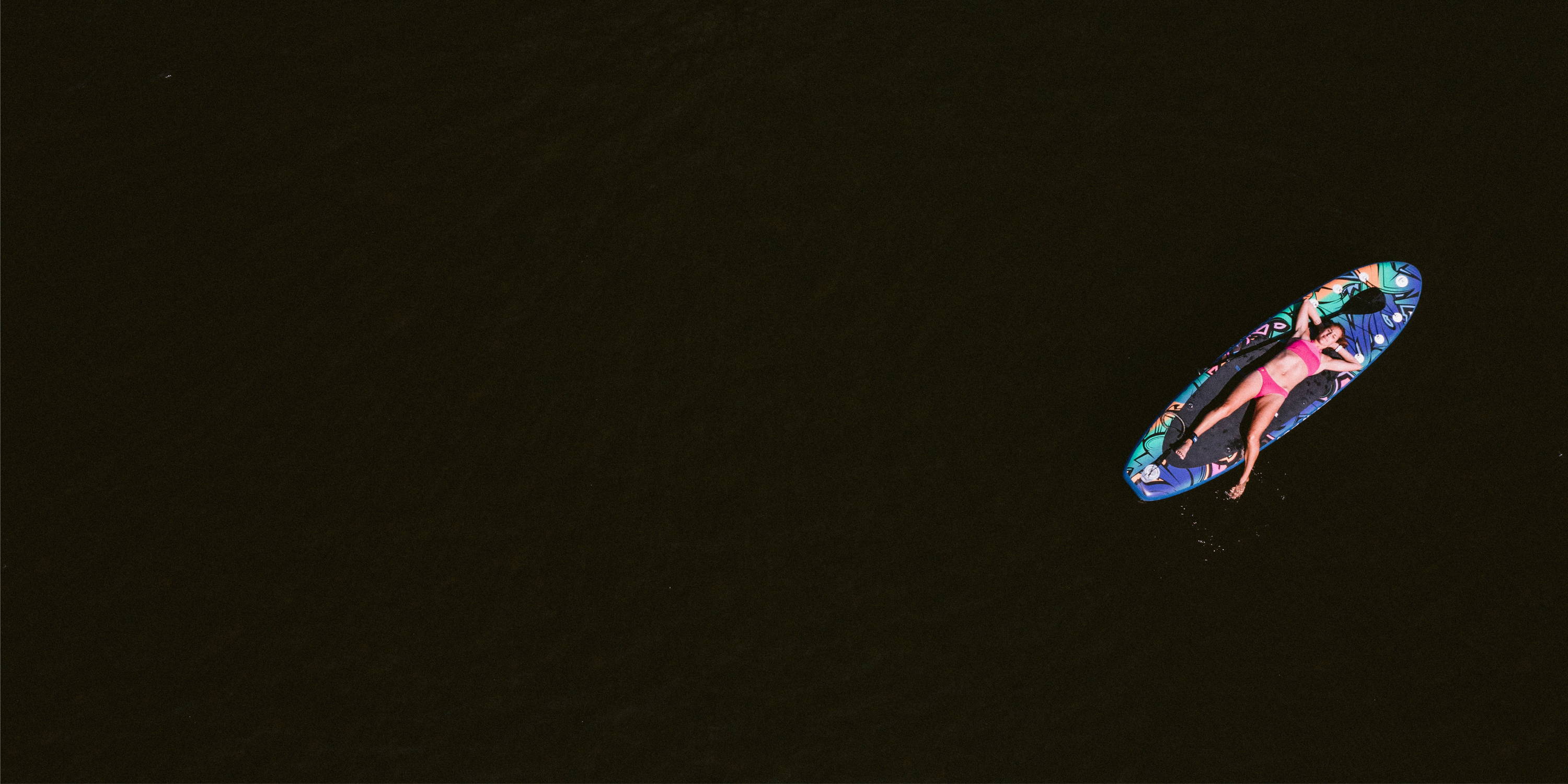 What is your favorite family activity?
My favorite family activity is time on the lake and especially jumping off the rock into the lake. My sisters and I did it for hours as kids and now we do it for hours with our kids.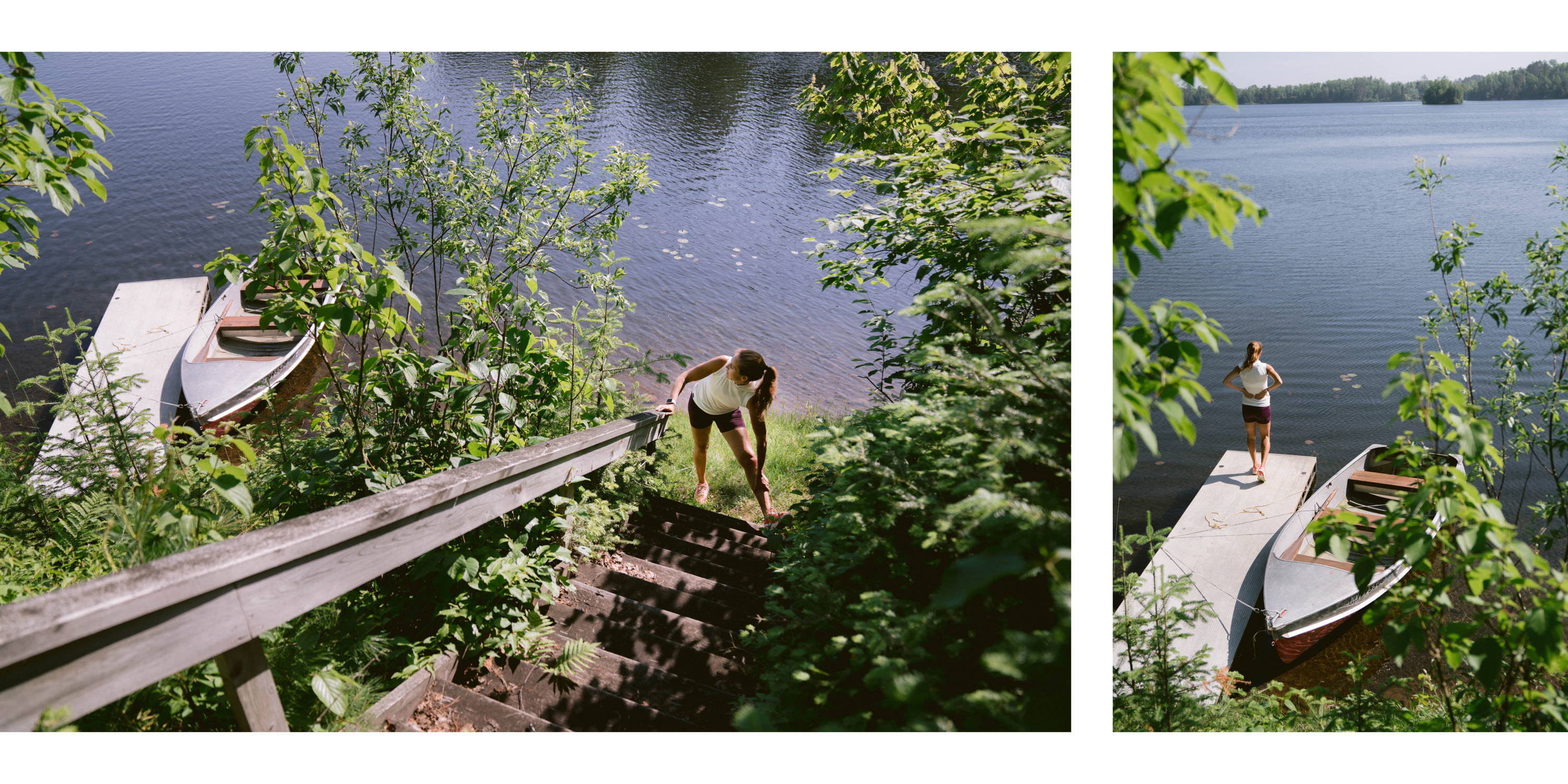 Favorite solo activity?
I love running from lake to lake out here or going for a walk and looking for agates.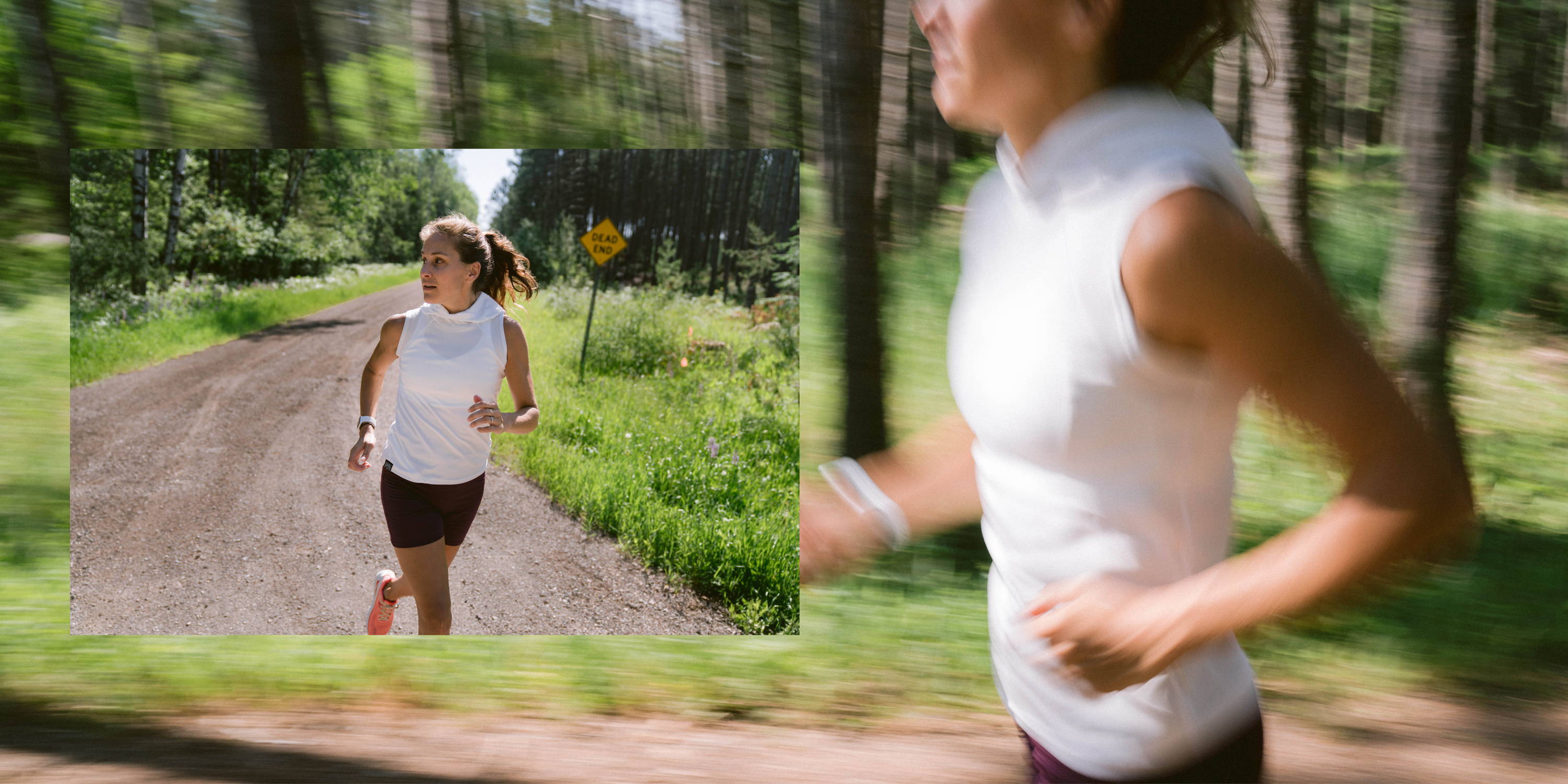 From the shoot, what were 2-3 of your favorite styles and why?
Oh geez, they were all perfect Minnesota looks! Life at the lake is all about comfort and enjoying nature! So wearing the Hey Hacci pants is an absolutely perfect way to start or end a day. Also the volee hoodie because again, comfort. The running outfits were perfect with layers to peel as you warm up and I always love a crop out here when the horse flies are bad to protect my shoulders! And you are always in need of a good hat to protect yourself from the sun so the Track Fan Hat is the best. Really all Oiselle clothes are perfect for Minnesota because the whole point is to get out and enjoy nature (running clothes, coverup dress, hat) and to be comfortable (everything else!).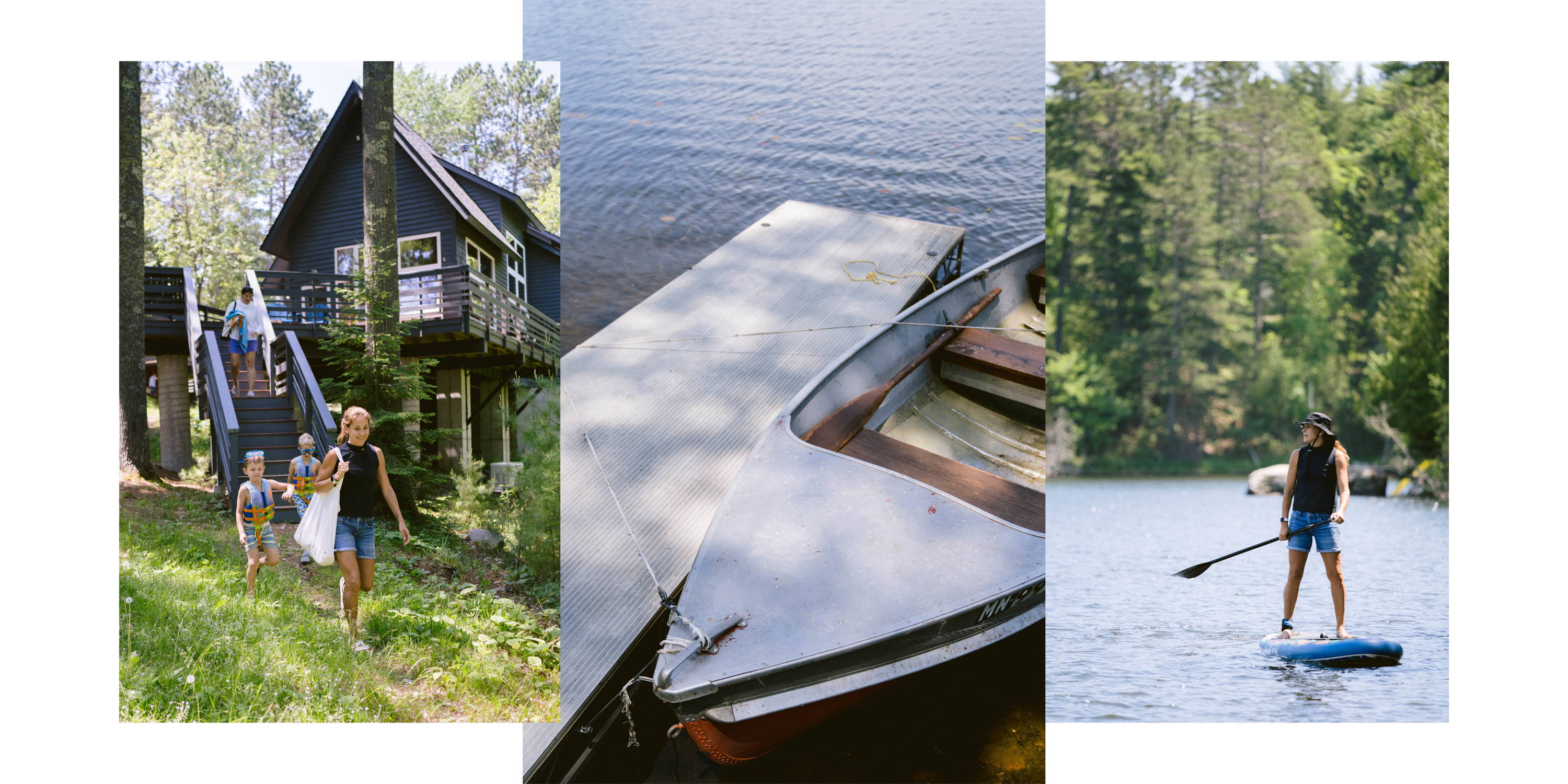 What do you want your apparel to make you feel in summer running?
Something breathable and with layers so you can shed as you go. It can get humid here so heavy fabrics only hold onto the moisture. The breathability of the Suns Out Tank and the lightweight of the airflow crop are perfect.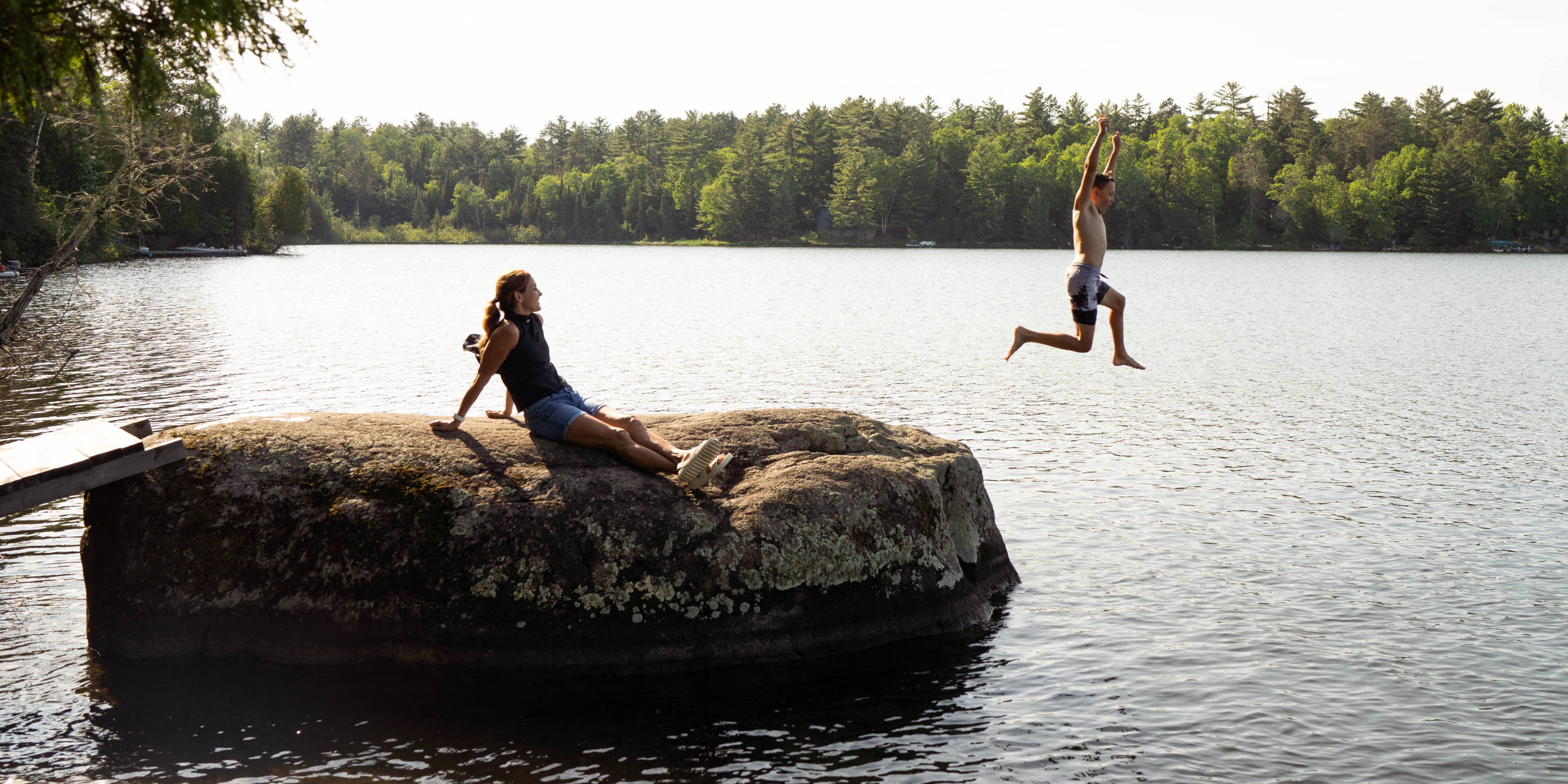 Has buying this cabin been a kind of homecoming for you? If so, how?
Absolutely. This is a literally dream come true. I spent my summers running between our cabin and my grandparents house, which was next door. I loved summers, all the time on the lake, with family, enjoying the beauty around us. My grandpa took me only first runs out here on the dirt roads. As I got older I'd run farther and he'd wait for me back at the property and when I got back we would figure out together how far I ran. When I'm out here I feel closer to him, closer to what made me who I am, closer to my heart. When my mom's neighbor's house went for sale last year, I knew it was meant to be. Now I wake up looking at the same lake and running the same loops I did as a child. It's been more magical than I could have ever imagined it would be.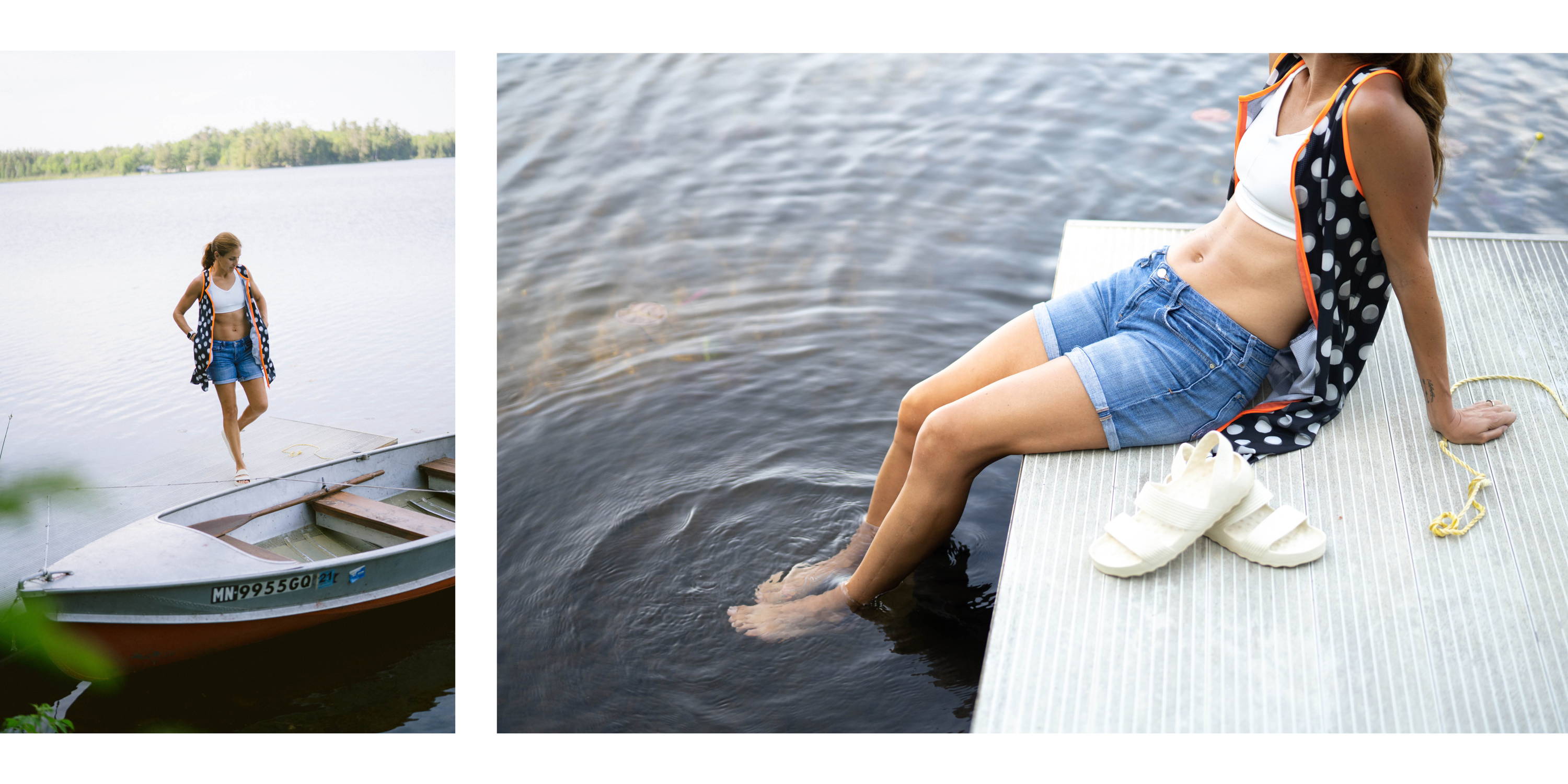 The Trials was your first big broadcasting experience. Can you give us a high, low, and shout out - about that experience? (High = high point, Low = low point, Shout Out = someone who really made a difference to you, helped you, or that you just appreciate)
High point for me was the commercial free women's 10,000m and men's 5000m. Due to the extreme heat, these events were moved to the morning and we got to call them in full. Huge shout out to Leigh Diffy who is the main man on the mic and who encouraged me everyday and helped me to feel comfortable. He really is an incredible mentor and I could not have done the commentating without him. Low point on the show would be my on cameras. I get really nervous to do them and I have to wear brands clothing that I do not feel comfortable ethically wearing.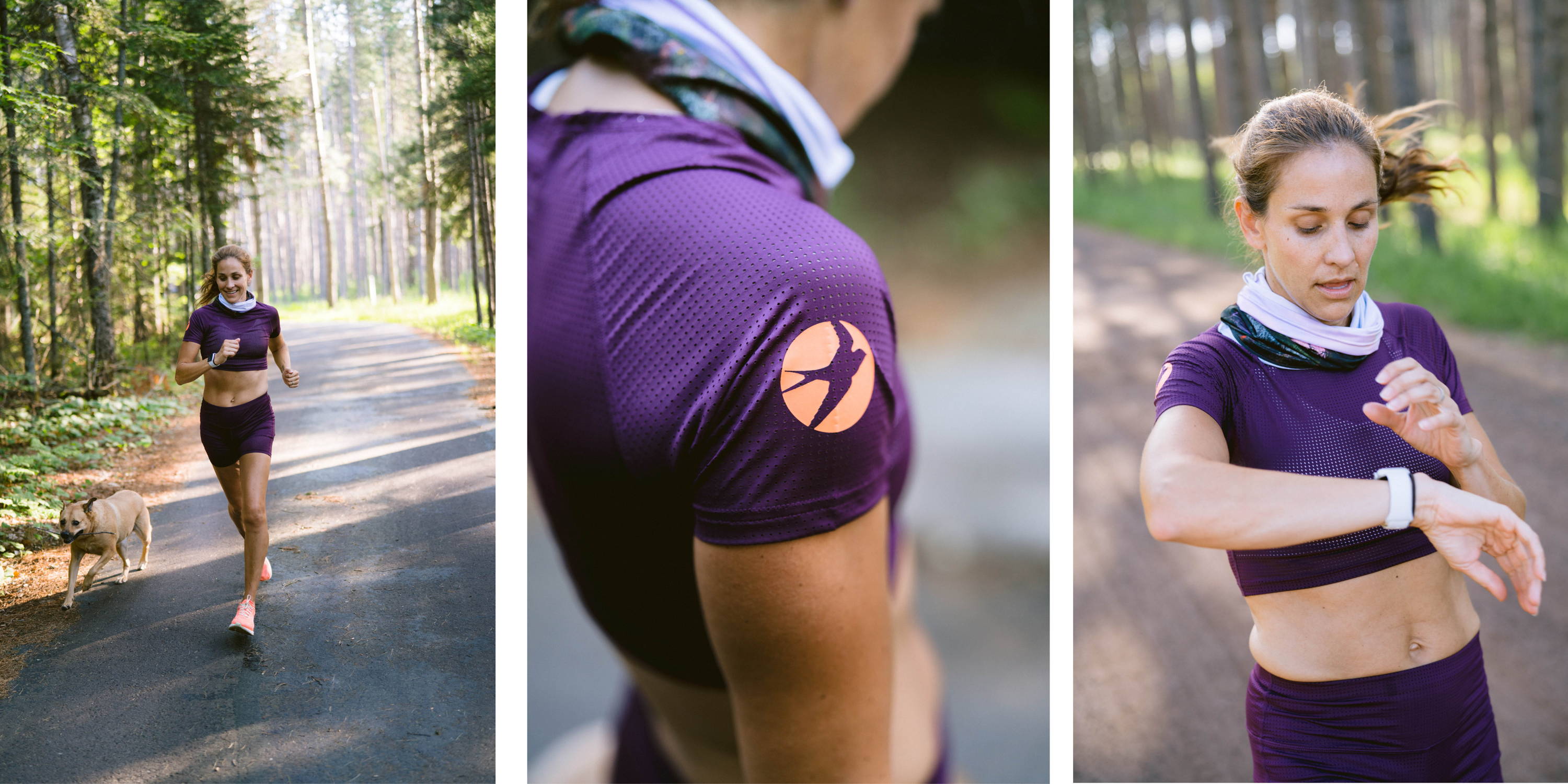 Being a two time Olympian yourself, what advice would you give to new Olympians about how to both maximize the experience from a professional standpoint - and enjoy it thoroughly?
The Olympics are so hard because they become all about the sponsors and the athletes get lost in the shuffle!! Remember that this is about you and not whatever the media tries to make you feel like it is! Breathe it in and see that you are at the Olympics, but don't let it overwhelm you. You earned your right to be there and remember, it is just a competition like any other- no matter what outside voices try to tell you!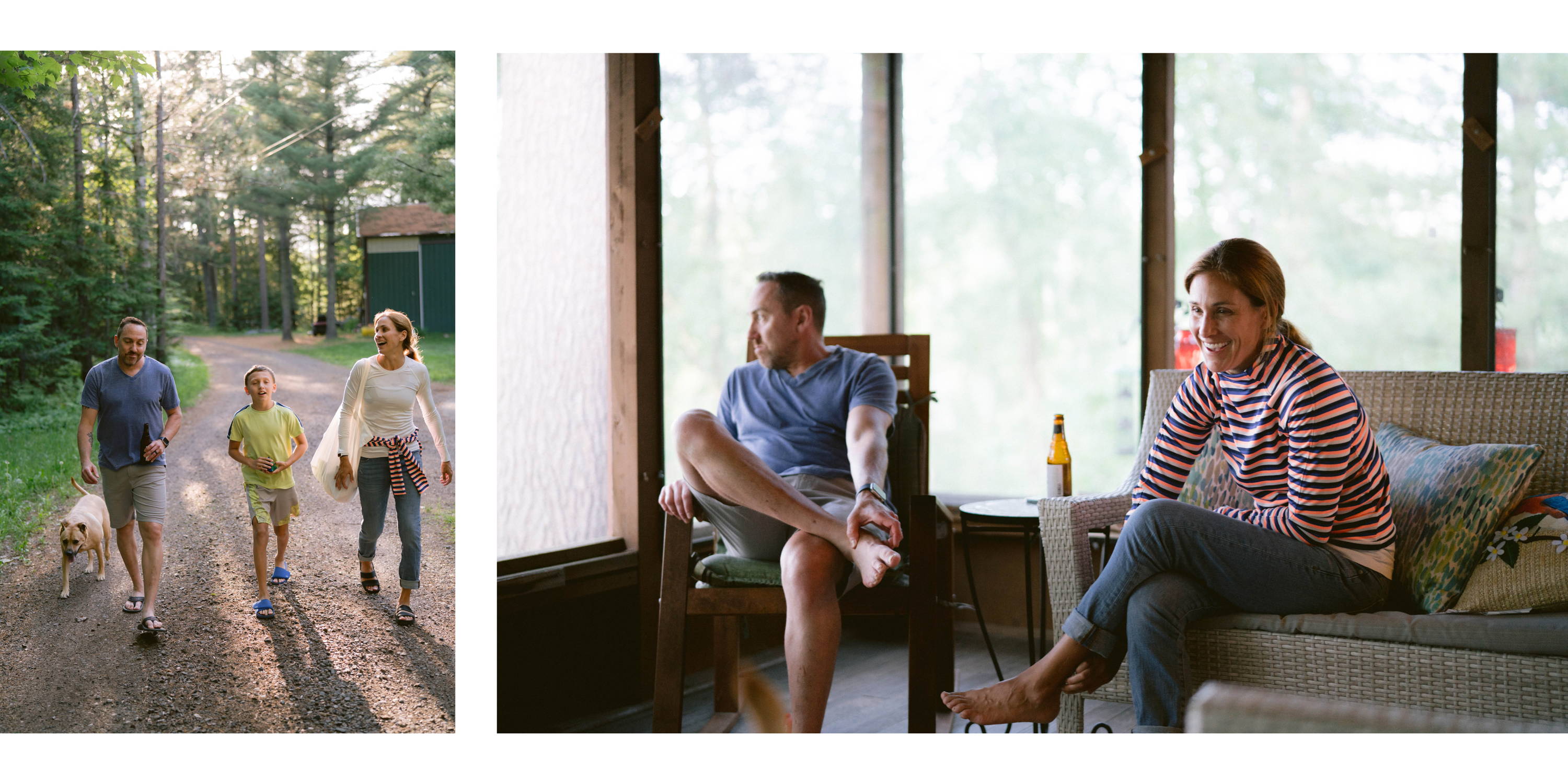 What is a favorite run in and around your cabin? How many miles?
When I was a kid my favorite run was either to the Minnoette (convenience store) and back which is 3.2 miles or to Island Lake and back which is 2 miles. I only ran 20-30 miles a week back then! Now I enjoy farther runs so I enjoy running partway around Island Lake and back which is about 8 miles, to the campground on Fish Lake and back which is 7 miles, or a loop around Pioneer Road which is 6 miles.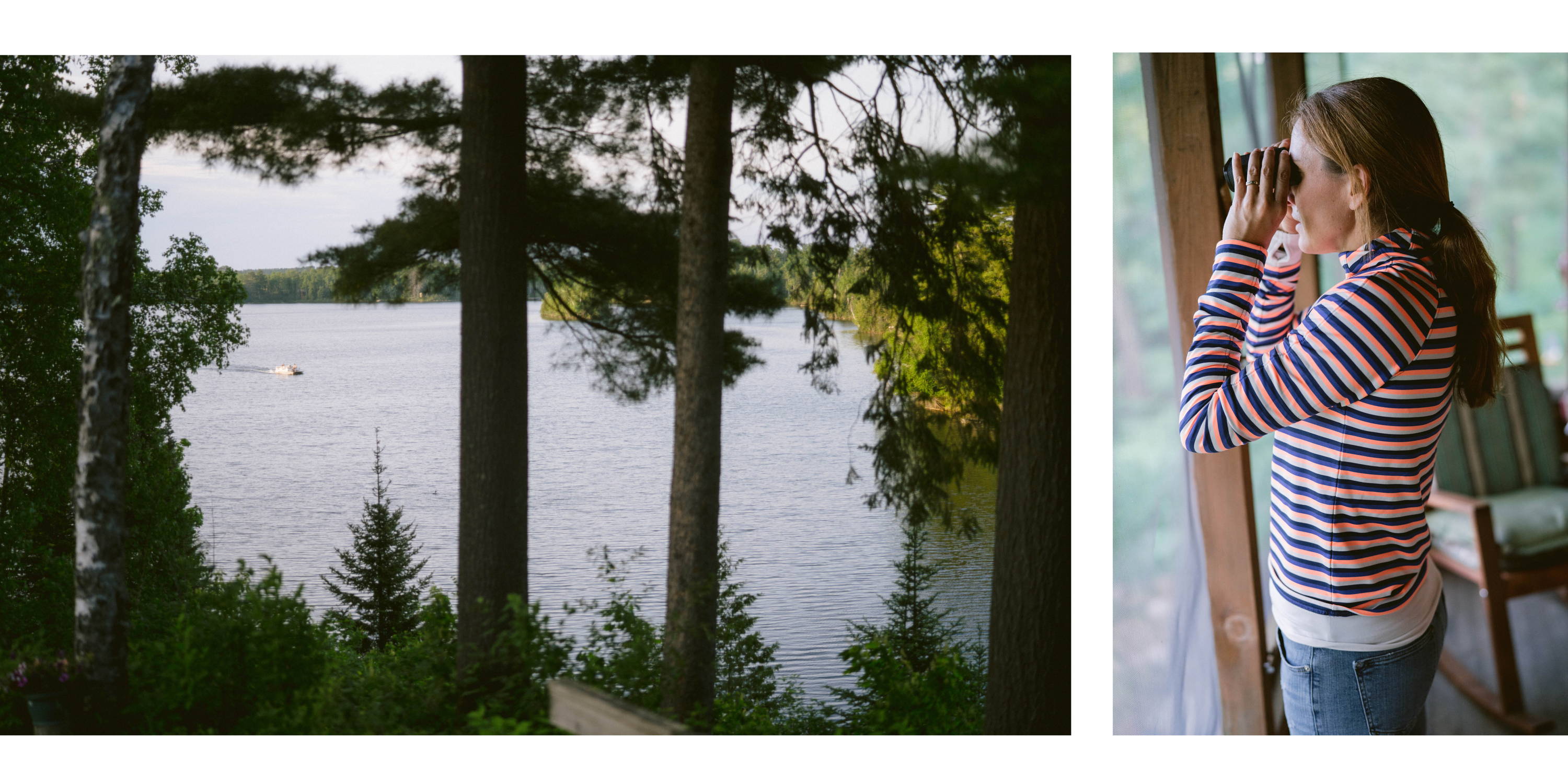 You'll be commentating on NBC for the Olympics in just a few short weeks! Wow. What are you most looking forward to in terms of covering the Olympics?
I'm looking forward to all the incredible races, seeing people achieve their biggest dreams and helping humanize what is happening out on the track and on the road. The athletes are not machines and I hope to help connect the audience to them as people.