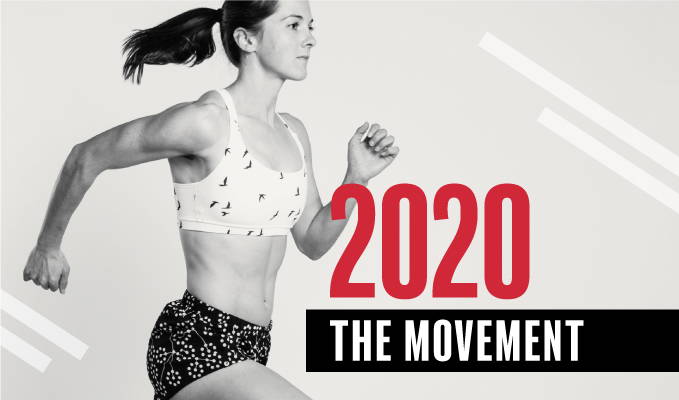 Hello 2020. We've been waiting for you.
We've been biding our time, logging our miles, and keepin' up on our fitness. But let's face it, we're not the waiting types. Sweats off. Time to stride full force into the future. As Queen Rapinoe says, let's fucking go.
In 2020, Oiselle is celebrating The Movement, the women's movement, and the undeniable rise of women in sports and around the world.
Throughout the year, we'll be looking at The Movement via three lenses: THE HISTORICAL, THE PHYSICAL, and THE INTERSECTIONAL.
Via the HISTORICAL, our goal will be to uncover and elevate the sports pioneers: athletes, coaches, and supporters. The women who were often shunned as misfits, or who did it first. Who gloriously displayed their power when it risked everything.
From Betty Robinson, who won a T&F gold medal in the first Olympics that included women, to Bobbie Rosenfeld who not only excelled in T&F, but also in ice hockey and softball; as well as the more complicated stories of athletes such as Mary Decker Slaney and FloJo.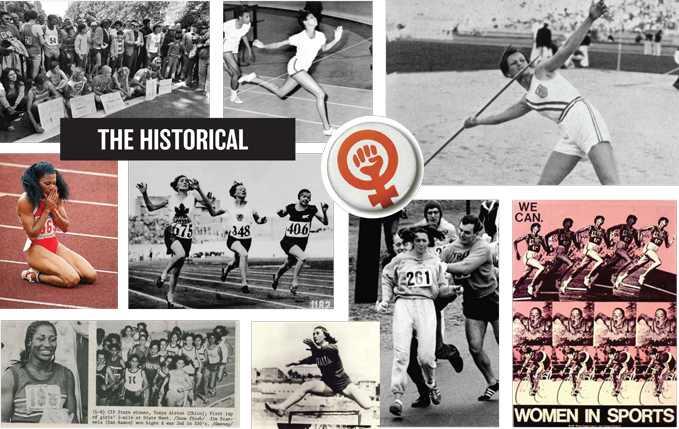 And we're looking to flip the script on objectification with a celebration of THE PHYSICAL.
Our mission is to make apparel and gear that puts the function in fashion. To help girls and women know that their value is far greater than their appearance, and that body movement is synonymous with strength and confidence and joy. Commitment to the physical means continuing to highlight our athletes and teammates in the arenas that they're in - and sharing their full, and sometimes complex, stories.
The physical is also about creating gear that keeps pace with your efforts. Whether it's the maximum cooling of Flyout, the weather protection of Vim and Vigor, the warm insulation of Wazzoh, or sweat management Wazzie Wool, there's a solution for the physical. There are designs to keep you moving, through every season and climate.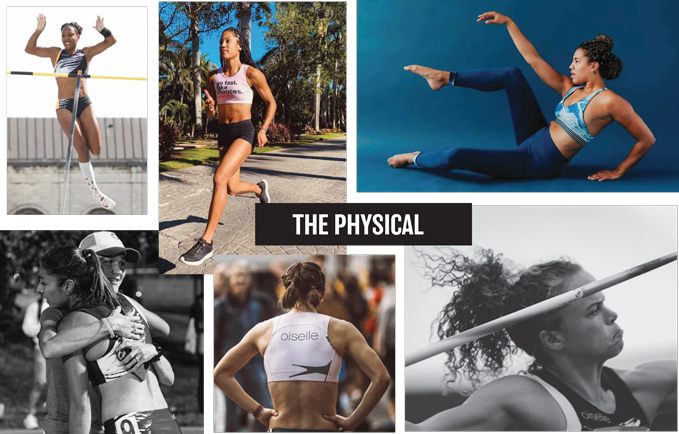 Finally, it's time to dismantle the image-machine that tells a very narrow story of what it means to be a woman. A corporate-marketing engine that Oiselle is both a part of, and is strongly motivated to diverge from. We know that we have a unique opportunity, and we don't take it lightly.
Our mission is to expand the sisterhood. To more accurately reflect the diversity that makes sports a beautiful, glorious, global team. And if that's our goal, we need to put intention and thought into everything we do, from welcoming all who want to join The Volée, to choosing the athlete-models we hire, to the clothes we make, and how we innovate throughout the line. (Later in 2020, it will be my great honor to reveal new styles for a fuller range of breast and body sizes. Seriously. I cannot wait.)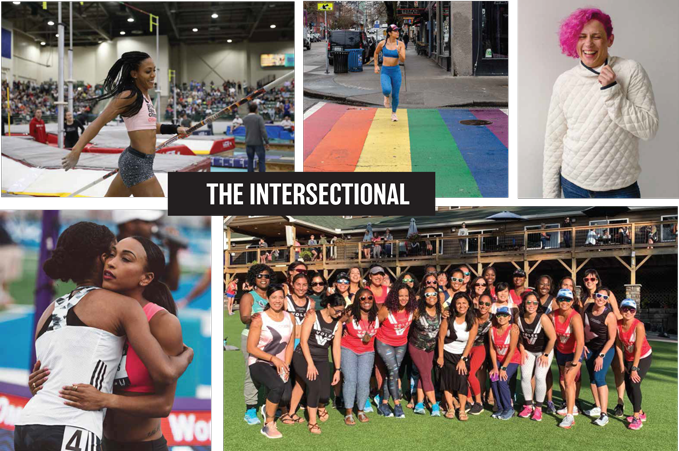 To the here and now. It's launch day, and that's always an exciting coming out party for the design team. New fabrics, new designs, new prints, new colors - just today, we're launching 35+ new styles that honor women's moving bodies. Below are some of my highlights, but it can't all fit! So please check out New Arrivals, and as always, we want to hear what you think.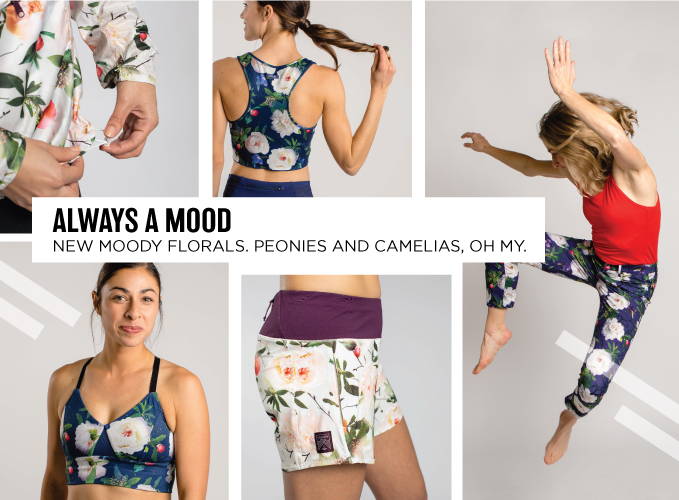 It's a mood. Moody Floral in two beautiful new prints. This year, we brought in one of our favorites: the peony, along with a PNW mainstay, camelias. Per usual, our florals are au naturale, mixing them with the greenery and woodsy bits, straight from Mother Nature.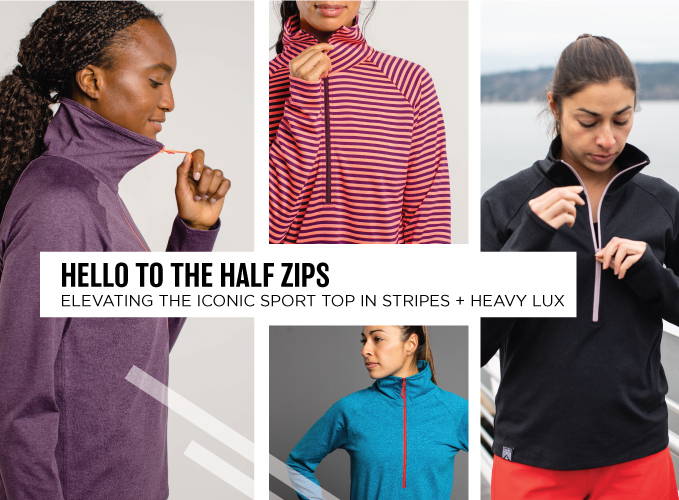 The half zip is a sport life staple. But we wanted to elevate the basic, in fabrics and style. The new Big Stripe Half Zip is relaxed, slightly cropped, and has an extra-long zip. It's great on its own, or easy to layer over a tank (my fave is over the Lux Racerback Tank).
The Lux Half Zip Jacket is one of my faves in the new line. It's Heavy Lux, typically used in compression, as a slightly oversized half zip, so thick and chunky, we called it a jacket. This is the piece you can beat up with anything life throws at you, and it won't quit. The contrast zipper gives it extra spark.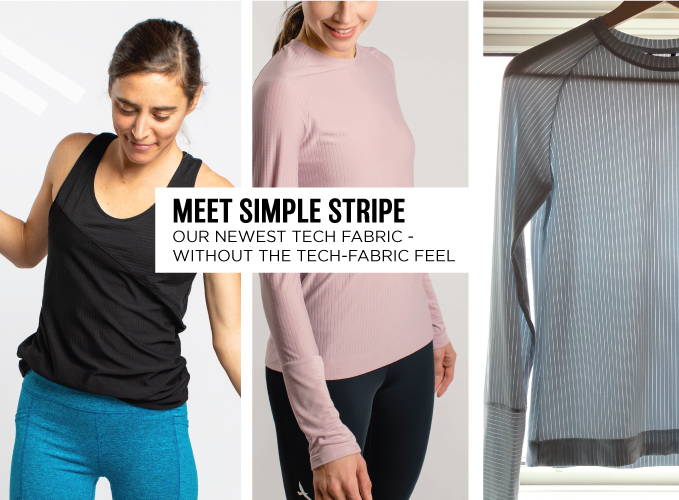 Can we have a tech top that feels nothing like a tech top? And has a subtle style element that makes it a wear-everywhere piece? That was the thinking behind choosing our newest fabric, Simple Stripe. It has the feel of a fave t-shirt that's been through a hundred washes, but the hard-working, sweat-wicking abilities of a performance fabric.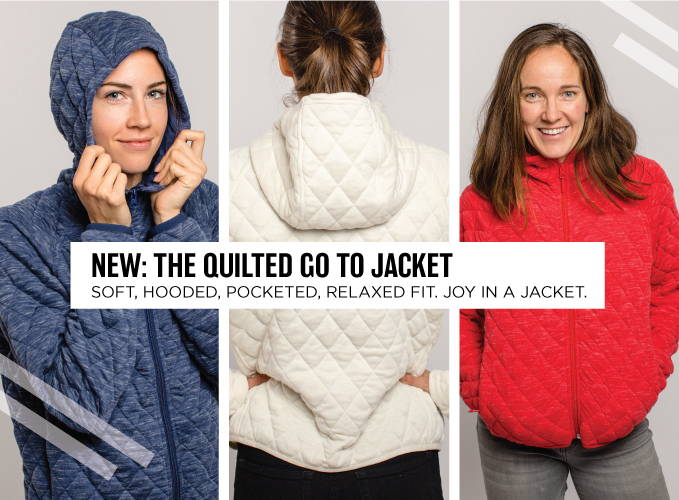 We launched our new quilted fabric last fall, and since then, it's been snuggled in a thousand times over. It's an ideal mid-weight quilt that is ultra-soft on the outside, with a smooth soft interior as well.
The Quilted Go To Jacket is the layer we've wanted for a long time! Hooded, relaxed at the hem, zip pocketed, and of course - soft. Red, Blue or Ivory, so wearable!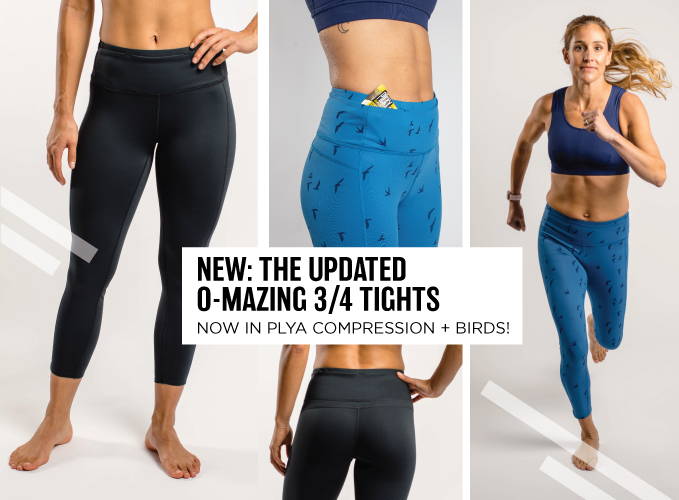 We updated our popular O-Mazing styles in Plya Compression, for the upcoming spring season. The same fabric used in our Spandos collection, Plya is an athlete's dream because it is both compressive and lightweight. It's definitely ready for sweat and miles and lots of movement.
But what I'm MOST excited about is our new Plya prints. All of our colors are yarn dyed, which means that the color is complete and there is zero grin through - the whiteness that shows through when many printed fabrics are stretched. Better yet, it's an interlock, which means no sheerness in the O-Mazing Stride 3/4 Tights. So bend, run, leap, squat - these babies got you.
The clothes don't make the woman. But the woman's movement makes the clothes. And that's our goal... to help you move, run, and fly, comfortably and with confidence, for sport and life.
Please know, as ever, you inspire all of us at Oiselle to keep moving ourselves. Here's to shaking things up in 2020, and I hope to see you out in the streets!