Since we know boobs are different on every body, we created a few fun new styles in 2021 for all your bra-wearing needs. You've already seen the Queen & Sisters and we recently introduced The Esther. With its special heat-molded cups and its wide, convertible, and adjustable straps, it's sure to become another fan favorite. But don't take our word for it, we got the real scoop - we asked a few wear-testers from our Oiselle Volée team everything about fit, comfort, and durability.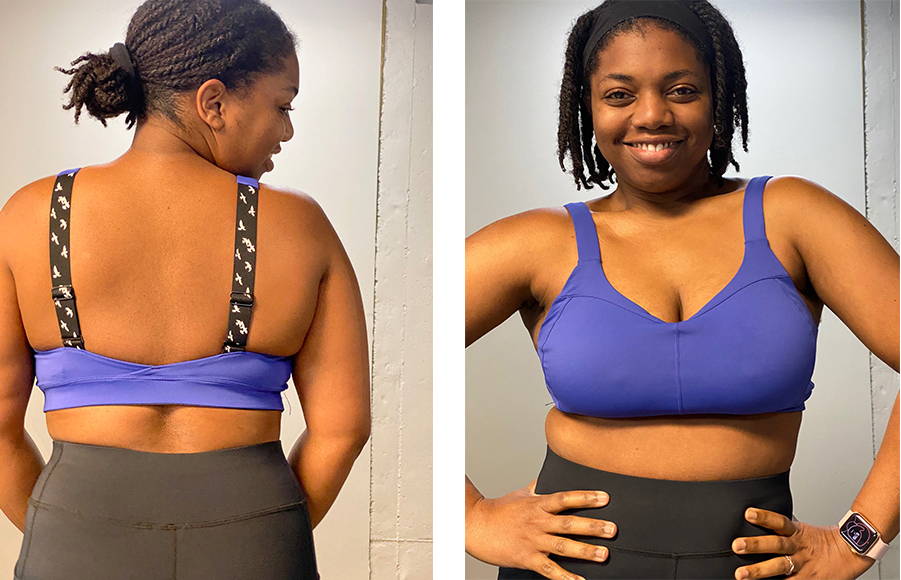 Stephanie is wearing a size 10
What size do you typically wear? What size did you wear in the new bra?
Alicia: 4 in Ballard & Lesko, 6 in the Verrazano. In this one, I tried a size 4
Erica: Normally 32C- either 4 or 6. I wore a 6 in this bra.
Stephanie: Normally 8 or 10 since I am nursing I went with a size 10
Charisma: Typically a solid size 8 (5'5", 145lbs) wore a size 8


How does it make you feel to wear it?
Alicia: Awesome! Husband commented that it was very bright. My response was yep, birds like bright colors.
Erica: Comfy, strong.
Stephanie: It's sleek. Really sleek. The fabric feels so nice on the body. I actually wish this was a nursing bra because then I'd probably never take it off.
Charisma: I'm in love with the Lapis color- it's so feminine and love that a bra that fits me can be pretty.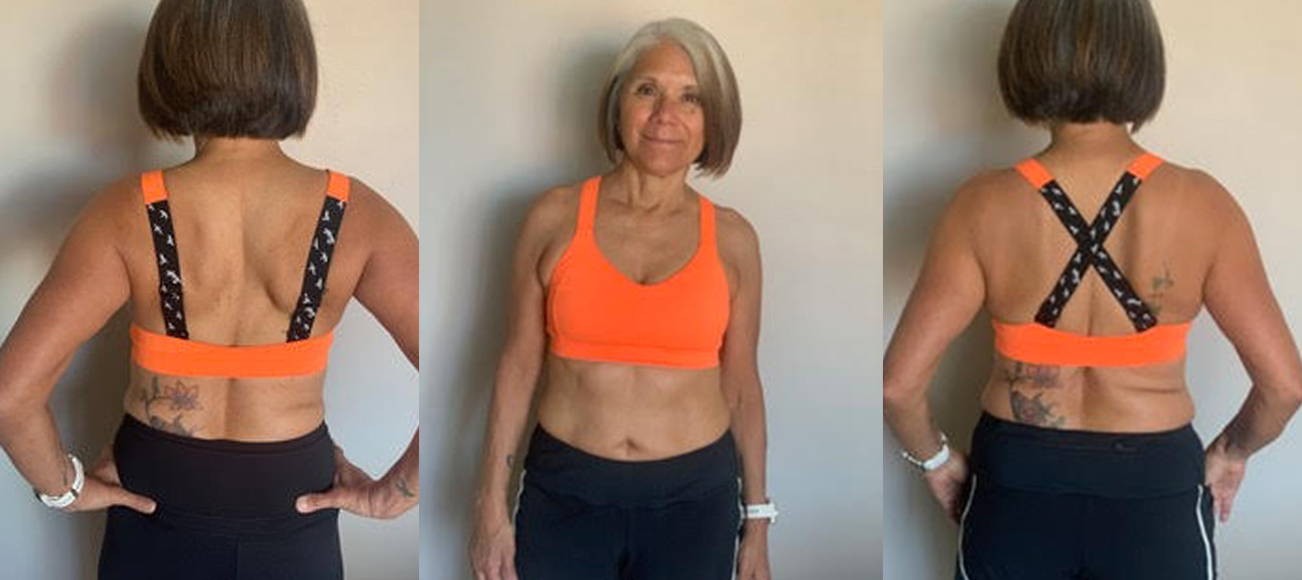 Alicia is wearing a size 4
How did the band fit?
Alicia: Initially I thought it was too tight & maybe I got the wrong size. But it was actually just right, comfortable for hours wearing it.
Erica: I really liked the band. I have a small rib cage so getting bands to stay put without being too tight is a challenge.
Stephanie: I usually have a problem with the band under my breasts digging into my skin when I sweat. However, even when I started sweating and after, my bra was fit, but comfortable, not soggy, and didn't dig into my ribs.
Charisma: I really like the ribbed band for comfort. I didn't notice a huge difference in the wider band (like on the Queen) and this one (but the band size has never been an issue for comfort with me). This band rolled a bit in front but it didn't bother me and I only noticed it when I took my shirt off.
Which position did you prefer for the straps and why?
Alicia: I prefer the straps straight, it was more comfortable.
Erica: Cross back for higher impact activities. Regular for low impact.
Stephanie: I showed the straight strap position for my pictures but wore them as cross straps when I ran.  
Charisma: I wore it for a 12-hour work shift at the hospital in the traditional over-the-shoulder position and it was super comfy-I had plenty of support and it didn't bother me one bit. I wore it racerback/crisscross style for my run for the extra support. It was great during my run! Snug enough for no bounce but not so tight that I was worried about chafing.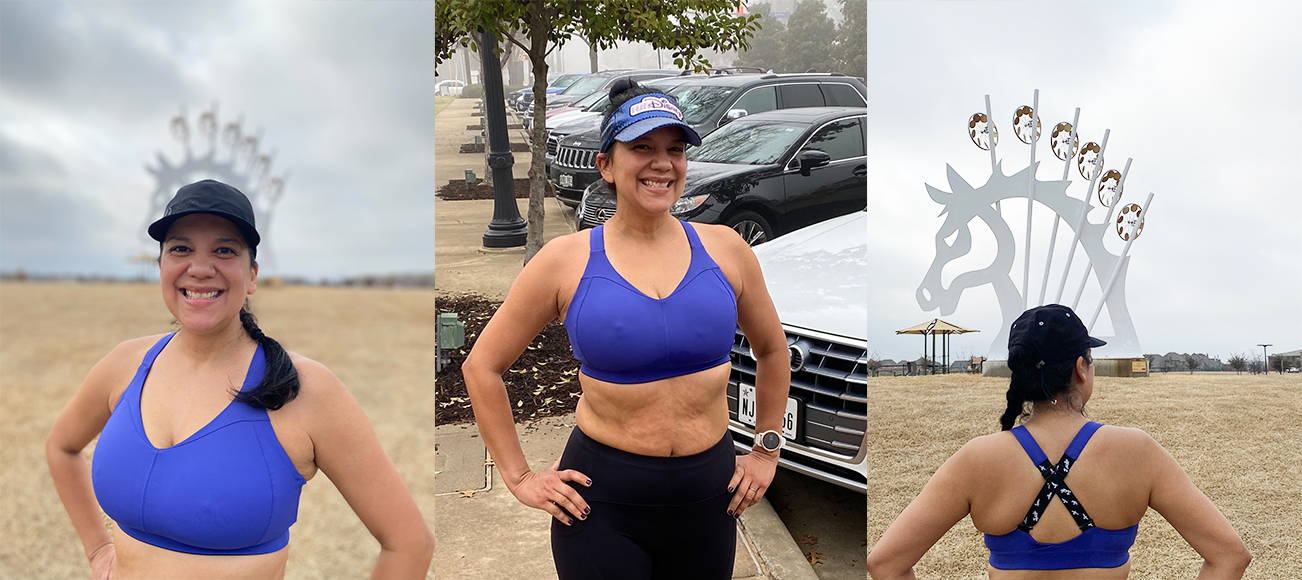 Charisma is wearing a size 8
What activity did you use it for?
Alicia: I walked 4 miles and did a HIIT class - jumping jacks, burpees, push-ups, squats, lunges, overhead presses.
Erica: I tried it out for a 3-mile run as well as yoga and stretching.
Stephanie: I like to stretch, run, do cartwheels, jump...all the things to make sure a bra will keep me together. I liked the Esther bra because it actually kept me together. I did a handstand, yoga poses, and stretches and nothing came out. I jumped and kicked and I was secure. I did three workouts while wearing this bra. A run/walk, yoga, and dance. It was really comfortable.
Charisma: I tried it as an everyday bra at work for a long nursing shift then took it out for an 8-mile run.
What does the wearability feel like? For example, any gaping or chafing?
Alicia: No gaping for me and no chafing with the activity I did.
Erica: No issues, but I'm curious if the ribbed band would chafe in longer distances.
Charisma: I'm always worried about gaping- I have one boob that's a full C and one that's a full B. I tend to go larger so that my larger breast isn't spilling over, but that means that sometimes the other side has gaping. No issues with this bra.
I liked the Esther bra because it actually kept me together. I did a handstand, yoga poses, and stretches and nothing came out. I jumped and kicked and I was secure.
Erica is wearing a size 6
How do you like the fit and comfort of the molded cup?
Alicia: I like the comfort. Initially, they seemed to flatten my boobs too much and I didn't think the look was flattering on me but it seemed to change as I wore it more and molded around my breasts.
Erica: Before I put it on I was concerned that there was too much fabric, but once on I realized it was just the right amount of coverage in the cups.
Stephanie: (unpopular opinion) I'm not a huge fan of padded bras. So the fact that this bra wasn't padded, it fit me better and molded to my actual chest for a personalized fit. I like!
Charisma: Thankful for no removable pads! The molded cups were comfortable and provided plenty of support.
Anything else you would like to share?
Alicia: I think the fabric is going to be great in warmer weather. I heard feedback that some women felt other bras like the Ballard were a bit thick and warm so they'll appreciate this fabric.
Stephanie: Overall: I love it. I will buy another one in a different because they're that comfortable and supportive. 4.5 stars *Also, start making nursing sports bras!!!!
Charisma: I'm 100% ordering more of this style! It was easy to get into and out of, easy to adjust straps (and I LOVE the bird detail on the straps!), no chafing, and fit TTS for me.