By now you have probably heard that Haute Volée athlete and discus phenom Valarie Allman set the American Record on Saturday, August 1st, throwing 70.15m (230'2") on her opening throw. Perfection.
We wanted to get behind the scenes and let Val explain how this happened. Tl;dr: there is no

secret

.
Lesko: This spring and summer has been so weird. But you've kept training...and we've seen your weight room PR's. How have you kept motivated and what are some of the lifts you're most proud of?
VA: When the idea of a "normal track" season seemed impossible, my Coach and I decided to focus on the things we could control. We made it our priority to get as strong and fit as possible. While strength training has always been a complimentary part of my training to throwing, it became much more primary. I LOVED it! I got so much confidence from getting stronger and feeling more comfortable in my own skin. It was really motivating to work on something so tangible. Over the last several months, there was a time period where I was completely unmotivated to throw especially once the initial news about Olympic postponement came. Lifting became an outlet to still keep moving forward and became the bridge to get me excited about my sport again.


I was really proud of these lifts!
Lesko: You knew something big was coming. When you called to tell me about the meet at Ironwood, and that you wanted
Coach Z
there, I knew you felt very confident. What gave you that confident feeling?
VA: I think the biggest thing that gave me confidence was hearing from my Coach we ready for something special! This is our 4th year working together and I feel like he has a really strong sense of knowing what kind of shape we are in. I personally always get anxious for openers. My brain tends to focus on things that could be better and always wish I could have more time to just be a little stronger or more technically refined. Thankfully, my trust in my Coach provides a great dose of realism to know where we really are in terms of reaching our goals. I know when he is getting excited about things he is seeing that we really are in a great place. Since March, we had been trying to find some meets. It has been such a rollercoaster of competitions continuously getting postponed and canceled. When the Ironwood Classic came together 10 days before the actual comp, we jumped at the opportunity.
Coach Sion has been my rock through these pandemic times. The last few months really have been so challenging and I struggled deeply with feeling lost. I wanted to give up on the season so many times, but he always had a way of keeping me moving forward and just taking it day by day. It's scary to look back and realize how close something so amazing was and almost have shut things down before achieving it. I am so thankful he stuck with me through all the uncertainty especially when it wasn't easy to find places to train and we didn't know if all the work we were putting in would materialize. Having him at the competition meant the world and definitely brought out the best in me!
Lesko: You said in pre-meet and warmups you could tell the disc was flying well. What is the feeling you get that gives you that sense?
VA: Where we have been training is just a big open field. It is as low key as can be. There are no lines out in the grass that we didn't really know how far things we're going. In discus, there is this magic relaxed, yet super energized space where I am definitely at my best. When you let the discus go, it just seems to fly on a different, better trajectory. A big thing we talk about is trying to put as much energy as possible into the discus. When things are a little off, you can feel energy leaking into other parts of your body which means less is going to be behind the disc. The few days before things just felt really efficient and effortless. I felt lined up, strong, and dialed in. It is almost like a really intense zen. There was a few times when I would throw and Coach and I would just look at each other with big eyes and be like "that was pretty far, right?". Haha little did we know it was THAT far.
Lesko: Walk us through your big throw (your first!) and the moment the measurement was announced.
VA: The adrenaline just seemed to be like a river pumping through every vein in my body and it was tough to not let it get the best of me. I just tried to stay as focused as possible on the cues my Coach was giving me and not let my mind drift off the rails to places that generally can lead to self-sabotage. When I took my first throw, it felt GOOD! I thought it was maybe around 67m and was hoping it would be a new PR (farther than 67.15m). When they read the tape and I heard the number start with 7, I immediately burst into tears. I didn't even hear the whole mark I was in complete shock. 70 meters in discus is the ULTIMATE barrier. We had focused so much on the day to day work to get better that I didn't really let myself dream crazy thoughts. Coach Sion had told me he thought the American Record was something tangible, but I was always more skeptical. I felt so lucky my mom was there to wrap me up in a big hug. When I really heard the mark, I truly felt like I was flying high.
70 meters in discus is the ULTIMATE barrier.
Doing it at the Ironwood Classic was really special. The venue is probably one of the only facilities in the world dedicated completely to throwing. It is a big open piece of land with a warehouse located towards the back of the property. To me, it is wholesome and magic. When you walk into the warehouse, it is filled with throwing rings, a weight room, and lots of sport-specific equipment. My favorite part is all the walls are covered with memorabilia, photographs, and signage. From Olympic Games posters to signed pictures from previous American throwing legends to high schoolers goal sheets, Ironwood is a place that celebrates the niche sport of throwing in every capacity. I went to the venue in Idaho for the first time in 2017 when I was in my senior year in college after trying to bounce back from a gnarly concussion after wiping out during a throw. I had been struggling to find my groove for the previous 8 weeks and had my worst meet in years the week before. I ended up throwing close to my PR and brought the wind back into my sails. After the completion of the competition this past Saturday, the owner of Ironwood, Bart Templeman, asked if I would sign a discus for them to display inside. It means the world to have something displayed with the many people who have broken barriers in our sport to create the path for success I am able to pursue today.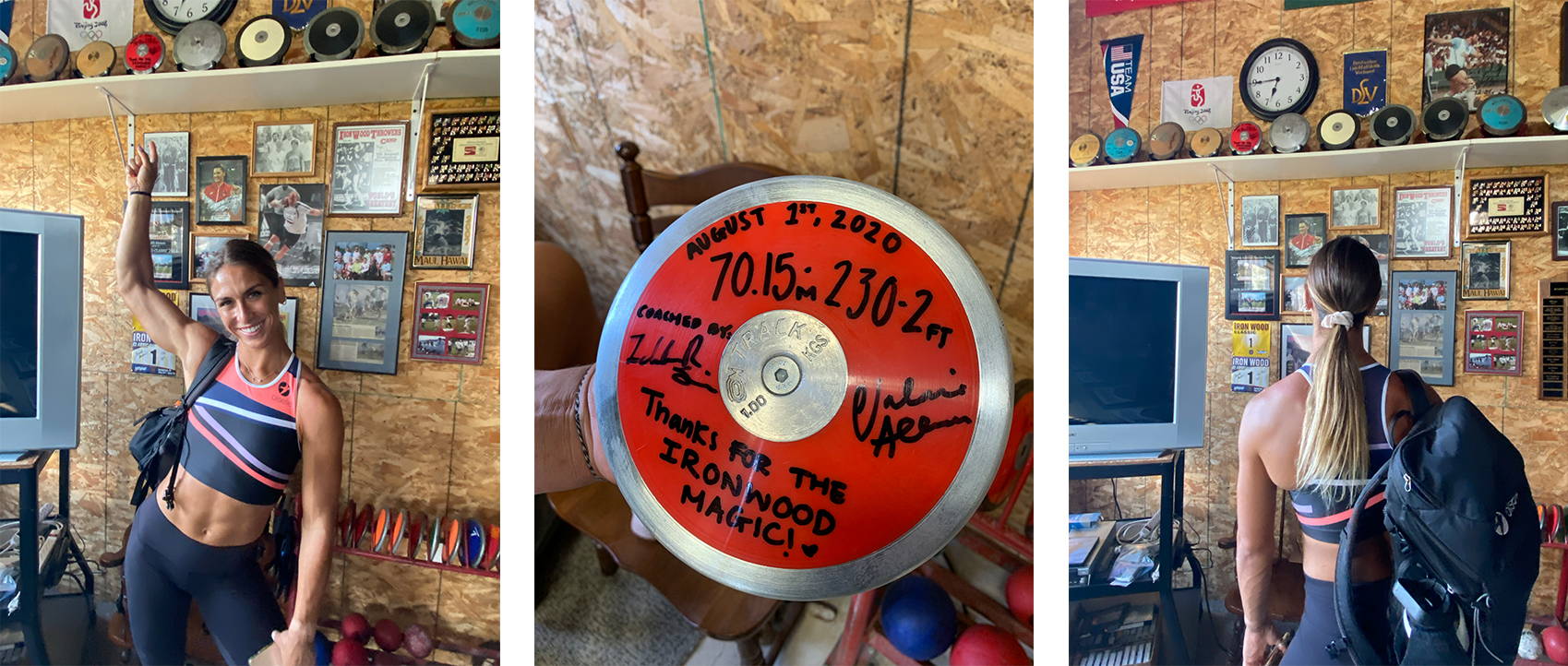 VA: This was honestly one of my favorite things from the day! Normally when a big record gets set in track and field there is a super fancy indicator board to display the performance. The people running the meet at the Ironwood Classic competition wanted to help to make the moment special. They literally carried that artisanal board over from a nearby field to the competition area! 15 people all together helped to find the letters and put together the display. It was amazing and made the moment sink in all the more to literally put on the letters and numbers on myself!
Lesko: You have to get drug tested within 24 hours to get an American Record certified. We heard this took some herculean effort...tell us about it!
VA: Little did I know an 8-hour spontaneous road trip was going to be part of the journey! To be honest, I had no idea what had to be done to make sure a record gets ratified. Quickly, we learned that within 24 hours of setting an American Record you have to get drug tested by someone from USADA. We started chatting with the representatives to get the test organized and discovered it was going to be far more complicated than someone just showing up at our hotel that evening. The combination of being in rural Idaho and COVID-19 limiting Doping Control Officers (the official testing people aka DCO's) to fly led to some logistical complications. Eventually, it was confirmed the closest DCO was in Portland, Oregon. We met in the middle between the two cities of Portland and Coeur D'Alene in the super small town of Hermiston, OR and did the test in a gas station bathroom.
I had the goal of trying to be ready to pee when we were going to meet. Unfortunately, I mistimed and felt like my bladder was going to LITERALLY explode 40 minutes from the meeting point so we had to stop. I immediately started aggressively rehydrating! I got myself to a point where I was ready to produce the goods when we met which I was weirdly proud of … but then we also had to make 4 pit stops on the way back as I kept having to go! It was a wild day, but definitely something I'll always remember.
Lesko: We want to hear from Coach Z. Have you coached an American record-setting athlete before?
Coach Z: Valarie is the first American record holder I've coached! I'm definitely in rare company now and it feels pretty great if I'm being honest. The fact that Valarie has thrown this far as a 25-year-old is incredible and definitely speaks to her natural abilities, my training and direction, her discipline, and our relationship overall. Female discus throwers usually don't peak until they're in their late 20s due to the technical nature of the event. I feel like we have absolutely made improvements and learned how to be successful at the top of the sport at an accelerated rate. In four years of working together, Valarie has improved her PB from 61.42m to 70.15m which really is amazing. I'm very proud of her and especially proud of this achievement!
VA: I genuinely count my blessings for your support and Oiselle. This past weekend wouldn't have been possible without the sisterhood's support. I genuinely believe this ❤️.