VALARIE ALLMAN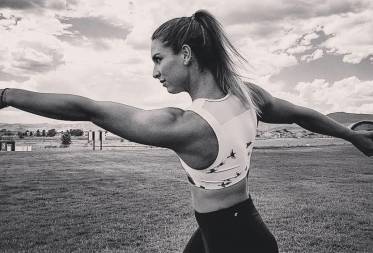 2020 AMERICAN RECORD
2019 USATF CHAMPIONSHIPS - GOLD MEDAL
2018 NACAC CHAMPIONSHIPS - SILVER MEDAL
2018 - USATF NATIONAL CHAMPIONSHIPS - GOLD MEDAL
2017 - LONDON WORLD CHAMPIONSHIPS TEAM MEMBER
2017- USATF NATIONAL CHAMPIONSHIPS - BRONZE MEDAL
2014 - WORLD JUNIOR CHAMPS - SILVER MEDAL
STANFORD UNIVERSITY #1 ALL-TIME DISCUS, WEIGHT THROW
STANFORD UNIVERSITY 7-TIME ALL-AMERICAN DISCUS, HAMMER, WEIGHT THROW
What is your favorite quote that guides, inspires, or embodies your training/throwing/life?
"Be willing to be uncomfortable. Be comfortable being uncomfortable. It may get tough, but it is a small price to pay for living a dream." - Peter McWilliams
I've been encouraged to pursue my passions wholeheartedly and am aware sustained success usually does not come without failure and hard work. This quote reminds me change, achievement, and misfortune offer insights into the necessary steps towards making progress towards a dream. The path is rarely linear when going from where we are to where we want to be. This is part of the rollercoaster of the athlete life and inspires me to be tough when facing the challenges along the way.
What was your favorite sport in middle school?
My family moved from Pennsylvania to Colorado when I was in 5th grade. At the time, I was really into club soccer, but also signed up for a dance class just for fun with some friends. I got invited to be on a competition team and pretty quickly dance became a new way of life. Soon I was dancing 6 days a week and traveling across the country. I became immersed in all different styles of dance such as ballet, contemporary, jazz, tap, and hip-hop. The athletic, intense, fierce, creative nature of the movements that came with each style drew me in. Dance helped me learn about my body at a point in life where my body was really changing. When picking up choreography, I looked at dance as a sport and it helped me learn discipline, kinesthetic awareness, and a sense of adaptability. Little did I know how this would to lead to me having a knack for spinning and throwing things years later.  
Can you share your first sports bra experience?
Growing up I was quick to grow in height, but not necessarily in womanhood. By the time I got to seventh grade, it was finally time for my first sports bra. The new article in my attire seemed foreign, but in no time I began to love the layer that rested closest to my heart. Throughout the years, I realized life is full of layers and my sports bras have become one of my irreplaceable layers. Nowadays, I practically live in my sports bra! They are my favorite fashion statement that celebrates both femininity and athleticism.  
What is your absolute favorite piece of #flystyle and why?
I LOVE everything that comes in the HoverFit fabric. It comes in so many colors, keeps you just the right temperature, and perfectly falls on to your body. If Oiselle could make bed sheets in this fabric, I would seriously cry… and never leave my bed. :-)  
If you could give one piece of advice to a 12 year old girl, what would it be?
Haha I can't just give one! :-) Embrace all of life's awkward moments. Face your fears, learn from your mistakes, and don't get too caught up on the embarrassing moments that come with it. It takes a lot of inner strength to laugh at yourself as you explore your passions widely and deeply. Stand up for yourself and your beliefs remembering it is okay to be a little goofy throughout the journey. Many times the most genuine people in life are the ones who embrace their uniqueness. When you are 12, it is the time you get to start to come into your own. Find people that bring out the best in you and celebrate who you are at your core.
Tell us about your favorite place you have ever traveled to:
I actually just found my new favorite spot! This September, I ended my season at the World Challenge competition in Zagreb, Croatia. First off, I had the best kebab of my entire life, which was AMAZING, but I also got to compete against the reigning two-time Olympic champion Sandra Perkovich (who also has 6 Diamond League final wins and two World Championship gold medals… aka she is BOSS) in her home location. This has culminated into the country of Croatia becoming highly intrigued with women's discus. At the meet, women's discus was a premier event with national coverage which involved drummers, fire, thunder sticks, sell-out crowd, and EDM music to make for one magical environment. Competing side by side with the best person in the world in my event and getting to wear the Oiselle Haute Volée kit for the first time was a surreal feeling. While I thought I was going to pee my pants during the first round as the only American in the field, I got a quiet confidence and found my grooooooove with a bronze medal finish and a spark for the journey ahead. After the competition, I explored the southern coast for a couple days and fell all the more in love with the mesmerizing country. With tiny islands everywhere, bright blue water, compelling history, kind locals, and LOTS of gelato, I can't wait to go back!
What alternative career do you fantasize about?
I dream about being a Product Designer. At Stanford University, I spent most of my time in the Product Realization Lab (PRL). Basically it was a dream maker space filled to the brim with different machinery, tools, and materials, that fueled creativity and enabled me to combine my mechanical engineering knowledge and passion for art. I love being a maker, experimenting with different manufacturing processes, coming up with things that have a sense of purpose, and bringing delight to those who use them.  
What is your superpower?  
I'd have to say making puns. At this point, my brain kind of just thinks in them. I'm a self-proclaimed nerd and am thankful my parents helped instill values in me to always look at life with the glass half-full perspective. They say laughter is the best medicine and as a superpower it allows for greater than normal ability to connect with others in an unexpected and disarming way. It helps to just roll with the punches, bring levity to tough situations, have a sense of humility, and share lots of laughs along the way. What can I say? I'm just a girl who wants to have some pun. :-) 
 Oh and also eating Reese's peanut butter cups. I can seriously eat so many of them and am so good at crinkling the wrapper into tiny balls and flicking them with accuracy.