Ah, the half marathon. A runner's beloved racing distance. April has traditionally been deemed marathon month, but we're welcoming the half marathon to join in the festivities. This month, we're celebrating the marathon AND the half marathon. 13.1 miles is not just a half, it's a full half and we're lovin' it up!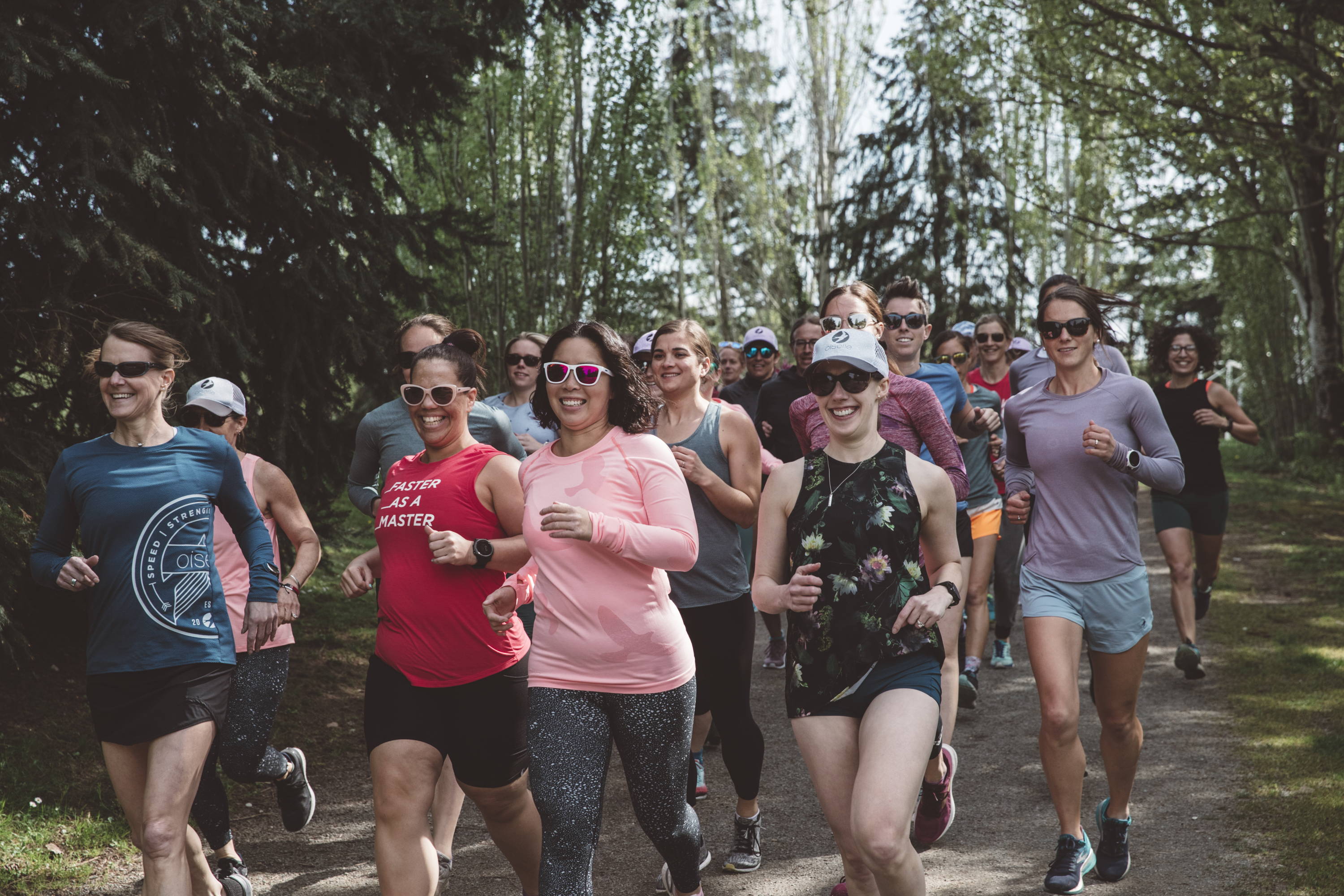 Our Haute Volée and Nest crew gave us their favorite half marathon recommendations.
See what's coming up for the year ahead!
1. WHIDBEY ISLAND HALF MARATHON
Whidbey Island, WA | April 16, 2016
"This is one of my favorites because it runs along the water and is absolutely beautiful. Despite the fact that there are some rolling hills that are a little bit challenging, the country roads and water views are amazing and make you feel alive. A Pacific Northwest must see." - Kristin Metcalf
2. EUGENE HALF MARATHON
Eugene, OR | May 1, 2016
"The Eugene Half Marathon course is scenic, overall flat, fast, and loud with fans cheering for you to run a PR! You get to race in the footsteps of Eugene, Oregon running legends in Tracktown USA and finish on the famous track at Hayward Field!" - Lyndy Davis
3. OGDEN HALF MARATHON
Ogden, UT | May 21, 2016
"The course starts up in the mountains, runs around a reservoir, down a canyon and along a park way trail. You can't beat the beauty and variety of this course!" - Cynthia Fowler
4. GARRY BJORKLUND HALF MARATHON
Duluth, MN | June 18, 2016
"This half marathon takes place with Grandma's Marathon. It runs along Lake Superior and is so beautiful. Also the course is rolling but with a net downhill so you can run a fast time!" - Kara Goucher
5. MAMMOTH HALF MARATHON
Mamouth Lakes, CA | June 16, 2016
"Gorgeous race put on by the Asics Track Club. Starting at approximately 9,000 ft and finishing at 7,800 ft - don't confuse it with a downhill course. Rolling hills the last five miles makes it a uniquely challenging course." - Molly Friel
6. ROCK 'N' ROLL SEATTLE HALF
Seattle, WA | June 18, 2016
"Lots of races pull you in because course and location, this is no exception. You start by the Space Needle, do a loop though downtown before making your way to the shores Lake Washington and back to the Seahawks' stadium. My favorite is getting to run through the tunnel on I-90. Disclaimer: the climb up to I-90 from Lake Washington is short but steep!" - Collier Lawrence
7. MISSOULA HALF MARATHON
Missoula, MT | July 10, 2016
"Fast course - gentle downhill then flat to the finish. 4,000 participants + pacers. Free post race beer, soak in the Clark Fork River & sweet medal. Held on the second Sunday in July, it's the perfect time for running a fast half between spring & fall marathons. Temps 50-60s, NO HUMIDITY!" - Trisha Drobeck
8. TAHOE RIM TRAIL 50 MILE
Carson City, NV | July 16, 2016
"This is my version of a "half". This 50 miler has it all: mountains, Lake Tahoe, sweeping views, epic single track, lung burning altitude. Doesn't get much tougher, grander, or more awesome." - Devon Yanko
9. NAPA TO SONOMA HALF MARATHON
Sonoma, CA | July 17, 2016
"This race is super low key, but I had a blast doing it with my girlfriends. Running alongside vineyards doesn't suck, that's for sure." - Lauren Fleshman
10. ESTES PARK HALF MARATHON
Estes Park, CO | July 19, 2016
"If you're up for the challenge of a high elevation race, you're rewarded with the most gorgeous scenery. Added bonus: the race is in Rocky Mountain National Park, so you can treat yourself to ice cream, hiking, and shopping afterwards!" - Anna Weber
11. PARKERSBURG HALF MARATHON
Parkersburg, West Virginia | August 20, 2016
"I may be biased because West Virginia is my home state, but the rolling hills of West Virginia is what the course is known for and this race will certainly provide you with enough of them! It may not be the fastest half out there, but the scenery is breath taking and it's a great way to challenge your strength!" - Aubrey Moskal
12. RUN MAG MILE HALF
Chicago, IL | September 9, 2016
"Despite being in Chicago when it's still pretty warm and humid, this race is a lot of fun. You start and finish in Grant Park. Head out the Magnificent Mile through downtown before looping back along Lake Michigan. When you're heading back to the finish you have an AMAZING view of the city." - Mel Lawrence
13. ROCK 'N' ROLL PHILLY
Philadelphia, PA | September 18th, 2016
"When a city shuts down one of the largest & most famous areas of a city, you know the race is going to be a good one! At RnR Philly, you start and finish at the famous Rocky steps, which are a huge inspiration as you gain the excitement to start and find the energy to finish strong. The course is along the river, beautiful views of the boathouses and New England scenery - flat and fast!" - Andrea Duke
---
14. AKRON HALF MARATHON
Akron, OH | September 24, 2016
"The race is very well run, has a good expo, gives away great swag, and you get to finish in a stadium! It is an incredible race!" - Becki Spellman
15. BELLINGHAM BAY HALF MARATHON
Bellingham, WA | September 25, 2016
"This is a great course and a really well organized event. I loved the small town feel and it was a great course running through neighborhoods, parks and along the water." - Jenn Harowicz
16. SAN JOSE ROCK 'N' ROLL
San Jose, CA | October 1, 2016
"This is a blazing fast course in beautiful Northern California. The fast course and timing (usually early October) makes it a great goal race for a PR, or a great tune-up race as part of your fall marathon training." - Shaluinn Fullove
17. ATH HALF MARATHON
Athens, GA | October 9, 2016
"This half marathon runs through the Classic City (Athens) and provides a hilly challenge for everyone. The best part is that you finish by running a lap around Sanford Stadium while they film you on the jumbo screen!" - Sydney Marshall
18. VICTORIA HALF MARATHON
Victoria, Canada | October 9, 2016
"Okay, not quite in the US but close. This race will by far and away make you love the 13.1. Slight rolling hills, but mostly flat and a gorgeous course. You get to run throughout the city of Victoria and out to the coastline over looking the water and mountains. It's breathtaking." - Jacquelyn Scofield
19. NATIONWIDE CHILDREN'S HOSPITAL COLUMBUS HALF MARATHON
Columbus, Ohio | October 16, 2016
"The course is flat and fast with an abundance of spectators at almost all points of the course to keep you moving. With the race in mid October the temperatures are typically good. The race also supports a great cause!" - Andie Cozzarelli
20. HUMBOLDT REDWOODS HALF MARATHON
Weott, CA | October 16, 2016
"This is an incredibly scenic run through massive redwood trees. The course is an out and back with rolling hills but it feels very downhill both ways. Great support and usually perfect weather! This was my first half marathon and I loved it!" - Megan Rolland
21. Big Sur Half Marathon
Big Sur, CA | November 13, 2016
"It's my hometown! Part of the course is where I get the luxury to train almost everyday. It's absolutely beautiful! Your view is of crashing waves, Cannery Row, Monterey Aquarium, Pacific Grove Coastline - and maybe a whale sighting! Great destination race." -  Heather McWhirter
22. Phoenix Rock n' Roll Half Marathon
Phoenix, AZ | January 14, 2017
"This race is in my hometown and is really special to me. I ran it for the first time in 2012 and won with a fast time, then paced Caitlin Comfort this year as my first workout back after having Hudson. Both times, the race was a great confidence booster. It's a flat and fast course with beautiful views of Tempe and guaranteed great weather." - Steph Bruce
23. Chevron Houston Half Marathon
Houston, TX | January 15, 2017
"It's flat, fast, and a hell of a good time!" - Caitlin Comfort
24. Carlsbad Half Marathon
Carlsbad, CA | January 15, 2017
"Running by the ocean is absolutely breathtaking! Great support, organization and finisher medals!" - Heather Lieberg
25. Sammamish Half Marathon
Redmond to Issaquah, WA | March 4, 2017
"This was my first half marathon and it was an incredible course to test 13.1 miles. It was a great spectator course, the path ran right along the road so fans could drive ahead and jump out to cheer. Flat, fast, and beautiful scenery for the entire route." - Heather Stephens
26. United NYC Half Marathon
New York, New York | March 19, 2017
"Having just run this one for the first time this year, I would highly recommend it. A great course, where not only do you get to run around Central Park but you run straight through Times Square where a big screen shows you running. Bonus of this event is before and after the event you can enjoy NYC, think Broadway shows and food!" - Catherine Watkins