LOUISE STOKES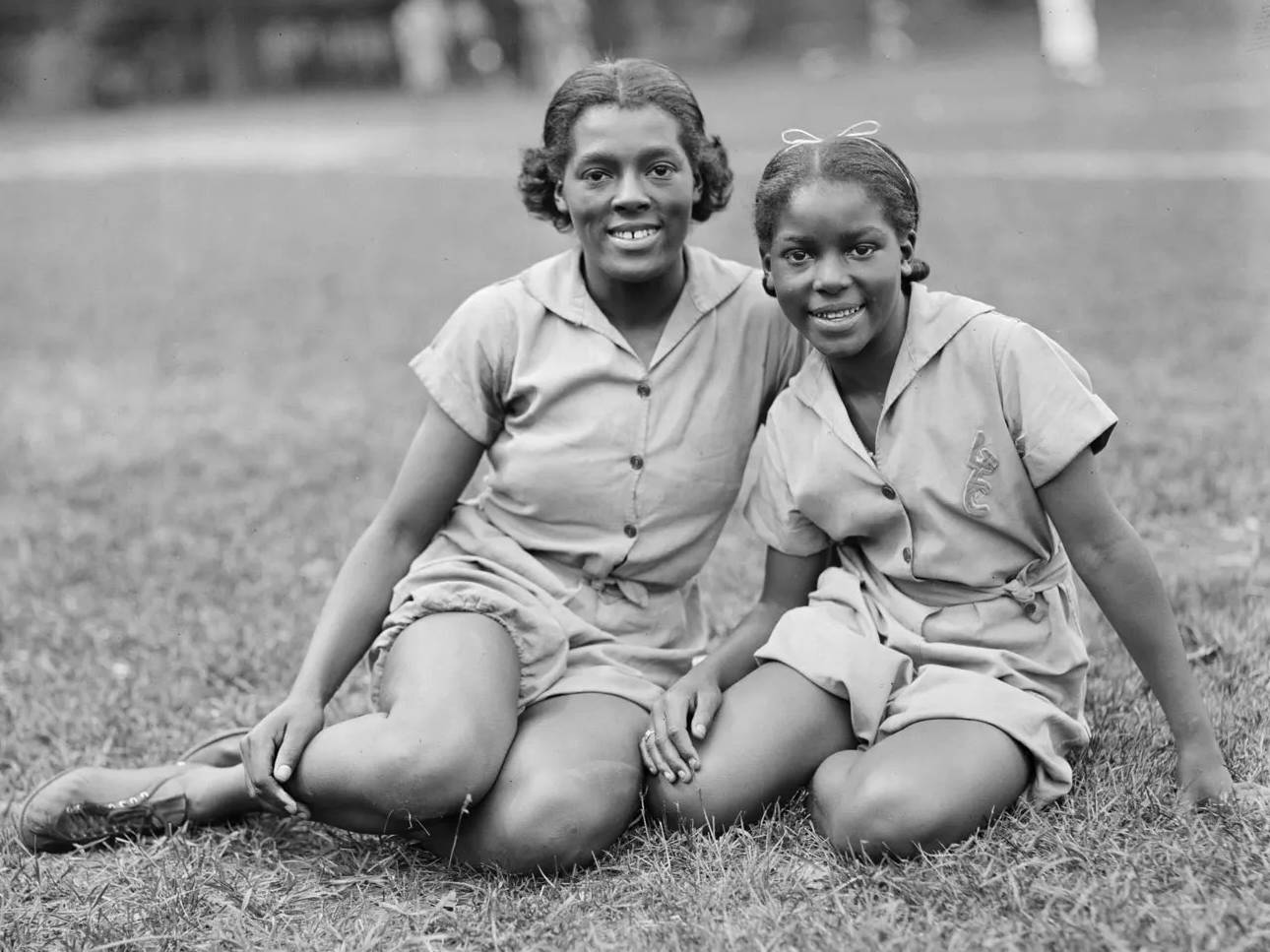 ONE OF THE FIRST BLACK WOMEN TO REPRESENT THE UNITED STATES IN THE OLYMPIC GAMES (1936 BERLIN)
Louise Stokes (left) shown with her younger sister Agnes (right), taken in 1937.
Louise was born in Malden, Massachusetts in 1913 and was the oldest of six children. Her father was a gardener and her mother was a domestic worker.
Her quickness on the middle school basketball court prompted friends to tell Louise to join track. There she participated in sprints and jumping events, and set at New England record in the 100m.
While she was running for the local Onteora Track Club, Louise set a world record of 8 feet, 5.75 inches in the standing long jump. This jump was her ticket to the 1932 US Olympic Team Track and Field Trials.
Like Tidye Pickett, Louise's 100m time at the 1932 Olympic Team Trials was fast enough to earn a spot on the 400m relay team, but they were both left off the final lineup in Los Angeles by coach George Vreeland. And during the infamous train ride to the 1932 Los Angeles Games, Louise would also find herself on the receiving end of teammate Babe Didrikson's blatant racism and was excluded from team events along with Tidye.
Louise made the 1936 team as well, but was once again left off the relay team. This time, however, from the stands of the stadium Louise watched her teammate Tidye run in the 80m hurdles and become the first Black American woman to compete in an Olympic Games.
Louise's hometown of Malden raised the funds for her journey to the Berlin Games ($12,543 in 2020 dollars), and celebrated her with a parade and reception when she returned.
There would be no 1940 or 1944 Games due to World War II, and both Louise and Tidye would not get another chance at making an Olympic team.
Louise took her experience of being excluded in athletics and used it to found the Colored Women's Bowling League, a safe space for Black women to compete in a "benchless" sport.
Louise passed away on March 25, 1978 at the age of 64. Peace be to her memory.
---
LEARN MORE ABOUT THE ATHLETE:
"Louise Stokes: Black Olympian Who Never Got a Fair Shot," Jae Jones, Black Then, September 14, 2018
"Olympic Pride, American Prejudice," film, released December 5, 2016.
"Olympic Pride, American Prejudice: The Untold Story of 18 African Amercians Who Defied Jim Crow and Adolf Hitler to Compete in the 1936 Berlin Olympics," by Deborah Riley Draper and Travis Thrasher, published February 4, 2020