ELLA WILLIS
ELLA WILLIS
BORN SEPTEMBER 2, 1957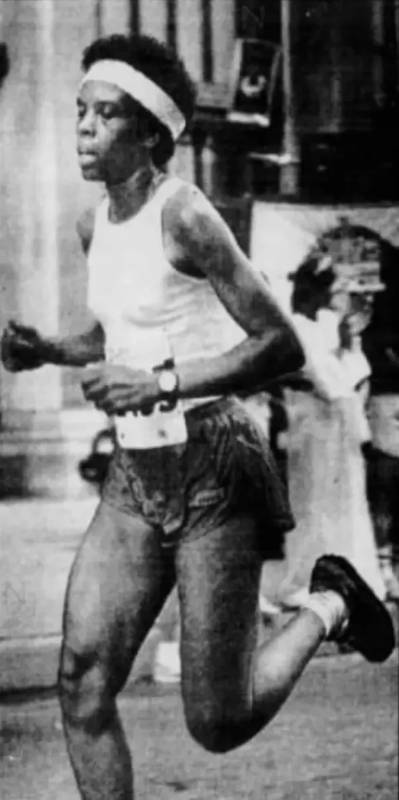 U.S. OLYMPIC MARATHON TRIALS
DETROIT FREE PRESS MARATHON
1975 (MOTOR CITY MARATHON)
1978
1981
1988
1989
1991
1992
1ST
4TH
4TH
1ST
1ST, NEW COURSE RECORD 2:38:20
1ST
3RD
ULTIMATE RUNNER COMPETITION, JACKSON, MI
(10K, 400M, 100M, 1 MILE AND MARATHON IN 10 HOURS)
WINNER, ALL FIVE EVENTS
WINNER, ALL FIVE EVENTS
OVERALL WINNER, MARATHON
DETROIT'S QUEEN OF THE MARATHON
YOUNGEST PERSON TO WIN THE DETROIT FREE PRESS MARATHON
Born and raised in Detroit, Michigan, Ella enjoyed running from an early age. In high school she ran both track and cross country (the latter with the boys' team, as there was no girls' team at the time). "It was ultimately my mother, Mary Cash, who suggested that I get into marathon running. I had never heard of a marathon and when she suggested I run one I said, 'What's that?'"
In 1975, running her debut marathon at age 17, Ella Willis won the Detroit Free Press (Motor City) Marathon in 3:13.51 and became the second African American woman to win a marathon (after Marilyn Bevans). Over her competitive career she would win this race four times (once with a PR of 2:38.22 in 1989.
After graduating high school, Ella kept training and racing. One night while out running, the women's track coach at Macomb Community College noticed Ella doing 400m repeats, at 68 seconds a pop. It was just four days before the new semester began. He persuaded Ella to enroll and join the team. She broke two national junior college records and a third in a two-mile relay with other teammates.
Aside from other races, from 1984-88, Ella also competed in the invitation-only Ultimate Runner Competition in Jackson, MI, which consisted of running five events — an early morning 10K; mid-day 400, 100 and mile; and a late evening marathon — all within 10 HOURS of each other. She won all five events her first two years. In 1988 she finished first overall in the marathon portion.
"It's a breeze for me to win the sprints. By the time I get to the marathon, I'm warmed up and ready to go. It doesn't pose as many difficulties as starting a marathon cold. The only challenge for me is trying to win all five races."
Ella placed 24th in the 1992 U.S. Olympic Marathon Trials in Houston, Texas in 2:43.08. She continued running competitively into the mid-1990s, and in 2017 she was inducted into the National Black Distance Running Hall of Fame.
---