DR. JANIS KLECKER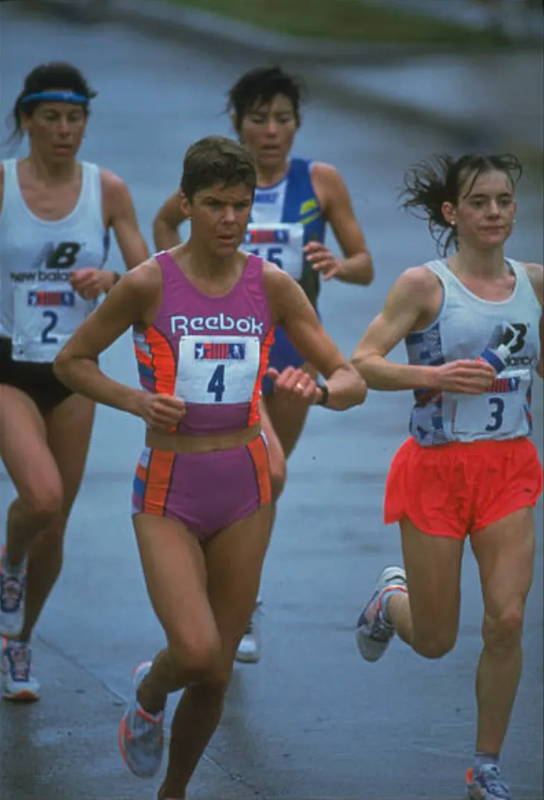 U.S. OLYMPIC TEAM MARATHON TRIALS
1984 OLYMPIA, WA
1992 HOUSTON, TX
1996 COLUMBIA, SC
"For Janis, running a marathon is like brushing your teeth. Funny I should say that about a dentist." Francie Larrieu Smith, 1992
Janis Kristin Horns was born on July 18, 1960 in Bloomington, Minnesota, and only started running around the age of 19. In October 1979 she was going to use the City of Lakes Marathon as a 15-mile long run, then find her mother (who was trying to BQ), and finish the race with her. But at mile 15, Janis realized she was in third place. So she kept going, and finished in under three hours. (Don't worry: her mom BQed without her, and would run Boston four times.)
Janis would return to the same marathon the next year and win, with her boyfriend Barney Klecker pacing her. The two of them would marry in 1981, and a Gopher State running dynasty was formed.
In 1987, Janis graduated from the University of Minnesota School of Dentistry (where she also ran XC), joined a practice in Minnetonka, and still sees patients to this day.
Janis would qualify for five U.S. Marathon Trials, compete in three (1984 Olympia, 1992 Houston, 1996 Columbia, SC), and would come in first in Houston to make the U.S. Olympic Team for Barcelona, even with a fall. Janis became tangled up in a competitor around a mile 15 water station and went down. The lead pack went on without her, except for Cathy O'Brien who stopped to help her up. The two would catch up with the lead pack and go 1-2.
Janis and Barney started a family in 1993. Twins John and Mary were first, followed by Sarah, Joe, Elizabeth (Bit) and James. And they all ran – 5 of the 6 of the kids were even on the Hopkins High School XC team at the same time.
On June 18, 2021, Janis Klecker watched from the cushioned seats of renovated Hayward Field as Joe made the U.S. Olympic Team in the 10,000m. "Having her there gave me a lot of extra push. She has been guiding me this whole process." They are the second mother/son combination in track and field for Team USA.
---