Theresa Hailey, aka @runninggingerly, has achieved legend-status in Oiselle circles for her persistent positivity. After an amazing build-up to Boston last year, she had a less-than stellar race, but jogged back to the Oiselle cowbell corner and cheered her face off for the rest of the team for several hours. Her Marathon Olympic Trials race took her to a new level. She was ranked 375th heading into the race, PR'd by 1:26 and finished 77th in 2:42:49, smiling, pumping her arms, and making heart symbols every time she ran through cowbell corner. After the fashion show that night (where she busted some epic dance moves), I asked her for her secret. Her reply: "I just really focused on my mental prep." And here are the details for all of us to learn from. -Dr. Lesko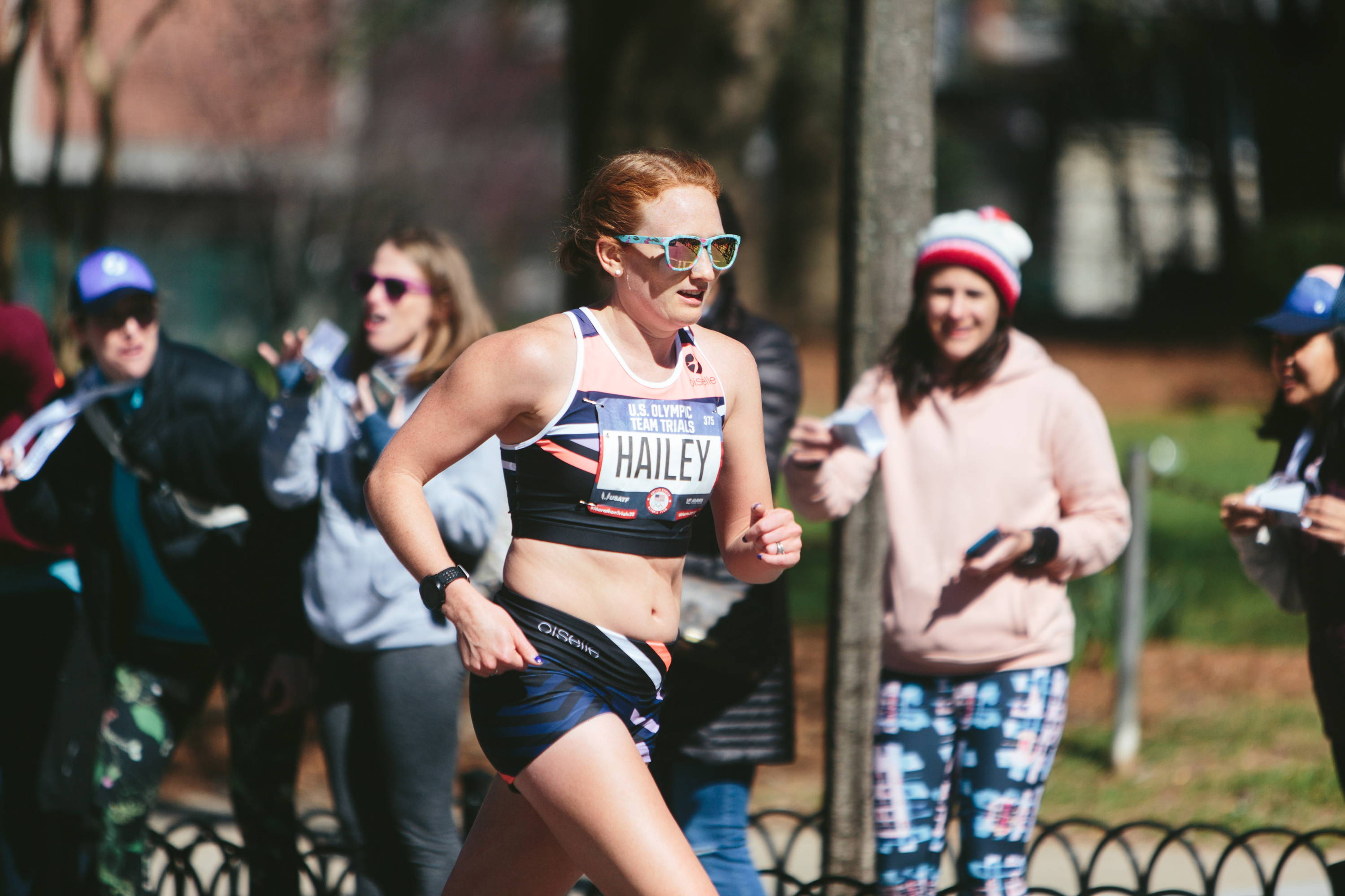 There are so many aspects of race preparation that come into play when training for a marathon. I would love to be able to say that each cycle requires the same recipe, and that next time I run a marathon I will be able to run with the same Joy and Passion that I exuded on the course in Atlanta. The reality of it is, there is no secret to having a race like I did. I put in the work like everyone else and I just so happened to have all of the correct puzzle pieces to build a masterpiece of a race. I spent a lot of time preparing for this race in particular, but just 4 weeks out from the race it dawned on me that I was physically ready to run the race, but I was having doubts about my mental state. I pride myself in being the most positive person you could know - but when it came to thinking about RACING a marathon again, I was feeling really scared. Scared that I would feel the way I did at Boston again. Scared that I would not be able to repeat what I had done in training. Scared that I would be out on the course hating every minute of it. It was these fears that forced me to look at my mindset in all areas of my life, and create an environment for my thoughts that didn't have room for negativity. Starting Feb 1st, I refocused my training on my mental game:
At home, I followed the wisdom of Kara Goucher's book, STRONG, and started a confidence journal. Every night before bed I wrote at least one positive thing about my training. I also noted *thankful* in my training journal on days I felt extremely thankful to have a training partner or a coach present.
At work, I put up sticky notes with phrases like "You are prepared!" and "You deserve this!" In my daily planner I created a space just for gratitudes. I filled these in every day.
The night before the race I reread my confidence journal and wrote a letter to myself. This letter contained all of the reasons why I knew that I was capable of running a good race. Grit. Health. Consistency. Power. Strength. Team. Speed. Experience. Just have fun.
Each one of these words speaks to me on so many levels, and by the time the race started, I had filled my cup so full of positivity that there was physically no room for negative thoughts to creep in, allowing me to race with PURE JOY.