Paralympian and Haute Volée athlete Jenna Fesemyer will be competing in Tokyo in the 1500m, 5k, and marathon (T54 category), August 27th - September 5th. Follow along her journey with us!
Holy moly, we did it!
I am still in shock that we are really Tokyo bound. Honestly, there was a part of me deep down that thought my dream could go unsatisfied. The reality of it is that I don't have the body characteristics of the "optimal" wheelchair racer. I have short arms, an unnatural seating position, and I carry a normal-sized right leg with me that stamps me as the biggest women's wheelchair athlete in the professional field. BUT -- hard work beats talent any day of the week, and I was happy to capture my dream in June.
During Paralympic Trials weekend in Minneapolis, MN, it was HOT as could be, and it was our first big track race after we experienced the wrath of COVID-19. A lot of us, still mourning the past year, strapped up our gloves and racing chairs to experience some sense of normalcy in making the Tokyo 2020 Team.
I first raced the 400m, knowing that my smallest chance of making a team would be in that event. I lined up in an outside lane and told myself to hold the stagger as long as I could. The gun went off and we battled the headwind coming out of the curve. I looked up as we soon came down the final stretch and counted the women in front of me. 1...2....3....4.... The outcome? 5th place. I knew instantly I didn't have a chance to qualify in the 400m because, as one of the qualifying marks to the team, you must be top 3 in your event (it's called a start right). Onto the next.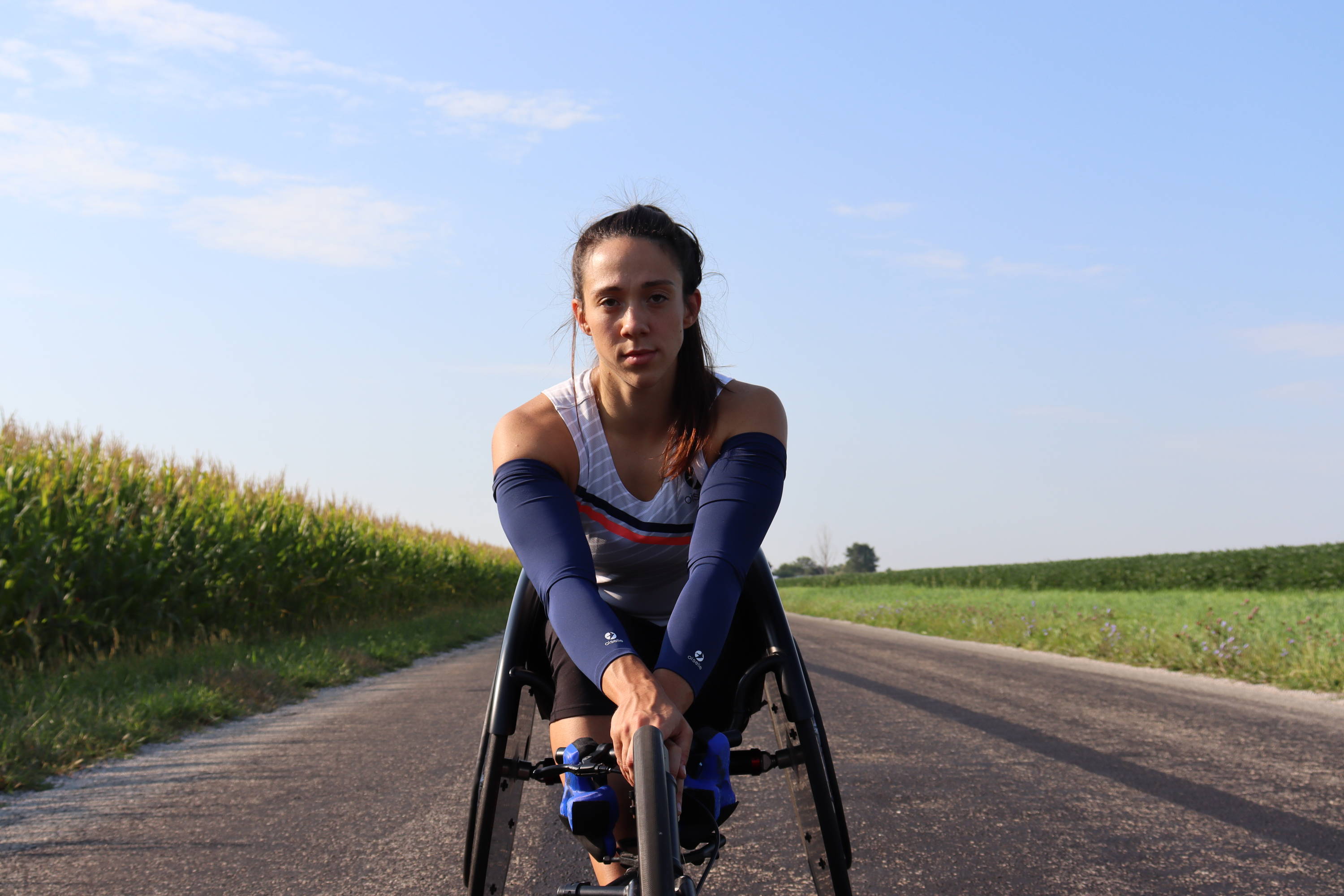 The next morning, we had the 5000m. The call room was QUIET. There was no strategy whispered or small talk made. Just intensity. The race came down to the last few meters and I walked away with a start right. What was the time? Oh.... 86% of the US Paralympic Standard. That won't be high enough to make it on the team. I knew I was going to have to get top 3 in another race with a much higher percentage. I had to keep my chin up. There is still room for hope here.
On the last day of Trials, I had two more races left. Two more chances to make the Tokyo Team: the 800m and the 1500m. The 800m was in the morning session. I looked around in my heat and knew that it was going to be a fast one. I was battling some competition fatigue at that point and knew I needed to talk myself into another full day of competition. The gun went off and my start was slow - I snuck in the back of the draft line and hung on for dear life. I tried to sneak around the draft line at the final stretch and didn't give myself enough time. Another 4th place. No start right = No chance.
There was no strategy whispered or small talk made. Just intensity.
And that leaves us with the 1500m, which was the last event of the entire US Paralympic Trials. After a 4th place finish in the 800m, I knew that I needed to get into gear for the 1500m. I immediately congratulated my competitors, went back to our team tent, and started to re-hydrate myself and take in some carbs. "Onto the next one," I remember telling myself. "Of course you waited until the last event to try to qualify for Tokyo!"
I remember waiting in the call tent. I thought I was going to vomit. I kept looking over to my mom, who, after coaching track & field for 30 years and coaching me in high school, knew exactly what was going through my mind. Go out strong. Get in the draft line. Don't let your breathing take over. Relax your arms. Listen to your surroundings. Follow the surges. Fight like hell to the finish.
With each lap that passed, I could hear my mom talking to me from the sideline. "Come on, Jenna. Be strong, Jenna!" I love hearing her voice so much, but I couldn't let myself get emotional. Do it for Mom. Make her proud. Make her see the difference in the athlete she coached in high school. Finally, with 200m left to go, my kick was enough to get me through the finish. 3rd place. I jogged a couple of cool down laps in relief and went to the tent to calculate my percentage. 97%! This number was much more promising, but we weren't out of the woods yet. Now we wait until next Thursday for the team announcement.
The team announcement day at the end of June was like any other day. I woke up, had a cup of coffee, went to training, worked remotely, and I even went furniture shopping right before the Tokyo Team announcement. I knew that later on that day, my life would never be the same: I would either be discerning what life would look like with an extra three weeks built into my August calendar, or I could be planning my trip to Tokyo. I even took a selfie in the bathroom mirror as I told myself I would never be the same after the team announcement (dramatic, I know).
I was easily in shock for about a month after the team announcement. Excitement surrounded me, uncertainty fell and then rose again, celebration dinners were had, workouts seemingly got harder, my inbox got busier, and I received a suitcase with a lot of white swooshes on the corners of the apparel that was folded inside.
I'm not sure what I thought making a Paralympic Team was like. For many years, I would hear my teammates share their experiences, but I never allowed myself to make those shared memories my own. I wanted to feel completely brand new to the journey when I captured it myself one day. I wanted to come in with no expectations and simply enjoy the ride. And with COVID, I think all athletes are in the same boat, whether they are vetted athletes with medals or are brand new to making Team USA.
Competition isn't a means to an end of making a team, rather, it's a celebration of sport. It's a celebration of how sport shapes us, our communities, our society, and how it unifies our world.
If there is one thing I learned from my journey in Minneapolis that I didn't believe before (and something I would tell to any aspiring athlete), is that not making a Paralympic Team does not discount the hard work or courage that an athlete has put into their training cycle. I have seen many athletes that I know, great athletes by the way, not make the Paralympic Team this year. It does not mean that their hard work has become their shortcoming. However, as sport begins to create a space for prioritizing athletes' wellness, we need to continue to recognize that a very small percentage of athletes "make it" and that one's performance isn't validated only if they make a Team. It's validated by WHO they are. Competition isn't a means to an end of making a team, rather, it's a celebration of sport. It's a celebration of how sport shapes us, our communities, our society, and how it unifies our world.
So, as I prepare to depart for Tokyo this Friday, I am reminded of my courage of showing up to practice when getting out of bed seemed hard or too much. I am reminded of the graces I have received through sport up to this point, like the gift of perseverance or the gift of humility. I am reminded that a lot of my character that I have today has been molded through my experiences in sport. And all those things I've received without making a Paralympic Team. Everything else on the other side of this long plane ride is simply icing on the cake.