Jenna Fesemyer
University of Illinois Wheelchair Track and Road Racing Team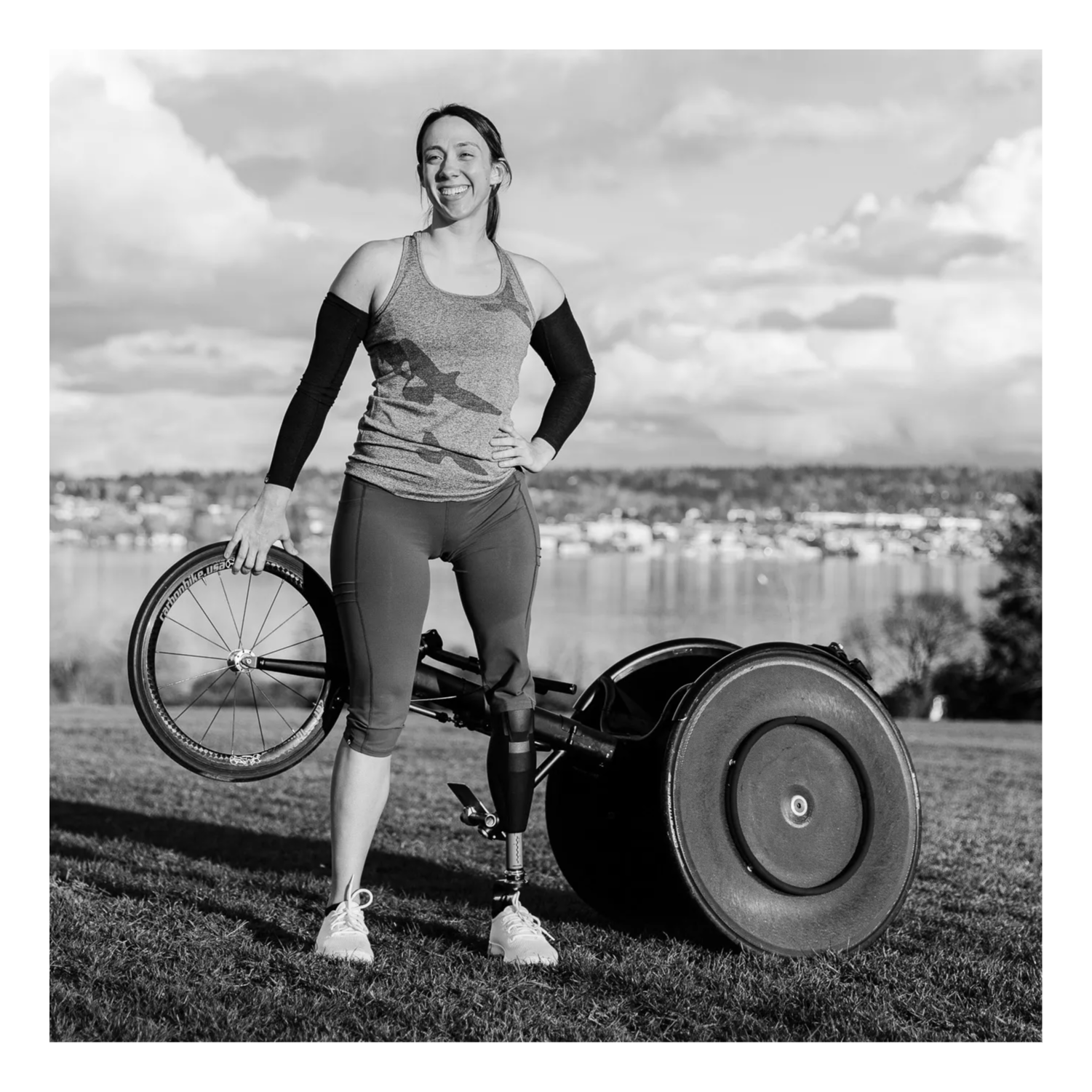 100M
400M
800M
1500M
5K
10K
15K
HALF MAR
25K
MARATHON
17.77
56.64
1:49.63
3:19.25
11:17
24:50
43:07
55:57
1:10:12
1:33:50
2023 U.S. Paralympic National Team
2022 Chicago Marathon, 3rd place 1:49:52
2020 Team USA Tokyo Paralympian (1500m, 5000m, Marathon)
2020 London Marathon, 3rd place 1:52:16
2019 U.S. Paralympic National Team
2019 Para Pan American Team (100M, 400M, 800M, 1500M, 5000M)
2019 LA Marathon 2:04:11 2nd
2018 Chicago Marathon 1:56:37 8th
2016 U.S. Paralympic Trials - 4th PL (100M, 400M)
Do you have a quote that guides, inspires, or embodies your training/racing/life?
"Spread love everywhere you go. Don't let anyone ever come to you without leaving happier." –Mother Teresa
What was your favorite sport in middle school?
I threw discus in middle school! I loved the feeling of finding a balance of strength and finesse as I danced across the ring. Little did I know this would bridge the gap into my career as a wheelchair athlete just a few years later.
Can you share your first sports bra experience?
In 5th grade I was an "early bloomer" compared to my friends. We bought a sports bra just to get used to the experience of wearing one. I still remember it to this day – it was bright pink! As I got older and tried on regular bras, I hated the straps and the wires. I've been wearing sports bras ever since!
What is your absolutely favorite piece of #flystyle and why?
I feel like a superhero when I wear pocket joggers (at any length!). You'll never find me on a race day without them on. I love the fabric and how it moves with me - There's no pinching, rippling, or riding up. The zipper pocket in the back allows me to store my phone/keys/snacks with ease!
Check out Jenna's go-to flystyle here.
How did you get into running?
I got involved in wheelchair racing in 2013 when the state of Ohio added wheelchair events to the Ohio High School State Track Meet (100m, 400m, and 800m). From there, I attended the University of Illinois at Urbana-Champaign (UIUC) to continue my academic and athletic pursuits. I am thankful for the opportunity to still train at the University of Illinois, which is the official U.S. Paralympic Training Site for wheelchair racing.
If you could give one piece of advice to a 12 year old girl, what would it be?
Don't ever let anyone put any limits on you! Recognize your gifts and do whatever it takes to use your gift to help others. You will have some setbacks along the way and you will have days that are tough, but you will also find a "tribe" that supports you and who loves you for who you are! Don't ever be afraid to lean on others throughout your journey.
Tell us about your favorite place you have ever traveled to:
My favorite place to travel to is Japan. My first time to Japan was for the 2020 Tokyo Paralympic Games! I've enjoyed going back to Japan every year for the Tokyo Marathon and I hope to visit one day for leisure!
What alternative career do you fantasize about?
I'm currently a 2nd year PhD student studying Recreation, Sport, and Tourism. I dream of becoming a professor to educate young adults about the intersections of disability, sport, and society.
What is your superpower?
Positivity. I believe the way we experience something has a direct correlation to how we choose to perceive it!
How has your relationship with running evolved over the years?
Wheelchair racing has been my favorite (and toughest) teacher. I've enjoyed refining the biomechanics of the sport over time as the sport continues to refine who I am personally and who I hope to be. Through it all, wheelchair racing has been a source of joy for me; A constant in my life that has seen me through many life stages.
Running makes me feel__________
At home within myself.