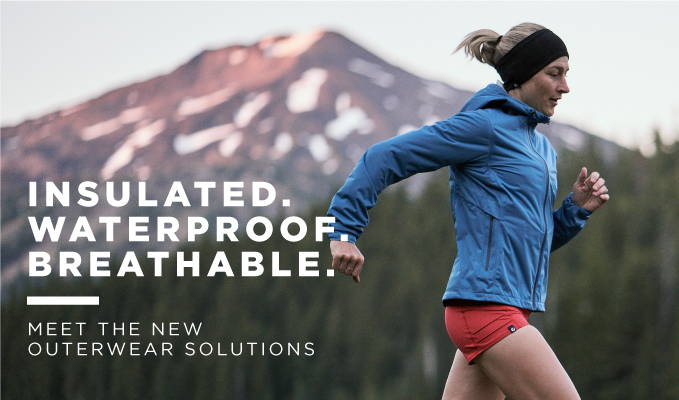 Outside running is good running. And outside running requires options. For the wind, the rain, the cold, the change body temp, from start to finish. It's a design challenge - one we happily sign up for. Like that fall marathon. Buckle up, friends. This season's outerwear is thoughtfully designed, beautifully colored, and technically excellent.
Let's start with the new Say Anything Jacket:
One of the most common questions we get about jackets is "Is it waterproof?" As designers of running apparel, it's a question that requires a bit of unpacking. First, in MOST cases, for MOST runners, wearing a waterproof jacket is not advised. Why? Because fabrics such as Gore-Tex are thick, heavy, and great at keeping water out, but don't let moisture our heat escape - from the inside out. So in most cases, water and wind resistance, like what you'll find in the Vim Jacket and Vigor Vest is ideal. And yet… we all know there's BIG WEATHER as my Mom used to say. When conditions get wicked - and that waterproof solution is JUST what you need. Enter Schoeller fabrics. The Swiss fabric mill that's been making high performing, weather denying, long-lasting fabrics for decades.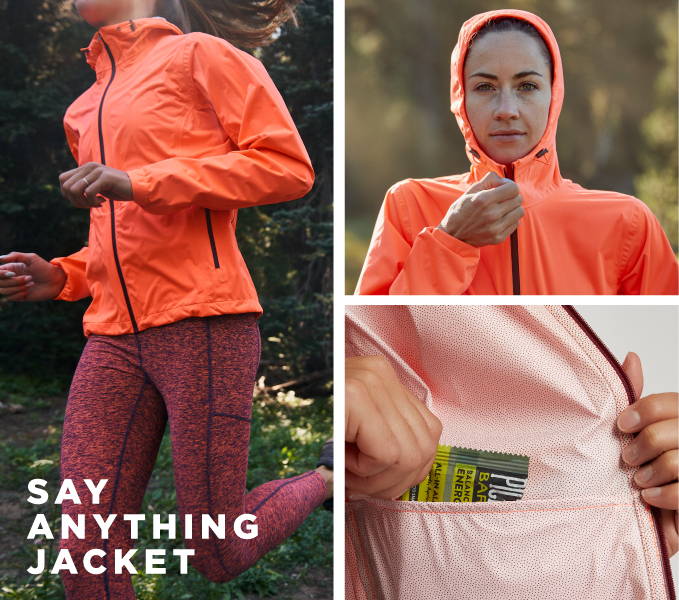 Meet the Say Anything e3+ Protection Plus 2.5 laminate, waterproof breathable jacket. A long way of saying: keeps water out completely - but also allows heat, moisture, and sweat to escape.
But all that's not possible with fabric alone. This jacket also features:
Waterproof Zippers. To prevent leakage at the front where most of the weather hits.
Seam Sealing. Every seam is sealed on the inside, to prevent leakage where the fabric panels come together.

Hem Fit Adjustability. With a simple, barrel/cord closure.

Great Fitting Hood. Again, seam sealed, and easy to adjust with a barrel/cord closure.

Ultra lightweight. Reduces weight on the run, but also easy to pack and tuck away.
Say Anything. It's our sleekest, simplest, most beautiful high-performance running jacket. In Snap of course! And our new beautiful blue: Pacific.
Plus! New insulated Vim and Vigor… the styles you know and love, with high-tech insulation.
The Vim Jacket and Vigor Vest have become Oiselle classics. Ultra lightweight - thanks to Pertex Microlight fabric - and easy to run in, or tuck away when the miles heat up.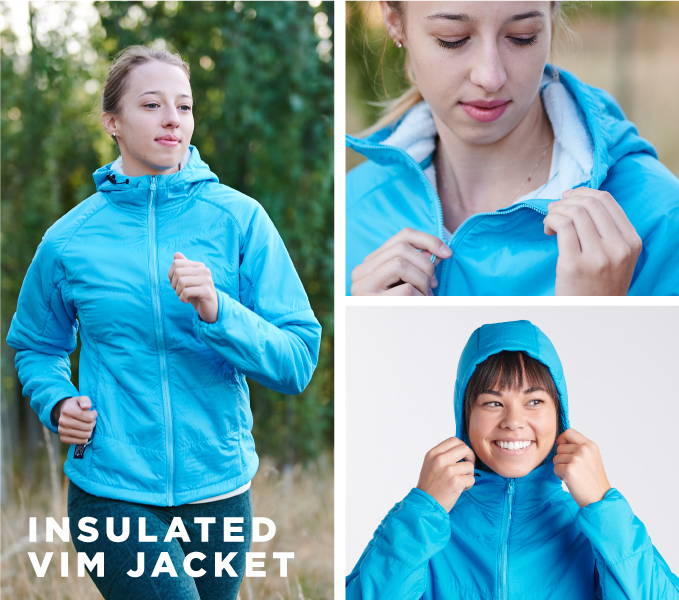 NOW… we bring you something new to these two favorites: Polartec Alpha Direct. It's the insulation, designed by our pioneering friends at Polartec, that requires no baffling or quilting. It sits on the inside of the garment, and is created specifically to sit next to skin. That means it keeps you warm in the cold temps, with its ultra soft fleece, but it also deals with sweat, moisture, and heat no problem - moving it all away from your body and skin.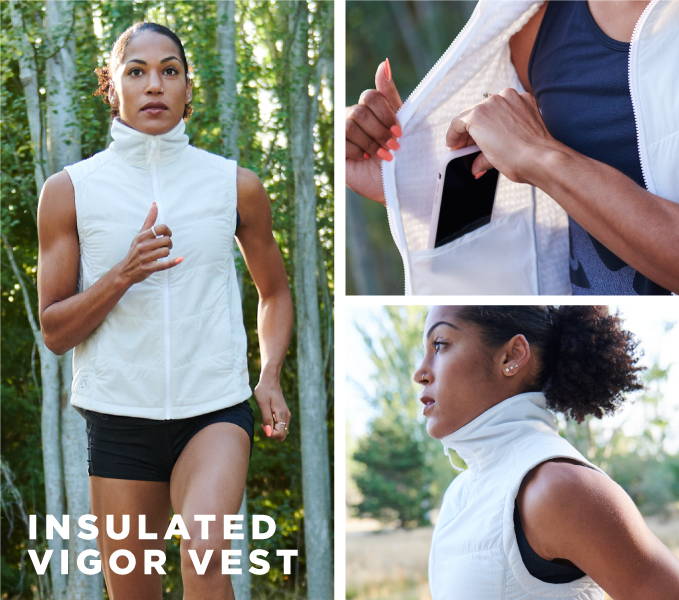 Both the Vest and Jacket bring you:
Water resistant and windproof Pertex Microlight shell fabric

Polartec Alpha Direct insulation. Lightweight warmth and moisture management

Zipper pockets, adjustable hem, adjustable hood (jacket)

Lightweight, packable, the ultimate mid- or outer-layer
And in beautiful, simple hues… Black, Frost, and BB Blue. Ready for running. Ready for winter. Ready for the keeping on!
As always, we're ready to answer any of your questions! @ us on social, or write us at hello@… we're here for you. Head up, wings out!