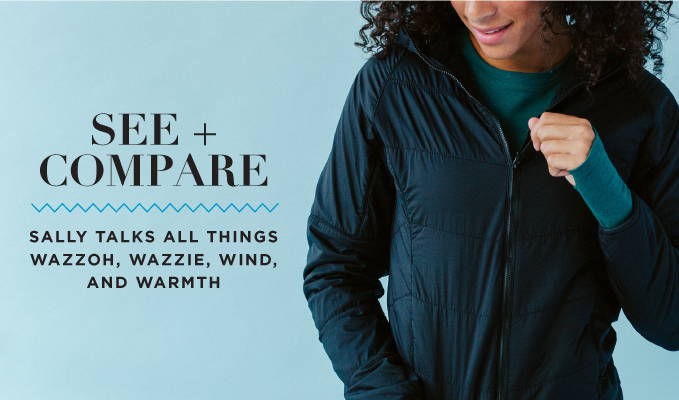 Outerwear for outer women. It's what we love to design and make, knowing that the only thing we need to stay outside, through the cold, dark months, is the right gear. This season, we're proud to offer you our fullest range of pieces — both for the RUN, and the AFTER RUN. All made with premium, technical fabrics. And with the big-but-small details (hello, Lux lined pockets) that you know us for.
---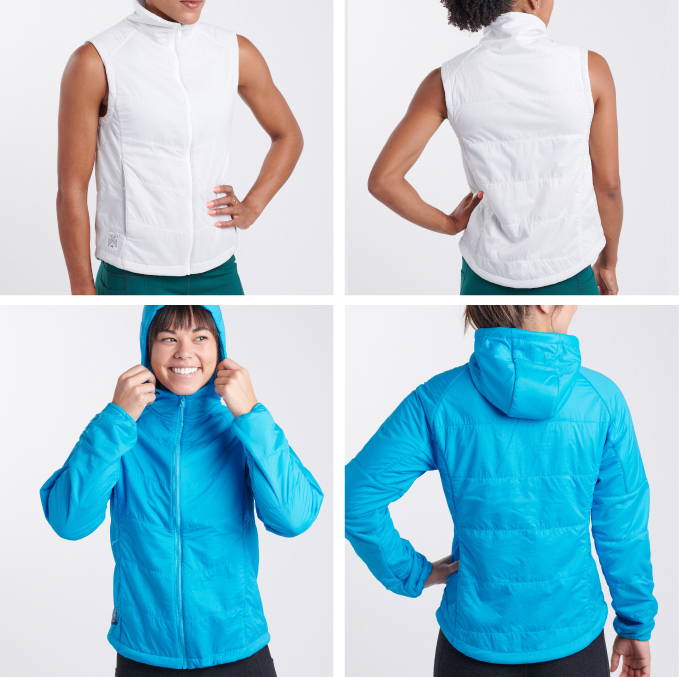 Top: Insulated Vigor Vest; Bottom: Insulated Vim Jacket
Lightweight warmth. Windproof protection. Designed for running.
There are a lot of insulated and puffy jackets out there, but most miss the mark in terms of what a runner needs in the cold, windy months of fall and winter.
Wind + Wind Chill. Both can be a huge factor in causing discomfort, chill, or even hypothermia. Our new Insulated Vim Jacket and Insulated Vigor Vest both use a windproof Pertex® shell fabric, keeping you shielded from piercing, cold winds. The microlight woven also makes the fabric highly water-resistant, protecting you through rain and snow.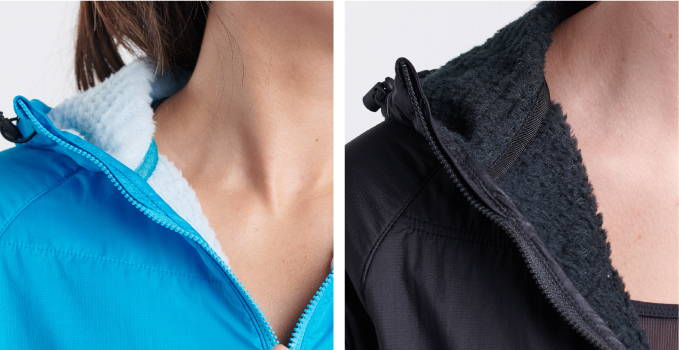 Insulation. Standard or heavyweight fleece, and/or down or synthetic down, are not designed for aerobic activity, where body temps and sweat levels rise significantly and cause those materials to "wet out." Meet the one and only Alpha® Direct insulation from Polartec®. Designed to sit next to skin, it is exceptionally lightweight, so you don't overheat, as well as engineered to move sweat up and away from your skin. Both the insulated jacket and vest are ideal get-outside-and-stay-outside solutions.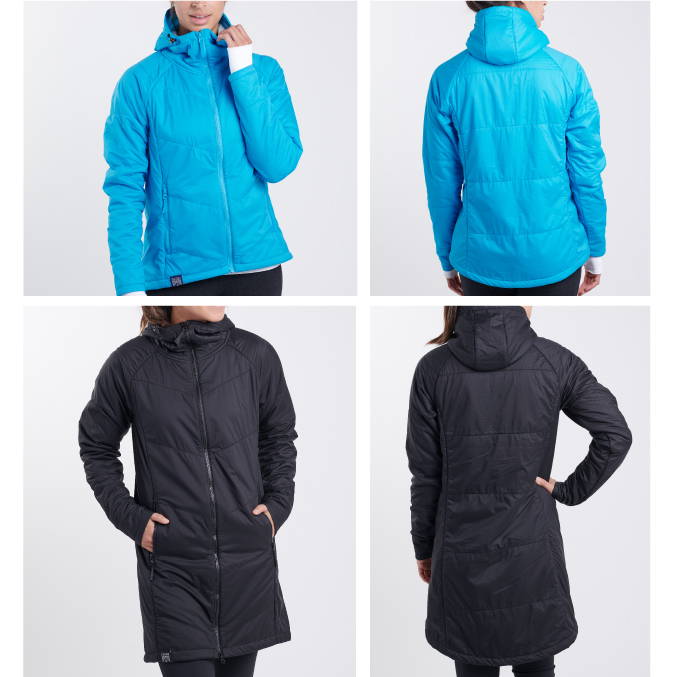 Above: Wazzoh Parka; Below: Wazzoh Long Parka
The DNA of a technical jacket. The fit of a relaxed parka.
Even everyday jackets can benefit from the technical goodness typically found in our running outerwear. The Wazzoh Parkas do exactly that. Using the same Pertex® windproof shell as used in our Vim/Vigor styles, as well as the lightweight warmth of Alpha® Direct from Polartec®, these pieces provide everything you might want for an active, outdoor life.
The Wazzoh Parka and the Wazzoh Long Parka provide two different lengths, but both have a relaxed fit, a tall and comfortable collar, two-way zippers, a fully lined hood, adjustability, and - get this - FULLY LINED LUX POCKETS. Oh yes. Pockets deserve nothing but the best.
Lastly, these parkas are ideal for travel. Easy to pack down, enduring fabrics, and packing a punch - in terms of weight to warmth ratio.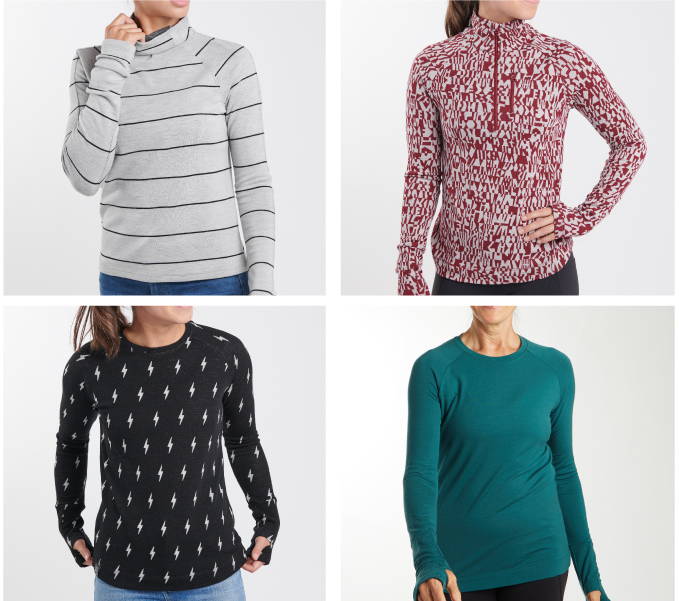 Clockwise from top left: Wazzie Wool Jacquard Mile One Pullover, Wazzie Wool Jacquard Half Zip, Wazzie Wool Long Sleeve, Wazzie Wool Jacquard Crew
The "Wow!" of Wool. It never quits.
Merino Warmth. Nothing beats mother nature's insulation. Merino is the miracle yarn in that it provides lightweight warmth, yet breathes.
Naturally odor resistant. Wool is a natural anti-microbial solution, resisting smells, even after multiple wears.
Responsibly sourced. All of our wool is sourced from New Zealand where there are strict animal welfare laws, and all wool must be responsibly sourced.
New this season: more Wazzie Wool Jacquard! The runaway hit is back, in new patterns and colors. The Classic Wazzie Wool Mile One Jacquard is as versatile as they come: ready for the run or rumble. There *may* be a few people in the office who will collect them all. The Wazzie Wool Jacquard Half Zip is the classic sport style of the Nordic skier… complete with front chest zipper. And then there's always room at the top for a classic: the Wazzie Wool Jacquard Crew is as comfortable over a long run as it is under a blazer.
And BACK, because it's always popular, is our original Wazzie Wool knit, with 7% spandex for that extra stretch. The new Wazzie Wool Long Sleeve is updated from seasons past, with a more relaxed fit through the body and arms. All of our Wazzie Wool is washer and dryer friendly, making it that much easier to wool up and run out!
There's more to see in NEW ARRIVALS, and, of course, if you have any fit or fabric questions, we're always here to help…on the socials or shoot us an email to hello@oiselle.com.
Happy running, friends!
---