The first 20 years of my life, my plan was to become a mom in my mid-twenties and stay home with my kids. The reason for this plan wasn't particularly deep: My mom stayed home with my sister and I, and it worked. And by "worked" I mean that we both stayed in school, got good grades and had success in sports, manifesting completely different opportunities than our parents had after high school.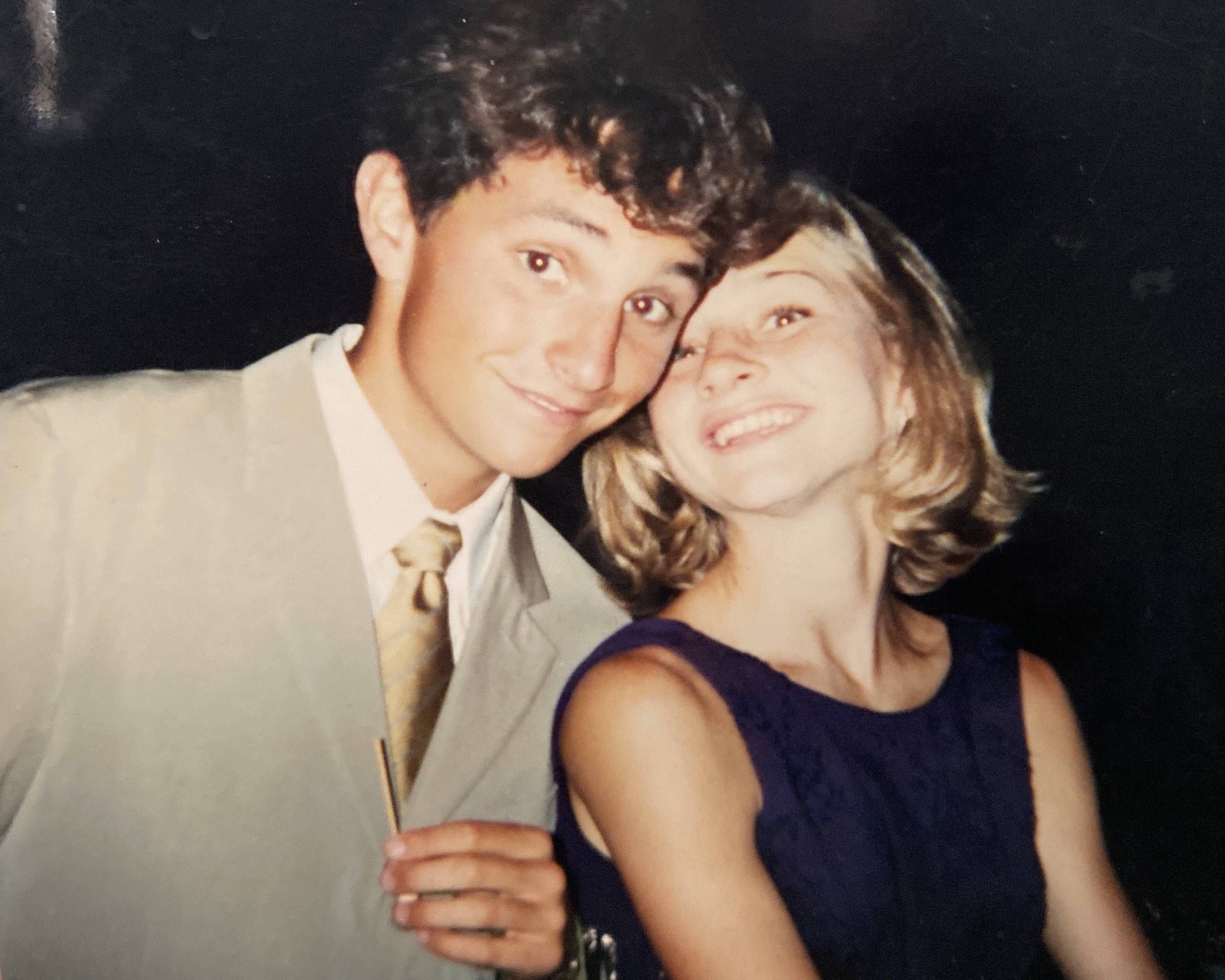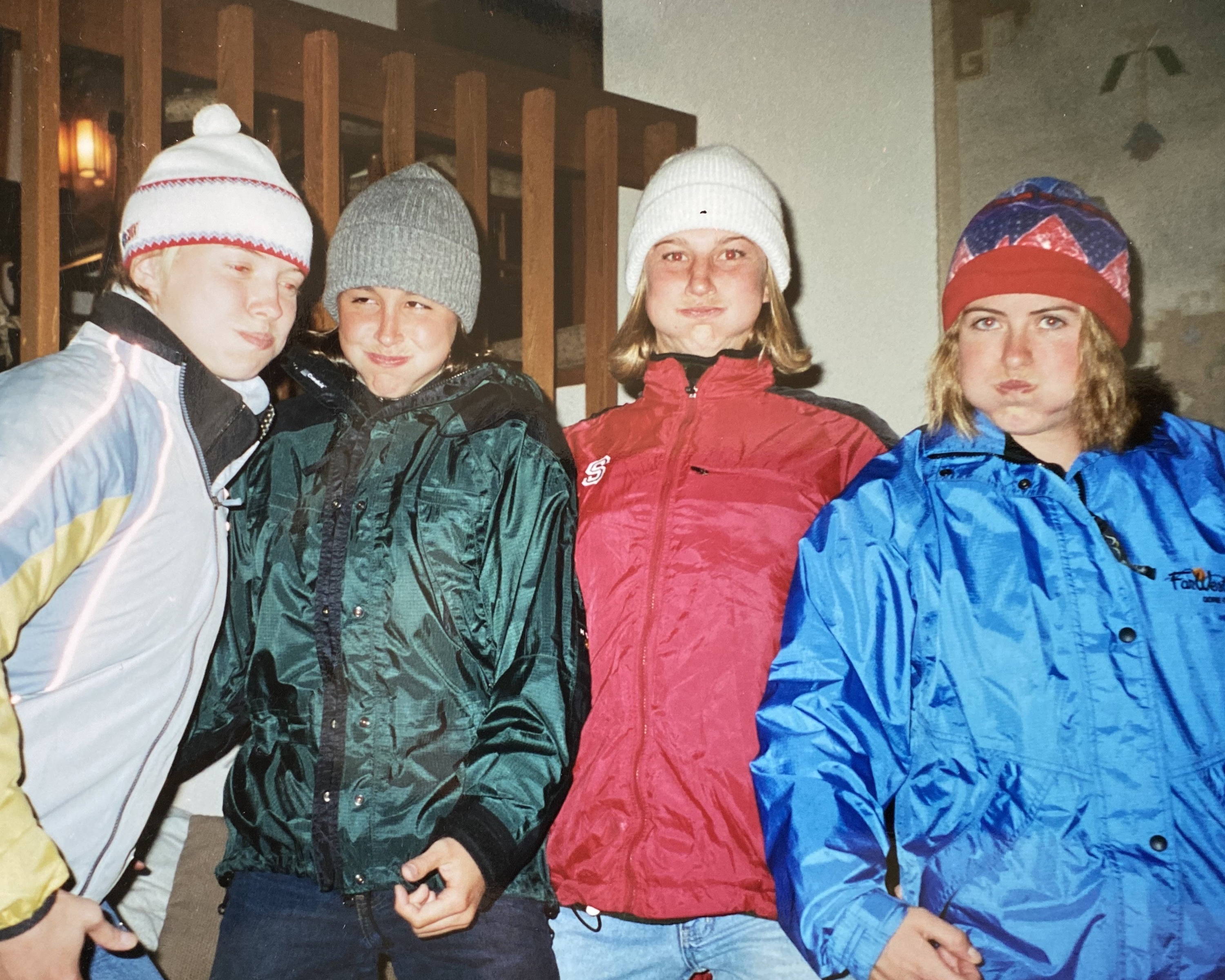 A lot happened in college, including taking what I call "The Class" about relationships and family.
All around me at Stanford, I was surrounded by female classmates with specific career aspirations. I had none, and I secretly found myself judging their future children. And then I signed up for The Class. If I had known it was a feminist class, I wouldn't have signed up, (I didn't call myself a feminist back then). But the title "Women, Work, and Family," called out to me in the course guide Junior year at Stanford. Maybe it was because I caught myself dreaming about being a doctor, but axed the idea for being incompatible with motherhood. Maybe it was because I started feeling strange about being halfway through a degree I really loved studying for, but didn't plan to use. Maybe it sounded like an easy 3 graduate units to soften an otherwise science-heavy course load. Whatever the reasons, the class itself changed the course of my life.
On the first day, the Professor had us go around the room and talk about our mothers' relationships to work and family. Eager to overcome any athlete stereotypes of disengagement, I volunteered to go first. As we went around the room of 20 or so, I was shocked to learn that I was one of only three children of a stay-at-home parent. I genuinely thought the room would be full of them.
My eyes were opened to a lot in that class, from divorce economics, to sexism, to household labor distribution and more. I left giving myself permission to explore more options for myself when it came to work and family. Staying home with my kids was still a perfectly fine choice, but if I was going to do that, I wanted it to be a conscious decision instead of a blind attempt to replicate what my mom did.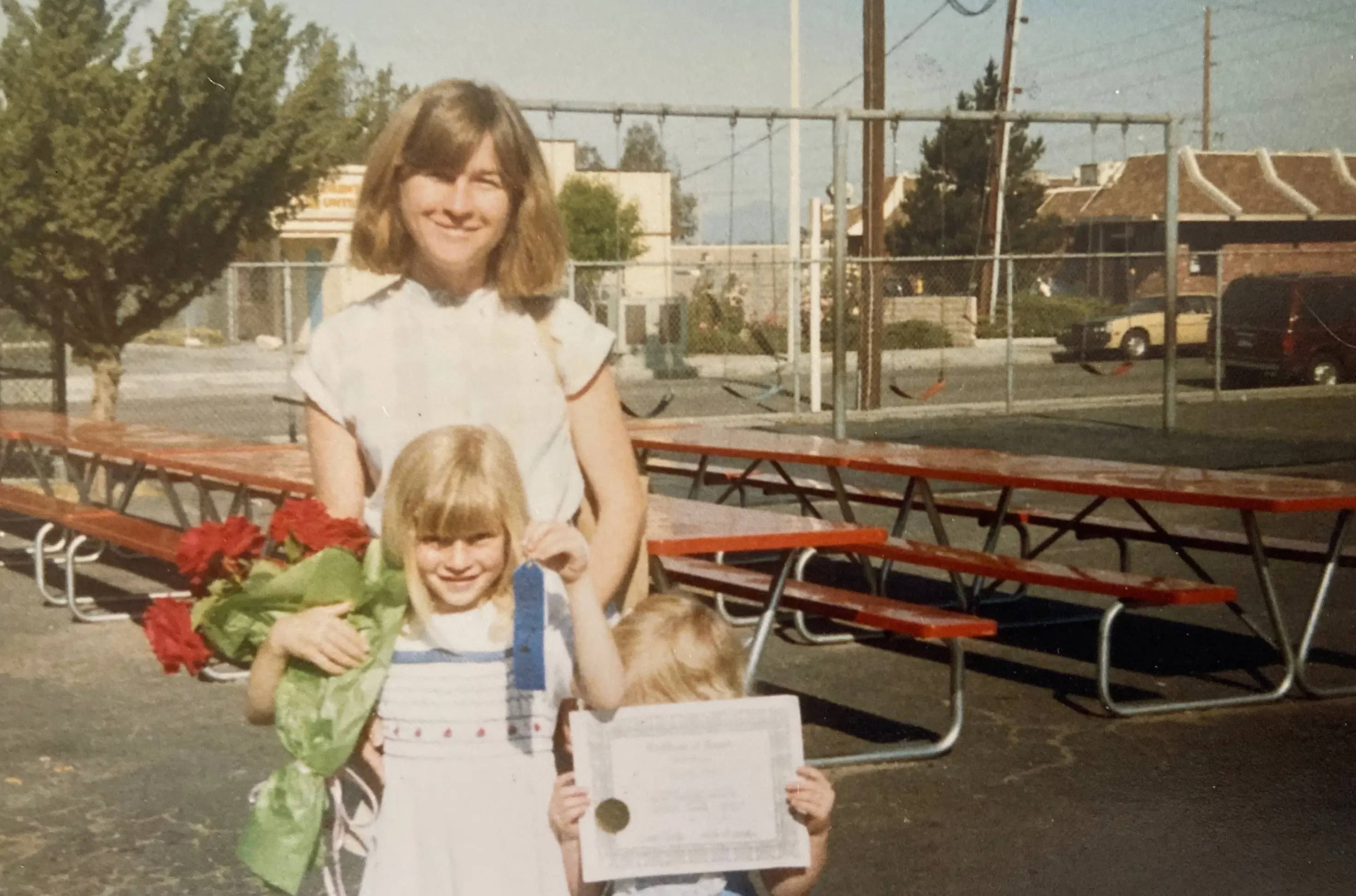 My mom, Joyce, and my sister, Lindsay.
My mom and I are very different people, after all. She loves the little things and big things that go into making a home, whereas I find most of them burdensome. She loves to nest and hunker down, and I am happiest when I'm off exploring somewhere without a plan. She is organized, I'm a disaster…the list could go on and on. As a new mom, I really struggled with my identity as a mother, mostly because I knew I couldn't live up to her example. I loved and needed my work outside the home to feel normal, and I felt guilty about it. This didn't compute with how I felt about other moms. Now in my 30's, I deeply respected so many women who had careers and children in my life, feeling so grateful for their contributions to their fields, and appreciating how awesome their kids were. Oiselle exposed me to many more ways of being a mom. I found myself cheering them on for finding what worked best for them. I wanted to respect myself the same way I respected them.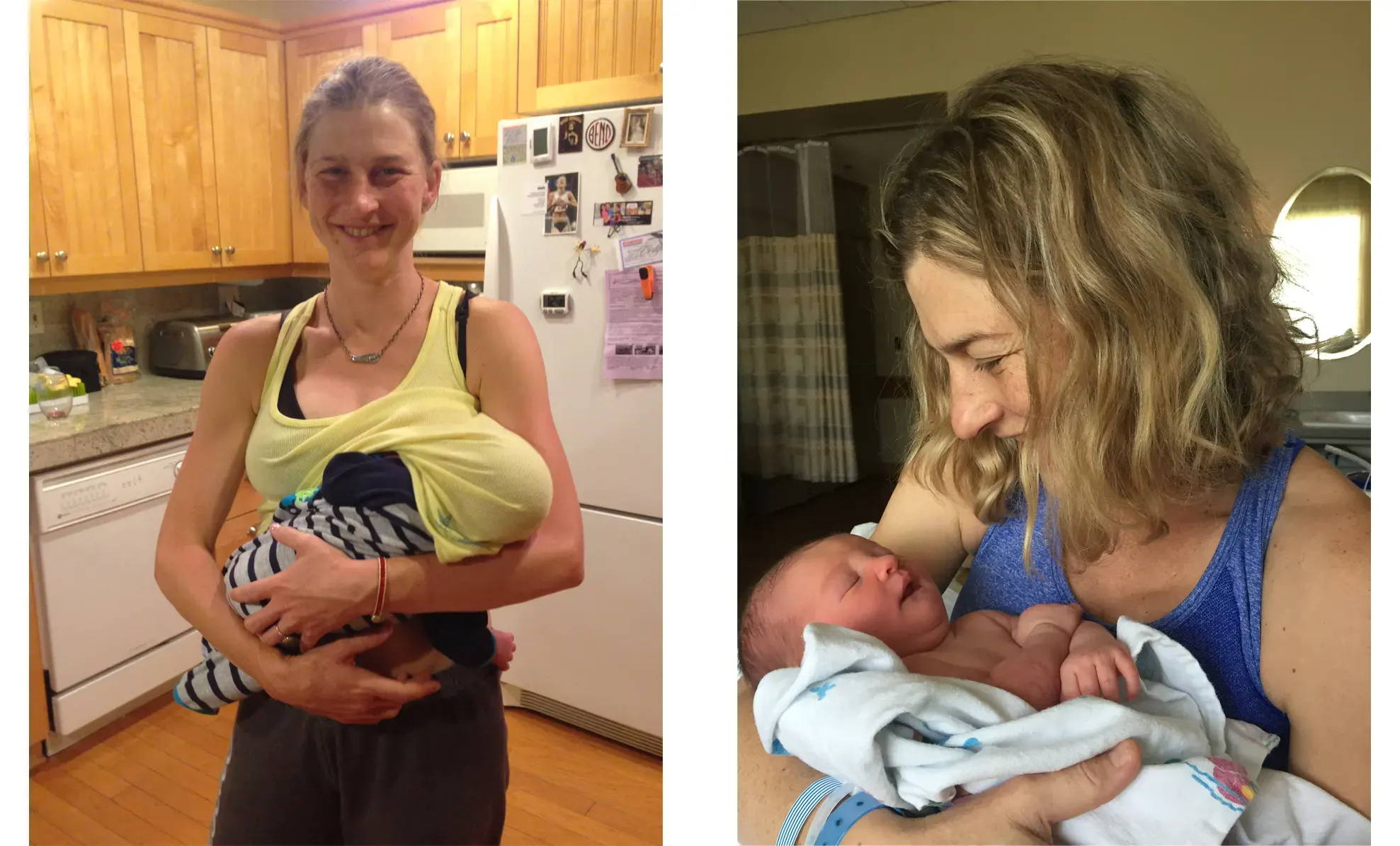 Welcoming Jude, then Zadie.
I accept that I am at my best when I serve up parenting in smaller helpings, with a hefty side of autonomy smothered in freedom sauce.
It has taken time, a second kid, and pep talks from my girlfriends along the way, but I've stopped looking anywhere but inside my own self for approval on how I'm doing as a mom. I love my kids, and I love my work. I accept that I am at my best when I serve up parenting in smaller helpings, with a hefty side of autonomy smothered in freedom sauce.
This was before COVID-19 of course. Suddenly, I found myself facing stay-at-home orders with no childcare. Like so many working families with small children, we found ourselves in a position to prioritize one person's career while the other person took on the lion's share of parenting and homeschooling. That old voice came back. The one telling me that I should be home with my kids anyway. That this was a chance to make up for the times I've been away. And so I didn't advocate for my work and we prioritized Jesse's. I volunteered for the 6am-11am work shift (which I rarely started before 8 because of exhaustion) and then took the kids for the next seven hours. I got worn down rapidly, couldn't focus while awash in anxiety, and then began to feel a frightening feeling of hopelessness settling over me. I freaked the fuck out, if I'm being honest.
I've been challenged as a mother during COVID more than ever before. The physical labor involved with young kids, the smell of urine on everything, the skid marks, the exploding laundry, the constant whining and negotiating, the fighting over toys, the tendency for the two year old to quickly find danger, the way they manage to break things that are important to me while I'm preparing what feels like their 12th snack of the day…these things are always the hard work of parenting, but they take on a new flavor during a global pandemic when you have nowhere else to go and are grieving the plans you had to give up.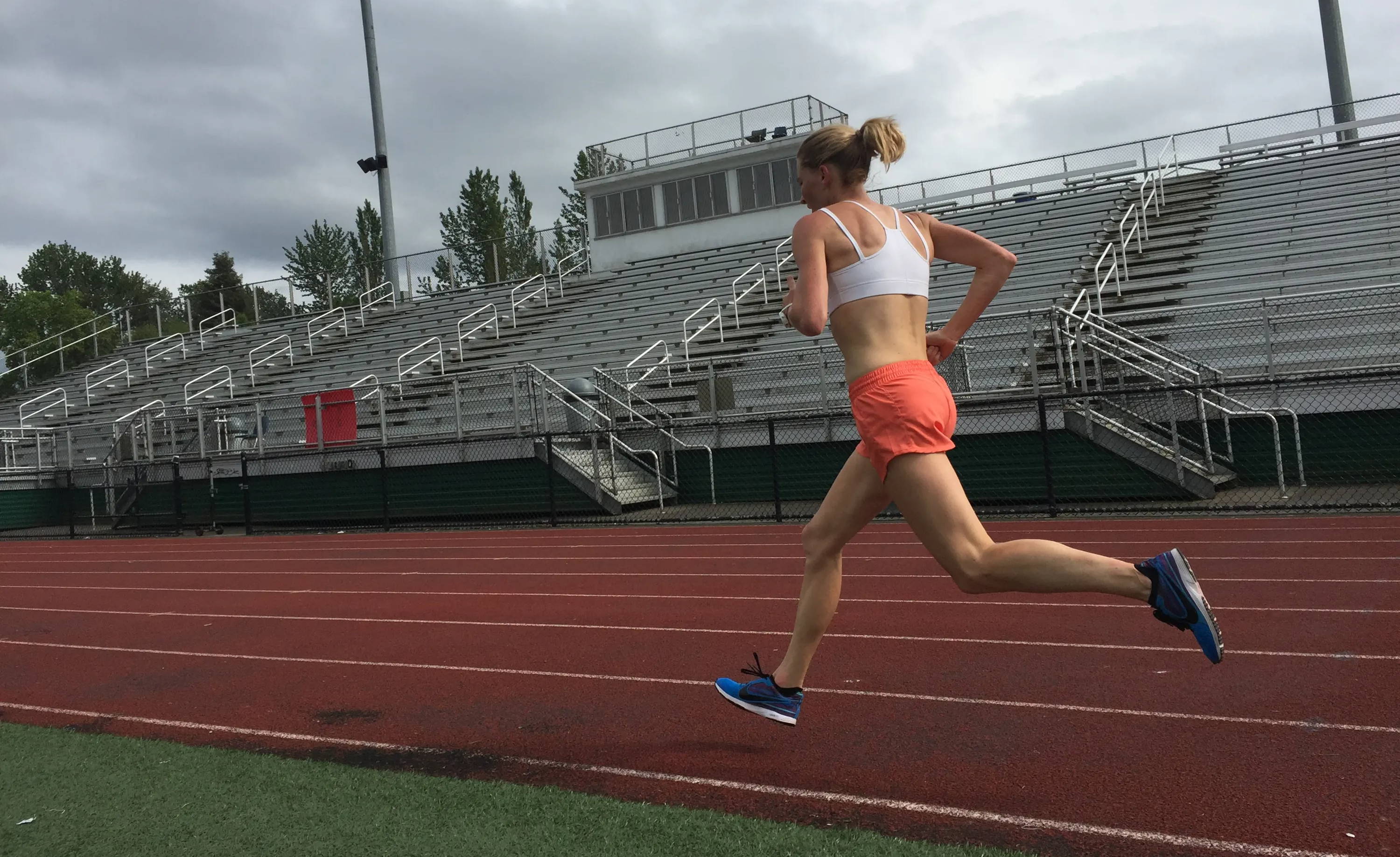 Without judgment. Without comparing to something that no longer exists. Simply carrying myself through it the best I can.
I've been fantasizing about getting a tattoo on my forearm of an empty bird cage, the door left cracked open. I yearn for space. For my mind, as much as my body. Yesterday, after an easy two mile run, I felt the urge to run a 200 on the track. Not crazy fast, but smooth. It's been forever since I did anything besides an easy couple miles a few days a week. I worked into it gradually, waiting to hear from my old hamstring injury, but she stayed quiet. I did another one, tentatively, and again it was ok. I jogged back to the start for a third, and got up to speed a little earlier this time. I felt good but caught myself slowing up before the finish line, a subconscious giving up that I didn't like to see in myself. I jogged back to the start one more time. This time I ran prouder, taller, all the way through the line. It was no faster than my old 5k race pace, but the time didn't matter. The important thing was how I carried myself through it.
Without judgment. Without comparing to something that no longer exists. Simply carrying myself through it the best I can.
And there she is as always, my teacher, the run.