Beth McAlpine's day job is helping me lead the design team. She works closely with our factories, the design team, our warehouse facility, and helps us all stay on track, timing and production-wise. She's the glue of our creative team!
Anyone at Oiselle will also tell you that Beth is a joy, who embraces life fully. She's an ultrarunner, a style and design follower, and for those who have road tripped with her, they know she packs the BEST cheese plates and snack baskets.
And last week, Beth started making masks for Seattle. So, we jumped on a quick call, to understand what she's doing, and how she was helping.

Q: How did it come about that you are now making masks?
A: I have a sewing and tailoring background. I worked in the alterations department at Nordstrom once upon a time!
Recently, I saw news stories about people who were sewing masks here in Seattle. I started poking around, and found The Riveters Collective. As an aside, that's the same group that submitted the crocheted dissent collars for RBG's birthday. And then I saw on the news that this same group was sewing masks.
Q: Are you working through that group?
A: Actually, I found a different group called The South Seattle Sewers Against Covid-19. From there, I got in touch with a man who works for the Downtown Emergency Services Center (DESC), Covid-19 Response Team. Their need was for masks, for critical outreach for the homeless community.
Q: Did they have a specific request – type of mask or other?
A: Turns out, they had a huge amount of people sewing masks, but not many people who are willing to cut and assemble the kits. The kits are bolts of fabric, 6 x 9 rectangles, 2 pieces of ½" wide elastic, or anything that would work. They've been out of elastic, so he went to the dollar store and bought cheap elastic headbands; plus the wire to go across the top channel, to go across their nose.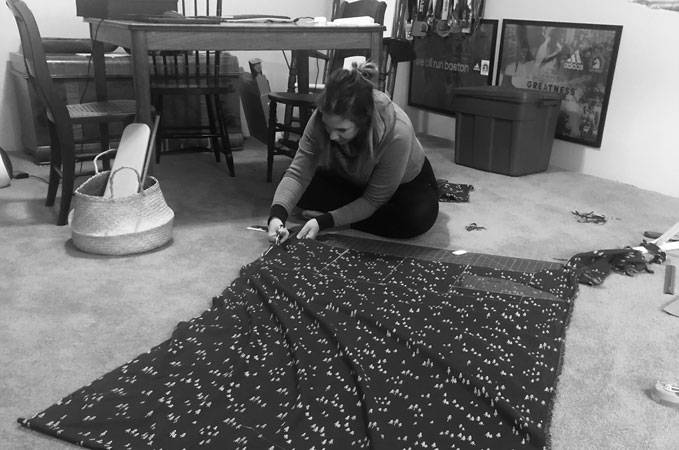 Q: So you're cutting the parts, and someone else will sew?
A: Exactly. One kit = 30 masks. Then he'll come get them, and distribute to the crafters for sewing. I figure I might make as many as 30-50 kits. It's ongoing. As long as we can get fabrics.
Q: We have a lot of fabric at Oiselle HQ. Could that be used as well?
A: Most of Oiselle's fabrics are knits, and wovens are better. They stretch less, and therefore provide a better barrier against germs.
Beth! Thank you for doing what you're doing. And helping so many people, even the most disadvantaged in the Seattle community. Head up, wings out – you inspire us!