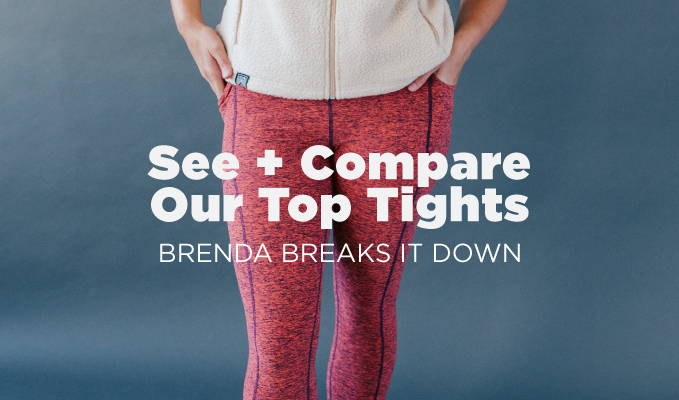 Nothing tells us we've nailed a design for the season more than your love and feedback. So when Sally asked for my low down on tights, I knew immediately who I wanted to ask and why. You! Our fans, in particular our Thursday Night Flight Club friends, because nothing beats a recommendation from friends! So without further ado, here are my two cents coupled with a direct scoop from the women who put our flystyle through the test all year round.
1. Herringbird ¾ Tights: A petite or tall woman's dream depending on your vibe. Petite gals expect this to fit more like a full length tight that stops right at the ankle. Tall ladies, give 'em an ankle show. Like all of our tights, the Herringbird is also designed with incredible stretch for that full range of motion no matter where the day takes you. Unlike Bird Hug, this is a mid-rise tight. The soft fabric basically prevents it from digging and of course it comes with a big zip pocket. Come on friends! Pockets are our thing!
In my opinion this is the most versatile tight of the season. It can take you from the office straight to the track or your kids' soccer games. No matter where your day takes you these tights will keep you looking chic and put together. Words straight from our in house fashionista Rachel Marie.
"While running isn't my thing. Fashion and comfort are. These Herringbird tights are so lightweight and lovely they remind me of a sporty trouser. I can dress them up or down depending on my mood. At 5'7 with a 31 inch inseam they're a fun length and add variety to my closet. Move over full length tights and capris. This is the tight of the season for me." -Rachel Kristjanson
2. Bird Hug Tights: Tall ladies rejoice. If you're been looking for a high waisted full-length tight, look no further than Bird Hug. These tights have it all. Exceptional softness plus a reversible design. Talk about more bang for your buck. Whether you're feeling bold and wanna rock one of our three fantastic prints or simply opt for a solid color, this tight delivers. And of course we designed it with a pocket to store all your goods or just your phone. While these tights have a 25.5" inseam, word on the street is these tights even work for women who have a 34 inch inseam. What? Don't believe, just listen to what Mandy had to say and why she literally owns five pairs! Five!!
"As a tall gal (5'9) with a 34 inch inseam, these tights are by far my favorite. The length is perfection and the high waist really keeps these tights in place. The giant pocket in the back holds my iphone so well I forget it's there. As an avid runner and fitness instructor these tights really go the distance. I love them so much I find myself teaching in them 3x a week. And for any ladies who've had kids, I call these my I've been pregnant pants. They just hold everything in (wink, wink)." -Mandy Lane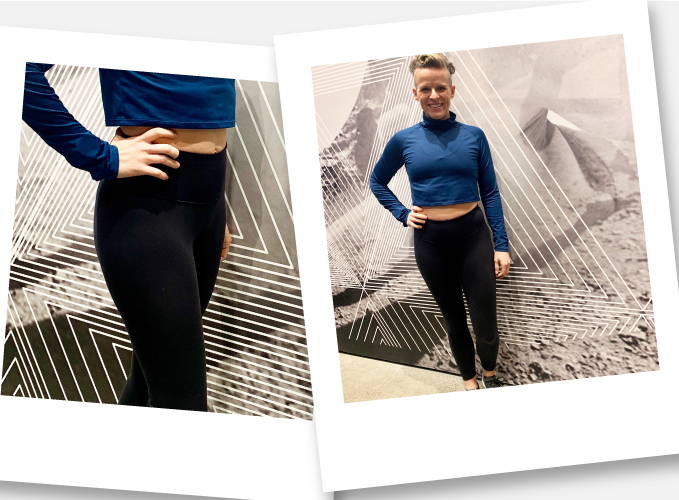 3. Lux Go Anywhere ¾ Tights: Oh boy! Not only are these my absolute personal fave, but turns out they're also a TNFC fave. What can compete with lux? My thoughts exactly. But also just when we thought lux tights couldn't get better we added not one, but two amazing pockets along the legs. This is a crowd favorite no matter your height. Good luck buying just one. This tight is the ultimate, trail, road, travel, lounge and weekend brunch tight. Happy shopping!
"At 5'2 these are my perfect full length tight. They had me at lux, but the high waist and added pockets definitely made these my dream tight. I had been eyeing them for weeks and finally pulled the trigger. I've never been happier about my purchase." -Miyoko Beetem
4. Triple Threat Tights: The tights that get softer with every wash. True to their namesake these tights have it all. Not only are these a high waisted lovers dream, they come equipped with five pockets. Let me say that again, "FIVE POCKETS" because sometimes you just wanna pack it all. Plus that pin tuck detailing gives them a je ne sais quoi.
"What do I love about the Triple Threat? Well for starters, the pockets. In particular the two side pockects along my legs. These tights are the perfect amount of compression, plus I personally love all the fun details the pin tuck design adds. At 5'10, these tights aren't quite full length on me, but the angled bottom makes them feel longer. " -Megan Bowers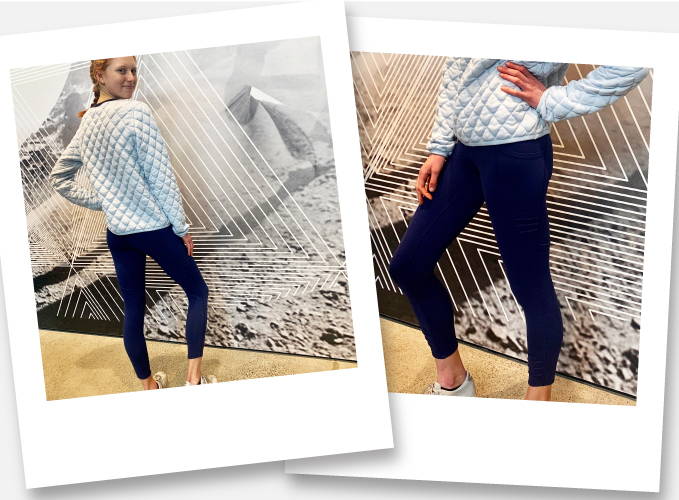 5. Firecracker ¾ Tights: Overheard at Flight Club the other night, "you don't often get cute and safe in the same garment." Now talk about an epic compliment. Wow! Thank you. As a runner nothing is more important than safety and visbibility, especially during the dark winter months. When it comes to 360 degree reflectivity we got you covered. Compression. Check. Two deep pockets. Check and check! High waisted. Check. We're here to please!
If you're petite like Erin (5'3) she calls these her full length winter tights. Not ony have these tights become her go to party-trick pants, the peace of mind she gets from a safety perpective is everything.
"As an avid biker and runner, my biggest fear is getting hit. With these tights I know I won't. I feel comfortable, safe and seen. As a petite gal, the ¾ length gives me that full length look I prefer for winter. The softness and compression is simply an added perk to an already fantastic tight." -Erin Yang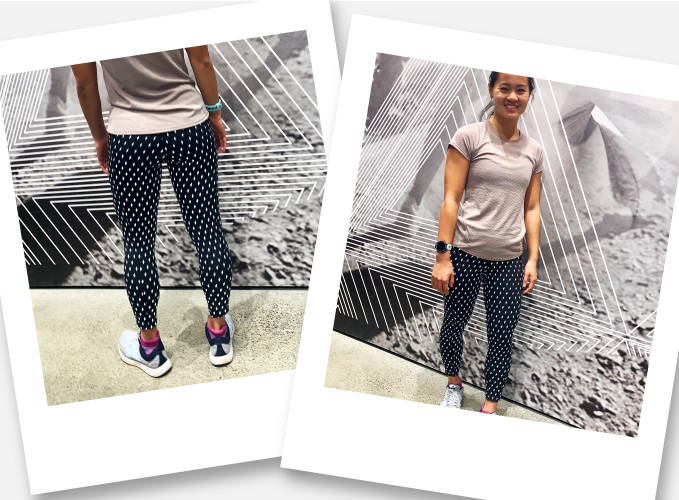 Bonus Style Flyout Tights: If you're looking for serious warmth, you found it. Thanks to Polartec, this is our warmest tight to date. Not only are these tights thick and compressive, they're also pretty soft and strechy. Talk about beauty and strength. These tights will get you through those cold winter months ahead as well as your outdoor mountain adventures, perfect for hiking or skiing. And of course they have pockets. Two large side pockets. You're welcome.
"As somone who lives in weather that sometimes dips into the 20's (North Carolina) these tights will do the trick. Not only do I love all the style and attention to detail (hey tulip ankle), these tights feel pretty sleek for being a heavy duty style. At 5'5, I found the fit absolutely ideal." -Erin Clark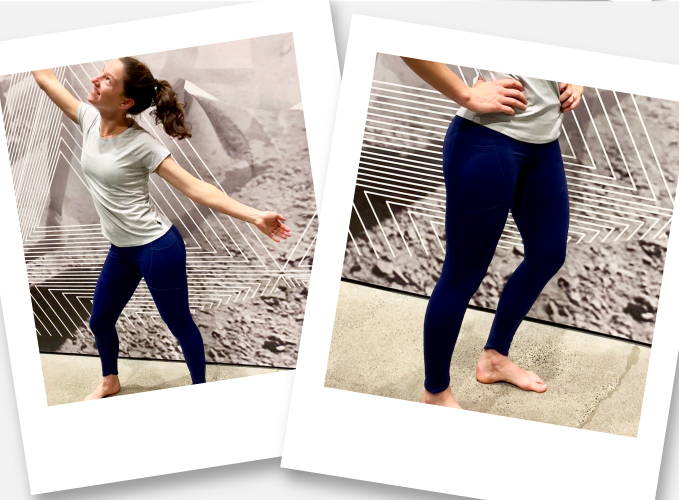 There you have it friends. All of the info on this season's top winter tights, plus a straight scoop from our running community to yours. Curious about any particular style? Don't be shy, we love hearing from you!
Happy shopping friends!