VALERIE BRISCO-HOOKS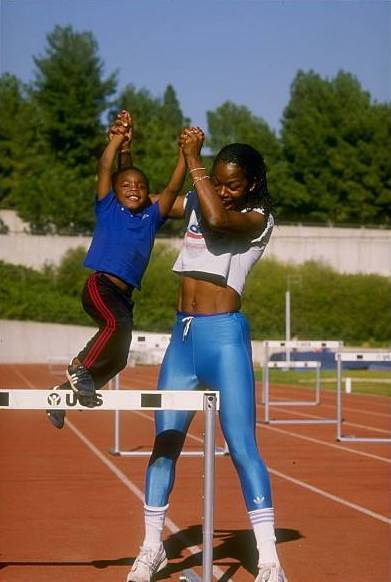 GOLD, 200M
GOLD, 400M
GOLD, 4X400 RELAY
Valerie Brisco-Hooks was born on July 6, 1960 in Greenwood, Mississippi, the sixth of 10 children. Mom, Guitherea, was a teacher, and dad, Arguster, was a metal worker. The family moved to the Watts neighborhood of LA before she entered elementary school.
Three of her older brothers were standouts in track at Locke High School. In 1974, brothers Robert and Melvin were running a workout at the school track when Robert was stuck by stray bullets from nearby gang violence. The track was dedicated to his memory not long after.
As soon as Valerie entered high school, the track coach added her to the roster, without asking her first. ("Suppose he assumed all Briscos could run.") But run she could, and got noticed by UCLA women's track and field coach Bobby Kersee at a meet in 1978. "I had never seen such feed turnover that fast for anyone her size. Valerie had speed, raw speed." She joined his World Class Track Team, and practiced alongside Jackie Joyner-Kersee and Florence Griffith-Joyner.
In 1981, Valerie married Alvin Hooks, then a wide receiver for the Eagles. Alvin Jr. was born a year later. Valerie took a year and a half off from training, missing the 1982 track season completely. Self-doubt was a frequent teammate while she and Coach Kersee worked together toward the goal of Olympic competition. But in the run up to the 1984 Olympic Trials, Valerie ran personal bests in both the 100 (11.39) and the 200 (23.1).
At the 1984 Los Angeles Games, Valerie became the second woman (after Wilma Rudolph at the 1960 Rome Games, the year Valerie was born) to win three gold medals in one Olympics (200m, 400m and 4x400 relay), and the first Olympian to win the 200 and the 400 at the same Games.
Valerie's second and final Olympic turn was at the 1988 Seoul Games, and in the 400 she came in 4th. "I wanted to go out hard to get out front. I was in front, but once I got there […] I tried to find one more gear. And, honey, let me tell you, at 320 yards you can find no more gears." But a medal was still in the cards – the U.S. 4x400 team of Denean Howard, Diane Dixon, Valerie and Flo-Jo took silver in 3:15.51 and broke the American record.
---
LEARN MORE ABOUT THE ATHLETE:
"Valerie Brisco-Hooks: Triple Olympic Medal Winner," Aldore Collier, Ebony Magazine, January 1984.
"There's New Look and New Joy in Life for Brisco-Hooks," Scott Ostler, Los Angeles Times, January 9, 1985.
"After Gold, Some Glitter," Tony Castro, Sports Illustrated (SI Vault), June 3, 1985.