KIM JONES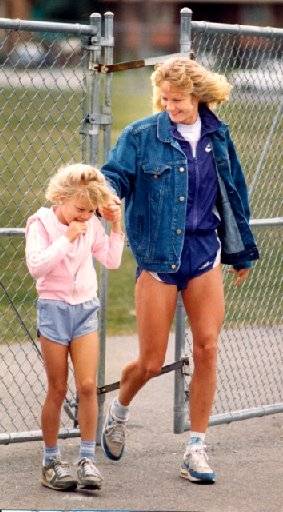 3rd
2nd, lifetime PR of 2:26:40
2nd
8th
9th
15-YEAR CAREER AS A PROFESSIONAL MARATHONER
Over the course of her running career from 1985-1998, Kim ran 17 sub-2:33 marathons, including 2:26:40 at Boston (2nd in 1991) and 2:27:54 in New York (2nd in 1989). But even more notable than her running resume is Kim's story of resilience and positive spirit in the face of extreme family adversity and life trauma.
Legend Doris Brown Heritage mentioned in 2016 that Kim Jones's autobiography "Dandelion Growing Wild" (published in 2012) was one of her favorite books. It is a truly remarkable accounting.
Kim was born in Sonoma, CA and their family moved to Enumclaw, WA when she was three years old. Following an extremely chaotic four years, her family relocated to Port Townsend, WA, after her father died by suicide. Growing up "wild" in Port Townsend, Kim came to her love of running naturally, exploring Fort Worden on foot. At age 16, Kim had a daughter, who was adopted by a family in their community. When Kim returned to her high school's track team as a senior, she helped Port Townsend put together a team of eight girls that unexpectedly won the WA state championship. Kim was a double winner in the 400m and 800m - her 800m splits were 77/57.
Kim moved to Spokane for college, and was planning to run track but was quickly suspended for stealing a palm tree from the student union building on a dare. She had her second daughter her senior year of college and started running again only because the Spokane Bloomsday Run was a hometown affair. In her first Bloomsday in 1982, Kim finished in 1007th place. After being inspired by Joan Benoit's 1984 Olympic marathon victory, Kim decided to tackle the marathon distance. Despite her severe asthma, it was a short path to success from there, which led to a 15-year pro career.
In 1998, right before a race, a gust of wind blew a large sign onto her, crushing her foot. After this freak accident, she was unable to toe off properly, and retired at the end of that year.
---