DORIS BROWN HERITAGE
Born September 17, 1942
DORIS BROWN HERITAGE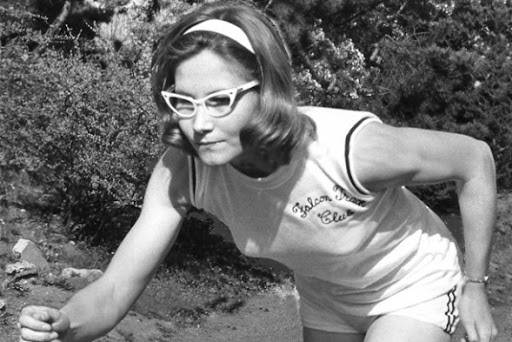 INTERNATIONAL CROSS COUNTRY CHAMPIONSHIPS
1967 BARRY
1968 TUNIS
1969 CLYDEBANK
1970 VICHY
1971 SAN SABASTIÁN
FIRST RECOGNIZED WOMEN'S SUB-5 MIN MILE (1966)
NAMED SEATTLE'S "MAN OF THE YEAR IN SPORTS" IN 1971
Doris was born in 1942 and grew up in Gig Harbor, WA. "I always liked getting up early and feeding the chickens and rabbits and then running down the beach." Unfortunately, girls were barred from using the track at her local high school, Peninsula HS. She attended Seattle Pacific University (1960-1964), thinking she would try long jump. Luckily for the sport, coach Ken Foreman convinced her to try running events and she immediately excelled. During her college years there were no women's competitions, but she would compete in many dual meets with the men.
After graduating, Doris became unbeatable in the sport. She ran the first women's sub-5-min mile: a world record 4:52 in 1966 (on an indoor track much shorter than 200m).
Doris represented the U.S. in both the 1968 Mexico City Games (800m) and 1972 Munich Games (1500m). Although she had the fastest 800 time heading into 1968 (2:01.9), she tangled up with competitors and stumbled on the final stretch, finishing 5th. "I had reason to believe I would get a medal, but I wasn't used to running with bodies all around me." In 1972 she had worse luck: walking onto the track before the race she stepped on a movable curb and broke 5 bones in her foot.
Doris won five world cross country championships. "One of my favorite memories was the first World Cross Country Championship in which women were included, in Wales in 1967. Running in that race (and winning it) was amazing! We believed that it would be possible for U.S.A. runners to have a team and some financial support in the future. In fact, we did have a team the next year and we won...but still no financial support!"
Doris was so dominant that the year before Title IX was passed, she was named Seattle's 1971 "Man of the Year in Sports."
Doris permanently left her mark on the running community as a beloved coach, serving at her alma mater, SPU, for 35 years, at the 1984 Los Angeles Games, and at the 1987 World Championships. Heritage was named to the U.S.A. Track and Field Hall of Fame in 1990, became the second-ever female named to the U.S. Track Coaches Hall of Fame in 1999, and in 2002, she was named to the National Distance Hall of Fame.
---