JULIE ISPHORDING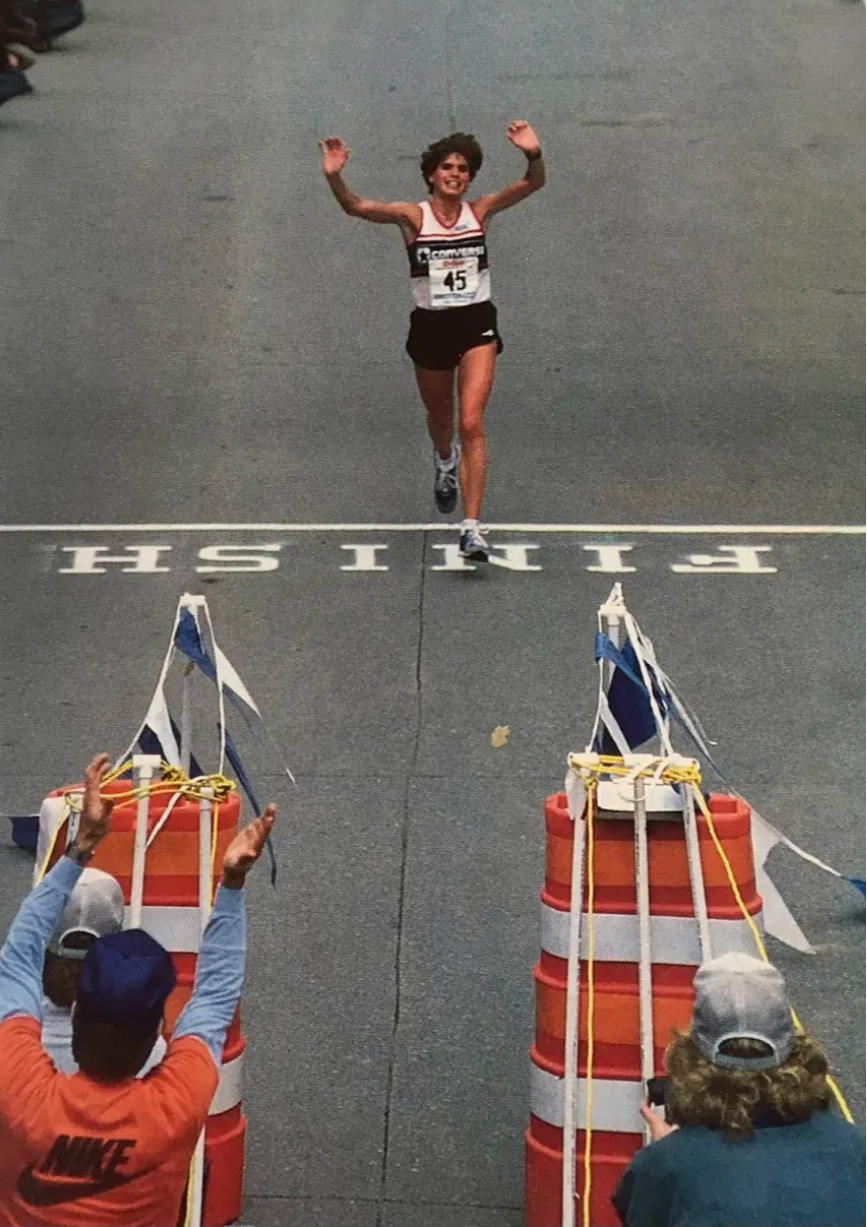 1990 LOS ANGELES MARATHON
MEMBER OF THE FIRST U.S. WOMEN'S MARATHON OLYMPIC TEAM
Mary Julie Isphording was born in Cincinnati, Ohio in 1951. She started running at age 17, to support her tennis playing.
While attending local Xavier University she ran with the men's cross country team (as no women's program existed at the time). In 1981, when the Executive Board of the International Olympic Committee voted 8-1 to include a women's marathon in the next Olympic Games (1984 Los Angeles), Julie heard the call. She accelerated her course taking to graduate a year early, giving her a year to dedicate solely to preparing for the Trials and, hopefully, the Olympics themselves.
The inaugural U.S. Olympic Team Marathon Trials for women were held in Olympia, WA. By the 10-mile marker, Julie had only a couple dozen women in front of her. In the final mile she didn't know which place she was in, even as spectators cheered wildly around her. She came in third, making the team.
Unfortunately Julie would drop out of the Olympic marathon around the 11-mile mark. She started feeling pain in her previously injured right foot soon after the start, and dropped out after 11 miles.
In 1990, however, Julie got a second chance, in a way: She won the Los Angeles Marathon and finally crossed the finish line in Los Angeles Memorial Coliseum, almost six years after her foot prevented it at the Olympics.
Julie would again make the Trials for the 1988 Seoul Games (Pittsburg, 9th place) and 1992 (Houston, 15th place). And in 1995, even after three surgeries to relieve back problems, she still dreamed of making the Trials starting line again. A slip on some ice and a stress fracture in January 1996 meant trying for a qualifying time in Houston would not be possible.
Julie made it to a different starting line more recently, at age 58: She signed up to be in a database of volunteers for a COVID-19 vaccine study in her hometown of Cincinnati.
"So maybe the story of my life is about second chances and third chances and fourth chances and helping with the vaccine trials is my one billionth chance."
---