Elena Hayday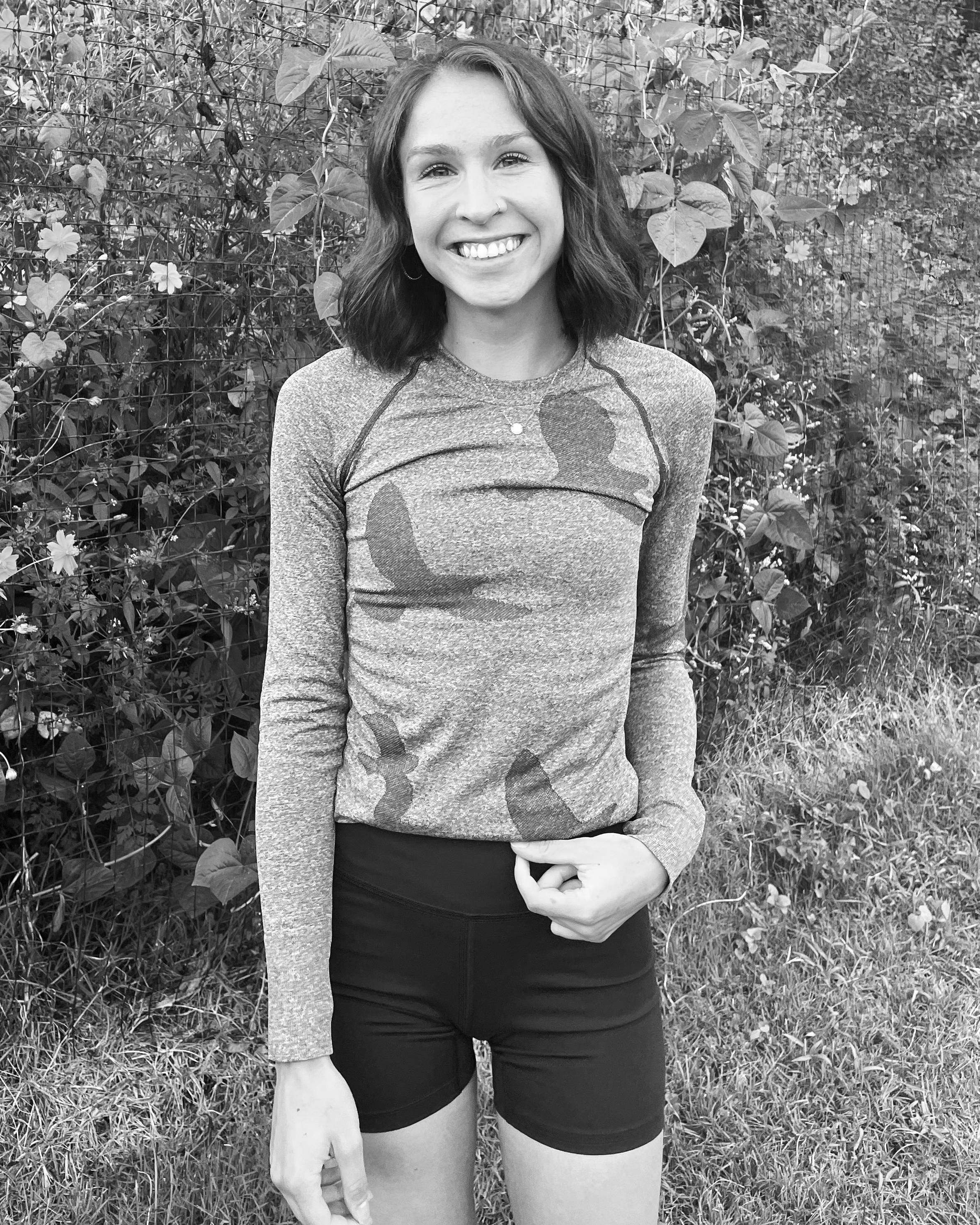 Hometown: Minneapolis, MN
10 Mile
Half Marathon
Marathon
Where did you grow up? Is there anything about your girlhood you'd like to share with us?
I grew up in Minneapolis, Minnesota, right off of the Twin Cities Marathon Course. My family moved out to Bloomington, a Minneapolis suburb, early in elementary school and we lived there until I graduated from high school. I had a very active childhood, and we spent several weeks every summer camping and hiking in the mountains (in fact, we still take a summer trip every year). These trips definitely shaped my love for nature, which is one of the reasons that I love running so much today. I grew up with a stereotypically happy and stable family but struggled with depression from a very young age and was diagnosed with major depressive disorder in fifth grade. My depression affected me quite a bit and in college made it very difficult for me to manage training and taking a full load of college courses in a healthy way. As anyone with a chronic mental health condition knows I've never been "cured" of my depression, but since graduating from college I have grown a lot and found healthier coping mechanisms, and, in the process, reclaimed some of the joy that I struggled to experience in my actual childhood. My training has changed quite a bit, but I do believe that finding that childish joy – in being in nature, in learning how to train, and having fun running fast – is one of the biggest factors in my post-collegiate improvement on the roads.
Racing Highlights:
OTQ in the 2023 Houston Half, 15th woman overall

7th at Grandma's Marathon 2023

2nd at Garry Bjorklund Half Marathon 2022

10th at Cherry Blossom Run 2022

Passions/joys outside of running:
My biggest day-to-day joy is my cat, Juniper. She's very sweet and playful, and she makes me laugh every day. I also find a lot of joy in being in nature and go camping with my family every year. I'm currently trying to (slowly) check off all of the national parks – there are many areas of the country that I've never seen before and I'm really enjoying exploring the earth!

Job(s) outside of running:
I am a postbaccalaureate IRTA researcher at the National Institute of Neurological Disorder and Stroke at NIH. I work in an epilepsy lab doing computational neurophysiology research focusing on interictal MEG. I am currently gathering my materials for neuroscience PhD applications (to matriculate in fall of 2024).
Do you have a quote that guides, inspires, or embodies your training/racing/life?
This definitely isn't unique, but the quote that guides my training is "Keep showing up" from Des Linden. Beyond normal ups and downs in running, working a full-time job and also training through the summer in the mid-Atlantic humidity create a lot of hurdles where sometimes I have to slog through a bad workout (or two, or three) before things start clicking again. I try to remember that doing something is better than nothing and the fitness will still come if I stack "okay" workouts.
What was your favorite sport in middle school?
I was a big slowpitch softball player. I started playing a little bit of volleyball and got really into that in high school, but in middle school I really enjoyed being an outfielder on my traveling softball team. I've since realized that the reason I loved softball so much was because I got to run around the outfield. In retrospect, I think this is one of the reasons that I'm still loving running now – even when I began running track and field in high school, it was more about having fun and exploring natural talent than anything else. That has allowed me to keep having fun as I move through different levels of competition.

Can you share your first sports bra experience?
As a very small-chested girl (and now a very small-chested woman), my first bras for years were sports bras since I didn't need any more support. I honestly don't feel like I started appreciating a good sports bra until a few years ago when I began running more miles (especially in the mid-atlantic humidity where you need a sports bra that doesn't chafe).
If you could give one piece of advice to a 12 year old girl, what would it be?
Enjoy being a kid and don't take things too seriously. It's easier said than done, but I spent my own middle school years overworking myself really for no reason. If I could revisit those years, I would encourage her to enjoy time in school and sports, try new things, and find what she likes. You don't need to have anything figured out yet. Go have fun!
Tell us about your favorite place you have ever traveled to:
Acadia National Park was amazing! The ocean being right there, the gorgeous and very runnable carriage roads, and the cute surrounding towns – it was amazing! I hadn't ever been in New England before so I was just blown away. My sister and I camped there for about 5 days last spring and had a blast.

What alternative career do you fantasize about?
It's not reasonable, but I would love to work as a park ranger in a National Park. Ultimately I think I would struggle living in most national parks that are far away from metropolitan areas, but it would be amazing to be able to live in a park for a summer or two and enjoy some trail running and talk to people about what hikes and sights were around.

What is your superpower?  
Managing a full-time job, training, and running the social media empire that is my cat's instagram (just kidding, she has 70 followers).
What led you to the marathon?
I left my collegiate team when I was a junior in college for a lot of reasons, but one of the biggest was that I was not enjoying training. After I quit, I realized that I still wanted to run and began to slowly rebuild my relationship with running. I was looking for something that I could enjoy and ultimately found that road running was different enough that I was exploring something new and also wasn't able to compare college performances. I ran a marathon while I was still in college (it went badly), but it re-lit the fire for competing – for the first time in a long time, I actually wanted to train and get better. I took about a year and a half and joined a team, lowered my times at shorter distances, and learned a lot about recovery and training load management. After I qualified for the 2024 trials out of the half marathon at Houston, my coach and I decided that it was time for me to try and race a full marathon. Ultimately, I fell in love with marathon training and the feeling of successfully completing a full marathon. Based on my splits at Grandma's, I think I have a lot of room to get better and I'm really excited to revisit the distance this spring.
Please share any thoughts/feelings you have about your Olympic Marathon Trials buildup and the Underbird team:
As I'm really excited to get started with the Underbird team! I wasn't a particularly notable runner in high school or college, so being selected for the team is really special to me – it feels like someone believes in me (something I'm trying to internalize for myself). I'm also really excited to meet the other Underbirds and grow the community that I get to have in this sport!

In terms of the marathon buildup, I'm skipping a fall marathon this year in favor of shorter road races and then starting my OT buildup in late November. I've been getting antsy seeing other people fit in a fall marathon before the trials, but having run Grandma's in June I know I will thank myself when I'm not trying to fit in a third marathon in 8 months.

Random fact about you:
I got into running because my parents went to the track and field open house at my high school without telling me and signed me up. The coach put me on varsity because they told the coach I could run a 60 second 400, which luckily was true because I had definitely never tried it.
How has your relationship with running evolved over the years?
I've talked about this a little bit throughout, but my relationship with running has changed pretty drastically in every stage of life, which is probably why it feels so fun right now. When I was in high school, I didn't really start taking it seriously until I was a junior, since I had been playing other sports and mostly taking on track with natural talent – but it was fun! When I was in college, running became a burden, mostly. I was training but not really respecting what my body needed; I was tired all the time and dreaded going to practice. I wasn't racing very fast either, so it became something I really didn't enjoy. After I quit my college team, I had a period where I was the only one controlling when, how fast, and where I was running, and I started to fall in love with the training. It was more of an exploration, and I was having fun with it. As I started to run way faster than college, I realized that I wanted to take it more seriously (which was surprising even to me, given my college experience). When I moved to DC a few months later for work, I found GRC. I felt a little hesitant to join, but it has ended up really transforming my running. Working out with the guys has allowed me to push myself to run faster than I even imagined, I'm surrounded by a supportive community, and having my coach write the workouts has given me the time to focus on recovery and other parts of my life when I'm not running. It feels like the first time in my life that I've actually been (mostly) all-in on running, and it's actually very fun.
Sweet or savory?
Anyone who knows me knows that I've got a huge sweet tooth. I've been vegan for about 5 years and have tried probably every brand of vegan ice cream – my current favorite is Van Leeuwen. My partner makes fun of me because I almost always have multiple cartons going in the fridge so I can choose a different flavor every night.

How do you spend your free time?
Pretty basic, but I spend a lot of my free time hanging out and playing with my cat or watching TV with my partner. When I have days off of work, I love to go hiking and camp with my family in the mountains. I like to fantasize about moving somewhere where I could do that on the weekends and not have to fly somewhere!

Dream vacation:
Do the entirety of the PCT!
What song is most often stuck in your head?
I'm a big Hozier fan and often have his stuff stuck in my head. I sang Almost (Sweet Music) in my head for approximately 10 miles of Grandma's Marathon last June.