DIANE LEATHER CHARLES
1933 - 2018
DIANE LEATHER CHARLES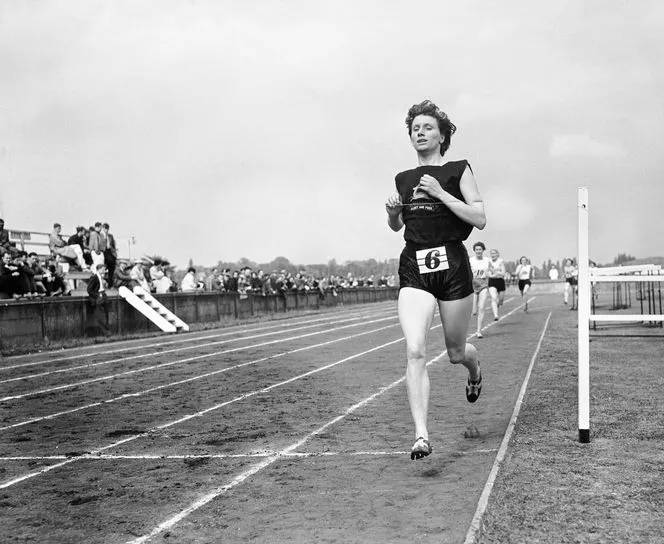 ENGLAND NATIONAL CROSS COUNTRY CHAMPIONSHIPS
FIRST WOMAN TO RUN A SUB-5:00 MINUTE MILE
Diane Leather was born on January 7, 1933 in Streetly Staffordshire, England. And of the six children of Mabel and James Leather she was the only girl.
She watched women running the 100- and 200m races at the 1952 Helsinki Games and decided that she'd like to give running a try, building on her athleticism from years of playing lacrosse and hockey.
While studying chemistry at Birmingham College of Technology she joined the "Fast and Free" Birchfield Harriers running club and was coached by the great Doris Nelson Neal. Doris saw more distance potential in Diane and set her to running more middle distance races and even cross country.
Diane had an excellent chance to dominate the 800m at the Olympics in the mid-1950s, if the event had not been removed from the Games after its 1928 Amsterdam Games debut. Five of the nine women who ran that race – in which six runners broke the previous world record – took to the ground after the finish line, out of athletic exhaustion. News stories amplified the spectacle and concern over the innate frailty of women and the harm done to their feminine charm (as well as the damage done to the sport). The women's 800 event was removed, and longer distances were, of course, not even considered.
But Diane kept on running. She took silver in the 800 in two European Championships, and won the British national XC championship four times.
In 1953 coach Doris and Diane worked together toward the 5-min mile barrier. A true "world record" could not be had, as the distance was not yet recognized by the IAAF for women. But a "world's best" was within Diane's reach.
In the journey for that first women's sub-5, Diane would set the world's best five times. She would cross the line at 4:59.6 on a rainy and windy day in May 1954, and go on to lower her best time to 4:45.0 in 1955. This last "best" would stand for another seven years.
Diane passed away on September 5, 2018. Peace be to her memory.
---
"Cross Country Championship (1955)," British Pathé YouTube channel, April 13, 2014.
"Diane Leather, 85, First Woman to Run Mile in Under 5 Minutes, Dies," Amisha Padnani, The New York Times, September 12, 2018.