ALICE COACHMAN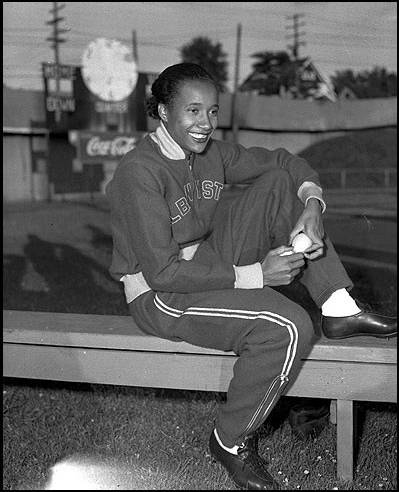 FIRST BLACK WOMAN TO WIN A GOLD MEDAL IN THE OLYMPIC GAMES
FIRST BLACK PERSON TO GET AN ENDORSEMENT DEAL FROM AN INTERNATIONAL COMPANY (Coca-Cola, 1952)
First Black woman to win a gold medal in the Olympic Games (1948 London), setting a new Olympic record for the high jump in the process. She was also the only woman to win gold for the U.S. in those Games. She likely would have also medaled in the high jump and 100m (events for women in the Olympics which she was the national champion at Albany State College) in 1940 and 1944, but these were the years when the Olympic Games were canceled due to World War II.
Alice received her gold medal at the London Games from King George VI himself. She was also invited to the White House and congratulated by President Harry S. Truman.
Upon her return to Albany, Georgia after making her way back across the Atlantic to New York City by steamship, the Alabama Tribune said, "[S]he will be regaled with a rousing civic testimonial, speech-making, and a roaring and thunderous ovation, from citizens of that Southwest Georgia City."
And Alice was celebrated once she returned to her hometown. But this was also during the era of segregation and Jim Crow laws in the South. Albany Mayor J.W. Smith joined her on the stage, but would not shake her hand (though he had stood up against Klan activities in his city earlier that same year). His speech was filled with praise, and yet Alice had to leave the stage by a separate door.
At other events where she was honored or gave an exhibition of her sport, stadiums and auditoriums would have "special sections reserved for white citizens within to attend."
After the 1948 Olympic Games, Alice retired from the sport as an athlete, finished her education to be a teacher, raised a family, and, in 1952, was the first Black person to get an endorsement deal (from the Coca-Cola Company, in ads with Jesse Owens during the time of the 1952 Helsinki Games). She later created the Alice Coachman Track and Field Foundation for athletes who need financial assistance.
Alice passed away in 2014, at the age of 90. Peace be to her memory.
---