WILLYE WHITE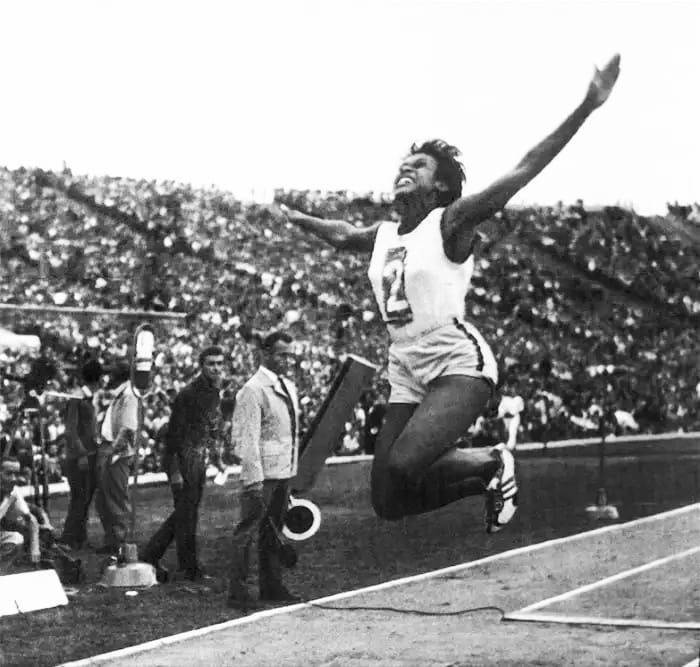 FIRST AMERICAN WOMAN TO MEDAL IN THE LONG JUMP
Willye White competed in five Olympic Games (1956 Melbourne, 1960 Rome, 1964 Tokyo, 1968 Mexico City, 1972 Munich). And when she won silver in the 1956 Melbourne Games at age 16 she was the first American woman to do so.
Willye was born in Money, Mississippi in 1939, and raised by her grandparents. She started chopping cotton at age 10 (12 hour work days, for $2.50 a day), around the same time she discovered at school how quick she was.
Long jump maybe wasn't Willye's first choice for her track and field specialty, but "[f]or every 500 sprinters, there were two long jumpers," so she took the leap in that direction.
When a shot at the 1956 Olympic Team seemed like a possibility, 16-year-old Willye did some math: training for and making the team would mean missing the cotton season at home. She made it her mission to stay off the fields that year, and she succeeded.
She joined the Tennessee State University's 'Tigerbelles' women's track and field team in 1956, but left after six months in the program. Head Coach Ed Temple's control of his team chafed at Willye's freer spirit. But reunions were essentially held every four years when they made U.S. Olympic Teams, and Willye's second Olympic medal (another silver) was earned in 1964 as a part of the 400m relay team with Tigerbelles Edith McGuire and Wyomia Tyus.
Post pro-athlete career, Willye made a run at representing track and field on the U.S. Olympic Committee in 1984, making the ballot by petition, but lost. "It is not a terrible thing, it is a horrible thing. It is absolutely unreal to imagine an organization of this magnitude not having a woman officer," she said after. Olympic rower Anita DeFrantz, one of two U.S. reps to the Int'l Olympic Committee, said, "It didn't have to happen. Everyone is concerned about the quality of women and people of color, but who's monitoring the quality of the white male?"
Willye passed away in 2007. Peace be to her memory.
---
LEARN MORE ABOUT THE ATHLETE:
"Willye White," conversation with Lorraine Harrell, Chicago Tribune, March 10, 1991
"Willye B. White, the First 5-Time Track Olympian, Dies at 67," Frank Litsky, New York Times, February 7, 2007