SIMONE SCHALLER KIRIN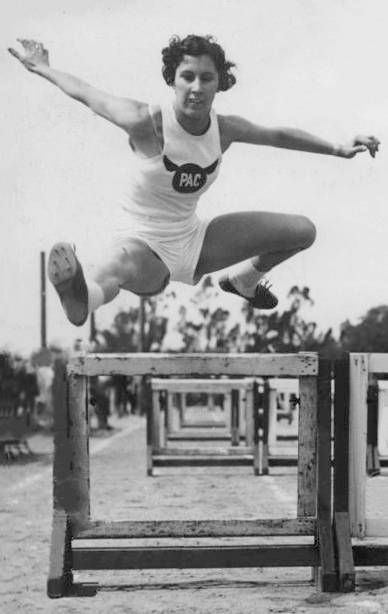 1932 LOS ANGELES
1936 BERLIN
PASCADENA SENIOR OLYMPICS
FINALS, 70+ TENNIS MIXED DOUBLES
Simone was born in Manchester, Connecticut in 1912 to a Swiss father (Louis) and an Italian mother (Marie) who met in America. A brother and sister joined the family there before everyone moved to California when Simone was seven. A second sister came later.
While in Connecticut, Simone's father worked in a silk factory, but bad asthma forced him into more outside work (hence the California move). In their new home state, Lewis was a ranch foreman and managed a five-acre orange farm in Monrovia, where the family lived.
While attending Monrovia-Arcadia-Duarte High School, Simone did all the sports she could, but excelled at volleyball, basketball and baseball. But in the days well before Title IX, these sports were only intramural. She graduated in 1931 and began working in an office, where she and other women formed a night league for playing basketball and softball.
It was through the Pasadena Athletic Club that she started on her track career path. Pasadena had no track team, so the athletic director reached out to the Los Angeles Athletic Club for assistance finding a coach for Simone. She was introduced to LAAC swimming instructor Aileen Allen and her husband on Easter weekend in 1932, and was coached by them until the trials, just three months later.
Simone made the U.S. Olympic Team in both 1932 (4th place) and 1936 (semi-finals). She came in first in the 1933 U.S. Nationals, but due to a lack of meets on the West Coast she returned to playing basketball and baseball to keep her fitness up until the trials for the 1936 Berlin Games.
In 1949 Simone worked with the Southern Pacific AAU (Amateur Athletic Union) and 1932 Olympic Games teammate Evelyne Hall to help revive women's track and field programs in four districts around Los Angeles, including Simone's old neighborhood.
Simone's athleticism endured well into her later years — she and a partner made it to the finals of the 70-plus mixed doubles division of the 1993 Pasadena Senior Olympics.
Simone passed away on October 20, 2016 at the age of 104. Peace be to her memory.
---