MARINA BUCKLEY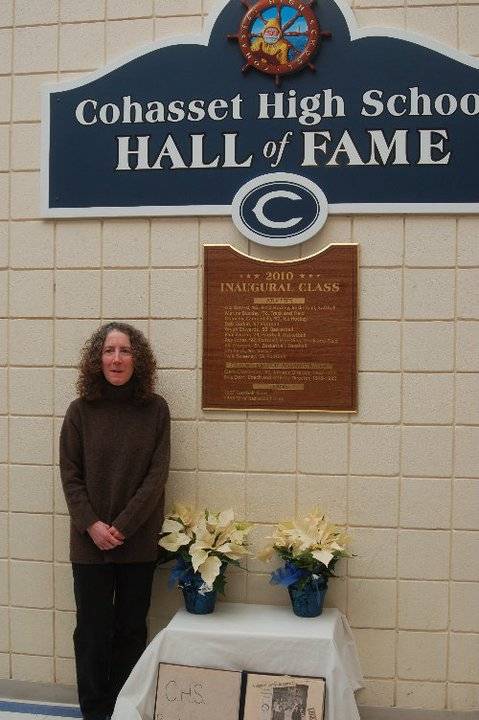 LOCAL PIONEER IN GIRL'S RUNNING IN MASSACHUSETTS
WINNER OF THE INAUGURAL 2-MILE EVENT, MASSACHUSETTS GIRL'S STATE TRACK MEET, 1976 (IN 11:34.6)
In 1972, during the fall of her freshman year at Cohasset High School, Marina Buckley showed up to track practice with four other girls. The coach didn't seem to pay mind to them — which was fine, as they were all nervous to be there.

Had there been other girls on the school's one track team before? Did these girls know that Title IX had just been passed earlier in the year? Unknown. What we do know is that Marina thought she was "lousy" at field hockey and that she'd "get bored" at softball. She wanted to try running.

She ran the 440 that season, and then returned in the spring for cross country. "[Coach O'Neil] treated all of us as equals, and once, when I thought of quitting, he told me that everyone counted on a team, each place mattered."

At her high school, she was not only the only girl on the school's cross country team, but the only girl on any cross country teams in her school's league (which included ~7 high schools). She would hear other team's coaches yell at their runners to beat the girl. "The boys would sprint to pass me, and when the coach was out of sight, they'd tire again and drop back."

In the summer of 1974, Liberty Athletic Club coach John Babington watched Marina in a local race and then recruited her for LAC afterwards. Later that school year, Marina lead a group of girls in the first CHS girls track team, which included junior high girls as well.

As a senior, Marina ran undefeated in both the 440 and the mile. In the state finals she would win the inaugural girls' two miler.

A girl wanted to run, and she did. Marina also happened to be good at it, but the work she put into just showing up — and making space for others to join her — is her true legacy.

Be like Marina.
---