EVELYN ASHFORD
EVELYN ASHFORD
Born April 15, 1957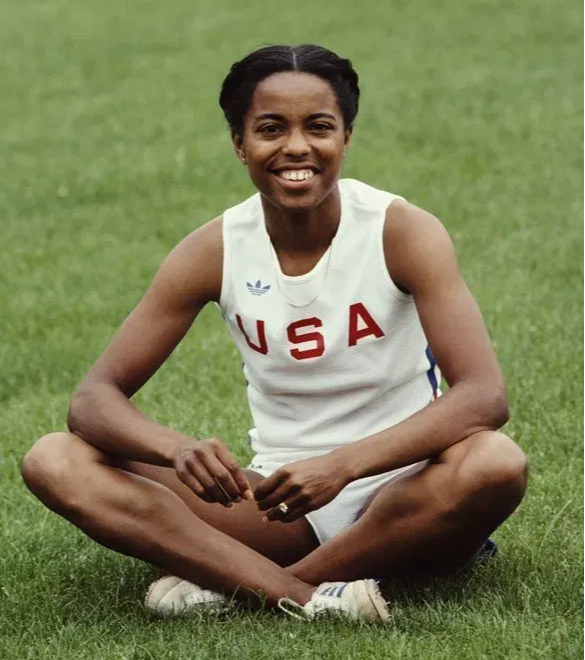 1976 MONTREAL
1984 LOS ANGELES


1988 SEOUL


1992 BARCELONA
FIFTH, 100M
GOLD, 100M
GOLD, 4x100M RELAY
GOLD, 4X100M RELAY
SILVER, 100M
GOLD, 4X100M RELAY
FIRST TO RUN UNDER 11 SECONDS IN THE 100M IN AN OLYMPIC GAMES (1984 LOS ANGELES)
Evelyn was born in 1957 in Shreveport, Louisiana. In the 1970s while attending Roseville High School, Evelyn ran track on the boys' team, as there was no team for girls. Famously one day the football coach challenged her to race his fastest player. "I think you can beat him," he said. (She did.)⁣
During her senior year she was co-captain of the track team and was one of the first women to be offered a full athletic scholarship to attend UCLA.⁣
At age 19, Evelyn took fifth in the 100m at the 1976 Montreal Games. Four years later, she was ranked #1 in the world, but the U.S. boycott of the the 1980 Moscow Olympics kept her at home. Evelyn won the 100m and 200m at the Trials in Eugene, chased some world records, then drove cross country to various family reunions with her husband, Ray Washington.⁣
In 1980, Evelyn told the San Francisco Examiner, "I never like to see myself run. I think I look funny when I run. I just look weird."⁣
In 1984 this "weird" sprinter and the rest of her team made the most of the Eastern Bloc boycott of the 1984 Los Angeles Games. Evelyn withdrew from the 200m to rest her hamstring but took gold (her first) in the 100m. At the time, critics said the victory was not as complete as it could have been due to the absence of Evelyn's chief rival at the time, the East German champion Marlies Gohr. However, in August of the same year the two raced at the Weltklasse Zürich meet in Switzerland. Evelyn defeated Marlies, broke the 100m world record, and her time of 10.76s still stands as the meet record.⁣
In 1986 Evelyn gave birth to her daughter, Raina, and then returned to training ahead of the 1988 Seoul Games. There she took silver in the 100m, losing narrowly to teammate Florence Griffith-Joyner. She was also the first Black woman to carry the American flag during an Olympic opening ceremony.
During the 4x100 relay in Seoul, Florence and Evelyn (running last, anchoring the team) fumbled their handoff. The lost time meant that, for the U.S. team to win, Evelyn had to pass not only Russian Natalya Pomoshchnikova but also Marlies Gohr, who was anchoring the East German team. Evelyn passed both.
Evelyn earned her final Olympic gold medal as a part of the 4x100 team at the 1992 Barcelona Games, after missing the semi-final of the 100m by 1/100th of a second. She was 35 years old.
Evelyn retired from the sport after the 1992 Games to be mom to Raina, who was 14 at the time. She also did occasional appearances for the U. S. Olympic Committee and track-and-field commentating. In 1997 she was inducted into the National Track and Field Hall of Fame.
---
LEARN MORE ABOUT THE ATHLETE:
"1988 Olympic Women's 4x100 - BEST RELAY FINISH EVER!!," YouTube, MyzelleJenkins' channel
"Evelyn Ashford - Women's 100m - 1984 Olympic Games," YouTube, Jim Muchmore's channel
"Sport-On this day: Born April 15, 1957: Evelyn Ashford, American sprinter," Gene Cherry, The Chronicle Herald, April 14, 2020