ANDREA IMHOF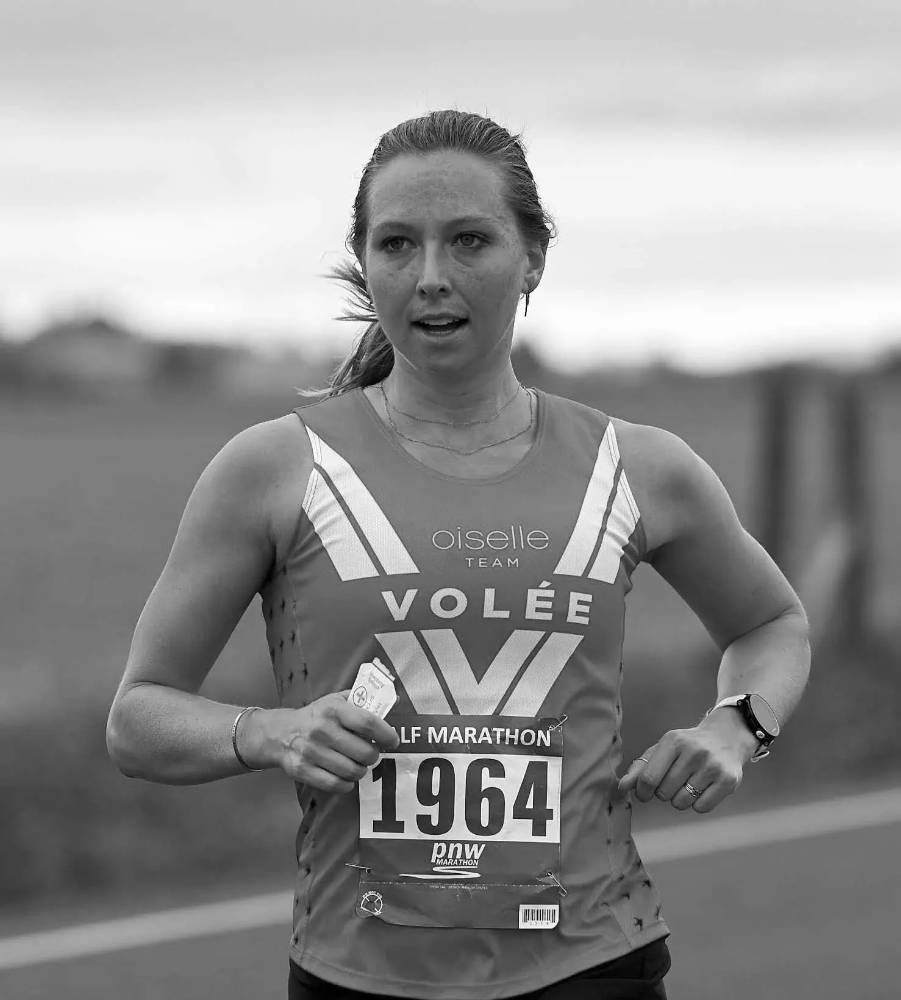 1500M
10K
HALF MARATHON
MARATHON
4:30
36:26
1:18:16
2:44:03
2019 - OLYMPIC TRIALS QUALIFIER, CIM
2019 - PACIFIC NORTHWEST HALF MARATHON CHAMP
2017 - SAN FRANCISCO MARATHON, 7TH PL
What is your favorite quote that guides, inspires, or embodies your training/racing/life?
"Say yes, and you'll figure it out afterwards" - Tina Fey
What was your favorite sport in middle school?
Cross Country! I joined my middle school's team when I was 10, in 5th grade, and never looked back. It was a phenomenal way to channel my competitive nature and abundant childhood energy into something productive. I went to an all-girls middle school led by an incredible faculty of strong women leaders -- that first team experience left a lasting impression about the power of women in sports.
Can you share your first sports bra experience?
I started wearing a sports bra in middle school during races, more for modesty -- our singlets were gigantic -- than because I needed the support. Maybe because I started out only wearing them for races, there's always been something powerful about putting on a favorite sports bra before a race -- I've had lucky sports bras for as long as I can remember!
What is your absolute favorite piece of #flystyle and why?
What an impossible question! I'm going to have to go with the entire Firecracker collection. I typically work out *really* early in the morning (often before 5am) which means I almost always run in the dark. My firecracker tights (and everything else in this line) offer an incredible combo of visibility, functionality, and style.
If you could give one piece of advice to a 12 year old girl, what would it be?
Celebrate your body for what it allows you to do every day. Don't let anyone tell you that you need to look a certain way or be a certain shape to be successful. Strength is about much more than physical appearance.
Tell us about your favorite place you have ever traveled to:
I just returned from a 3-week trip to Patagonia, which is one of the most gorgeous places I've ever been. I've never seen so many different kinds of jaw-dropping landscapes in such close proximity to each other -- fjords, glaciers, waterfalls, lakes, and towering peaks. What an incredible backdrop for my training for the Olympic Trials Marathon!
What alternative career do you fantasize about?
I have always admired Emilie Forsberg; she's a mountain athlete who lives in the fjords of Norway, spends her days running and skiing in nearby mountains, and co-owns an all-female sports nutrition company (Moon Valley) that uses ingredients from her small farm. She's an incredible role model for strong women in sports (and business), and is killing it as a new mom, to boot!
What is your superpower?  
Selective attention. It's definitely both a superpower and a curse -- I can tune out pretty much anything around me to maintain focus. I honed this skill to perfection when I was a Kindergarten teacher in the Bronx (I really and truly can't hear children whining). Unfortunately it also means that I am frequently SO absorbed in what I'm doing that I am completely oblivious to things going on around me.