Sadi Henderson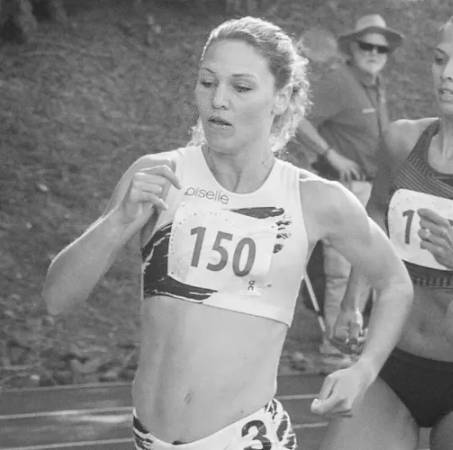 54.84
1:27.43
1:58.62
4:10.26
2019 - UNIVERSITY OF SF ANNE DOLAN FEMALE STUDENT-ATHLETE OF THE YEAR
USF OUTDOOR 800M RECORD HOLDER
2018 - WOMEN'S WEST REGIONAL INDOOR TRACK ATHLETE OF THE YEAR
BOISE STATE INDOOR AND OUTDOOR 800M RECORD HOLDER
5 X NCAA 2ND TEAM ALL-AMERICAN, 800M
Do you have a quote that guides, inspires, or embodies your training, racing, and life?
Do your best with what you have and you already have everything you need.
What was your favorite sport in middle school?
Basketball!! The sport lit my passion and filled me with a spirit for camaraderie. I made life long friends and learned life long lessons at a young age.
Can you share your first sports bra experience?
I have older sisters so growing up I took every opportunity I could to act like a mature woman. I suppose wearing a bra would have been one of those opportunities. I remember my first bras were 100% cotton and acted both as everyday wear and athletic wear... it made no difference at that time.
What is your absolute favorite piece of #flystyle and why?
Aero shorts. I routinely use vaseline to help with chafing before I run but with these shorts I have no problem with chafing! They fit so comfortably and are so cute.
If you could give one piece of advice to a 12 year old girl, what would it be?
Do not hide or whisper- use your voice, be who you are meant to be and keep showing up.
Tell us about your favorite place you have ever traveled to:
New York City. Coming straight from the backcountry of Montana to the streets of the city, I instantly fell in love with the noises, the smells, the diversity, the busy-ness, and the towering buildings. It felt like a melting pot of ideas and a place where dreams took form.
What alternative career do you fantasize about?
Architecture. My step-dad was a contractor and I took a building design class in high school that sparked my interest in designing living quarters and community spaces. I love the idea of creating something functional and artistic that reflects expression of self and the surrounding environment.
What is your superpower?  
I am a super napper. I pride myself in my ability to take 20 minute naps anytime, anywhere.