MEGAN CLARK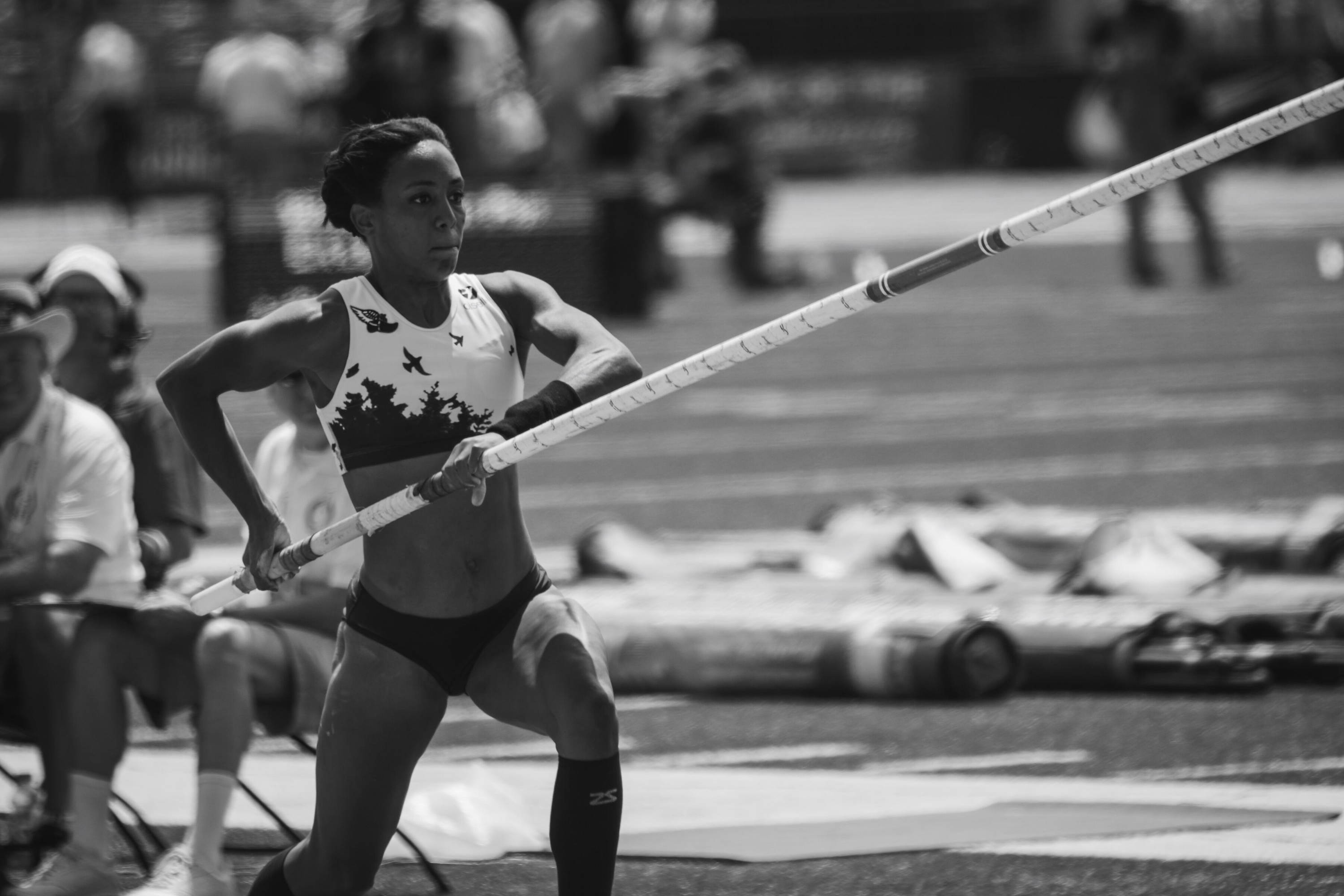 4.60M (15'1")
4.63M (15.25")
2016 NACAC CHAMPIONSHIPS - 1ST
2016 OLYMPIC TRIALS FINALIST - 5TH
2016 PENN RELAYS - 1ST
2016, 2015 INDOOR NCAA CHAMPIONSHIPS - 2ND
2016, 2015 3X ACC CHAMPION
What is your favorite quote that guides, inspires, or embodies your training/racing/life?
"No one is you, and that is your power." This year, I am putting an emphasis on being confident, powerful, and unapologetically me.
What was your favorite sport in middle school?
When I was in middle school, I started dabbling with track, but I was obsessed with becoming a competitive cheerleader. Cheerleading was right up my alley because I could use all of the tumbling skills I developed in gymnastics and experience what it was like to truly be on a team. Having a close-knit group during such a tumultuous stage of life was important, and being encouraged to sky tumbling passes was icing on the cake.  
Can you share your first sports bra experience?
I think my first sports bra experience was in sixth grade. It was the first time that we were required to change clothes for gym class, and I think it was mandatory for participation in P.E.  
What is your absolute favorite piece of #flystyle and why?
I am obsessed with the flyte long sleeve shirts. They're just light and fun, and I can't seem to find it in a color that I don't love. They're the first thing in my suitcase any time I travel, and I look for any excuse to wear them… even in Southern California.
If you could give one piece of advice to a 12 year old girl, what would it be?
Perfection is overrated. There are so many better things to aspire to—to be kind, to be thoughtful, to be genuine, to learn from your mistakes, and to be resilient. Perfection is impossible, and frankly, a little boring.  
Tell us about your favorite place you have ever traveled to:
Last summer, I was lucky enough to travel to Italy, and I could not get enough of it. The food, the culture, and the natural beauty of Mediterranean region blew me away. I would go back in a heartbeat.  
What alternative career do you fantasize about?
I dream about becoming a physician. I would love to work in pediatric orthopedics and give kids the best shot they can have at fully experiencing the blessing of physical activity and movement.  
What is your superpower?  
I'd say that my superpower is positivity. Sure, I can get a little salty from time to time, but when things get rough, you'd be hard-pressed to find someone with a more positive outlook.