KIMBERLY MALONEY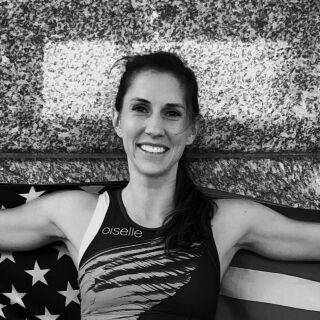 3K
5K
8K
10K
HALF MARATHON
MARATHON
9:21
16:01
27:11
33:16
1:17
2:43:01
2020 - OTQ MARATHON, DEBUT
2011 - USA CHAMPS QUALI, 10K
What is your favorite quote that guides, inspires, or embodies your training/racing/life?
In full transparency, the quote that embodies my training and racing is 'Don't be a bitch!" haha. It started in graduate school with some friends I trained with and it came to be the quote that motivated us and also made us laugh. It was so often that we were unmotivated &/or had every excuse to not do something we knew we should (running, school, personal - related). Whenever we waivered the other one would call out 'Don't be a bitch' and we knew that meant - 'I know you can do it, so just do it!' I've carried that quote into workouts and runs with my RDP teammates and I like to think it helps us dig deep and push when all we want to do is quit.
What was your favorite sport in middle school?
Soccer - my entire childhood I was 100% devoted to soccer which is why I didn't start running until college at Clemson University. I loved soccer's athletic demand along with the team aspect and needing each other to succeed.
Can you share your first sports bra experience?
Before a soccer game in middle school, one of my friends was already wearing sports bras and she asked me why I didn't wear them (I definitely didn't need them, that's why!). She gave me one of hers to wear for the soccer game and when I got home I told my mom I wanted to buy some for myself. We went shopping the next day!
What is your absolute favorite piece of #flystyle and why?
I LOVE vests! My new most favorite piece is my blue insulated vigor vest. It's a great extra layer when the weather is cold but you know you'll warm up along the way and don't want to worry about shedding layers. It is perfect for windy weather too because it does a great job of keeping you warm while breaking the wind.
If you could give one piece of advice to a 12 year old girl, what would it be?
Don't be afraid to speak up in circumstances when you may normally stay silent. Be kind to others, laugh as often as you can, and always say the compliment you're thinking in your head.
Tell us about your favorite place you have ever traveled to:
Spain! The food, the culture, the scenery, the people and of course the naps - it was an awesome place to spend time. In college, I traveled around Spain for 5 weeks and was in awe of the places I saw, loved taking a 'siesta' every day, and ate some of the best food in my life (tapas, please). The people were so friendly and the dancing was second to none!
What alternative career do you fantasize about?
I don't know what the job is, but it's a job that takes me around the world, allows me to experience different people and cultures, and creates and sustains a positive impact on people and the environment.
What is your superpower?  
Bringing people together. I genuinely love connecting people with one another and fostering friendships and cultivating community.