Karelle Edwards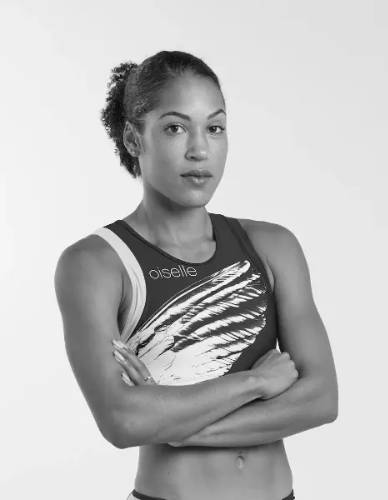 Photo credit: Amos Morgan
100M HURDLES
100M HURDLES
2017 WORLD UNIVERSITY GAMES SEMI-FINALIST
2016 CANADIAN OLYMPIC TRIALS (5TH)
2015 - WORLD UNIVERSITY GAMES (12TH)
2013 - FRANCOPHONE GAMES (10TH)
2012 - CANADIAN OLYMPIC TRIALS FINALIST
2008- CANADIAN JUNIOR NATIONAL CHAMPION
What is your favorite quote that guides, inspires, or embodies your training/throwing/life?
Adversity, if used properly, will buy you a ticket to places you couldn't have gone otherwise. - Tony Bennett
What was your favorite sport in middle school?
I grew up as a competitive level gymnast (8-15 years old). I tried different sports when I was very young, but gymnastics captivated my interest after I watched the Olympics on TV. I loved gymnastics but also enjoyed running. I was always the fastest in my class and several people told me, over the years, that I should do track. The idea was always in the back of my mind and I knew that I'd switch to track and field when I was ready. That day came when I was in my sophomore year of high school.
Can you share your first sports bra experience?
I was 11 years old when my mom purchased my first "training/sports bra". As a gymnast, I trained with older girls. It was easy to notice a young gymnast's developing chest through a gymnastic leotard. I became self-conscious and wanted to avoid comments from my teammates, so I asked my mother to get me a bra.
What is your absolute favorite piece of #flystyle and why?
I haven't had the chance to try all the #flystyle pieces yet. So far, I'm amazed by the comfort and feel of every single fabric! Of the pieces I've tried, I really like the Kara Cross Country Shorts and the Ballard Bra. They are not only comfortable but also fashionable!
If you could give one piece of advice to a 12 year old girl, what would it be?
You have a combination of skills and talents that no one else in the world has. This makes you unique. Don't waste time comparing yourself to others and wishing you were like them. Embrace your uniqueness. Believe that you have everything you need to achieve your dreams (i.e. bet on yourself) and work hard to reach them. You will not always succeed. You will encounter some obstacles. They've been put in your path because you still have things to learn, things that will help you on your journey. By believing in yourself, welcoming life's obstacles and working hard, you'll achieve things that you thought weren't even possible.
Tell us about your favorite place you have ever traveled to:
I've been extremely fortunate to travel all over the world. Each country has its special places but if I could pick just one, I'd probably say the Kruger National Park in South Africa. I had the opportunity to go on a safari, which is a one-of-a kind experience. There is something really magical about observing animals in their natural habitat.
What alternative career do you fantasize about?
I am doing a Master's in Counseling Psychology. My plan is to become a sports counselor. My goal is to help bridge the gap between mental health and sports performance.
What is your superpower?  
I think that my superpower is my ability to empathize and connect with people. I can put myself in other people's shoes and see things from their perspective. This enables me to connect with people on a deeper level and is the reason I'm working towards becoming a psychotherapist.