CAITLIN KOWALKE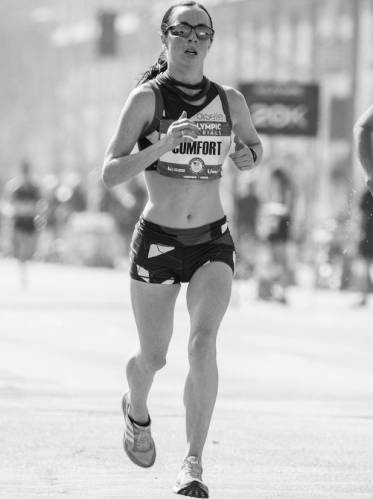 5K
6K XC
10K
20K
HALF MARATHON
MARATHON
16:07
20:12
33:18
1:10:43
1:12:16
2:35:29
2016 - OLYMPIC TRIALS MARATHON - 26TH
2015 - USATF 20K CHAMPIONSHIP - 12TH
2014 - USATF HALF MARATHON CHAMPIONSHIP - 3RD
2013 - USATF 12K ROAD CHAMPIONSHIP - 11TH
2013 - USA 20K CHAMPIONSHIP - 3RD
2013 - NCAA DI TRACK AND FIELD CHAMPIONSHIP - 13TH
2013 - BIG TEN CHAMPIONSHIP - OUTDOOR 10K - 1ST
2013 - BIG TEN CHAMPIONSHIP - INDOOR 5000M - 1ST
2011 - BIG TEN CHAMPIONSHIP - CROSS COUNTRY 6K - 2ND
Do you have a quote that guides, inspires, or embodies your training/racing/life?
"You'll never know, if you never try. Run fearlessly." This is the motto I have for my coaching business, and it applies to all areas of my life....running, training, motherhood, career changes, etc. Early on in my running career, I realized that fear can be a limiting factor in performance. So, instead of worrying about failing....I started to view each race as an opportunity to grow, learn, and test my limits. That's when running started to become really fun for me. And this perspective has kept my heart in the sport to this day!
What was your favorite sport in middle school?
Soccer was actually my very first love. I started young and played up until my freshman year of high school. I loved the team aspect of the sport and of course, as a left mid-fielder, I didn't mind running up and down the field. I had fun attempting to out-run and outlast my opponents!
Can you share your first sports bra experience?
I definitely didn't need any 'support' when I first got a sports bra in 5th grade and I actually remember asking my mom while we were shopping, 'do I really need to wear this thing?' But once I started running competitively, I realized that my sports bra would be the one thing I couldn't run without. Now, today, I own 20 x more sports bras than regular bras ;)
What is your favorite piece of #flystyle and why?
My wazzie wool long sleeve! I wear it under vests/jackets in the winter and the merino/spandex material does such a good job of trapping and locking in my body heat to keep me warm. But I can also wear it on a cool spring or summer morning, and as soon as I start sweating, that same material starts to wick the moisture away from my body. It's magic, and I love it!!
If you could give one piece of advice to a 12 year old girl, what would it be?
Don't be afraid to fail! Whatever you do in life, do it to the very best of your ability. If your very best gets you 1st place, that's amazing! And if your very best gets you 2nd, 10th, or 100th place.....that is amazing too! Be proud of your effort. We learn, grow, and become a little bit stronger each time we don't have a 'perfect' day. So, don't be afraid to go for it....whatever 'it' is!
Tell us about your favorite place you have ever traveled to:
Rome, Italy! I was blown away by the history, art, architecture, and of course, the incredible pasta. I will say, the driving over there doesn't make it the safest place to run :X
What alternative career do you fantasize about?
National Park Ranger
What is your superpower?
Stomach of steel. I can eat almost anything immediately before I go for a run, and feel completely fine. I probably won't try that before the Trials though ;)