ANDREA POMARANSKI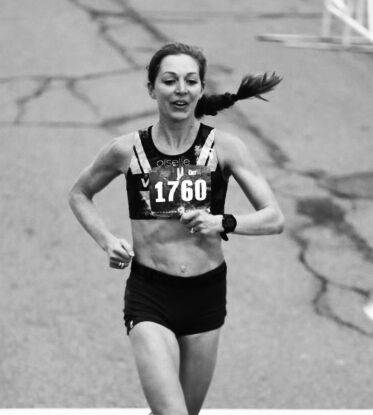 3K STEEPLE
5K
HALF MARATHON
MARATHON
10:10
16:15
1:13:15
2:37:44
2020 - OLYMPIC TRIALS QUALIFIER ARIZONA MARATHON
2010 - OLYMPIC TRIALS QUALIFIER, MARATHON
2001 - AMERICAN JUNIOR RECORD HOLDER, STEEPLECHASE
Do you have a quote that guides, inspires, or embodies your training/racing/life?
Trust your journey. This is such a simple phrase, but can be so profound. What it means to me is to try to sit back, drink in, and really savor the great moments as they come. And when the tough moments come, try to learn what you can from them, and let them transform you into becoming a better person. Also, just be kind, and love really hard.
What was your favorite sport in middle school?
Softball! I was a pitcher and absolutely loved it! I loved working hard, improving myself, practicing with my dad every day, diving in the dirt to catch a ball, and of course striking out the side :-) I actually only started running because one of my teammates convinced me that running cross country would help me get in better shape for softball season. Go figure.
Can you share your first sports bra experience?
Yes i remember it vividly, it was so awkward. I had a white t-shirt on and remember feeling really embarrassed thinking my dad might notice that I had a bra on underneath my shirt....I was so afraid he would be sad that his little 'tomboy' girl was growing up.
What is your favorite piece of #flystyle and why?
Hands down the June Bloom Mini Shorts. Anything Spandos is amazing but I'm obsessed with the floral pattern, length, and fit of these shorts. I love them so much I wear them around my house in the middle of winter, I never want to take them off!
If you could give one piece of advice to a 12 year old girl, what would it be?
Trust your intuition, and follow your passions. Your greatest relationship is the one you have with yourself, so make it a good one. Also, make peace with and get comfortable fitting out and staying true to yourself rather than fitting in.
Tell us about your favorite place you have ever traveled to:
Machu Picchu. It was unforgettable and breathtaking. I absolutely love adventures and just remember feeling so free and invigorated by exploring the world. Until we arrived in Peru, my husband thought Machu Picchu was some kind of exotic beach lol. I'm lucky he loves me so much that he goes along with me on these crazy adventures.
What alternative career do you fantasize about?
Honestly, I have my dream job right now as a stay at home mom to my three beautiful, zesty kiddos! It's the hardest job I've ever had, but hands down the best I could ever ask for. I'm also very close to getting my holistic health coaching certification, and would love to work with athletes. In light of everything that's come out recently in regards to female athletes being pressured to look a certain way, I think I'm in a unique position to really help people.
As a former Division 1 athlete, I know what it feels like, first hand to feel pressure to look a certain way for performance (self inflicted pressure.... my coaches never pressured me in any way!) and have come out the other side of it more confident and comfortable in my body than ever. This sport has given me so much, and I would absolutely love to give back by working with athletes, from middle school to elite, to help them feel more comfortable in their own skin.
What is your superpower?  
Oh hello— shout out to all you mommas out there— being a mom (to a toddler and two preschoolers) is my super power. Any mom, with any number of kids is a super woman, regardless of whether she runs or not! To piggy back on that though....I would say being able to fit running in my life in such a way that it makes me a better mom (and person, and wife) is my super power. Running is just a piece of the pie and you have to have all the pieces in place to make a whole.